Microsoft will show 14 Xbox Game Studios games at E3 2019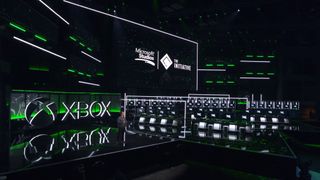 (Image credit: Microsoft)
What you need to know
Microsoft's E3 2019 media briefing takes place in a few weeks.
Phil Spencer added that 14 Xbox Game Studios games will be shown at the event.
Titles like a new Fable are rumored for the event.
Over the past few years, Microsoft has made tremendous strides in improving its first-party lineup. The company has acquired numerous renowned studios like Playground Games and Obsidian Entertainment. With E3 2019 around the corner, it seems like what these teams have been working on will be showcased during the event. Today, Phil Spencer, the Executive Vice President of Gaming at Microsoft, said that 14 Xbox Game Studios titles will be showcased.
Spencer added that this is the most first-party games Microsoft has ever showcased during an E3 event. Hopefully, these titles will be of the utmost quality because the company has to put out games on the level of God of War, The Legend of Zelda: Breath of the Wild, and Spider-Man to compete with Nintendo and Sony.
Just finishing our final E3 rehearsal here with the team in Redmond. Feel really good about the briefing. Lots to show. We have 14 Xbox Game Studios games in the show this year, more first party games than we've ever had in the show. Fun times. #XboxE3Just finishing our final E3 rehearsal here with the team in Redmond. Feel really good about the briefing. Lots to show. We have 14 Xbox Game Studios games in the show this year, more first party games than we've ever had in the show. Fun times. #XboxE3— Phil Spencer (@XboxP3) May 30, 2019May 30, 2019
There are rumors floating around that a new Ninja Theory game, as well as Fable IV, may be revealed. However, only time will tell. It's definitely an exciting time to be an Xbox One gamer because there are 14 titles to speculate on!
What types of games do you want Microsoft to reveal during E3? Maybe there will be more open-world titles. What do you think?
Jump into digital
(opens in new tab)
Xbox One S All-Digital Edition
Ditch the discs

Secure your Xbox One S All-Digital Edition, Microsoft's new and ambitious disc-less console. It's the cheapest Xbox One ever made, bundled with a trio of downloadable games.
Xbox accessories you'll love
Every one of these quality accessories is guaranteed to enhance your Xbox experience.
PowerA Enhanced Wired Controller for Xbox One (opens in new tab) ($20 at Amazon)
PowerA's take on the Xbox One controller is an attractive pickup for budget-conscious gamers that nails all the basics.
Talon PDP Xbox media remote (opens in new tab) ($20 at Amazon)
The Talon PDP Xbox media remote is great for watching shows on your console.
Xbox One S vertical stand (opens in new tab) ($10 at Amazon)
Stand your console upright with this accessory.
Asher Madan handles gaming news for Windows Central. Before joining Windows Central in 2017, Asher worked for a number of different gaming outlets. He has a background in medical science and is passionate about all forms of entertainment, cooking, and antiquing.
They better not stuff this one up

I'm looking forward to seeing what a few of these developers have been working on.

Playground Games will be getting a fair bit of attention I imagine, if they do indeed announce Fable IV and the next expansion for FH4 at E3.

Well I can think of Halo, Gears, Ori, Fable, the new Ninja Theory game, BattleToads, AoE and maybe a trailer from the Initiative but that's it. Stumped at what the others may be unless they are counting The Outer Worlds and Wasteland 3 though I consider those multiplat so shouldn't really be in the mix..

14? Initially that number may look big but these includes games that already launched or games that were already previously announced. Hmm so let me guess
1) FH4 DLC
2) Next forza 8
3) SoT stuff
4) Crackdown 3 stuff
5) Minecraft or Minecraft Earth
6) AOE 2 DE or maybe AOE 4?
7) Halo Infinite stuff
8) Wasteland 3
9) The Outer Worlds
10) Gears 5 With maybe some news on the other Gears projects
11) Ori sequel
12) We Happy Few DLC
13) Battletoad
14) Maybe a new game I hope it's not these 14 and there are actually a lot more new games announced. I'll be really disappointed if they turn out to announce only 2-3 new games. (After the drought of previous years)

Crackdown 3: Extra Edition has already been announced. This list is just wrong. You're including games like Ori and the Blind Forest sequel in there when they aren't even part of Xbox Game Studios.

@Asher madan
Xbox Game Studios publish Ori. Plus I've clearly mentioned that I'm talking about the Ori sequel. Do you know what a sequel is?
I'm talking about Ori and the Will of the Wisps not Ori and the Blind Forest. Did you play the first Ori? This list is neither right nor wrong because none of us knows what it'll be. In case you didn't understand it's just me making a guess. Do you understand? It's just a prediction.

The Outer Worlds and other titles aren't Xbox Game Studios titles. They're published by other companies and are deals closed before the acquisition. Same goes for We Happy Few at this point. That's Gearbox Publishing. You're wrong. Just because a developer was purchased by Microsoft doesn't automatically mean their games are, too.

@Asher Madan
How about this, Asher Madan?
Why don't you post your prediction so I can get the "correct version"? All I'm doing is making a prediction, I could be right, I could be wrong. It doesn't really matter.
Like I said, I wish I was wrong and there are a lot more new game announcements.

He may not understand what a sequel is (but I'm gonna guess that he just took the wrong title), but you clearly don't know what a "first party" game is because Ori does not fit in that category.

He doesn't even understand what MS exclusive means. Just a Sony troll with nothing better to do with his time.

@Studio384
First, of all MS owns the Ori IP.
Next I guess you'll need to also tell MS that they don't know what First party means "Well, from a fist party standpoint, over the years, we've always had titles in the Steam store, from Age of Empires, to Alan Wake, to even more recently we had titles like Ori and State of Decay."
https://www.dualshockers.com/xbox-interview-aaron-greenberg-talks-projec... My definition is based on what MS's definition considering this is the statement of guy who works at MS.
Sorry, but you'll need to do a lot better... :)

Ori shouldn't be in the list and I wouldn't count Wasteland 3 and Outer Worlds either as they were well and truly in production before the companies' acquisition. I'm not expecting many brand new titles, but I expect maybe 4 or 5.

@Sin Ogaris
The wording of the tweet is a bit vague. Xbox Game studios is publishing the Ori sequel and MS has a tendency of calling games that they publish first party games. Plus I think MS owns the IP. You wouldn't count but would he? He is trying to promote an event. Technically they are Xbox Game studio games. If they do announce 5 new games (besides the yearly forza) then I think it be decent number.

Yeah, look, I think scepticism is justified in this instance, but I'm going to retain a little confidence that these new acquisitions will show SOMETHING, even if it's just reveal trailers for upcoming titles or whatever. But they need to show something otherwise people are going to lose interest.

Yes, I'm expecting 2 new announcements. I'm hoping at least more than 5.
I'm mostly cautious because I've often been disappointed in the past. I refuse to get to hyped up by MS's communication before E3.
Spencer does this so often trying to sell the E3 conference and I often end up disappointed.
He made such a similar tweet last year with a vague comment that I'd rather be cautious.
https://www.windowscentral.com/microsoft-will-announce-15-new-games-its-...

What games that were not developed by Microsoft but are published by them has Microsoft ever referred to as a "first party"? Not developing it but only publishing it does not make a game a first party and in case of Ori the highest such a claim could go without being false is "console exclusive". I've never seen them refer to such games as "first party" games, logically, because the community would call them out for that.

@Studio
I've already posted a link. There are loads of times from SoD 2 to Ori to FH to Crackdown3 and even Super Lucky's Tale.

If MS used your logic then a majority of these games were discussed at the previous E3 and it would therefore be hard to claim that this year would be the most Xbox GS games ever. Also colour me surprised that you're being needlessly negative regarding an Xbox announcement. Prior to last E3 you said you would only be satisfied if MS announced a bunch of developer purchases, they did, but surprise surprise you were not satisfied. Look I'm all good for criticism of decisions, actions and products, but let's see what those are before we start throwing the shade.

@Jombib
I don't know who you are but why do you have to lie about things I say?
I never said I wanted them to announce a bunch of studios acquisitions? What good would that even do to me? If anything I always said I hope they make new studios. Unlike many company fans I never change opinions depending on what some company decides.
For me it's not game library during the holiday season one year, BC the other year, resolution/power the other and studio acquisitions the next...
For me it's was and it will always be about games.
Last year, I said and I quote "I still hope MS will surprise by announcing loads of games."
https://www.windowscentral.com/e3-2018-xbox-predictions 2 years back it was the same "What I'm really HOPING is less Scorpio stuff and more games announcements."
https://www.windowscentral.com/what-were-expecting-microsofts-xbox-e3-20... And this year is not different. And what about that talk about me being negative?
It's called being realistic. I've gone too many times at E3 with high expectations from MS only to be very disappointed by their offering. Where am I even being negative? I'm making a prediction, and I'm saying I hope there are a lot more games than my prediction. Spencer always tries to hype his shows with these type of statements. Last year, he made a similar tweet about 15 world premiere.
The title of the article read "Microsoft to premiere 15 new games at E3 2018 conference"
At the end, I wasn't far off with my prediction. It was 10 3rd party games (many of which were already announced), 1 mobile game, the yearly forza, Ori which was already announced and Gears+Halo.
https://www.windowscentral.com/microsoft-will-announce-15-new-games-its-...

We Happy Few, Wasteland 3 and The Outer Worlds aren't published by Xbox Game Studios. Also, Forza 8 isn't coming out until next year, so don't expect a reveal at E3.

To be fair, Phil's tweet isn't clear. He says "We have 14 Xbox Game Studios games in the show". That could be counted multiple ways. He could mean "games published by Xbox Game Studios", which would include second-party games like Ori and the Will of the Wisps but exclude games created by what are technically first-party studios but published by a third party, like Obsidian's Outer Worlds. Or it could mean the opposite: games created by any first-party studio, regardless of who is publishing them (e.g. We Happy Few DLC would count in this case). It's ambiguous.

@Darkness
Actually you have a point with Forza. I didn't know they were skipping a year. Regarding the other games, I'm basing my prediction from Spencer's vague comment. At this stage, it's just a question of interpretation. We won't know what he really meant till E3.
Technically the game is made by a studio that is part of Xbox Game Studios.
I've said I'd rather they announce loads of new games but this is just my prediction... Having said that, I wish more people actually made predictions...

Not sure you can count The Outer Worlds. It's not published by Xbox Game Studios. I would say Forza 8 is far less likely than Fable Reboot. At least in terms of Rumours, Fabke is much more set in stone than Forza 8 engine reveal.

There will be no Forza this year, and I doubt Turn10 will show anything related to Motorsport 8, only to release next year.

Thanks, I really didn't know that. In that case, I guess you're right, they probably won't show it this year.

Problem is Phil touts certain things that normally end up disappointing people. Those 14 games could be easily fodder my guess will be something like this
1)Gears tactics
2-4) Age of Empires 1-3
5)sea of thieves dlc
6) Ori and the will of the wisps
7) Gears5
8) Battletoads
9) Halo infinite
10) Bleeding edge
11) Fable 4
12) cuphead dlc
13) Crackdown 3 dlc
14)Forza horizon 4 dlc
A list like this with all this games coming from XGS publishing would be a huge disappointment.

It would be nice to see a Mech Assault game be announced. I remember reading something that Microsoft was in talks with the company that is making Mechwarrior Mercenaries 5. I can only hope.

Funny I was laughed at in the other article. Even by Jez himself. Who I'm sure knows Randal and Colt. Has don't podcasts with them haven't you??? Gears 5, Ori 2, Halo Infinite, Bleeding Edge, Battletoads, Horizon Hot Wheels are 100% definates at this point. Leaving 9 titles which are rumored or heavy Rumours. Fable Reboot will be used to showcase next Gen visuals. I've heard a number of other rumored titles. But to be honest who knows. Xbox Game Studios means the game is from one of those actual studios MS owns. Question is are they adding more studios? And does the 14 cou t any new studios they might announce? Heavy rumour Asobo ( a plague tale) is going to be announced as Xbox Game Studio. Worth checking out Randals YouTube channel. Can't praise him enough.

Yes, maybe they'll announce of Fable. Most of us predicted that they'll talk about it last year.
So it makes sense that they'll announce it this year.
The Fable rumour was there for such a long time.
But is it a Fable reboot or Fable 4?
I hope it's fable 4.

I think Windows Central needs a more reliable ad partner. 2 days in a row while trying to read this article a misbehaving ad directed me to a page that sounded a very, loud beep and said I had a virus and you know the drill. It is infrequent on Windows Central but it is happening more than it should

That is why uBlock Origin and Ghostery are your friends: Use them.

Windows Central asks if you will not use them and I feel guilted into turning them off for this site and plus I would like to see such a great site earn more revenue. But if it keeps up I will be forced to re-able Ghostery.

Yes it does this to me when I'm on my phone. Really annoying.

Here are the 14:
1) The Outer Words
2) Bleeding Edge
3) Ori and the will of the Wisps
4) Minecraft Dungeons
5) Battletoad
6) AOE 2 D.E.
7) Wastelands 3
8) Psychonauts 2
9) Gears 5
10) Forza Horizon 4 lego speed champions
11) Gears Pop
12) State of Decay 2
13) Halo Infinite
14) Flight simulator So where are you Asher Madan and Studios384? LOL
Windows Central Newsletter
Get the best of Windows Central in in your inbox, every day!
Thank you for signing up to Windows Central. You will receive a verification email shortly.
There was a problem. Please refresh the page and try again.