Microsoft: Windows 10 will offer businesses better security and more flexible updates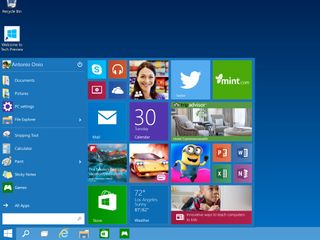 Today's formal introduction of Windows 10 was targeted mainly at Microsoft's enterprise customers, many of whom decided not to update their PCs when Windows 8 was launched. In a new blog post, Microsoft offers up some more information on why Windows 10 will be better for businesses, especially in terms of security and updates.
Microsoft offered this tidbit on the security features planned for Windows 10:
Microsoft adds that they are creating a "streamlined, reliable in-place upgrade process" to get businesses up to speed on Windows 10 using their current infrastructure.. They also claim that after the launch of the OS, updates for the software will be more flexible than in the past, saying
It's still early days for Windows 10, but do you think major businesses and corporations will upgrade to the OS more than they did for Windows 8?
Source: Microsoft
Windows Central Newsletter
Get the best of Windows Central in in your inbox, every day!
I JUST WANT W10 IN MY 1320

Yeah ! hopefully my 1320 will get it

What new features does it add?

a stopwatch......hopefully!

I'd like native printing, better battery optimizations, better IE stabilization, a way to kill the "others" storage problem, and better performance. More Bluetooth and different 3rd party device support (such as micro USB storage support would also be a welcome feature.) Finally, I hope MS pushes Glance and "Hey Cortana" with better battery optimizations. I would be certain to upgrade to Windows (phone) 10.

Obviously, Windows 10 will attract many businesses given the interesting features demonstrated today.

That won't matter. Most businesses use enterprise licensing.

Did Microsoft lower the enterprise licensing cost?

It should not be free to Windows 7 users.

I agree. But I would also ask, why not? If Microsoft is going to be more iterative and major patch OS rather than major release them, then it would be best to get as many people as possible into their new Ecosystem. This is especially important since their focus will be on monitizing cloud offerings (be it music, video, storage, games), other core software (Office, Server) and of course Windows Store. Windows can be the medium to reach people and drive this growth rather than a major money maker in and of itself.

Only free for Windows 8 users

So I guess this is not the last version of Windows, right?

It could be, a friend of mine gave a good reason microsoft chose 10 and not 9, they could of wanted to essentially "start over" with an even number so that they can get on a similar release style as IOS, it allows them to kind of use the 1X as a new series of sorts, its an interesting thought

Well im the only one that finds Win8 easy to use. I have this bad feeling like WP Windows 10may be too late.

Not at all, I love windows 8.1. Fast and fluid navigation and great multitasking, and I like the tiles. Plus with the search key on Surface or just needing to start typing on the start screen to search any apps, programs or settings made it quick to use. I do hope they keep the charms menu and Modern start screen option on windows 10. I also am looking forward to the multiple desktops and new snap options

The tiles are ok, but were an unneeded addition. Now they're optional which is great. W8 really only exceled in one area over 7, and that was speed, possibly security.

Make it idiot proof and they will come.

Just wait until somebody accidentally opens a second desktop and has no clue why everything they have been working on is gone. The panic

As Joe noted it will be completely discoverable. I use the thumbnails to move between browser tabs, Excel sheets now in w7, so it should be a no brainer with just a move off the mouse. The panic will be from the lunkhead bloggers cum "journalist" who with 10 minutes of use will announce it dead on arrival, much like Windows 8.

I can see this happening. I hope it can disable in policy for IT!


if you look at the videos, you will see it works pretty much like app switching in windows 7 and there is an icon to open it right on the task bar.

Yes, they will. Microsoft should thistome provide the flagship devices with best advertisements, promotions, and without global barriers in liscences like Xbox music and videos, local scout not availabe for India. In short, we will make it simple so that, we are somehow not get jelous, disappointing and changing regional access, etc.

Once they build the new Microsoft data center in India you will get everything that is missing now..

After windows 10, next version of windows must be called windows ultimate

No, Windows 10 "something", just like OS X Tiger, Lion, etc.

They better or suffer the consequences of Russian hackers targeting their data

This sounds amazing, can't wait!!!

I work for a major oil and gas company, and they are concern with security. They were late to move to windows 7 and will skip windows 8.

Maximum How many number of app tiles can we put in start menu?

What I just want to give suggestion that...there should be prev-nxt arrow so we can put apps there without limitation.

I'm in love with windows 10.

Can't wait to see how windows 10 will look on phones

I'd imagine it's similar to the features of RT, except they will have got rid of the desktop that doesn't do much.

I'd like to see them merge RT(minus the desktop mode), Windows Phone and call it Windows Mobile again. That way people can know the difference between the OS'es(Mobile for tablets/phones, etc.)

I think the idea is that it is all windows, so as much as that might make sense marketing the lot is a better strategy.

Yes I think enterprise users will move to Windows 10.

As a designer who works in Apple all day, I hated windows with a passion, but then came windows 8, I now have a Lumia 920 which I upgraded today to the 930 and a surface 2 tablet, the RT version, cant be dealing with anti virus every 2 seconds... If Windows 10 moves back to 7 or XP, I'm out of here!!!

Not moving back to Windows XP or even 7. Windows 8.x is the most secure Windows yet. If those adherents to Windows 7 took even a moment to check they would see so many improvements. It would be a no brainer. While our company has moved mostly to Windows 7 this year, they often put Win8 machines on desktops as well.

I don't think its about more or less for the enterprise as noting happens there fast and many have just finished w7. The real issue is the enterprise integration mdm and universal apps. Its hard to talk about this as a single OS version anymore as the scope is not singular (ie desktop)

I'm feeling better about WOSX with every article. Great news for business.
Windows Central Newsletter
Thank you for signing up to Windows Central. You will receive a verification email shortly.
There was a problem. Please refresh the page and try again.