Microsoft invited their biggest fans to check out Continuum on the new Lumias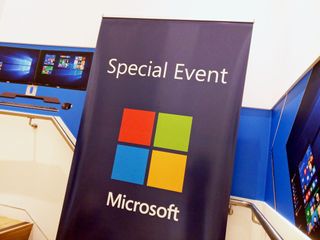 Not even bad weather stopped Windows Insiders from showing up at the Windows 10 Lumia event last night. On December 1st, during a rainy night in New York City, Microsoft held its Windows 10 Lumia event for Windows Insiders at the new beautiful flagship store on Fifth Avenue to show off Continuum for phones with its new Lumia 950 and Lumia 950 XL handsets.
We managed to show up and grab a few photos of the event, so join us for a tour!
The event was held at Dell's Department, on the third floor, where Microsoft had set up two stations for attendees to get some hands-on time with the new phones, and of course, to learn more about Continuum on Windows 10 Mobile.
At the demo stations, Microsoft showed off how easy it's to connect a Lumia phone running Windows 10 Mobile to a Microsoft Display dock. The setup uses a USB Type-C cable to a regular keyboard, mouse, and monitor and turn the device into a Windows 10 PC-like experience, and to work with various apps, including Word, PowerPoint. You also use files stored on a USB flash drive connected to the dock, stream full 1080p resolution movies, and change settings while the phone is continuously charging. The best part is you can still use the handset to make phone calls.
As the event primarily focused on Continuum for phones, Microsoft also had a demo that connected a Lumia 950 to a giant wall display. (I'm telling you, you have never seen a Windows 10 Mobile Start menu this big!) This particular demo showed off how Continuum can be helpful to present PowerPoint slides during a meeting and how PowerPoint presenter mode has you in control of the entire presentation. The main Continuum demo also showed off the Windows Store, Photos, and Camera apps and their advantages using them with the new Lumia 950 and Lumia 950 XL phones.
It appears that the event was also a great opportunity for many people to purchase their own Lumia phone. I saw some very excited people buying not one, but two of the new Lumia 950 handsets. Though, it's was sad to hear about a person wanting to get one of the new phones, but having Verizon as his mobile carrier stopped him from making the purchase.
On to the photo gallery, which you can catch below.
Image 1 of 20
As always on any Microsoft event there was plenty to eat and drink, and some Lumia goodies, such as the Lumia pen with eraser tip that you can use on any touch display, even with your phone. Attendees also got their hands on USB car adapter and Lumia sunglasses.
It was a good experience, even more for those who were seeing and trying the new Windows 10 Mobile feature for the first time.
While we attended the New York City event, Microsoft also hosted similar events in Bellevue, Washington. Hopefully, there will be more events in the future at your local Microsoft Store.
Did you attend the Windows 10 Lumia event? Which one did you go? Tell us your experience in the comments below.
Windows Central Newsletter
Get the best of Windows Central in in your inbox, every day!
Mauro Huculak is technical writer for WindowsCentral.com. His primary focus is to write comprehensive how-tos to help users get the most out of Windows 10 and its many related technologies. He has an IT background with professional certifications from Microsoft, Cisco, and CompTIA, and he's a recognized member of the Microsoft MVP community.
I bought the 950XL there last night. It was cool

Cool except they reneged on the free Microsoft Display dock​ that was promised!... Unacceptable as I went through the hassle of switching from Verizon to ATT just as fast as possible.

Mark, did you bought one there? If so there might be a Lumia Offer app pre installed on those phones as it is with all Lumia 950 and XL sold through the various Microsoft Stores.

I picked up my 950xl that I pre-ordered on Friday from the Scottsdale store, updated everything over the weekend, started switching from Verizon to ATT on Monday, got my sim on Tuesday, went straight to the Lumia Offers app and it says the offer is no longer available. I called the store and they said the terms are "while supplies last" or something like that. I'm going to the store later today and hopefully they will straighten this out or I'll be returning mine just because of the BS... I went through the hassle of switching carriers on a corporate account and then the renege??? http://1drv.ms/1O44iw4

I'm sorry to hear that. If I got a free display dock I would gladly give it to you since I would never use it, but I have a 950 which didn't come with one.

THIS is not cool. I preordered my 950XL and was set for the NOV 25 ship date. I was on vacation when I got a text from my credit card company that there was suspicious activity and flagged they denied the transaction. I had to work it out with my CC company, then have Microsoft RE-authorize the payment. Guess what...you can bet it didn't end up getting shipped out the 25th. It's a week later and the invoice STILL says "shipping on or around the 25th", but I've called twice to see about any update and keep getting a "well, I imagine it will ship sometime this week" type of answer, passing the buck because they don't know, can't know, and there isn't a way to know. My bet is everyone else got moved up in the queue and I'm squarely in the "ships by Dec 11th" group. And bet I'm NOT getting the dock for free, which figured into the cost/benefit analysis of paying $700 for the phone. Frustrating...

Here is a thread to follow for anyone having this problem. I just found out that the same thing happened last week so I'm going to wait a few days to see what happens... http://forums.windowscentral.com/microsoft-lumia-950-xl/398310-free-disp...

contact support. that's been happening a lot and it's not supposed to. i contacted them, still working with them on it, but its clear that the offer isn't supposed to be gone. not sure if the physical store can help that much though since the code can only work in the online store.

MS Chat just said the offer was no longer available (USA). So frustrated.

Yes, I got the same answer from both the physical store and now MS support. I can't believe they are pulling this! I'm going to wait a couple days... I really hope this is just a mistake and they will sort it out.

As they say the early bird gets the worm

What a joke. I need a new phone (dropped my Lumia 1520 into the Pacific and now it occasionally thinks headphones are plugged in and I can only place calls via Bluetooth headset or speakerphone). I hope the offer returns and it's just something prompted by the dock being out of stock, so I hope you get to claim your free dock.

That app gives u a code but when u try to redeem it says that they are sold out, and when I asked Microsoft they said that it was over and they sold u can't get the dock anymore

I was under the impression that the dock is only available through the offers app after you've purchased the phone.

Was it in any way discounted or bundled?

Dang you AT&T! I could've had me a 950xl already if you carried it.. :|

Buy the unlocked version.

Unlocked Lumia 950 is cheaper than AT&T Lumia 950. With unlocked you have pay upfront.

With AT&T Next plan you can pay phone in installments or may be discounts on 2 year contract.

Who uses this feature in real life frequently? Only apt for company managers not common people!

There is more to continuum then just productivity.

You just answered your own question.

You are just thinking about yourself. Your thinking is like you don't need continuum and hence you made yourself clear that others also won't require continuum.... :/

Who uses this feature *yet*. A feature must first be introduced before it can become popular. Who knows how the technology world will be like in a few years time, this could be the start of a massive shift in computing or a minor footnote about a weird venture. And as a student, this would be handy. Not deal-breaking for me I admit, but I do get frustrated at the very confined capabilities of the 'student-proof' school computers, which have accounts with very limited abilities (seriously, you can't even view basic document properties or access sites like OneDrive). With Continuum, all I need to do is unplug the monitor and link my phone up instead and there we go, I've got my own PC in the physical shell of another, my work all saved on my one main device that travels everywhere with me. And that'd work on computers of my friends and family. It'd make USB sticks redundant when I need to take files across devices and it'd just be convienient. A nice bonus to come with an expensive phone like a 950.

I am seeing more potential for people that don't have a lot of money to buy multiple devices. It will probably be more popular outside of the us. Hopefully ms can bring this to lower end devices (if technically possible), I see huge opportunity there

Its easy they could do the microkia thing & cut corners & use mhl/usb2go instead it still has more then a enough bandwidth fgs seeing as even this implementation is stuck at 1080p

People who have tasks delegated by managers, maybe??

Wonder if email on continuum on their huge 70 inch screen didn't show images in the body of the email......thry probably only showed Text emails.....☺

It's because "always download full message and internet images" in the app was "unchecked"

No, Outlook email is terrible right now because images do not display even if it was checked. The formatting is also screwy.

Ok, but for me there isn't any problem,I am using outlook for PC. Well I guess the problem is from outlook for phones in your case.

I never had any trouble with auto-download of images when I had it turned on. Maybe try toggling it.

Got my 950 xl on Monday, amazing phone. After a small mess up on ordering the free continuum dock it's now on the way. Using Continuum over Miracast onto my 4k tv works very good.

I thought continuum works only with the help of 'dock' .

Nope. With Miracast (=Intel WiDi) too.

Hummmm Miracast? Great news

And with HDMI adapter as demonstrated in an earlier article...

I would use continuum at least a few times a month. I keep my mortgage and other such finances in an excel spread sheet , for instance, and update it a few times a month. Would be far easier and more efficient for me on a bigger screen. Plus I think it's one of those things you won't miss/realize you could use until you actually have a device that can do it.

I was invited but someone got into an accident so I missed the train :(

Does continuum support surround sound? This could truly replace my htpc if so

They demoed that it does at the launch event.

I haven't seen 'audio' settings in Extras on 950 so probably you can't even get Dolby! My 830 has it.

I think Dolby Digital is the constant sound you get once the device is plugged in and giving the sound to something that isn't it's own speakers....

Was there for the event. Wonderful opportunity to network and establish contacts. Already had my 950 XL, but went to see how continuum works before I got my own dock

I'm assuming the room was packed with staff from the Verge :)

Was invited to one of the events being held in London tonight but he I can't make it.

I just attended the event in Rotterdam. Love the drinks and bites.. Just bought my new Lumia 950 with free display dock :)

Lumia 950 with free display dock--thought it was only for the 950XL?

I signed up but I guess I am not a biggest fan.

I want to buy one....but but they did not release here yet

Got my display dock in the mail yesterday #lucky

Wow its Exciting times to be interested in Windows Phone/Windows 10!!!! That event sounds like it was a lot of fun!!! Would have loved to get my hands on a Lumia car charger or glasses!!!! It's a shame you didn't take a video of the event, but pictures will do!!!

Love the energy! I can't wait for my new phone

I'm not sure I'm going to use the Continuum feature a lot, especially at the beginning, but I think it's cool that I can go to my friends house with a Bluray movie on my phone and show this on the TV with the display dock or mirror cast, or it will come in handy when traveling, especially to places like South America (Talking from Experience) where they might not have Windows 10 as yet or even a computer that is connected to the internet, plus all my files are with me, no need to access the internet if I need my data, with the advancement of technology it could become more useful, not practical for everyone, but still a cool feature, it's always better to have a feature that you might not use a lot than to need a feature and not have it!!!!

Currently at the London event. Trying to buy an XL, been queuing for an hour. Awful experience, disorganised event, puts you off buying a new phone!

it was pretty cool event the reps there were amazing and I made a couple friends... i had already bought the 950 before going so no free dock for me :(. i didnt expect to see myself in any pictures lol

They actually had phones for sale??

yeah and they had live demos and some nice alienware setups too

I was at the Bellevue, Washington event which was packed with Insiders. I bought a 950 and got a free Continuum dock (as did a fairly long line of people to the point where they were running out of stock on the 950 XL by the end of the event). Great event and staff.

I used it today for first time and coworkers were impressed. I hope the remote desktop app works soon

Yea, I got the invite but no way was I going to NY.

wasn't able to get into my local one which îs a shame as i am unconvinced WM 10 is ready yet for public consumption. iris recognition, edge browser, continuum are surely all still in beta, no? All the reviews are suggesting this and also say it's filled with inconsistencies. looking forward to more long term reviews and actually getting my hands on one soon.

i have the 950 pretty much since is dropped. But let me tell you what, the platform is far from complete, however the builds are stable and everything does work quiet well.

I registered, but couldn't make it... :(

I was on the event in Stockholm, Sweden :D

i wasn't invited >.> guess im not as big of a fan as i thought...
Windows Central Newsletter
Thank you for signing up to Windows Central. You will receive a verification email shortly.
There was a problem. Please refresh the page and try again.