Microsoft working to add new Windows Store features in Windows 10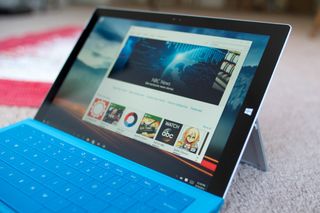 (Image credit: Windows Central)
The official launch of Windows 10 in late July also brought a new version of the Windows Store for app developers and publishers to use. This week, Microsoft offered an update on how the Windows Store is doing compared to the older version on Windows 8 and 8.1 and outlined a few plans for the future.
Microsoft stated that the average Windows 10 user is downloading six times the number of apps on Windows 10 compared to Windows 8:
Microsoft has also made the Windows Store itself a universal app for Windows 10, which allows the team to quickly update it with new features and bug fixes:
Microsoft also points out the upcoming official launch of Windows 10 Mobile, which will use the same universal Windows Store app.
Source: Microsoft
Store's biggest issue is Search does not work. You cannot find apps unless the word is in the title. Search for "Running" and Runtastic doesn't show. Etc.

My biggest gripe is the update details and manual download & installation option.

I totally agree with you here ... the search is definitely not smart enough.

This store front end is really bad, it should be the top priority to enhance it. Just think about an equivalent of the steam curator system where you could follow your facebook friend and publishing company like rudy's or tech news site like wpcentral, it would really increases the number of downloads.

You beat me! My response was going to be: "How about results when I search for something?"

I agree with realwarder. The Windows 10 Store Search is weak salsa. Without directly typing in the name of an app, the results don't seem to provide anything of value. I even went so far as to chat directly with a Microsoft rep about the issue because none of my apps would appear even when using obvious keywords. The rep pointed me to some 'feel-good' marketing narrative about how smart the new search is. But there kind of seemed to be a chicken & egg problem from my understanding. Seems like it doesn't need to be that smart, but just take into account: search keywords and rank apps by review rating with a sufficient enough statistical sample (say > 25 reviews). Maybe false reviews are a bigger problem than I realize.

I agree their search is not the greatest. But if you look at Runtastic, not a single use of the word "running" is in the description. They even have a keywords list to hit search and running isn't even in them. There's a limit to what Microsoft can search if the app itself doesn't use any of the words. Technically it could parse for non-plural versions of words etc.. But the search definitely is not great. And navigation is the most horrible part of all. You search for something. Click show all, you have a huge list so you go into the list to read reviews or what it's about and everytime you hit back it goes back to the main page. I mean seriously any entry level programmer would know to test that. It's even more annoying on mobile since the store isn't as quick and easy to use. This has been one of the issues insiders raised ages ago and it's still not fixed with cumulative updates and store updates.

They just need to fix the store, it's broken totally broken. It takes forever to see your library on windows 10 and you can't even see it on mobile, you can't even download some apps from the store fix it, fix it, fix it please.

What about having the last updated on it!

Ha ha. That would mean showing how out of date some apps are. Not going to happen. Yet.

Just having an update/download history would be nice (like on Windows Phone).

Totally agree. Change logs please!!

Last updated is fine; but, I think displaying an update history would be better.

I haven't even opened the windows store yet..

If you did, you would find there are a bunch of apps on your PC that have updates.

Same thing here. It looks like nothing is changing in the store, no reason to go back. Ectually same thing with win8.

They should coz it lacks most of the features present in old store.
- It takes time to load app infos and install button
- Date of last update
- History of updated/installed apps
- etc

I find it still takes time to populate on wp8.1 wm10 its hit or miss depending on how reliable your internet is. Or it could be that the networking stack on wm10/w10 is still in the unfinished state it was in w8.1

Searched for Microsoft Messaging after installing W10M 10536 and no result was found... Lot of room for improvements Posted via the Windows Central App for Android

Why don't they just work to make a truly high-end looking phone? I don't want to hear anything about people can't afford it because even poor people are getting galaxies and iPhones using the next and jump payment plans; in many cases, having these expensive phones is the only thing that makes them feel important! Third world countries are concerned with cost, Americans are busy trying to keep up with the jones's! Debt is a way of life in America!

I wish the store would let you open apps from the download/updates screen like it used to. They just sit there dead and useless now. Can't fly in and see what the update details are, or even go to the app in the list and open it from there. Hope they add that soon (have suggested in Feedback app)

Yes, exactly. I've upvoted every piece of feedback on that subject I could find.

It would be nice if those "new" features included "last updated", update history and phone OEM sections. You know, like 8.1 has now.

did you requested thos in the feedback app?

Of course. Multiple times since 10080.

Speaking of the store having major issues since the last update with the store downloading app, can take an hour to update a single app like something is causing the app to hang. It's also the store having issues and I've even done a reformat on my computer to see if something was causing it, even without installing anything to the system no change, anyone else having this?

Yeah. My laptop (on latest IP build) is doing the same. Downloading way slower than my browser would. And the progress bars don't update smoothly so it's harder to tell where the issue is.

What would make windows store stand out vs other platforms would be the ability to roll back an update if it has issues. That would reduce downtime and user frustration waiting weeks or months for updates.

Manual download n install please!

Am I the only person who doesn't use the Store? I use my laptop as a laptop not a tabletty app device. I have no need of it.

It is optional, but there are lots of neat apps in there even now. Love things like Wunderlist that syncs between devices. Stuff like that...

i prefere the apps on my laptop for some tasks. email for example: i never used mail from the browser anymore, since w10. weather is also another thing that now i use an app instead of a browser. apps are cool, fast, have notifications. and so on. plus, if everything goes fine, they are also a little consistent in terms of design, compared to websites where there are waaaay too many websites designs, every single one hiding the settings everywhere else and so on.

No. There are plenty of who even know the store exist. But there are definitely some apps that are just more convienent than using a web browser. Like realwarder said, it's nice to have the wunderlist app available without a browser. Mail, Twitter, NFL, News, there's a lot you can do quicker without needing Edge.

Nah, I never use it either. I agree, which is why the the whole metro app push is misguided IMO. People frequenting this site may use Windows apps, but most consumers don't.

What can I do? The store does not find updates for Mail and Calendar and both apps were updated yesterday. :'(

I think that was only for insiders..

next time please bother to read the article.... both outlook apps were updated ONLY for insiders. exactly how the photo app got updated with folders support only on preview builds too.

I hope we can purchase track/album from groove music via carrier billing..

My Main issue with store on win 10 and win 10 mobile is that it does not notify which apps are updated like wp8.1 and mannually Install apps

Download appx via web version of the store!?

Vote for the below two feature suggestions. -Mark any app/game as favorite in Store for review/install later
https://windows.uservoice.com/forums/265757-windows-feature-suggestions/... -Need a suggest/recommend flag for apps/games along with review/rating by people
https://windows.uservoice.com/forums/265757-windows-feature-suggestions/...

I have often wanted that first one especially. Please post through feedback app so we can upvote (you can now share links to your feedback as well).

I have posted this in microsoft uservoice, (links posted above). Let me know which feedback app you are refering to, i will post it their as well

I don't understand how Microsoft thinks. Adding"last updated on" to the store is extremely easy compared to other stuff they doing. Yet they leave it out. Do they enjoy hearing users complain?

I remember to read about this and seams that Microsoft removed this because they dont want to show how long developers dont update their apps (like Instagram forever beta)...

Pls change windows 10 mobile battery wifi and cellular icons so ugly straight since windows 8 make wifi icon straight battery icon to be curved and place it smartly on the right cellular icon like squares or equal bars highlighted and non highlighted equalise the designs so weird wp 10 sorry

Absolutely the right place to post this. Well done. You couldn't be more in the wrong place if you tried. Do you go into a butchers and complain about your shoes not fitting properly?

So what its a community why you are so much on booz

A structured community. We don't just all stand in one room and shout about everything at once. Booz?

Yes I agree with that. Search should be enhanced to cover description

Ads of apps? all over the OS?


Please provide an option to delete an app from My Library.


Just bring back Last Updated Date, Versions Number, Download History and add My library sorted by Category and Downloaded Date and I'll be fine...

One super innovative feature I'm missing: don't jump back to the top of a list when going back! Super annoying. That's why I never use the Store longer than 30 seconds.

We need add to whishlist feature

The store is not a "universal app". This term is at risk of becoming meaningless. The store cannot be downloaded and installed from itself. If it were a universal app it would be sandboxes and therefore unable to install other apps.

Somebody pls. Tell Microsoft to add a 'favourites' option where I star the app I like and if I am looking for app to reinstall I can get the list. And to the download percent or size that has been downloaded and pausing is really very slow. I am wp8.1 now. Rolled back

How about a feature that shows the last time the app was updated?

We don't need suggestions outside of the store. What we need is versioning, update history, action center tells me there's an update, update from the action center, action center tells me apps have been updated, and change logs!

There is 1 thing i want in the Windows Store, a 'Wish List' of sorts. Google's PlayStore has it, where u can find good apps and save it in ur wishlist so later on, be it a few weeks or months later, u can download it without having to remember the name of that 1 obscure app/apps u wanted. I hope Microsoft implements it in a future update, cuz i dont think its that hard a thing to do, & it is such a useful feature...
Windows Central Newsletter
Thank you for signing up to Windows Central. You will receive a verification email shortly.
There was a problem. Please refresh the page and try again.