Xbox executives pay their respects to Nintendo's Satoru Iwata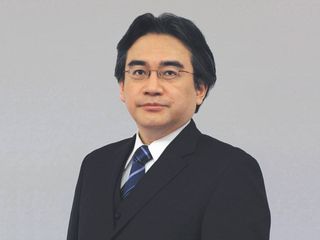 Nintendo president Satoru Iwata passed away on July 11 at the age of 55, due to a bile duct growth. His sudden passing is hitting the gaming industry hard today, and numerous Microsoft Xbox executives are paying their respects to Iwata on Twitter.
Iwata joined Nintendo in the 1980s and worked his way through the ranks before being appointed as president in May 2002. He helped to lead Nintendo as it launched its highly successful Wii console in 2005, as well as handheld consoles like the Nintendo DS. Iwata was later named CEO of Nintendo of America in June 2013.
Microsoft's Xbox leader Phil Spencer had this to say on Iwata's passing:
Microsoft's first and third-party Xbox marketing head Aaron Greenberg posted a black-and-white image of a flag flying at half-mast in Super Mario World to show his respects to Iwata;
Larry "Major Nelson" Hryb, the long-time head of Xbox Live programming at Microsoft, had this to say about Iwata:
Ken Lobb, who worked at Nintendo from 1994 to 2001 before joining Microsoft's Xbox team, remembered Iwata today:
Source: Phil Spencer, Aaron Greenberg, Larry Hryb, Ken Lobb (Twitter)
A big loss at such a young age...

The Gaming World will miss you Satoru, Rest in Perfect Peace :(

R.I.P TO a gr8 gaming soul.!!

Rest In Pepperoni, Mr Iwata. You were a huge influence on the gaming industry.

I'll eat a pizza in his honor.

He started developing games in Z80 assembler, he ended up as the CEO of Nintendo. Infinite respect.

Try not to cry. Cry a lot.

RIP Mr.Sawata you made my childhood with Mario

Mario is life. The Nintendo made console games though not the crappy PC knockoffs.

What a tragic loss... best wishes, respect, thoughts and prays to his family and friends.

Yes prayers go out to his family and friends.

That half-mast flag image is more appropriate for Windows Phone.

Show respect buddy, ain't the place for your wp slight. Man deserves your respect for what he brought to the gaming world.

Dude, even Windows Central make an article of this. A Windows website. Show some respect.

Hey maktaba! Show some damn respect! This isn't about Windows Phone! Its about the gaming industry! You are cold hearted. Satoru Iwata is one of the greatest people in the history of gaming!

Kid got frustrated with Windows uh? Go to some other artical, at least pay some respect to this guy who made our childhood awesome. My prayers are with his family.

This maktaba POS probably thinks he's so clever and funny. This is the only way he gets any attention. By being a POS.

RIP. That's not super Mario world however...

I thought the same, but I think that the author meant the flagpole was located in Super Mario's World (Mushroom Kingdom) and not the SNES game we love :)

Yes I knew what they meant. They certainly word things oddly around here sometimes

A legend at Nintendo and a coding genius! Will be deeply missed. RIP Mr Iwata.

Farewell Iwata. A great guy, passionate, and a driving force behind gaming. You will be missed. I expect you'll gamify heaven too.

Even though I haven't been a huge fan of getting a Nintendo console for the last couple of generations (More of a hardcore gamer and prefer Xbox). But like most older gamers around, it all started with the original Nintendo NES. Gaming wouldn't be the same without him. He'll be missed.

Bile duct diseases tend to be extremely painful. Not a good way to go..

RIP Iwata, I even made a small game (for Android and Windows Phone) to pay you as a tribute. Posted via the Windows Central App for Android

Didn't realize how much he had coded and how much he was still very much hands on. Rewriting whole game engines with no specs, single handed. Great loss, talented bloke.

Satoru Iwata was the driving force of Nintendo and has made it what it is today: A video game company which strives to give gamers fun games and entertainment for the whole world. He will be sadly missed, but NEVER forgotten. R.I.P Satoru Iwata
6/12/59-11/7/15

This should be a reminder that console wars amongst other seemingly important things can become irrelevant in the grand scheme of things, Xbox, Playstation and PC gamers should unite in showing their respect to this extremely significant figure of our youth and culture, a sad, sad day.

I'm a huge Nintendo fan, and this news was like a blow in the chest. I can't believe it. RIP Satoru Iwata. See you in the next level.

John brought this sad news with face like that(profile image).

RIP, Satoru Iwata. You will always be remembered for the contributions you brought to the gaming industry. Thank you.

My thoughts and prayers with his family & friends.... May he rest in peace

RIP Mr Iwata! You will not be forgotten.

Such a legend.. Gone way too soon. May he rest in peace and his family and friends find comfort during this time. :'(

RIP Mr. Iwata. Thank you for making my child hood summer's fun when I had to stay inside or I was grounded with countless hours of Mario Brothers and stick throwing.

RIP. I don't know what else to say.

What hits me like a truck is the fact that he left us with Mario Maker, so that we and the next generation can follow their dreams and be inspired to make their own games, like he did. That in the face of the bungled 3DS and Wii U launches, he took a 50% pay cut so that no one else would have to. That he is the reason why Pokemon Gold and Silver were twice as long, and that you went back to Kanto and fought all the old gym leaders and Red. Ultimate respect for this man, because all he cared about was bringing a smile to people's faces - it wasn't about the money to him - and he certainly brought one to mine in times where I otherwise had no reason to smile. And now there's one less person, /one less President and CEO/ like that in the industry. Let's make sure that his legacy and his spirit never die.

He will definitely be missed. A huge loss.

Rest in piece Mr. Iwata thanks for making my childhood great in every respect the world has lost a great person.

Sorry to hear about him passing away

what saddens me most is that he leaves us in this moment when people seemed to have forgotten the good choices he made in the past and criticise his long-term decisions of now, which he unfortunately wont see the benefit of.

Lost a forefather in the gaming world very sad indeed I will always remember this yrs Nintendo E3 best one ever. This is just crazy man R.I.P Mr. Iwata gone but never ever forgotten

Ashame the 1up glitch doesn't work in real life
Windows Central Newsletter
Thank you for signing up to Windows Central. You will receive a verification email shortly.
There was a problem. Please refresh the page and try again.