Microsoft 'Your Phone' will soon let you stream your Android apps to Windows 10
Microsoft partners with Samsung to seamlessly stream Android apps to Windows 10.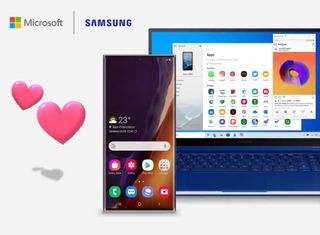 (Image credit: Microsoft)
Updated August 10, 2020: This post has been modified to add a video of the new feature, as well as additional details.
Microsoft has announced that its Your Phone app will soon be getting a new apps feature that will let Samsung phone users run their Android apps in app windows on Windows 10 via streaming. This is a step further from the Phone Screen feature, which would let you control your phone using your PC.
The new apps feature will show you a list of all the Android apps that are installed on your phone, and clicking on an app in the Your Phone app will remotely connect to your phone and place that app in a window as if it were running locally on the device. This feature essentially brings Android apps to Windows, but powered by your phone instead of locally on the device.
You will also be able to pin your Android apps to the Start menu and taskbar, and launch them without opening the Your Phone apps first. It's in preview right now with Insiders, and will roll out officially over the next couple of months. Microsoft says that in November, it will release an update that lets users use multiple Android apps at once, instead of one at a time.
The feature was announced alongside the Samsung Galaxy Note20, and will work with the following Samsung devices:
Samsung Galaxy Note 9
Samsung Galaxy S9
Samsung Galaxy S9+
Samsung Galaxy Note10
Samsung Galaxy Note10+
Samsung Galaxy Note10 Lite
Samsung Galaxy Fold
Samsung Galaxy S10
Samsung Galaxy S10+
Samsung Galaxy S10 Lite
Samsung Galaxy S10e
Samsung Galaxy A8s
Samsung Galaxy A30s
Samsung Galaxy A31
Samsung Galaxy A40
Samsung Galaxy A41
Samsung Galaxy A50
Samsung Galaxy A50s
Samsung Galaxy A51
Samsung Galaxy A60
Samsung Galaxy A70
Samsung Galaxy A70s
Samsung Galaxy A71
Samsung Galaxy A71 5G
Samsung Galaxy A80
Samsung Galaxy A90s
Samsung Galaxy A90 5G
Samsung Galaxy S20
Samsung Galaxy S20+
Samsung Galaxy S20 Ultra
Samsung Galaxy Fold
Samsung Galaxy XCover Pro
Samsung Galaxy Z Flip
Samsung Galaxy Z Fold 2
Samsung Galaxy Note20
Samsung Galaxu Note20 Ultra
It's also expected to work with Microsoft's own Surface Duo Android phone, but that hasn't yet been officially confirmed. in the meantime, if you have a supported device, make sure you give it a try if you're part of the Windows Insider Program.
Windows Central Newsletter
Get the best of Windows Central in your inbox, every day!
Zac Bowden is a Senior Editor at Windows Central. Bringing you exclusive coverage into the world of Windows on PCs, tablets, phones, and more. Also an avid collector of rare Microsoft prototype devices! Keep in touch on Twitter: @zacbowden.
What a joke. Microsoft is now google's lap puppy dog

You've successfully out bleached bleach. Congrats

Don't you mean Samsung's puppy dog?

How does this differ from Samsung's existing product, Samsung DeX? Looks the same only Dex runs on both Macs & Windows.

Comparing DeX to the Phone Screen-in-a-separate-Window feature is interesting. Although I'll be honest and say I don't find EITHER of any value, I'd say that with Your Phone you only need to be on the same network...if you left your phone in another room or sitting on a charger you could still access apps on it (why, I have no idea). DeX, in contrast (at least for now) requires you to be connected via USB in order to use. DeX creates a virtual ChromeOS-type desktop and any app you run then runs as a window WITHIN the DeX environment. So....which is beneficial to you totally depends on how much you want to A) run Android apps and B) want to sandbox them.

Sounds great. Just hope it's on surface duo

Very useful, if it's wireless (unlike Samsung DeX)

If it goes through Your Phone, it should be fully wireless. Maybe a bit laggy, too, but that's not a big deal for me. I doubt this will include support for biometric authentication, though. The one app I'd use this for is a banking app, and I sign on with my thumbprint.

Dex is already wireless. Atleast from Note 20. I believe Samsung will upgrade older devices as well.

Dex isn't wireless yet. It will be soon

It's so cool. If microsoft add tranfer files option to the app it's going to be awesome

That's already possible on select devices...

You mean ALL Samsung devices only!!!!

Or they could just get an official Android compatibility layer running on the Linux subsystem and start letting Android apps in the Store.

That would result to far fewer apps. This implementation is far better because developers don't need to do anything and processing power is offloaded to the phone which is great news for Surface Go users.

Nah. They just need to create their own version of what Google has already done in ChromeOS.
ChromeOS is Google's custom Linux distro but it is very compatible with Debian (think Gentoo, Ubuntu, Linux Mint). In that Linux environment they run Android as a container. (Or more accurately they run each Android app in a sandboxed container.) And the app compatibility is great no matter whether the CPU on the Android device is x86-64 or ARM. So TBH, Microsoft could have been running AOSP Android-x86 in a container or even virtualized via KVM/QEMU for years now. (They could have done similar on Windows on ARM devices). The user would have the option to install Google Play Services and everything. They just haven't done it for reasons that only make sense to them, even though it would vastly increase the quantity and quality of apps available on Surface Pro X and any number of other devices. Since AOSP is FOSS there would be no issue with Google either.

Considering I'm not paying $1,000+ to get a high-end Samsung phone, I hope this feature comes to all Android phones.

There are much cheaper Samsung phones you know. Right now quite possibly the best deal among Samsung phones is the $600 Samsung Galaxy A71 5G with the same CPU that will be in the Pixel 5 and is currently in the Moto G Edge+, LG Velvet and several other great phones. Soon there will be a $400 Samsung Galaxy A42 with the Qualcomm 690 chip that is going to power pretty much every Android phone released in Q3 and Q4 but the Pixel line. Also, by next year 5G will be standard instead of an option that allows Qualcomm and the manufacturers to charge $100-$150 extra, so all the Samsung Ax phones will have them.

Samsung phones are just way overpriced with loads of gimmicks that most people turn off anyway.

This better come to the rest of non Samsung phones

Doubt it. "Link to Windows" has been Samsung-exclusive for quite some time. I can imagine the only non-Samsung device to get it would be the Surface Duo. https://support.microsoft.com/en-us/help/4551890/supported-devices-for-y...

Better? Samsung "better" support non Samsung phones? OK. 🙄

This better be extending to the Duo. That's all I'm saying.

it'd be so weird if they didn't; fingers crossed

It'd be weird, but I can also see a scenario where Samsung engineers created the software and they're not sharing with the competition, even if that competition is Microsoft itself.

This better be extending to any Android phone. I mean, is there really a technical hurdle for that or they're just leveraging the exclusivity?

It's Samsung's product. Why should they give it to other companies?

Microsoft's "Your Phone" is a Samsung product?

Because Your Phone IS NOT a Samsung product and it works with ALL Android devices not just Samsung. Those features should be available to ALL Android devices not just a small subset of the entire market.

Can we just not have a Windows Subsystem for Android, and run them on our computer?
It worked for Project Astoria when we could run Android apps on Windows 10 mobile.

BlueStacks has been out since 2011 and it lets you run Android apps on Windows. Not sure why you're not using it if that's a feature you want?

This would be a cool way to have a Surface Duo Pro (With W10X) and still run Android apps. MS should buy them.

Eh. Bluestacks is ad-supported if I recall correctly and it also installs VirtualBox onto your Windows PC without telling you. Getting a native - or at least built in - Windows solution that leverages the KVM or containerization available via WSL would be far better.

I would not be surprised if it is what will happen eventually. When people accept and adapt to the idea of running Android apps on Windows "through their phone" as in the current implementation - it's pretty evident that the next step will be some kind of runtime. The reason why there's no such thing yet is because of the sensitive nature of the matter (people complaining that running Android apps on Windows 10 is some kind of "defeat"). Running the apps "from the phone" on the PC is an easier way to sell in the idea before rolling out an Android component for WSL. Yet another way of implementing it is through Chromium browsers (ARCWelder was a way of doing it).

Another new cool innovation for the consumer from MS. So let me take you through the "cool innovation for the consumer" lifecycle that typically comes from MS. Year 1: "Cool innovation" gets made, has good support and feature upgrades for a year, consumers love it because it really is a good idea. But it won't get any real publicity. Year 2: fans will be using "Cool innovation" heavily, relying on it, building ecosystems around it. But again, no publicity, no marketing to the public (just on the websites only the fans are known to frequent), the userbase reaches its peak (although a very loyal peak) and doesn't grow or shrinks slightly. As a result, feature upgrades stop, but stability and security updates still happen. Perhaps it will even get a new logo, that will be the extent of their marketing. Year 3: nothing, no updates, but still promises to the fanbase that the "cool innovation" will continue forever. Year 4: MS statement, "We will be discontinuing our 'cool innovation' next week. Sorry to all fans who built an ecosystem around this 'cool innovation' but are now high and dry...try migrating to Facebook or Google"

Like every other tech company, Microsoft tries different things. Some work out, some don't. This is normal, and it is the way of all innovation. The Your Phone app started life like so many other apps and services MS has launched or bought. Some have been discontinued or didn't gain traction, while others did survive and even grow. Yes it's true that sometimes these fail from poor management in Microsoft, but more often than not, many fail because of larger factors that could not have been foreseen, predicted or controlled. And some do gain traction and become successful (e.g. Your Phone, Teams, Android Launcher). Any tech company that wants to survive must be willing to try different things and very willing to fail, and then to try again. This is the way it is, if a company does not do this, they will not survive.
For example, I'm particularly impressed with the way Microsoft has embraced Android and iOS after trying with WP/WM. They definitely hoped WM was successful, but it unfortunately didn't take-off, the gap to Android and iOS was already too great. Learn and move forward. Now the Duo will launch with Android.
Heard that ChromeOS will soon be supporting Windows installation. I wonder why. It's what all great tech companies do.

That is weird that ChromeOS will allow a Windows installation. ChromeOS devices usually don't have the specs to handle Windows smoothly, oh well. MS business products have been doing great (which is why the stock is up), but the only, mostly consumer product I've seen have any longevity is the Xbox. I can't think of any other consumer focused product from MS that's stuck around for any length of time. Anthat's what I see of this Your Phone app. Sure its been around since Windows 10 started, and now they are putting all the resources into improving it. But I only see it as a mostly consumer product that will eventually fizzle and go away, like Cortana is currently doing.

"ChromeOS devices usually don't have the specs to handle Windows smoothly, oh well." You are 2-3 years late. Chromebooks with 8 GB of RAM and Intel Core i3 and i5 processors have become commonplace ever since Google rolled out Linux Beta in 2018. Even before then, we started seeing the first batch of "productivity" Chromebooks thanks to Android support in 2016 when everybody but Samsung - basically the only company that still makes good money off expensive Android tablets - started using Chromebook 2-in-1s to replace tablets. Now you even see some Chromebooks aimed at programmers, designers etc. that have up to 16 GB of RAM, Intel Core i7 CPUs and 512 GB SSD. Intel Project Athena enabled Chromebooks are popping up too, and AMD also wants to get in on the act. Google put KVM and QEMU support in ChromeOS earlier this year mainly to support Steam. A partnership between Google and Steam was announced earlier this year and at some point you are going to see "gaming" Chromebooks ship with SteamOS and Proton (Steam's custom WINE product) included as well as support for discrete GPUs, both eGPUs connected via Thunderbolt 3 (support for that is on the way) as well as Nvidia or AMD cards built in. Meaning that Google is not putting all their eggs in the Stadia basket. But of course a side effect of working in support for SteamOS is that Windows virtual machines will be possible in ChromeOS for those who want it. Even if full support - meaning things like the ability to transfer files directly from the Windows VM to the ChromeOS host - likely isn't there yet. So basically ChromeOS devices with less than 2 GB of RAM and the Intel Pentium/Celeron or bottom of the barrel ARM CPUs pretty much aren't being made anymore except exclusively for the education sector.

I already do this with scrcpy. It works on all my android phones.

Uh, I think Dex works just fine as it is. So I guess it will be nice for non-Samsung people.

I hope they also fix physical keyboard layout issues by then.

I have the feature on my SP6 and it's not that cool. Where you used to see SCREEN MIRROR on the Your Phone App you now see Apps. When you click it you get a screen of apps like you saw in the promo video. But when you launch an app it just shortcuts it to screen mirror. Can't do multiple windows, can't move it around. If you pin to taskbar it just launches into screen mirror.

I answered my own question: with the power and convenience of running multiple apps side by side available later this year.

This better be possible on the Surface Duo!

I'm eagerly awaiting the ability to stream Android apps to Windows Phone! I'm sure I won't be waiting too long for Microsoft to add that feature.

I already enjoy being able to access my phone from my PC, so this feature will definitely get used!

Does the 'Your Phone' app support the use of Bluetooth headsets when making a call from a PC, or does the headset need to be wired?

I'm on windows 10 version 20H2 and "your phone" now has more functionality for apps, but messages still doesn't (can't delete/reply). Hoping next version will rectify.

Doesn't it simply stream messages app then?

I don't think that MS is going the right way by just developing a feature for a single phone brand.

Since this feature was a collaboration between Samsung and Microsoft it should be no surprise that it is available on Samsung devices only. Samsung would understandably not be happy with their part of the effort being made available to other OEMs, thereby eliminating their competitive advantage.

It's up to OEMs to include the functionality in their firmware. Also, I am pretty sure Surface Due will feature this 😉

Also, to not be clickbait and provide accurate information on the content of the article, the title should mention it's "Samsung only".

It would be really awesome if they would make Messages syncing work consistently before moving on to other "New and Exciting" features. New and exciting features aren't all that enticing if you can't get the basics right.

Agreed. I hate to read the same notifications over and over again on all my devices.

AMEN! I find goggle's SMS tool for windows connects most reliably.

I'm using this now, in preview. I like it.

..... but only if you have a Samsung device because we artificially limited it to those devices 🤨😐

They artificially enabled it to those devices.

But what about Android phones beside Samsung? We should not limit to Samsung only. It should be made available for all Android devices

Can't wait to try it out on my Pixel 4xl.... Oh no, hold on a minute....

But what about my Nokia 9? Will this eventually be possible on my phone? Will be upgrading to the Nokia 9.3 so hope it will be coming to other Android phones...

Means absolutely nothing to me as I don't use a Samsung. They need to open it to all Android users of a certain OS or higher to make it a worthwhile feature, otherwise it's gonna be something only a few are interested in and only less than a few will likely use. I'd be interested in it, but as a Motorola device user for right now it means nothing to me...

Let's be honest. All this truly does is create multiple instances of the Your Phone app focused on the Phone Screen aspect. I've tried it out and I'm can't think of any real value to it.

Well, this is the final nail in the UWP coffin. It is so sad that Microsoft finally got all of the APIs together in Windows 10 to allow a single app project to run on Windows PCs, tablets, Phone, HoloLens, and even Xbox. Windows days are numbered.

I would be much happier if they had added send to multiple SMS contacts

It's exactly the feature I want. Unfortunately, I can't use Your Phone because I have all kinds of connectivity issues with it. Instead, I'm using Dell Mobile Connect, which, despite its more limited design, works 100% of the time.