Microsoft's 3D Touch 'Flyout Tile' navigation for Windows Phone leaked in a new document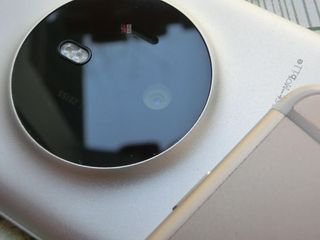 Nearly one year ago, Microsoft began field testing their new 3D Touch navigation system, which at the time was destined for the flagship Nokia phone codenamed Goldfinger (and later 'McLaren'). The phone itself was scrapped at the last minute due to numerous factors and sullying Microsoft's flagship story for the fall of 2014.
In the past, Windows Central has given extensive details about the so-called 'Flyout Tiles' for a new Mixview feature. The system worked by hovering your finger over a Live Tile, which would then explode into smaller tiles. The design was reused from the Zune days where images related to an artist would do the same.
Today, the site WindowsBlogItalia has posted one of the images from the documentation that shows how this scheme was to work. Windows Central is now providing a second image, seen above, which gives a more real-world view of the Flyout Tile function.
Developers were to have access to this system, letting them program the smaller tiles with text or images. In theory, an app like Facebook could show you latest photos posted to your timeline, notifications, and more. In the example above, a contact's information (latests update, phone, text, etc.) is revealed through the Hover gesture.
Interestingly, the Flyout Tiles feature and 3D Touch APIs were hidden in the Windows Phone 8.1 SDK through a Hover extension, but only a select few developers had access to the full documentation. The APIs included such things as gestures, side interactions and heat maps.
We should caution that this information supplied by WindowsBlogItalia is actually quite old. It is not yet clear if Mixview and the 3D Touch system is something still coming to Windows 10, and whether new flagship hardware due this fall will have this technology enabled. Everything about a new flagship Windows Phone is still speculatory and unconfirmed at this point.
Regardless, for historical purposes at the very least, you can now have a better understanding of the system we described last summer.
Source: WindowsBlogItalia
Windows Central Newsletter
Get the best of Windows Central in your inbox, every day!
Daniel Rubino is the Editor-in-chief of Windows Central, head reviewer, podcast co-host, and analyst. He has been covering Microsoft since 2007 when this site was called WMExperts (and later Windows Phone Central). His interests include Windows, laptops, next-gen computing, and for some reason, watches. Before all this tech stuff, he worked on a Ph.D. in linguistics, watched people sleep (for medical purposes!), and ran the projectors at movie theaters because it was fun.
Then just vote for the implementation of flyout tiles for folders with a workaround.
https://windowsphone.uservoice.com/forums/101801-feature-suggestions/sug...

no. 1st, folders are not ugly. nokia/samsung folders apps were ugly. curent live ones are not. but thats a matter of perspective. 2nd, lets dont come up with messed things. folders are one thing, flyout tiles are another. each with its use. i wont like to have folders like this flyout thing, also not liking the idea of wasting this function on folders when it could be used on additional tiles for an app.

Nope folders are ugly, but like you said it is really perspective that matters. For me it is, with black borders and all so looks very ugly to me, exploding tiles look better and about the functionality, I wanted to edit the suggestion but couldn't, folders is just one suggestion, it can be implemented also for messaging or email or Xbox(playlists) etc. But folders would suit it best, but then again it is matter of perspective.

Folders are not ugly. FTFY, QED, DNE, OMGBBQ

I always thought this would be really useful for things like the photos tile. There's a lot of times where I'm looking at my start screen and see an old photo I love come across the live tile. This sometimes makes me think "Oh yeah, I love that one" and I want to get a better look at it. However, without some kind of tile interaction, I have to open photos, then scroll through all of them till I find it. I would love some way to instantly open that specific photo without having to dig. I can only imagine that there are tons of other ways such tile interaction would be useful.

What could have been McLaren :/
​

We could have a flagship to counter iPhone6. WP market share could have been highter especially in US. I could have that in my hand already. The wait for W10 Phones could have been less painful.

Keep dreaming... McLaren wasn't going to do it. I'm a big Windows Phone fan and supporter but believe me, the tech sites and blogs would have panned it as a gimmick or not enough to get over the app gap and their other predetermined biases towards Windows Phone and Microsoft. Microsoft's climb back into phone relevancy is going to be slow and steady, as they've been doing. They need to get that market share up before any app devs will take them serious. Sammy and iPhone fanboys are not going to flip over night. MS needs to go after the average smartphone users, new smartphone buyers, and people unsatisfied with Android or iOS. They'll get there eventually...

Considering what's coming with Windows 10, the marketing and headlines it's prone to get and the push from MS which seems to be placing all its resources like never before into the launch an OS ...it makes much more sense to launch that new flagship with 10 rather than the older OS which hasn't picked up sales despite anything they've tried. We've actually had some of the best devices in the market and still not a dent. It would be a shame to launch a new flagship with such features and go unnoticed. Im glad MS waited it out, as it should (most likely) pick up much more sales with the launch of 10 than the hanging 8.1 ...with all the headlines MS is prone to get with 10, it's going to be hard to ignore it or any of their launch devices.

Well this flagship is going to be the first from Microsoft. With how they have been doing on the low-medium end handsets I have every faith that they'll get this absolutely spot on. It'll be a true replacement for the 920/925.

Microsoft has indeed proved that they know what they are doing with their hardware which makes me certain the flagships will indeed be spot on, great and will most probablt introduce something "new" since its their first flagship and there is a lot weighing on it, in addition to taking so long to release. On that note, the 930 is a true successor to the 920 in every possible way, it unfortunately just had a very odd release schedule and came very late to most markets.

The 930 wasn't a true successor to the 920. It was in most respects but not all. The fact it had no glance screen was the killer for me. A flagship shouldn't be cutting features. It should have every available feature there is.

Lol seriously? Lack of glance doesnt make it a true successor??
Despite all the other improvements that they gave us that actually make a difference? While i respect that glance is a feat. many enjoyed, the lack of it isnt make or break because you could still see the same info with a simple double tap to bring up lockscreen. Double tap is still there. I get the novelty of having it but its not an advancement ...all other aspects of the phone that made the 920 so great were improved upon except capacity which was left the same.
By your logic, the Galaxy S6 isnt a true successor to the Galaxy S5 because that phone actually sacrificed features too.

Glance makes a big difference to my overall experience. It's something I can't be without. I hated not having it on the 930 and also hate it when it's not there on my Note 4. Might be a novelty to you but it really isn't to me. In terms of the Galaxy S6 it still does everything the S5 did. Sure there's no removable battery or micro SD card features but then that isn't on the 930 either so if that cant be classed as a flagship then it's it all goes to whack xD
At the end of the day the 930 had nowhere near the same effect for Windows Phone as the 920/925 did.

My simple point is that glance simply doesnt come close to defining what can be categorized as a flagship because it's part of a software/os. Just because it affects your experience doesnt change the fact that it's a true successor to the 920 and just because i dont use it doesnt mean its not nice to have, it just has nothing to do with labeling it as a true successor or not. The 930 improved on everything important in the 920 in a very good way, unfortunately, it lost glance along the way. Had it been released directly after it was announced, im sure you would have seen more interest for the device, it's unfortunate how it was released.
------------------
Losing the SD Card feature on the galaxy is a MUCH bigger deal than losing glance on 930, so THAT is actually taking a step back because Galaxy users have come to appreciate that they had expandable capacity since the day one.
----------------------
To some the non removable battery was a reason they actually preferred samsung to other devices.
----------------------
It also lost waterproof which some users have come to appreciate as well. So technically speaking galaxy s6 sacrificed more features than the 930 did.
----------------------
Last gen of phones all didnt have the same effect as their predecessor's iPhone 4s to 5 was considered meh.
Galaxy s4 to 5 was also considered meh. That's not to say they didnt improve on their previous models but users expected more change which is why you are seeing so much improvements this gen; iphone 5-6, Galaxy s5- s6, and that improvement will also be apparent with the successor to the 930.
----------------------
At the end of the day, just because a popular model loses a feature doesnt mean it's not a true successor especially when it gains more in other areas, which the 930 did.
----------------------
Till this very day the 930 has one of the best camera in the market even when compared to the latest releases from Samsung and apple...the 920 had that effect for a while as well. It was the camera that made the 920 standout and the same can be said about the 930.

Biggest problem with the 930 being a successor to the 920 is that most US 920 users are on AT&T, and 925 users on T-Mobile. The 930 is only available on Verizon as the Icon, thus leaving no option for current 920/925 users to upgrade.

Indeed it's truly a shame how the 930 was handled, it had so much potential and i believe it still does till this day until the 940 comes out.
--------
I think part of the reason for it's bad release execution has to do with the the transition of Nokia devices division to MS as that started when the 930 was announced.

I totally agree IEhrgeizl. I believe Glance to be a signature feature of Nokia's and that it was absurd to release a flagship device without it. The lack of Glance, the lack of a SD Card Slot and the release of the Icon only on Verizon here in the US removed it from consideration for quite a few people.

Exactly. Features we expect it to have now. MS will likely include these with whatever does come along.

Tend to agree. Especially since my phone goes off contract in May. I can wait months after the contract expires. I also noticed my wife and son's iPhone 5 went off contract in February. I have not mentioned it to them and they have not asked. I guess that means they are happy with the ohone and have no compelling reason to upgrade. I guess the width of a phone is an issue. I never thought of it but Apple did say they did not initially imbrace the bigger creen because people could not reach thumb across screen. This brings up the whole idea of hardware life cycle/upgrade cycle. We see that Apple Tablet sales have declined the last two quarters, prosumbably because customers (people like my wife) have no need to upgrade from a 4 year old iPad. It will be interesting to see how many people buy the iPhone 6 versus keeping their iPhone 5. Thus the big unknown. Is Win10 the significant event to push the WinTel ecosystme deeper into mobile? Is microsoft helping itself by selling better and better low/mid range smartphones? Will the flagship build brand image and/or phone sales? Is Win 10 the key to get universal apps pulling PC users out of the android/iOS ecosystems? As much as we all comment on these things remeber there are people who put $ billions on the table and made all the decisions several years ago for us to see the evolution of the 3 ecosystems and the battles they are fighting.

Or it could be just a gimmick that would be target of hate from tech media.

I don't want what you're smoking Posted via the Windows Phone Central App for Android

We already had a flagship phone to counter the iPhone6. It's the Icon (929)/ 930.

TANGENT ALERT!
WOOP! WOOP! WOOP!!!

Actually, if it need a specific hardware, then can this feature is a good choice. you don't want an UI only targeting a particular phone.

the problem is fragmentation. we dont talk here about an additional toggle somewhere on settings for something small. we are talking here about a kind of a big OS addition. sure, make the mclaren use some functions better, via 3d gesture. BUT make the most important functions from those, somehow possible on regular phones too. sure, maybe mclare would have a function to make me pancakes, dont port someting which is hardware limited with no good workaround. but a thing like flyout tiles which on mclaren could be called via 3d hovering, could very easily work on other lumias via hold->hit a specific icon(similar to the resize one)

Hm, that's definitely interesting. I just fear that the lack of information of the fly out tile features on an upcoming new device, or lack of flagship device info in the form of leaks, maybe an FCC leak, is evidence that there won't be anything in that range for a long time. If there isn't information about an upcoming flagship device at Build, I'm thinking the only thing available will be another HTC device, an M9, running Win10 come Fall. Sometimes no news, says just as much as frequent developments and device leaks.


Why don't you just wait for the Microsoft made flagship that Microsoft and Windows Central have talked about?

Didn't you read the last sentence... Speculation

But you can see flyout tiles without hardware requirement in your device with this workaround. Vote for this
https://windowsphone.uservoice.com/forums/101801-feature-suggestions/sug...

There's no Flagship at Build. They probably will launch on a specific event (maybe along with SP4 and another Surface Intel device), but just when they finish Windows 10 (August/September).

There's already leaks about an SP4 using new Intel processors, but radio silence on a Windows phone flagship device. Any device releasing this Fall, would likely be going into production right now.


Here's a fact, when MS wants to keep a secret, they do. They build an entire lab over the subsoil because of HoloLens. There's a lot of RM-XXXX out there, and MS now owns the factories. And they already said that a flagship will be launched this year. I prefer a "Surface like" quality over a half-baked high end phone.

Silence doesn't mean anything. We knew absolutely nothing about the MS Band until a week or two before it launched. No one had even an inkling about the Hololens until MS showed it off. MS has repeatedly said that they are working on a flagship, so I don't see why you think otherwise

Those aren't leaks. They are just speculation by web bloggers. If you read those articles, none of them mention a source or anyone seeing the device. They just state what they think it will have or what they would like it to have.

No. There hasn't been any leaks regarding the SP4. You're talking about the S2 successor, which is rumoured to launch much before W10 is ready (sometime in the near future) i.e. why we're hearing about it now.

Do you listen to anything, they said flagship phones later this year at their last build, do you not listen!?

They've promised a flagship, and band and hololens had very little leakage Posted via the Windows Central App for Android

Might see an m9 but I wouldn't count on it being m9+ being that mediatek has the contract

I hope they're still bringing Mixview :/

@astroxp:
This. Exactly my thought. I don't see a reason why Mixview shouldn't be introduced to Windows Phone, independently from whatever happens to 3Dtouch.

Vote for this, and let's make MSFT to bring this feature to all devices even if they don't support 3d touch.
https://windowsphone.uservoice.com/forums/101801-feature-suggestions/sug...

I'm hopeful a new flagship device will be a big seller. Most of us that have flagship devices are nearing the end of our contracts or have already passed them. There may be a huge influx of Windows phone fans buying the new flagship.

940/940XL will be on every high-end WP owners' upgrade list. I just hope they would make enough of them at launch so we don't have to wait like the MS Band situation.

My biggest problem is that the sim card tray is broken and my warranty is gone. And I can't wait for a high-end windows phone. So that means a galaxy or an iphone:S

Isn't the tray available as an aftermarket part?

Quite easily I suspect. Ebay or an check with support.

Re: NM_N:
Just spend $60 to $80 on a used phone from Ebay or one of the many other sites if you want / need a high spec phone or try one of the lower cost no contract Windows Phones.

@kevin I'm looking into that as well. Also a lower cost wp is an option. Just checking out things, but you should know that I personally never bought the same os twice. I always switch at some point and this is the first time I'm considering getting the same os twice. 930 is only 390 here so is doable.

Wish they would implement this in Windows 10...Quite an interesting view with multiple tiles from one..will make windows 10 more personalised!
Bring it Microsoft!!

Vote for this, implementation of flyout tiles for folders.
https://windowsphone.uservoice.com/forums/101801-feature-suggestions/sug...

Bring it on.. Imagine you can hover on ME Tile and from there you can post to twitter, facebook.. Etc.. Without even opening it.

LOL, I keep seeing folks saying to move on and let Zune go and just deal with it, yet I keep seeing these references of all the things it packed. Oh Zune. So ahead of its time. Just like Dreamcast. Anywho. I didn't actually bitched about Zune so I did good. I hope the XBM crowd are proud of me for giving it a shot by trying to get used to it.

So true. Hopefully we see wireless syncing in the up coming music app for the desktop. We had that in 2008 for zune devices, I don't see why they can't do it today.

People who tried Zune actually liked it. It's the same thing with windows phone right now. Zune was just too late. Apple already won by then. Everybody would think that you bought a cheap iPod knockoff.

We know that features like wireless syncing, tracking tracks, liking and ... are possible because we had them in Zune. We just want all the features (plus more) restored.

The social(ad-hoc samples)

There were too late to localize the HD model in more countries

Microsoft and it secrets!

it's like expanding folders like in 8.1, but in a different approach

smh. I still think it was a huge mistake on Microsoft's part for not launching that phone.
The excuse I heard people say that it wouldn't make sense with Windows 10 coming soon never made sense to me, remembering that the 1520 was launched with WP8.0 when everyone knew that 8.1 was coming soon.

MixView must happen ! Hoping for at least 2 flagships later this year with that feature !
EDIT: Maybe there could be 3 flagship? They still need to bring 930, 1520 and 1020 successors

Then vote for this.
https://windowsphone.uservoice.com/forums/101801-feature-suggestions/sug...

930 - 840;
1520 - 840XL;
1020 - 940.

Or maybe..
930 - 940
1520 - 940 XL
1020 - 1040 or 940 Pro
?

I think they should end the 1xx families. They do not need that. 840 and XL wil be the high ends for the masses and the 940 will be the camera phone, the halo device...

I really HATE the fact that everything about a new flagship Windows Phone is still speculatory and unconfirmed at this point!

It's because it is still far off from release.

But there must be slightest possibility that MSFT may surprise us * hololens and band*

Indeed. I remember how Lumia 1520 leaked months before the announcement and got us all excited :/

At that time was Nokia, now is Microsoft.

Yea the best possible leak in windows phone 8 i guess it was but however Lumia 2520 with windows rt was the worst decision at that time.

So basically app folders, for one app. Good idea, would need to see implementation though. Because messaging and calling options of my pinned contact make little difference in my mind, either opening the people app or tile exploding is pretty similar.

But you can vote for implementation of flyout for folders.
https://windowsphone.uservoice.com/forums/101801-feature-suggestions/sug...

I suppose so. I think in a world of Android Widgets and iOS widgets, this would have been a good MS response. Live tiles are great, but there's little you can do in the way of multiple actions on a single tile. Granted, maybe you don't need 3D touch to get that blow out, but since you can't tap a part of a tile to send a different message, this would have fit the design language and provided that functionality (albeit one more step than on iOS or Android). For example, before they decided to through every setting in the action center (before there was an action center even), we had some quick toggle apps for WiFi, Cell, Airplane mode etc. When I first was on android, these were in a nice little, all in one widget. If I moved that widget, all those options I set to be there moved. With the toggle apps (or any tiles you expect to be grouped) that didn't happen, you moved em one at a time, pinned em one at a time, and unpinned one at a time. each tile's a single function. Granted, now we have folders, so that alleviates, some of the issues. Put them all in one folder, now it's back to being two taps to get the toggle you need, but you can move the whole group around, organize it to look how you want etc. But, it's still, pin one, unpin one and so on with whatever else there is. As opposed to the dev saying, here, pin this one thing (even if it's a folder) and it'll have all the lil mini-functions and updates you need like a widget. So to achieve this, say for fb, I can pin my general feed, a shortcut to share my location, shortcut to a new post, shortcut to share a pic etc all in one folder... but does that sound appealing for the end user? I think it was, and still is, a good answer to the widget stuff on the other platforms. Or at least interactive tiles, which MS Research have already made and shown off (see link attached). Suffice to say, the tile blow out can easily be the "Smaller than 8" screen" version of the ones in the video.

Well that's thought out. I like the idea of one touch. So larger, interactive live tiles makes more sense to me, but everyone uses their phone differently. Just don't want W10m to get bloated... We'll see...

This would be a nice addition for not only clicking a tile but selecting a contact. Their latest tweet, facebook, instagram, Untappd postings along with all other associated messaging apps and shared calendars, all appearing as live tiles preformatted to the best size to show pertinent information. An update or better yet option to change in People hub.

This is my single most wanted feature in Windows 10. Its high time some functionality is added to live tiles. Microsoft Research had already demoed this quite a while ago and they've even shown handover from a Windows 8 device to a Lumia 920 presumably running WP 8.0 GDR3. If they can release this in the upcoming SDK release, it will give ample time for developers to ready their apps by the time Windows 10 is ready for primetime. Bring it on, Microsoft.

Ehh it looks messy to me.

Agreed. Looks like chaos.

I don't agree. But I respect your opinion.

Flyout Tiles, addition of one more reason besides live tiles to get a Windows phone by this point. Make it come true Microsoft!
Next challenge would be to see how developers implement the function in their apps, if it actually comes true.

Live tiles are pretty useless at the moment. They only show a limited amount of information. For more information you still need to open the app, so icon or tile it doesn't really matter.

I beg to differ. Because I (and I assume a lot of people) check their phone very regularly, seeing a few items in a live tile negates the need to open the app. Take for example WindowsCentral. I have the app pinned and the top 3 newest stories are on the flipside. I check my phone real quick and see the top three newest stories. Anything I find intersting I can open the app and read the full article. If not I don't have to open the app. An hour later when I check my phone again, the top two stories are new and the third one is from earlier that I have already seen. Now I have been given a live preview of 5 stories and I haven't had to open the app once. I will give you that live tiles were more useless when you could have fewer on a screen but now with the added real estate there is no reason why you can't have several large and medium tiles with constantly updating information showing.

tmark86,
I agree with your comments. I use the small icon sized tiles for apps that don't have a Live Tile, just like those other phone OS, but not in a filled grid.

Ow I agree with you to some extent but I think that they are less useful than some people make them out to be. They can come in handy but most of the time i see people just open the apps on their phone's. Buy you painted on situation in which the tiles could work.

Battery performance is 1 reason

Thats a valid reason but I've never had an issue with battery performance. I don't think dumbing down a UI or an OS to the simplest point just to save battery is ever a winning strategy. I'll take a slight battery hit for more up to date information and quick glancable information. Battery performance can be a negative to almost any feature. Even Android and iOS have things that run in the background. They just aren't nice enough to display the information front and center.

If a follow-up feature for the startmenu live tiles realistically presented itself I would chose the interactive lives tiles first, exploding live tile a little more distant second.

If this feature comes to Windows phone it maybe one of the few WP exclusive features to attract more consumers.

Exclusive till it gets ported to Microsoft's ios and android apps.....

Or devs arnt as interested enough do do the extra work needed to implement it

Looks cool but is it functional or even practical to have on a phone? Short of bragging rights that is.

Implement it before other platforms get a step ahead

What if Microsoft would release a flagship in the way they did with the hololens? With a surprise

Depends on the features it has. If you want this fly-out tile. Then I guess no, because developers would not have been able to work with it. Meaning only fly-out in ms aps.

It looks chaotic to me. Like the mail and calling and texting icons are all over and in between some messages. I wish it had a more structured layout. This is looking cool over functionality.
But I love the idea. It just needs a better design.

It would make your tiles act like the 3D graphics in movies (thinking Iron Man for example) where one tap explodes a point into a more detailed group of tiles. If Microsoft doesn't think that would make theirs the greatest phone os, then there is no hope.

Ah what could have been. Glad my 920 is hanging in there as no upgrade options make sense at this point

Microsoft is addressing a tone of stuff with Windows 10 and they are doing an extremely good job for most areas, but Tiles is currently not one of them.
One thing is for sure. Live Tiles CANNOT stay as they are today for much longer, displaying random and super useful information that when you click they just open the App without offering a direct link to the information they display is not doing it anymore. Yes they are a lot better than just just a static shortcut icons but that's about it. 3D Touch or not, Windows 10 must include Interactive Live Tiles from Day One.

Indeed they need more functionality.

And be able to have more lively live tiles. More of them and allowed to update more often.

Just give me a 5 inch Lumia 1520 Windows 10 ready already.

That's Lumia 930 minus Windows 10.

If only it had US LTE bands I'd have one already.

Didn't Nadella say when asked about windows 10 for phones in an interview that we will see a flagship?

Yes but when haha 2015 is still a long way off from ending.

Really need this feature in win 10

This will come to Android and iOS first. WP? Wait till Windows 11, the OS that will supposed to fix everything (again)...

Funny! :) Sadly it may be true... :(

Such a neat concept, I really hope to see something like this implemented at some point.

Now that would have been really nice. But Microsoft would have to get away from early days of low memory and storage getting us up into the 64 and 128 as a minimum build. Maybe that is why Mclaren was cancelled because it required larger specs in a device than Microsoft was ready to bring to market. To get this to work more efficiently Microsoft should move it's Lumia for the US market to the Intel Chip.

@DanielRubino
Take a look at this, it seems call recording feature is coming:
http://windowscenter.ir/post/1629/

The words below the yellow box say Call Recording.

2 years between flagships will be the new normal I'm afraid.

I wish it was more often across the board to be honest. No matter the OS. Posted via the Windows Phone Central App for Android

It is still pretty cool. Hope they move on with it.

just make this feature available for all windows phones with windows 10, then everybody is happy

This feature really did have me excited...shame though we might not see it.

The story continues. I love developments like these.

That's definitely two different things. There's nothing 3D in exploding tiles and the concept is quite old. 3D touch would rather incorporate hand gestures over the touchscreen.

I think they already have a better idea. That's whole reason of cancellation. How much better? My brain tells me unbelievably better. We'll see.

This is not an rumor anymore. In the Windows 10 SDK we have the ability to use this in our apps. There is an TileFlyoutUpdateManager and this one Template for the live tiles so i think we will see this at BUILD this year. On the leaked docs we also se the same names of this template so its accurate.

Yes please... ...with sugar on top.

Could be neat... At least it don't look like the apple watch smarties... Ie round candy coloured snacks.

Geez! You are right, there is a similarity to the idea. Uninformed people will think Apple invented it first and Microsoft just copied the idea.

Part of me wants an unfinished Mclaren...but part of me knows I would have moaned about it being not perfect and therefore that same part wants a finished, polished and perfected Mclaren

Novel concepts (if I may say so) like these that are unique to the OS is what makes WP special... the whole hue and cry of the community over threatening to quit WP because of the addition of hamburger menu, bringing services like Cortana to iOS & Android, and porting Android apps to WP is just crazy! Think about it, people need the latest apps (even if YOU don't use them) and apps that get updated frequently. If you need people to convert from another OS, you need to give them familiarity in the way they have interacted with apps before on other platforms, so be it, if it is the hamburger menu. It's essential to be unique, I agree. But not just for the sake of being unique...

If Microsoft wants to catch up with other OS they need stuff like this to set them apart from others. That's a really nice feature and I think that developers would love to implement that into their apps. Just saying.

We need it, it would bring more uniqueness to the system

We need this for all devices, and on all platforms (mobile, desktop, tablet).

I have a feeling Mclaren will return!

Where are the interactive tiles?

I'm glad they cancelled it- they made the right decision. Seems like a lot of work for something that would come off as gimmicky and limited to a few core apps.

Fly outs for pinned contacts would be awesome.

Speaking of flagship devices, I justhe want to know what type of new technology is Microsoft planning to use that isn't already available? Is Windows 10 really going to require hardware that isn't already available to run efficiently for years to come? I bet even the 1520, 930, or One M8 Windows version will be able to blaze through Windows 10 without problems. Posted via the Windows Phone Central App for Android

That was very helpful, thanks for posting. I hope they don't leave this feature out and then someone else such as Apple or Google (more likely) steps in and implements it.

This needs to be on windows 10

Flyout implentation of folders would be pretty flipping cool. Would love to see it.

Can we come up with a cooler name and not just 3D? It's like 3D printer, 3D Touch lol

Looks like MixView on Zune software.

should be icons and this is how folders should work

It was my understanding, probably gleaned from reading here at this site, that when Microsoft presented flyout tiles to developers that few were interested. We barely can get first party developers to write for us so I am pretty hesitant about flyout tiles.

While a nice looking featuer, in hindsight, it doesn't look like that killer feature that would have made millions switch over from Android and Apple. Thatt being said, I would still like to see some sort of implementation of the feature in Windows 10 for Phones.

Only thing I want is that camera.

"Flying Tiles" = worse UI idea since Clippy.

I almost guarantee you that this is how folders will be implemented in windows 10 mobile.