Microsoft's Actiongram app is finally available for all HoloLens owners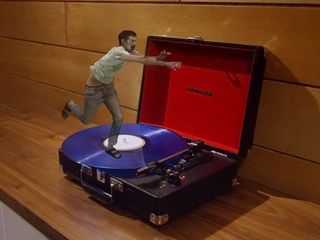 After several months in closed beta testing, Microsoft has finally launched its Actiongram HoloLens app to the general public that already owns the augmented reality headset.
As we reported before, Actiongram was created to allow owners of the HoloLens to quickly create mixed media videos. It has in-app purchases for people to buy and use extra content for Actiongram, including, as we reported earlier this week, a virtual version of Star Trek actor George Takei:
Here's a quick look at Actiongram's features (via WalkingCat):
Use your HoloLens to record mixed reality videos that star your family and friends.
Easily place, rotate, and resize holograms in your real world.
Choose from a variety of content across genres and visual styles.
Look forward to new holograms featuring popular themes.
Share your creations to your favorite social media service.
Download Actiongram for HoloLens in the Windows Store (opens in new tab)
You can purchase the Microsoft HoloLens Developer Edition from the Microsoft Store site for a mere $3,000.
See at Microsoft Store (opens in new tab)
Windows Central Newsletter
Get the best of Windows Central in your inbox, every day!
Great, I would love to see a review of this app, I wonder how the recording works.

They turn out pretty good. I just did this (tried to post earlier, but it disappeared). It is a quick vid, so excuse the feet area - https://1drv.ms/v/s!Ap3QkZuSrF02kfwdLtt0vXCnvIu7fQ

That's amazing! The model quality is better than I expected. Also, the video quality is also really good, usually it seems to be worse in the vids Rubino and other users post.

I just put a couple of more links in the HoloLens forums. The record feature in Actiongram is MUCH better than the standard recording.

John, you crack me up sometimes... "You can purchase... HoloLens... for a mere $3,000." Anyway, you're not alone. Pretty sure that 99% (or more) of the readership of WC would love to have one or even just have *access* to one, but that just isn't going to happen any time soon.

"All owners" meaning Dan Rubino and Russell Holly.

They sold some thousands (only).

General public?! Hmm, it's a lot to take in since this version of HoloLens isn't for the (general) consumer market.

It should be "for devs", but price is not so friendly (it seems a little bit overpriced looking at specs, maybe Ms want to limit the market for some reason), we stay with VR and HTC vive for now, waiting for more market share and a general public release first.

So excited about this! Unfortunately when I download an actiongram from the cloud and try to play the animation, it disappears. When it stops playing the animation, it moves to somewhere else in my room (usually under the ground) and changes size and rotation ☹

Make sure your space is mapped and recognized BEFORE opening Actiongram. Also, stay in the same mapped space as much as possible. If you go from inside to outside or vice versa it gets screwy. The biggest, though, is to make sure your space is mapped and recognized first.

Ok thanks! I was using it in a new space that I hadn't mapped yet. I know it's in beta, but by final release it would be cool to automap or at least have a warning when it's not mapped enough!

Sounds like you downloaded the "floor is lava" actiongram ;)

Mere $3,000? Yeah, right. I'm excited. I'm getting units for every member of my family. That's 8 units