Microsoft's Actiongram app for HoloLens will let you create mixed reality videos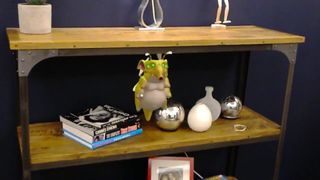 Microsoft is working on an app for HoloLens called Actiongram, which appears to be a movie maker of sorts. According to leaked media and details shared by Twitter user WalkingCat, this particular app will allow wearers of the augmented reality headset to edit media and content while interacting with real world objects.
As well as offering the means to create these new experiences, Microsoft is also set to unleash a clicker peripheral that should also be compatible with Actiongram. Here's one of the videos shared by WalkingCat for the new internal HoloLens project:
It's a fairly neat concept, though as Brad Sams points out, these clips are to last just 30 seconds, making them more like short shareable clips rather than lengthy recordings. Microsoft may also be planning to use this app to help enlist content creators to market HoloLens.
Finally, health and safety information was also shared online, which runs the wearer through potential issues when first using HoloLens, as well as some health tips to prevent one from becoming fatigued during the experience.
Rich Edmonds is Senior Editor of PC hardware at Windows Central, covering everything related to PC components and NAS. He's been involved in technology for more than a decade and knows a thing or two about the magic inside a PC chassis. You can follow him over on Twitter at @RichEdmonds.
sony is going for gaming with there virtual reality wearable , Microsoft is going for who I don't know , who are you targeting Microsoft with this hololens ? For me till now I'm not interested. Focus please Posted via the Windows Central App for Android

Sony is "only" focused on Gaming, Microsoft is open to all Sides of Life, thats the different.

For the moment i think there is no target, and one is not needed. They do experiments and innovations. And this is how technology should be further developed. In this world their is not everything abouy money, but people forget that. All great people have invented and discovered for the world and not for their pockets;).

You don't have vision. They are defining a new area of computing. Just wait for everything to come up. This is the future. Don't think computing alone is gonna stick around desktops, laptops, tablets, smart phones and game consoles. This is a new computing platform

I don't know what to say about that. Pc's are here to stay. They can become a vintage product, but they won't die. They are the vinil of the technology. Bigger, but better.

Two different products, can't really compare.

NASA deployed two in space which helps them repair things faster as not all engineers are on board. They will be able to help remotely with the help of HoloLens. Gaming will have its time. For me, augmented is better than VR.

It will also redefine the gaming experience.
It won't have games like COD, but it's own category. Something on which person will use its own hand rather then a game pad. Posted via the Windows Central App for Android

It will have COD because it is a computer.

"It will also redefine the gaming experience. Something on which person will use its own hand rather then a game pad"... Not only that, but you will play against robots, monsters, etc. while also being able to see your friends playing inside the same game! Indoors or outdoors! Simple kid's games like hide and seek could be taken to whole new levels! Then there is science, medical, factories/production, etc. and as metioned; Space! Hololens are limmitless for someone with a vision, then again, if someone cannot see this, it's not Hololenses limmitation by itself!

Who is the target when PC is being made? Or a smartphone? Or a TV? Or a paper-pencil?
Gamers? Scientists? Teachers? Students? Accountants? Or designers? Just like all of them, this is a new category of device, with a 'unique input/output' method. No one can define a market for it yet. They're clearly exploring ways it can be more productive, than all other existing devices. Posted via the Windows Central App for Android

Yups. Market is defined by advertising these days.
Do we have any idea that people will by smartphone for playing candy crush. Posted via the Windows Central App for Android

You're clearly not getting it. This goes beyond VR or gaming, which to be frank it's still a gimmick until they come up wth new software ideas. This is a new type of computer.

Only for work. Work which is predefined. Work for productivity. Right now not much for entrainment. Posted via the Windows Central App for Android

In the early 1940s, IBM's president, Thomas J Watson, reputedly said: "I think there is a world market for about five computers."

If he had just said; "five computers per person"...

I can see a 3d artist working with this, I can see an architect giving his/her clients a virtual tour through their future house, I can see Minecraft being crafted in your own home... you only have to see the product adds to see this is not just a gaming device with no target. This is a whole new device intended to provide new services and expand the capabilities of current computers. There is more to the world than just gaming.

Hololens = Complete computer.
Sony VR = VR screen only for PS.

I'm thinking snapchat alternative.

It has 'gram' in the title so I'm guessing it's moddled on Instagram/Telegrams but for video.

There should be an app called "gramchat" lol. But seriously thanks. I didn't think of that.

Sexting in 3d. I imagine it'll be really popular with the kids.

This is great because at this stage it's how we're going to be able to see stuff from people who try Hololens. Or those lucky ones who buy one. Which I'd totally do if I had the money.

Hey, you can't see further than gaming. Hololens is made for architects, doctors, all of ingineers, builders, scientists....

Cool, we can use it with glasses! Nice, that's what I was worrying about.
Windows Central Newsletter
Get the best of Windows Central in in your inbox, every day!
Thank you for signing up to Windows Central. You will receive a verification email shortly.
There was a problem. Please refresh the page and try again.