Microsoft aims high with AI — these are its current real-world impacts
Satya Nadella's AI ambitions include infusing intelligence into everything from software products to IoT devices. But will Microsoft deliver?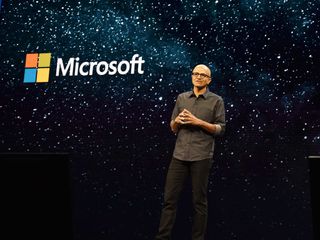 After Microsoft's dismal performance in the mobile space and Microsoft CEO Satya Nadella's admission of abandoning consumers, many Microsoft enthusiasts take the company's grandiose proclamations with a healthy measure of salt. For instance, Cortana, the consumer-facing mascot of the company's AI efforts has endured criticism from Windows Central's Senior Writer Zac Bowden, Xbox Editor Jez Corden and readers due to its shortcomings.
Still, despite Cortana's frustrating limitations, Microsoft's AI efforts are not encapsulated within the parameters of the beleaguered digital assistant. In fact, there's a distinction between AI and digital assistants many overlook. Digital assistants like Cortana use AI technology but are not necessarily artificially intelligent. And AI can be implemented in products and systems without being a digital assistant.
The difference between AI, machine learning and digital assistants
So for those who view Microsoft's AI efforts as beginning and ending with Cortana, we'll explore products and services where Microsoft's AI is having a real-world impact today.
Cortana and Zo
Microsoft AI commercial featuring rapper Common.
Like Google Assistant, Cortana has a search engine backbone, and is also available on all popular platforms. "She" is founded on decades of investments in machine learning, AI, and natural language processing and is able to learn user behavior, interests and more.
Though my exclusive interview with Microsofts Cortana Intelligence Institute's cofounder Ryan White highlights Cortana's next-generation abilities, she's useful (for some) today in her current state.
Zo is an AI chatbot that uses machine learning to become smarter and more empathetic over time. This digital companion can be found on Facebook Messanger and Kik.
Bing it on
Bing is Microsoft's biggest AI project, according to Ragan Majumder, the company's product group program manager (see above video). It gleans behavioral, voice and other data from millions of users daily to bolster the system's AI and predictive abilities. This data makes other products like Cortana more capable. Additionally, Bing Predicts uses search, social and other data in conjunction with AI to make predictions about sporting events, reality shows, and more.
Last year Reddit integration expanded Microsoft's AI efforts to make search more natural. Microsoft recently expanded Bing's AI-powered search features related to intelligent image search, word definitions within technical topics and automatically aggregating facts related to a user's search.
Though users aren't "Binging it" as much as they're "Googling," millions are impacted by Microsoft's Bing-driven AI efforts.
Here's why Microsoft is paying me, and will pay you, to use Bing
Office, Teams, Whiteboard and Dynamics 365
Office, the world's de facto productivity suite, is also infused with AI. Editor in Word provides suggestions, real-time grammar and spelling checks, and more. PowerPoint Designer gives tailored recommendations for high-quality slides. Excel's Maps easily identifies hidden trends. Focused inbox surfaces important emails to the front of the inbox. Office 365 Threat Intelligence scans email content for threats. Microsoft's online presentation tool Sway's ability to suggest layouts, images, design options and more for creative "storytelling" is also powered by AI.
Microsoft Graph aggregates specific interactions between users while collaboration tool Teams features bots, like the T-bot that teaches users how to use Teams and the Who bot that helps users find one another.
Microsoft's Whiteboard uses AI that can create tables, and perfect shapes from a user's poorly hand-drawn attempts. Its integrated AI can also solve math problems that are written onto the digital canvas. And Dynamics 365 improves business processes through AI-driven cloud-based applications that use LinkedIn, customer insights, machine learning and predictive analytics.
If Microsoft is the platform for everything does it need a phone?
Seeing and Hearing AI, smart keyboards and more
Seeing and Hearing AI apps use Microsoft's Cognitive Services to help people with blindness or deafness. The Skype AI-powered real-time translation tool allows people who speak different languages to communicate in real-time.
Windows phone's popular keyboard uses AI-power to learn user behavior and adapt word and emoji suggestions accordingly. And Microsoft Swiftkey is a language-based tool that helps individuals with a range of disabilities.
MyAnalytics uses AI to show users how they're spending their time at work. PowerBI's suite of businesses tools glean data and business insights using AI. Calendar.help uses AI to integrate with Office 365, Google Calendar, Outlook.com and Cortana to improve user efficiency. And MileIQ uses AI to automatically track mileage and categorize drive types.
Microsoft's AI platform is giving people with blindness super powers
Camera tech, photos, and video
Microsoft's Story Remix uses AI.
Microsoft's Windows phone camera app (and those of rivals) detects faces and more using AI. And Microsoft PIX uses AI to choose up to three quality images from a burst of up to 10 photos.
Microsoft's AI-driven camera tech can recognize people, activity and objects and proactively respond to what it sees, using the power of AI and edge computing to merge the real and digital worlds.
Microsoft's photo app creates and arranges new albums and more using power of AI. And Story Remix uses AI to transform pictures, video, 3D content and more using tools like View 3D to create engaging content.
Why Microsoft should have kept investing in AI-driven smartphone camera tech
Microsoft's AI is here
Not all of Microsoft's efforts follow the pattern of its mobile failures. Microsoft is first and foremost a software and platform company focused on providing individuals and business with the tools to do more. AI as a diverse software platform fits perfectly with this successful business model and company identity.
Get the Windows Central Newsletter
All the latest news, reviews, and guides for Windows and Xbox diehards.
Jason L Ward is a columnist at Windows Central. He provides unique big picture analysis of the complex world of Microsoft. Jason takes the small clues and gives you an insightful big picture perspective through storytelling that you won't find *anywhere* else. Seriously, this dude thinks outside the box. Follow him on Twitter at @JLTechWord. He's doing the "write" thing!