Here's why Microsoft is paying me (and will pay you) to use Bing!
I like free money. That's why I'm a fan of Microsoft's Rewards Program. Microsoft "pays" me just for using its Bing search engine, and you can get paid too.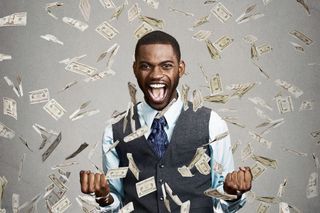 This may sound like a scam or gimmick. I assure it's not. Nor is it a philanthropic effort by Microsoft to line our pockets with cash. Microsoft's search engine is a distant second to Google's and Microsoft's trying to get people to use Bing. It's that simple.
Most people don't realize that search engines aren't just about helping you find information. They're a major backbone for a range of services provided by companies like Microsoft and Google. The data collected from billions of searches executed daily via text, voice and increasingly smartphone cameras, are fueling these firm's artificial intelligence, bots, machine learning, natural language processing and personal digital assistant efforts.
This is why these companies integrate search wherever they can. They need data to make AI smarter, natural language processing more accurate, machine learning more efficient and digital assistants and bots more practical.
Microsoft needs us to use Bing
To make Bing more prolific, Microsoft has included its Bing-based digital assistant, Cortana, in Windows 10 and its Edge Browser. Sadly, Apple recently switched from Bing to Google as the default search engine for Siri and macOS Spotlight.
Billions of smartphones via browsers and digital assistants provide a massive and engaging search platform. Combined with a weak mobile presence and Apple's dropping of Bing, Microsoft's Cortana and Bing are much less engaged than Google Assistant, Siri, and Google. Microsoft is aggressively pushing Cortana and Bing on iOS and Android, however.
This cross-platform strategy is Microsoft's attempt to ensure its presence on mobile and a pursuit of the data Bing and Cortana on iOS and Android will provide the company to fuel its AI, intelligent cloud and ambient computing efforts.
The effectiveness of a company's AI efforts, such as those that are and will be reflected in ambient computing via smart speakers and other IoT devices, rests on the amount and quality of data companies can collect and incorporate into its systems. As a distant second in search, this is why Microsoft's willing to pay us to use Bing.
How does Microsoft Rewards work?
Microsoft's Rewards Program "pays" users in the form of Amazon, Xbox, Microsoft Store or other types of gift cards (or sweepstakes entries). I opt for Amazon gift cards. You'll need a Microsoft account (opens in new tab) to participate, which you can create with an "outlook.com" email address.
Next just sign in at Bing.com (opens in new tab) (or use the Bing app).
"Earning money" is easy:
Search using Bing to earn Reward Points.
Redeem Reward Points for Amazon (or other) gift cards.
Finally, add the gift card to your Amazon account (create an Amazon account if you don't already have one).
Now buy stuff. It's that simple.
Tracking your points toward a $5 Amazon gift card
You'll have to earn 5,250 Reward Points to get an Amazon gift card. That's not hard to do, and it doesn't take long. I just cashed in enough points for three cards, and at 4,255 points I'm well on my way toward a fourth. That's $20 for doing what I'm going to do anyway: search.
On PC, your Reward Points are visible in the upper left corner of the Bing homepage next to a small icon of a medal. On mobile (Edge) selecting the hamburger menu launches a drop-down menu which reveals your Reward points as the first option.
Redeeming your Microsoft Reward Points
To redeem your points on mobile Edge select the Rewards option and you'll be brought to your dashboard. Then select Redeem at the top of the page. On PC first, select Rewards, and at the bottom of the pull-down menu find and "select "See all rewards" to the right of "Redeem."
Once on the redeem page scroll down to the Amazon gift card (or whatever gift card you want) and select Redeem. You'll be asked to confirm your redemption. Note there are different rewards in different territories, and note that Bing Rewards aren't available everywhere either.
After confirming you'll be sent an email with an order confirmation number and claim code. To apply your Amazon gift card to your Amazon account, go to Amazon.com and enter the claim code you were provided. Once you're done $5 will immediately be added to your Amazon account. You're done.
I've yet to meet someone that doesn't want a few extra bucks. "Binging" rather than "Googling" is an easy way to get paid for something you're doing anyway. So set your default search engine to Bing, and "Bing it" to earn money.
There's no reason you should miss out on free cash. I'm earning and you can start earning too (opens in new tab).
Windows Central Newsletter
Get the best of Windows Central in in your inbox, every day!
Jason L Ward is a columnist at Windows Central. He provides unique big picture analysis of the complex world of Microsoft. Jason takes the small clues and gives you an insightful big picture perspective through storytelling that you won't find *anywhere* else. Seriously, this dude thinks outside the box. Follow him on Twitter at @JLTechWord. He's doing the "write" thing!
I'v ebeen using it for a while myself. Last thing I got was a 1 year sub to game pass. Totally worth it.

Like many, I've been using this for a while now. But Microsoft doesn't have to give me anything to use Bing. I just prefer Bing better. But I don't count on this to be a long term thing anyway. Microsoft might pull the plug on this too. It's just a reality.

The problem is, well, the biggest problems are....
1.. Nobody is gonna, or has any reason to, use Bing on iDroid.
2.. If the argument for point 1 is met with "Bing Rewards is a reason" then point 2 is that nobody knows about Bing rewards.
......
Bing rewards suffers from a major problem that has helped hold back a lot of great MS products, services, and concepts...
A LACK OF SUFFICIENT MARKETING!

By this article alone, Jason Ward has done worlds more than MS ever has to create awareness for Bing Rewards...
Sad thing is that's not saying much at all.

If you use a windows 10 machine and Don't have edge and bing set to defaults it nags you. It also tells you about and android app, even though you don't need the android app. I can't speak intelligently of iOS on this matter.

Yeah, but that's only W10, and the majority of search is happening on iDroid. Plus, it doesn't push rewards...
.....
Still, not many people are syncing, or have the need to sync, their smartphone to their PC. It could benefit many, but they wouldn't know so because MARKETING IS ALWAYS NEXT TO NONEXISTENT for these things.

But, these rewards are valuable, and by having a WP device alone I have gained at least 5 months of free 365 access, and about the same amount of Groove pass subscriptions in 2017. That's another reason why I'm mad Groove is going away. No more free music!... See, MS has some great stuff, they just don't want anyone to have it. The average consumer never had the chance to know that they could've put $100 in their pocket this year (like I have) by just setting their default search app to Bing... Stupid MS.. Lol
Free is how you get people to use your $hit. Free works!... Microsoft is sleeping 😴........ Again.

Haha. In few countries only. I use Bing everyday but they don't allow me to join Rewards program because of my region.

Those Rewards are avaliable just for users located in the US, GB, FR, DE, CA and AU. As usually MS does not consider "costumers" the lot of users living in LATAM or ASIA to be included on their services (Bing, Maps as ex.). Lack of business perspective. Google does it a lot better and that's why little by little MS is retrenching their marketshare globally.

Not just region, I think it also depends on other local business partners.

If someone can get into the Rewards Program, the following link will show details. If none, it will show the avaliable countries... Probably JP is outdated on their list page. https://account.microsoft.com/rewards/dashboard

I updated my comment. I mixed up with the xbox reward.

That was a recent expansion, so it will take awwwhiiillleee at the current rate lol.

Not only LATAM and ASIA. Half Europe is missing too. I'm Italian and live in Ireland -_-

You'll find that they run this promotion in regions of poor adoption only. Why would they give free stuff away in regions where they have ok numbers already or maybe don't care about because say googles foot hold is just to strong in that area.

I'm living in Costa Rica. No one knows about Bing (and probably not too many people from MEX to ARG know about MS services) and there are no Bing Rewards. IMO "promotion addressed to poor adoption regions" is not the case.

No you're right but it will be a contributing factor along with other factors like money and ease of deployment is most likely a big one. It could be worse tho WC give always only tend to be US only.

I had over 90,000 points at one time. Looking for the rewards, I saw you could pay up to a year of Xbox Live for 29,000 points. I purchased 2 years. It works.

I've been on this gravy train for a long time...

Ditto. I just got another $5 Xbox Gift Card twenty minutes ago!

Didn't Office 365 used to be redeemable from Bing rewards? I need to renew...

I think Google is slightly better, but they're close enough that I generally use Bing for the rewards. Smart on their part.

Slightly better? Without rewards Bing would be even worse. After so many years, it never gained a serious market share. Without global support, it will never close to Google.

I'd also add that there are other ways to get points. You get points for using Edge, making digital purchases at the Windows Store (so app purchases, digital game purchases on Xbox One. I believe it's 1 point for each dollar spent), and making purchases at the Microsoft Store (again, I believe it's 1 point for each USD spent). They also offer points for doing things like taking quizzes. So there are more ways to earn points than just searching.

A search on bing is equivalent to $5 spent in the store. Search is definitely better than spending money but if you want to buy anyway you get points from them too.

Well, if they are so keen about people buying stuff from the Windows Store, they shouldn't have abandoned mobile.

You can get Amazon gift cards also.

Only in US. Each region has a different list of redeem options.

I have been using Bing Rewards for four years now! I have never paid for any app/game on Windows... I mean, Microsoft Store and never paid for Skype subscription. I also got few GBs on OneDrive, and few months on Groove Music and a year on MS Office. That's why I use Bing and I don't care if others make fun of me :P :D The first app I bought through Bing Rewards... Windows (Phone) Central!

Canada finally got Microsoft Rewards after so many years!

.....But it doesn't appear that an Amazon gift card is an available option for us Canucks though :(

I've been paid hundreds of dollars through "Bing Rewards". This is how I fund my IAPs. I've been supporting developers by investing in Microsoft Account/Windows Store/Xbox Gift Cards and spending it. I even used Bing Rewards to buy Forza Horizon 3 Ultimate Edition. Free money is fantastic when I would be searching the internet anyway. Google never gave me money to search, just more ads. I have enough ads already, I'll take free money please.

fun fact: google in the beginning was a company that paid people to click on Ads. you just had to install their software on your desktop that flashed Ads every minute.

I've been using this program since I first heard about Bing Rewards back around 2011 in the early days of WP7. The amount of point earned per search and points required for redemption changed when they rebranded to "Microsoft Rewards" last year. In the past 6.5 years, I've averaged about $23 in gift cards redeemed per year from using Bing as my default search engine on all my computers, from all the searches performed on my Windows phones, and using sticking with Edge on Windows 10.

Is this reward available in India right now???

Nope it isn't. Little does Microsoft know how crazy we are about free stuff. Perfect market hai. MS ki Akal ghutno main hai.

No, its not available but I still use it by VPN, and had redeemed worth $20 Windows Store Gift Card and next I'm going for some Amazon Gift Cards.

Again, us and few"elite" countries eligible for this, not global.

Canada is included as of Oct 2017.

Microsoft, please bring this to more countries please. If you just announce this intentionally, Bing would beat Google in no time.

Right, but you have to use Bing... 😕

What's wrong with Bing? What makes Google so great? Seem about the same for me and I use search all day for my job.

I don't like the interface & I find it to be less accurate. Just my opinion. If it works for you- great, but a $5 Amazon gift card isn't worth the aggravation to me.

same here. bing already gets me what I need. only when i do very rare code debugging searches do I try google as well just in case, and almost always, google also doesn't know anything about the topic either. So simply due to the "free monies" with bing, i just use bing.

Me too. Google very rarely shows anything Bing didn't already show me in a deep search for some unheard of issue.

i think i will give it a miss to be honest,

This does not work in Ghana, Africa.

I've been using rewards for a while. Only for the Amazon Gift cards. But I noticed that newer users don't seem to get the option for Amazon gift cards, so I stopped recommending Rewards as much, unless the person uses Xbox or Windows a lot. I wonder why they stopped?

Is Amazon limited to the Level 2 user? They did put the price of Amazon up I know that.

I became a part of it through vpn, got points, but couldn't redeem it for groove music pass because they asked for a US phone number. Can anyone give me the music pass? I'll transfer the points or soemthing

its not transferrable. ud have to have them giveu their phone #.

I did it by using US VPN and redeeming it by my cousin's phone who studies in France and redeemed by using her French mobile number.

Ive earned enough to buy me starbucks, amazon or xbox digital games and movies. Here's a pro tip: Instead of typing a website to visit, type in their name like amazon under search. It searches amazon. And its a quick way to fill up points for you.

the easiest way is to go to bing and click on the news thing at the bottom. the ones to the left of my updates jsut does the search. the ones to the right of "my updates does the search with the trendign on bing thing at top so can click them easy and get points. made it harder on phone but i got a pined tile to the trending on bing thing on windows phone so i can do the same on phone. don't forget the quiz things too and emails you get with links. some days can get 400 500 points with all the extra stuff.

It's epic. I've scored $50-100 in free $#!+

We, who live outside the (only!) 6 countries, can't use it! :(

this works great, and gets you free stuff. takes about a month of spending 2 minutes a day to earn $10.

I have 2 MS accounts so the same time frame gets me $20.

Been using this for years.. Can't find a good reason not to, especially in the US..

"Bing rewards is not available in your country." That's what I've been getting fro 4 years straight. Well done, Microsoft.

I figure that if you're going to be searching for the rest of your life anyway for new information, why not get paid to do it? I've gotten some great things from the Bing Rewards program, and I never plan on switching back to Google ever because of it.

I've used Rewards since it came out and have bought a few things over the years. Just this morning I redeemed my available stash to get Call of Duty WWII for $4.99 out of pocket!

Lol, another US-centric MS service, along with Cortana. While everyone else is aiming for the world, MS keep thinking they can ignore 75 % of their users with no consequences...

I'm based in Australia and was pleasantly surprised when AU was included earlier this year. I signed up my entire family and we used it to get very cheap Groove Music pass (and then they killed it.. ) and Xbox Store codes for my son (you can redeem points for code amd then send code to anyone to redeem). I do wish we had a broader range of redeem options. The US seem to have a very large range of 3rd party choices. In AU I only have Microsoft options (Xbox and Windows Store, Xbox Pass, Xbox Live Gold, and Skype credit) and local charity donation.

Bing is in beta in my country. Has been since it arrived in 2009 I believe. Even the chief marketing officer of Microsoft Denmark has said that "Bing doesn't work here". Not between the lines, but literally. Also Microsoft rewards is not available here neither.

Not available in mexico. Microsoft still thinks that Lat Am is not an important market.

I was lured into Binging by the promise of money. I found Bing works well for most of my search needs, and so I rake in a few bucks here and there. The times it doesn't work (such as when I'm not in the US), I know other places.

how do you find amazon gc? i only see xbl gold and game pass and xbox gc and ms currency

Amazon ain't an option on here under redeem

No Amazon gift card offers for those in Canada. None the less, this is a good idea; although I don't expect it to last forever.

I stopped using Google search years ago. I only use Bing.

I actually really link Bing! I get flack from others...but it is awesome! Works great with Cortana! I am happy to earn points!!! (now give me a phone I can get behind)

Microsoft: Sorry, Microsoft Rewards is currently only available in the US, GB, FR, DE, CA and AU.

Well, don't work in Brazil.

I'm currently at 88,235 points. I'll use them at some point I guess.

I love Bing err Microsoft Rewards. Great way to get free stuff off Amazon. Just recently ordered a new book and a new PC from there and used very little of my own money.

BTW who coded this website? It's so bloated and slow. Adblock and NoScript are required to visit here.

Seems good to me. I whitelisted this site. No problems here.

I believe you forgot to mention that Bing Rewards program is available only in selected countries. I'm from Romania and I use Bing daily at work, at home, on my Lumia 950 XL, but I can't register in this program.

They need to sort this out too. I see from your screens that you can get 100 points from mobile, when in France we can only get 60. Also, during summer holidays, I heard you could stack up to +/- 200/300 points for desktop search per day. Never showed up here. MS and their "US only" things...

"(and will pay you) to use Bing!"
No, we can not get a reward on using Bing on Edge. Why? Because we don't lives in the US.

One huge downside, it's US only.

I think you must put [US Only] in the Post heading. MS seems to be focused only on US market, thats why Google has over 90% market share in Europe, similar in other markets as well. MS would never learn...

You get rewards for using the Edge Browser also. I've typically used the rewards for app store purchases for phone, tablet, and PC apps.

Been using this for years.

Browser + Mobile Bing searches earn a maximum 250 points per day, not including any bonus/quiz points that are freely given out each day. If you only earn points through searching 5 days per week, you'll earn 60,000+ points per year. Currently, you can redeem 1 year of Xbox LIVE Gold + 1 year of Xbox Game Pass for 58,000 points. TLDR: Use Bing. Never pay for Xbox LIVE Gold + Xbox Game Pass.

But it's not working in lot of countries. And they need those informations.

Hey - you guys gotta shut up or everyone will be using Bing = no more rewards!

Well.. As always the majority of Microsoft services are restricted to a few countries so even though I have thousands of rewards point I'm not able to use them in anything lol.

180,000+ lifetime points. I guess that means about $180 in Amazon and Microsoft gift cards over the years. Been working well for me!

For the last 3 years I always cash in points in December for Amazon Gift Cards for a little extra Christmas shopping $$$ plus I treat myself to a free movie or two now that they have brought back the Regal Movie Gift Cards! Besides searching with Bing be sure and participate in the daily quizzes, email quizzes etc. that lets you earn extra points

I've been using Bing for so long and never knew this! I just redeemed 19,000 points!

I think thats about $50.00.. i could be wrong. I redeemed half of that before for an amazon giftcard.

I've been using the rewards program since it was Bing Rewards. Unfortunately (and stupidly), MS never integrated mobile Cortana to the rewards program. If I want to get points from searches on my Nokia 920 I have to disable Cortana. Counterproductive really...

no you don't. eve useing cortana counts as a search it seems on computer ot phone. i don't know why you think you need to disable it. also you can go to bing website without disableing cortana it seems.
Windows Central Newsletter
Thank you for signing up to Windows Central. You will receive a verification email shortly.
There was a problem. Please refresh the page and try again.