Microsoft's Azure cloud services will help fight Ebola, according to Nadella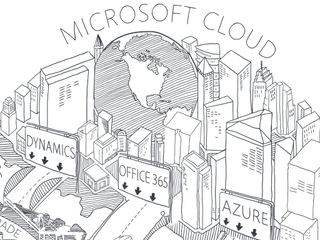 Microsoft CEO Satya Nadella announced today that its Azure cloud computing division will help in an effort to defeat the Ebola virus. Nadella made those remarks as part of the company's press conference in San Francisco that centered on its cloud efforts.
Nadella states, "One of the things tomorrow morning we're going to do is make available Azure computer power to the research community." He added, "In addition we have some tools that Microsoft researchers built to be able to do vaccine discovery, so we want to take all of that and make it available for the research community." No further details were provided.
Those comments were perhaps the most interesting thing in an otherwise lackluster press event, as Nadella and Microsoft's Cloud and Enterprise division head Scott Guthrie announced a number of enterprise-based efforts in that part of the company. In a blog post, Guthrie stated:
Microsoft could still make some interesting announcements soon, as the company prepares to reveal its latest quarterly earnings later this week.
Source: Reuters, Microsoft (opens in new tab)
Nadella should first help windows phone get Good apps ( I'm talking about their own apps like office, Skype,Xbox music, etc ). It seems to me that all great Microsoft's developers in each team are assigned to make competitors' platform's app ( in nadella's word platform with major market share ) and this you can see from the urgency they show in those platforms and all remaining developers are left to write for wp.

So you're basically just on the hate train over Windows Phone. I would suggest you take a look at the marketplace and see for yourself what is there insted of reading an outdating article, or some forum post by another hater, and then form a real opinion based on objective data.

I don't hate wp !! I love it !! After using wp for a year now I cant settle for crappy slow android!! And I wasn't talking about lack of apps and I wasn't even mentioning third party apps instead I was talking about ms attitude of looking wp as a third os

Blame the developers, dont pin it on Microsoft. Google is in the same direction as Microsoft when it comes to App gap, cross platform quality, because most developers are shallow with their Apple only devices, which is always a thing of iOS first in an Application Store distrubution world. Microsoft is nowhere near treating their own mobile OS as third best, the way most Developers are treating WP.

Oh man... I dont use google services that often, but if they were on WP I use that. My wish list: Hail to the King Deathbat, Kik (updated), and so many more but I can't think of anything currently. However, I feel sometimes the design language of WP is a bit restrictive...

I agree with you. They only give more priority in developing app for the other OS.

exactly. When Nadella does something extrodinary, not self obersvant of profit making mobile industry, when it comes to helping the world. Some arrogant whiny so called fake microsoft loyalists believe that the company needs saving because of one os windows phone. Pathetic to the level, which disgrace me. If it was Apple and Google, fans loyalists would be happy to see this research, for some bitchy whiny microsoft fans......who are so called loyalists and hardcore fan, bitch and moan every time Microsoft does something more than just mobile. Agree or Disagree with me, its the truth.

Skype? Why is that on the list? I can, however, understand Office, but that needs an OS update to get better. ;)

I suggest your READ THE ARTICLE, Instead of jumping to conclusions saying irrelevant things.

What? 8/10 people have Android? Xm, more games, more frequent and more updates. Maybe almost 1/10 people windows os? Xm, lets better focus mostly on Android then... ;) that's what developers are thinking

Microsoft the humanitarian company.

Nadella did not say whether Microsoft would charge for the services !

They are services, right? You don't get anything for free, do you?

Maybe it'll be funded by Gates foundation.

Keep it up...we will pray to god for you support

Please don't bring religion into this... oh and ps: god's don't exist

he is not bringing "religion" at any shape or form, dont diss his religion. Just because you dont believe in "god" doesnt mean he should not believe in "god", if he wants to use that term, let him be, even if he believes in "god". You might not belive in it, some do.

Its good to see ones sticking up for each other. Some people can be rude.

BTW, his name sounds like he is an Indian Sikh, so its not the religion YOU think. (Abrahamic ones)

Some do? I never thought I would see that, I believe the end is closer

We all are physical embodiments of "god" if that's the term we're throwing around. Namaste

Bill Gates would like this

As an admin managing the azure platform at work, the pricing and plans are crazy hard to keep track of... They really should simplify their offerings

Does your user name possibly have anything to do with Avenged Sevenfold?

Agreed. Azure is extremely awesome but the pricing and plans are hard to follow. Actually, all Microsoft licensing is hard to follow.

The licensing for all of their enterprise products seems to become more cloudy (no pun intended) every year.

The feminists sure got quiet.

stop with that comment, its getting old and stale. Its done and over. Get over it

I dont sit and dwell on Ebola... I don't restrict or limit my life at because of it either. I just wash my hands and keep in good hygiene

Even if Ebola is not about wash hands. If no action is taken, we could be all dead in weeks or months, and because scientists don't or aren't let to say so, this doesn't mean the threat is not visible on the horizon.

Were all gonna die anyway, unless we walk through to the new system. However... This is described in the Bible, it says there will be pestilence and disease in the last days and it doesn't bother me one bit that its happening, this I prophecy and we are living it my friend. Jehovah's Witness btw.

Wash your hands or blow billions on software? Kind of like putting cooling stations in the gulf of Mexico to stop hurricanes.

Does Windows Phone not spell correct "Definately"? I get the red squiggly line when I type it.

No, really? Tell me more...

Definately* the most misspelled word in the English language (*it should be definitely)

Good grief, I misspell this word so much, and it ticks me off that it mistakes it for "differently". Thank you! Hopefully ill now remember how correctly its spelt.

Word flow has some words that do by work, a lot of them. Like "all", it keeps writing "ask" ! :P

Every day the comments in news are worse... Sad...

so true especially on u tube. its really annoying to see criticism has grown to big extent

yes, its true, its all about Apple gimmick and trash. This is real news, real news for the tech industry. Not some new fancy phone, or tablet, smartwatch gadgets, and all THAT. People just love to hate Microsoft. They wished that company should be extinct. Its alive and well and stronger than ever. Without them, USA wouldn't survive in the economy = Washington.

Just dont dwell on it, live your life and don't restrict yourself. Keep good hygiene obviously though.

Making Skype free to enterprises right now would be great to minimize travel out of country. Besides the free PR, it could get people to keep Skype for business meetings.

Stop pretending to know what is "interesting" or not in cloud computing. While it may not be interesting to you, today's announcements are for enterprises and developers. This is why WPCentral should stick with reporting on phone and consumer Microsoft news and leave the cloud/enterprise news to the grown ups like MJF and Ed Bott.

Daniel is part of MJF and The Microsoft News clan, and WPCENTRAL has every right to post everying Microsoft, because WPCENTRAL is a one news central for Microsoft stuff only, its not just stuck on one fraction of Microsoft product.

I'm not questioning their right, I'm questioning the quality of their reporting on enterprise/cloud. Either report on it correctly or not at all, or else they'll embarrass themselves. WPC should take a page from Neowin's reporting on the cloud announcements today.

Im 16, if it weren't for WPCenrral, I wouldn't know about 2.5/5 of my knowledge in app developing for the Windows platforms. Developers come here as well and I love that they report about this.

EXACTLY. Isn't what WPCENTRAL for its more than just any windows phone news fan site

Absolutely! Its what separates it from the cheap stupid news outlets. However, there are some occasions when they report on things that literally have nothing to do with Microsoft and I disagree with that, but as long its about anything for Microsoft, im into it!

Haha... 2.5/5. Random fraction. :)

Lol it is, I guess rounded to the next hole number, its 3 xD, but I didn't wanna give them *that* much credit

@Axmantim Best comment, nailed on, thats why we dont have microsoft loyalists as much as Apple fans and Google fans, because all Some microsoft fans want to do is look back in the past, even with the new CEO, they are ungrateful and some forget that they take microsoft brilliant technologies advantage, instead of praise. I dont expect them to praise microsoft for every little thing because not every microsoft thing is a good thing, but we need to show more loyal and respect like Apple fans and Google fans, they alawys praise their tech.

This is what tech industries should be doing less of glorfying expensive gimmick tech to our faces. This company is not Apple, its Microsoft, its in the heart Bill Gates, who also help developing countries not just with his tech to fight diseases, with commitment.

This is why Microsoft is the best company out there in the top of global markets, they do care about the world

Powered by Dell.. For some reason this doesn't sound as good as they might've hoped to.

I think Hp has Dolby or stereo sur-Round sound
Windows Central Newsletter
Get the best of Windows Central in in your inbox, every day!
Thank you for signing up to Windows Central. You will receive a verification email shortly.
There was a problem. Please refresh the page and try again.