Microsoft's Bing engine is now predicting NASCAR and NBA playoffs results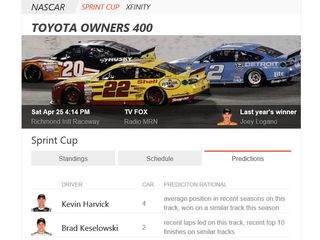 After predicting most of the 2015 Oscar winners and doing very well in the NCAA basketball playoffs brackets. Microsoft's Bing engine is now offering its picks for who will win future NASCAR races along with the current NBA pro basketball playoffs.
Microsoft says that so far, the Bing engine has a 9-1 record in making the correct picks for the NBA playoffs. But how does the engine predict who might win a NASCAR stock car race? The company says:
For this weekend's Toyota Owners 400 race, Bing believes that the top five drivers at the finish will be, in order, Kevin Harvick, Brad Keselowski, Joey Logano, Jeff Gordon, and Jimmie Johnson. We will see if the engine is as good in predicting car race results as it has been in other sports.
Source: Microsoft
Nice. Now predicting something I care about.

Let Microsoft know what you care about.

Though, the way the 4 has been, not much of a prediction. Haha. I was at Bristol Sunday (night) and I don't dislike Kevin, but I was happy to see him get knocked out early. But i was not happy to see Dale go 4 laps down 100 in. (assuming you are talking about NASCAR. If you are not, then well....I am. Haha)

:) loyal fan waiting out the rain. I gave up...but wasn't there. Bristol is definitely on my bucket list to see in person.

Yeah, it was a really long day, but it was awesome.

I just want the Bing engine to predict when the Microsoft flagship will be revealed. That would be impressive. Posted via the Windows Phone Central App for Android

Now when will it start predicting the arrival of the next Windows 10 build?? :P

Should I place that bet? What are the odds on that in Vegas? Tell me Bing!

what about Formula 1? which is (depending on who you ask) the most popular motor racing series on the planet!? come on microsoft!!

I'll be interested to see how those NASCAR predictions pan out. Anything can happen during a race.

Anything, but, it seems that Kevin is the safe bet anymore. He would have won Sunday had he not wrecked. But... Go 88!!!

Can Cortana give me NBA voice updates though?

Stanley Cup playoffs Microsoft?? They are on right now, predict those. And the MSN sports doesn't have any scheduling for the playoffs. Annoyed hockey fan

I want Cortana to predict if windows10 will have interactive features on tiles and lockscreen..
The splitscreen multiwindow or not...

Does Cortana knows that apps will return to windows10 or not?

Forget predicting the results! Just be able to tell me who's playing and what time. And tell me the score when I ask. Cortana I mean Posted via Windows Phone Central App

How do you word the question about Nascar races? I tried saying, who will will the Michigan 400 with no love. ​
Windows Central Newsletter
Thank you for signing up to Windows Central. You will receive a verification email shortly.
There was a problem. Please refresh the page and try again.