Microsoft's Blu-ray Player is the first UWP app to be released for Xbox One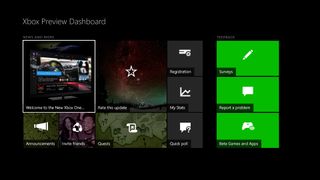 Microsoft has yet to take full advantage of UWP capabilities when it comes to Xbox One, but that's about to change as the company begins to bring across some universal apps. The first being Blu-ray Player. As reported by WinBeta, this new UWP Blu-ray Player app will replace the existing one automatically once the update has been downloaded and applied on the console.
The company is pushing out the updated app to around 20,000 Xbox One Preview members as part of a testing phase. Fear not if you won't be among the selected few as more Preview members will be added to the program over time before it's eventually launched as final for the general public. As for the Blu-ray Player, it's noted to not be much different from the Player already available, aside from underlying code.
Here's a snippet of the announcement published in the private forum for Preview members:
There's still some way to go before Microsoft brings to life its vision of running apps right across its platform, but we're slowly getting there.
Windows Central Newsletter
Get the best of Windows Central in your inbox, every day!
Rich Edmonds was formerly a Senior Editor of PC hardware at Windows Central, covering everything related to PC components and NAS. He's been involved in technology for more than a decade and knows a thing or two about the magic inside a PC chassis. You can follow him on Twitter at @RichEdmonds.
So, pc for the first time will propably get an app from xbox.

Why do you think that? It sounds like XBOX exclusive. But it would be very nice. I finally could uninstall the PowerDVD Bloatware.

It might just be a paid app in the store (licensing costs), would make the most sense :).

It's what I am hoping for! Like the Windows DVD-Player.

They should remove the DVD-Player app and just combine it with this Blu-ray Player app :)

Yeah, that would be the better alternative.

Why use PowerDVD? Just use VLC Media Player.

VLC doesn't play Blu-Ray discs, only DVDs.

But surely it can: http://www.videolan.org/developers/libbluray.html

I did not know that existed, so I guess it can play Blu-Ray discs after all. I stand corrected.

Still won't play BDR discs.

Why would somebody downvote a person who's admitting his mistake????

Because people have nothing better to do..

@Alpatron, at that link it specifically says that library won't play commercial Blu-ray discs due to the copy protection. It provides additional links to help with that, which I didn't study, but for the typicaly user, if they have to go out and find code to compile into their player, that means they can't watch Blu-ray movies with it.

I've tried using VLC for BD. It doesn't play the menus on the disks I've tried and just start playing the video chapters. It randomly starts at a chapter, hitting next skips to another scene. Have you had luck playing disks with it?

VLC doesn't support Blu-ray Disc menu. And I am not sure if it can decrypt all Discs with "libbluray".

Only the early versions of Blu-ray discs.

Interesting that this would mean the UWP path is Xbox > PC/mobile/etc. for this app. Maybe a way to get YouTube, HBO Now, etc. on board for the same? Too bad Kinect is no longer a thing or they could push Snapchat to do something innovative with filters and what not on Xbox One and then UWP to mobile.

Even if Snapchat decided to do that, they still have to "flip the switch" to enable it on Mobile, which they would never do. UWP apps don't just automaticly go to every platform.

From my experience you can literally flip a switch to enable on mobile, if, the app is design properly, with very little change. The only change exists in the UI.

That doesn't mean they will do that though, they won't and never will in the future. Snapchat want nothing to do with Windows Phone and the people that use them, even if that means just ignoring a simple little switch to enable it on Mobile.

can you stop pretending you know the future? snapchat might eventually do it. who knows, I don't care but your "I am the know-it-all-person, attitude is just a little dumb. because you don't know more than anybody else.
Lumia Support is saying something about it. and it might happen someday soon. who knows? there is still not evidence to back this up or forget about it, because who knows what Lumia support actually know. http://www.microsoftinsider.es/108158/lumia-soporte-estamos-trabajando-s....

I know, right? The tone of some people...

@IBMThinkPadR51: The entire premise of this article and my comment was that there is something involved in taking an app and making it UWP...I'm not sure why you have to respond so defensively on that front. I brought up how it is interesting that Microsoft "flipped the switch" (to use your phrasing) on the Blu-ray app in the Xbox > PC direction, and proposed that it could serve as a sort of a model for existing Xbox One apps that do not exist on PC/mobile (e.g. YouTube, HBO Now, etc.) to be "flipped" ON in terms of UWP.

How do you know if an app is UWP or not??

If it is requiring windows 10, it's uwp. There no other project type for windows 10. If it is not requiring windows 10 (it can play on windows 8), it is not uwp.

In the new store on Redstone mobile (don't know if it is on the "old" one) if by recommended specifications is "Windows 10" it's a UWP app. On the Production builds if above the install button "Build for Windows 10" is it a UWP

I just updated mine. About a 25mb download. No difference. Still can't play BDR discs.

Thanks for the info. Seems Microsoft is still bent on having the sh*ttiest blu-ray player on a console. When my older PS3 can do something that simple and my newer XB1 doesn't...well, that pretty much turns to zero my interest in the XBoneS.

I dont even have bd discs to test it out(only bd are games)

But why? Xbox One already has a BD player built-in.

Because now they have one app for PC and XBOX means faster updates and less code to maintain.

This presumably will be the PC app at some point. They'll probably get it running properly on Xbox and then do whatever's required to get it running on PC too.

I thought I remembered reading a long time ago that there was an app, but you had to buy it because it was neither included in Windows 10/Windows Media Player, nor was it free. I remember this because I rememvber thinking at the time that I don't care because I don't own any BD movies or rent them.

Likely buggier and slower than current one.

I thought the Xbox Avatars was the first UWP app for Xbox One? It looks identical accross phone, PC/tablet and Xbox.

The only way to watch 3D movies via Xbox on your 3D TV. Who knows, maybe 3D movies will make the streaming / legal downloading jump one day, but for now, that's the only way.

Not true. You can watch any 3D movies on xbox one if you connect that 3D capable device into HDMI in on your xbox, such as your cable set top box.

Actually, you do have a point. The cable providers do still have a *very* small amount of 3D content available each month (it changes, and usually there's only 1 3D movie available at any one time... maybe 2 or 3 if you subscribe to all the premium channels).

I hope this comes fast on PC also... I feel left out when I buy BR movies from the store and then had to search the net for a decent player for it...

Its not clear for me how it will the first uwp app on XB1 if MoviesTV and Avatar store are universal apps already.

Lol, don't have any discs... All digital :-) still nice to see uwp coming to Xbox though

Please support Blu-Ray home made... You know, for those who makes movies from their vacation...

Wow, so that explains why I keep getting errors on Blu-ray discs I've authored at home...

Oddly enough I recieved the update but there is no way I'm in the top with points! I very rarely give feedback unless I run into a real big problem (which I almost never do).

"There will be few if any noticeable differences between the old Blu-Ray Player app and the new Blu-Ray Player universal app." So this means one will STILL not be able to play home-burned discs? For Christ's sake, Microsoft...

Not to split hairs, but wasn't the updated Movies & TV app that was released last week the first UWP app for Xbox One? It is the same as the PC/Mobile Movies & TV app.

I hope they finally enable miracast and/or remove the stupid regional locking preventing video streaming to the Xbox One if I don't live in the US.

Do we know if they will finally upscale DVDs in this new app? That is a feature that should be there now, but... Posted via the Windows Central App for Android

The current blu-ray player on the One is very simplistic. Hopefully, the update modernizes it.