Microsoft's Groove becomes a 'true' universal app with the latest update for Windows 10 Insiders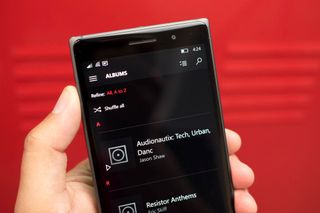 Besides today's momentous Mobile release of Windows 10 for Fast Ring is a significant milestone for the Groove Music app for Windows 10 and Mobile.
Many people have pointed out ever since its launch the lack of feature parity between Mobile and PC versions of Groove. Well, you were right and tonight that ends (for some of you). The Groove code for Mobile and PC are finally merging with version 3.6.1886.0 due out tonight as just announced by Microsoft in their community forums (opens in new tab). Even better are lots of new improvements and features.
Who gets it first?
Before we get started on the new stuff, however, not everyone is going to get this update. Besides OS 'rings,' Microsoft has had 'app rings' for a while too. Remember when we would post about an Outlook Mail update and some of you didn't get it? Well, this ability to limit access to early testers is extending to flight rings too, as a result here is who is getting this update today:
PC: Windows Insiders Fast Ring
Mobile: Windows Insider Fast & Slow and Release Preview Rings
Apparently, at a later point, this release will go to full production and public releases. But for now, Insiders get first dibs (and also act as testers for bugs). Now on to features.
What's new
Here is the full changelog and what to look for when the update goes live. Improvements to playback including:
When unplayable tracks appear in Now Playing, we properly gray them out and jump over them without displaying an error
We prevent you from playing unplayable content (for instance, if you are offline and try to play a streaming album we won't try to play it, we'll immediately tell you it can't be played and why)
We added extra telemetry to playback errors so that we can continue to improve the app
Additional changes include:
We removed the app's dependencies on Xbox Live which means you don't need an Xbox Live account to use Groove (and sign-in is much faster and more reliable)!
It's easier to tell what's happening when Groove is sync'ing your collection for the first time.
You'll see "Unknown Artists" less often in your collection because the app looks at both song artist and album artist metadata.
The process we use to show additional metadata to what's in your local files is 10x faster and gives better results!!The app defaults to Explore for search results if you have a Groove Music Pass and you have don't have a limited data plan.
When viewing artists, you can view their work by albums or songs. Try it by selecting "Songs view" when viewing an artist.
Radio stations can be started from albums and songs – the app will start the radio based on the artist.
The app now shows your collection size at the top of the collection views.
On mobile, background art fills the screen so that it's seen under the system icons at the top.
You can use 'Refine' to filter your collection by source (OneDrive, Pass, Purchased, On this device only).
If something gets really out of whack in your collection, you can now choose to 'Reset' your cloud collection.
We added jumplist support for collection views organized by release year.
The 'hotlinks' in Album reviews and Artist bios now work on mobile.
We added a simple lockscreen setting for Continuum. We made lots of styling updates for Continuum too!
Bugs and issues to look forward too
Not everything is peachy with is update and there are still things to be fixed in future OS flights, those include:
Tapping on the text in the system media transport controls stops playback – just don't click on the text.
Music playback error (0xc20200ae) in Groove right after cold start – give a minute and everything should be fine.
Your file associations may default back to Windows Media Player after this update. You can always reset them by going to Settings/System/Default Apps/Music Player.
Download of DRM-protected content may fail if your device name contains some non-unicode characters. A workaround is to adjust your device name.
The Groove teams remind you to give them feedback using the Feedback Hub so they can continue to improve the app and service. But for now, go ahead and enjoy the update!
Remember, look for version 3.6.1886.0 in the Store.
Download Groove Music from the Windows Store (opens in new tab)
Thanks, Alprazolam_92, for the tip!
Windows Central Newsletter
Get the best of Windows Central in in your inbox, every day!
Daniel Rubino is the Editor-in-chief of Windows Central, head reviewer, podcast co-host, and analyst. He has been covering Microsoft since 2007 when this site was called WMExperts (and later Windows Phone Central). His interests include Windows, laptops, next-gen computing, and for some reason, watches. Before all this tech stuff, he worked on a Ph.D. in linguistics, watched people sleep (for medical purposes!), and ran the projectors at movie theaters because it was fun.
The link to the MS forums in the article results in a 404. This link seems to work though: http://answers.microsoft.com/en-us/musicandvideo/forum/xboxmusic/microsoft-groove-is-now-truly-universal-across/d8dae034-8a3b-4275-ab9e-2b5f9e28387e Edit: Looks like you updated the article now

Can you tell me how to check an app's version in store. Am not finding it :/

Per article: "The Groove code for Mobile and PC are finally merging with version 3.6.1886.0 due out tonight..." The Groove app has an about link in the settings section that shows the app version.

I mean about every app. I am not able to find any app's version in store :/

Store does not have that capability yet I don't think +640/Win 10

They removed that capability. via Windows Central app for Windows 10

they even removed to see when last time app was updated from publisher..!! Posted from PornHub

You can find it in side the groove app settings/ what new or about- for version and copyright information

Pretty sweet day for insider

But don't forget, Microsoft hates Windows Phone and has given up on it /s

ALL UR HOPES ARE BELONG TO SATYA NUTELLA HURR DURR!!!

Satya "Nutella"??? Lol. That's funny. ~~~~~~~~~~~~~~~~~~~~~~~~~~~~~
ROJO > ARLINGTON, TX > LUMIA 1520 ≥ 950... WAITING FOR 6.2" SURFACE PHONE

lol he is trying to say 'Hodor' but with scottish accent :)

& seemingly wants to take xb1 down in the process. As for winows they shouldn't have bothered with a pro sku when most of the advanced stuff is disappearing by the day

Except for remote desktop +640/Win 10

Do winows have anything to do with minnows, or is that just an alternate spelling for the process of turning up hay in rows to dry?

Minnows are wee fish too.

Ah here he is. I was wondering why I hadn't found a negative complainer yet. :p +640 on Windows10Mobile

And is not their primary focus this year.

Windows Phone is Dead! Long Live Windows 10 UWP!

Good news. Multitasking is no longer shutting down apps for you when you switch apps. Still more has to be done. Posted from WC for W10 running on my 930.

They really should Daniel. This "Groove" is a big bucket of suck. Doesn't play for more than a few seconds, then mess with it and it maybe works for a song then back to no music. O wait we're Microsoft's software testers and the money I waste giving it to M$ to be a Music Pass subscriber is a sunk cost for me and more cash for them... Yeah pull the plug on this WP shitstorm already.

i really dont know where you are coming from with this stupid post. Groove works pretty good now way better than google music which is slow as crap. I never experience any crashes with groove, it works across all my devices windows android and ios.

Looks like it works like Zune did with WP7 and Xbox 360 !

It's about time! Loving all these minor additions, it's the kind of polish Groove has needed for a long time. Makes you wonder just how much was dependant on APIs and stuff that were added/improved upon in the latest Insider builds.. that's the only thing that would explain how many months this took.

So that means a lot of apps are finally going to get a lot of well needed attention... That pesky FB app comes to mind.. What a piece of DooDoo. ~~~~~~~~~~~~~~~~~~~~~~~~~~~~~
ROJO > ARLINGTON, TX > LUMIA 1520 ≥ 950... WAITING FOR 6.2" SURFACE PHONE

Yes! Its about time!!! That update where extended the background art to the status bar is an aesthetic polish that I was waiting for that Groove do need in terms of design. Even that "small" (to many people) is a quite significant. Many of these improvements actually need to the production build except for features that are tied to OS. I hope that will come soon and no need for Redstone for that. I wish it gets more similar to this http://imgur.com/34fSh7C What I'm still looking forward is to have the pivot navigation. Sent from Turing Machine

I hope they fixed the blurry album arts in Now Playing.

Hololens beer goggles to the rescue

That's a funny idea for a HoloLens app. Beer Goggles. Shows you what that ugly girl will look like after 1 beer, 2 beers, 3 beers, etc. Yeah, she gets prettier after every drink, so I hear.

HoloLens, solving problems it causes.

hey........you should know that its already true....

Awesome!! Does this possibly fix the Now-Playing screen crashing when re-opening groove? The update that was suppposed to fix it never actually fixed it.

This is a HUGE IMPROVEMENT OVER THE NOT MISSED AT ALL XBM... I can really get into Groove, and recommend it to others.. It's nice now. ~~~~~~~~~~~~~~~~~~~~~~~~~~~~~
ROJO > ARLINGTON, TX > LUMIA 1520 ≥ 950... WAITING FOR 6.2" SURFACE PHONE

Irony? Or are you no longer a hater. A positive post is unusual....;-)

A hater.. Ok.. I've been here, and a Windows fan, much longer than you, and a bunch of other naive sheep around here.. Oh, I forgot to say "with all due respect" so don't take that in offense... Lol... You can call someone here a hater once you've endured the test of time, and have a valid reason to do so.
......
Your brand of choice (as far as mobile goes) drops the ball much more than they pick it up.. So, since I'm not here to give false praise,, I have to call it like I see it. Sometimes it's positive, and sometimes it's "negative". But, you, and everyone here, knows as far as mobile is concerned there is much more needed room for CONSTRUCTIVE CRITICISM than anything. But, it's not about being, positive, or negative, rather it's about admiting, and pointing out the truth. This is just business we're talking about here, so I don't understand why a lot of you are looking for some kind of inspirational emotional feel good BS to appease years of failure upon MS's part. No, I'm not interested in pampering you guys need to hear something "positive" nor do I expect that from anyone here.. It's not necessary. We're all men, so it's time to stop crying like little babys when we hear someone speak their mind. Either dispute it with reason, take it with a grain of salt, or sit down, and STFudgeU... Lol. Don't you agree❓❓❓❓☺

I agree these new emojis are looking nice on mobile lol +640/Win 10

Lol!!!... I got the update downloaded☺☺☺ I'm going to put my phone on update on my way home... Can ride, and play with my phone, at the same time. I save WC for when I'm in my car.

@rodneyej is exactly right. I rarely comment but he makes good points. I have the windows ecosystem all throughout my house - 2 PC'S, 4 tablets, 6 Window phones. I've been all in on windows since forever but I want to see, not necessarily alot more apps because I don't need junkie apps, but I want parity as far as good apps with the other ecosystems. For example - magisto, SiriusXM, I could go on. I know that our operating system is the best...I want the best apps with it. Posted via the Windows Central App for Android

And yes I'm on an android reading Windows news...and waiting for my new windows phone arriving today. lol Posted via the Windows Central App for Android

App, are the only thing holding the OS back now... That and high end devices from companies AMERICANS see as highly regarded OEM's..

... .... .._ _ _ .... . .._. .._ _._. _._ .._ ._ _.

Well, said. Lol I stopped paying too much attention to folks who are extreme on either side. There are those who will not be happy with Win 10 and those who are seemingly blinded by the unrealistic positive views of Win 10. While I've had my ups and downs with both desktop and mobile side of things, I think MS is headed in a good direction, as opposed to before. It's going to take time, but time may not be in MS's favor, but I think Win 10 is going to turn out to be something that will have more pros than cons that people can deal with. The reality is, people need to understand that this is an Insiders Preview and the feedback helps. Speaking for myself, I'm fine with Win 10. It works for what I need it to do. Do I have moments of frustrations, of course. But, I've not been so frustrated that I've wanted to abandon it. I'm curious to see how it revolves and as long as it continues to fit MY needs, I will stick with it.

He's more of a "realist" :p

Now you've done it. We get to read a long arse post now...

Lol... I am wordy. I admit that⛽⛽⛽

With Groove, I only wanted to select a song and then all other songs from my library are queued instead of only about the next 100 songs. It's been taking too long for that fix. I hope mobile version inherits PC version handling, as it works as expected.

I have no idea why you were downvoted , but I totally agree with this and have been waiting patiently. It works fine on desktop, but mobile not so much. I submitted feedback of course, but in the end it's their product and they do what they want

Edit: Just got the update and can confirm that it works as expected now! Hell yeah!

Yep. Wanting the Mobile version to work like PC version handling, well, it is now the same code base, so features and usability will now be the same. This is the version that has made Redstone bearable for me at last! Finally, I can work with my music again.

I smiled in excitement seeing your reply and it prompted me to check for updates again. Hooray!

OMG OMG OMG OMG OMG OMG OMG My Thirst was so REAL for this !!!!! YAAAAAAAAAAAAAAAAASSSSSSZZAAAAA!!!AAAAAAAAAAAAAAAAS New redstone build is not showing on my devide updates tho :C

Make sure you're on Fast ring and that your phone is a supported mobile for Win10 :) +640 on Windows10Mobile

i had my lumia 920 registry hacked and on redstone builds working great... I modified some more registry entries and i got to update, but my phone got stuck on a restart loop... now on 8.1 again. I guess that's the end of the road for my lovely and annoying phone.

Whatever team handled xbox music were garbage. This groove team knows what the eff they're doing!

Dan I have used 5 or 6 music apps since zune desktop was let go.. actually I lost count quite a long time ago. ;) Posted via the Windows Central App for Android

Zune desktop still works just fine. You can't stream pass music anymore, or purchase songs, but you can still download songs with your pass and play anything local.

4.8 still strong AF as a desktop player and manager.

Indeed! Desktop how old it is, it still looks fresh and looks great desktop music player. I really still want that Zune Now Playing on Groove Music for PC, Mobile and even better on Xbox. It would be great to have Groove Music be inspired from Zune, not a replica. Sent from Turing Machine

It was great during the wm6.x days after downloading to pc you could sideload using wmp

Zune desktop is still a free download. I've installed it on every computer over the years including the one I bought last month. It connects to my groove account. An amazing piece of software. Written so well, that it still works great, years after its last update.

MusicBee could stop this )

I'm sick of Insiders having all the updates all the time. What's this crap of APPS being shown to Insiders first? They have the latest version of the OS, but apps are not linked to having that version. Can't we have an Insider program just for apps?


Become an insider its free Posted via the Windows Central App for Android

I agree, there should be no Insider Program, MS should push everything cutting edge straight to everyone right away. I mean we use Windows, we like bugs...

Not a good idea.. there was a beta program in xp vista and 7 for a reason. Posted via the Windows Central App for Android

Sorry, I was being sarcastic...

How he managed to miss the sarcasm in that one is beyond me.. but sh.t happens :D

Im not alwas fast but I will try to #befast and catch that next time. Posted via the Windows Central App for Android

Some of the "insider app" stuff is dependent on new APIs and OS features that hook into the app. Also, it makes sense to link Insider OS builds/flights to app as you also get the Feedback Hub, etc.

So... You expect a test build to be an optimal experience?

There are reasons for it as Dan states, but if you have a Groove subscription it is a little annoying that you have to become an Insider to receive an update when you are already paying. I had to leave the Insider program on my 950 XL because of overheating, battery drain and random reboots for example.

So you think they should put beta software into the stable channel so everyone gets random reboots and overheating? Posted via the Windows Central App for Android

Right now Windows Media Player does not work at all and Groove cannot even index one of my music on hard drive. I am left totally musicless!

Sounds like your using it on desktop. In that case try uninstalling the app and reinstalling it and then reindexing.

Damn app (Groove) does not show up in program lists of control panel at all to be removed

There's a way to uninstall stock apps. It's there somewhere in WC. I don't remember the exact command now.

Open Windows PowerShell as an admin. Then run the command below: Get-AppxPackage *zunemusic* | Remove-AppxPackage When it's done just go to the Store and reinstall Groove Music.

Amen. I wish they did a UWP app... Would be so much better than Groove...

Still no full screen artist screensaver? Double size lived tile? Zune style animation on live tile? Anything? The UI is a pain the ass to use in the car.

Keep your eyes on the road...

Would be easier to do if Cortana actually worked with it.

I want each and every ZUNE feature in Groove, all of them from past and present. Especially the animations. Then, I want it improved with new features. When you buy something new, say a car for example, you want the features of your old car (radio, air conditioning,...) plus new features. I guess we're lucky Microsoft doesn't make cars.

I want this back too. The Zune album art on the live tile which always showed was great and the currently playing artist on the lock screen was perfect.

I really miss the livelier Live Tile from WP8 to WP8.1. I still don't get it why they didn't even make it on W10M. That WP8 Music+Videos hub Live Tile looks way better, it just needs some more improvements. Sent from Turing Machine

Actually, it was artist art on the Zune live tile. Loved the animation!

I really wish that Zune Now Playing screen would make its way to Groove Music, it was really great that even now it looks nice despite the age. The Live Tile from WP8.X were also great looking than this new boring W10M Live Tile of Groove Music. The WP8 Live Tile just needs certain improvements, but it was almost perfect. Sent from Turing Machine

Groovy!.... Sorry I had to...

http://youtu.be/juHgQBB2tLU

Glad they improved the unknown artist bit. I had to leave the app running in order for it to finally finish.

I've spent countless HOURS over the years making sure my metadata is correct for every individual song (song&album artist, cover, date/year, title, etc). Quite frustrating when your stuff still shows blank in players. I've found that it's usually non-mainstream artists that don't get artist artwork. I wonder where they source it from. -Mach 8 Solutions, LLC a software company.
Http://mach8solutions.com

This is why they need to have an option to fetch Artist info (Bio & images), Album info (Review & images), and Related Artists from alternative source such as AudioDB, Last.FM, etc. Since other sources have more richer databases especially for those non-mainstream artist. Heck even popular ones sometimes doesn't from their Groove Music database. Sent from Turing Machine

Oooh, last.fm is a big disaster at the moment, as they broke everything to do a new design for the website.

I haven't used Last.FM for a long time but I'm aware that they redesigned their website. I'm curious what's broken with new Last.FM?

I pay for it yet I dislike it...why for the heaven's sake can't they include playlist/genre feature just like competitors...even the departed MixRadio excelled in it...meh, wish amazon had a proper universal app for w10

Just updated. Will test later. Posted from Windows Central for Windows 10
Using the Alcatel OneTouch Fierce XL for Windows 10

It looks like this update fixed the flickering title flitch on .164. Or it seems that way on my 640 XL

That's glitch, not flitch.

I havent had the Groove update yet - but the latest Insider Build the new lock screen controls are superb (if a little sluggish) but the lock screen still flickers when the track changes... Flicker flicker flicker...

The problem was not with the builds but the actual Groove Music app, the flickering is now gone with this new update.

Correct, but the Redstone builds fixed it as well - for the most part - prior to this app update. There must have been some APIs in the Rs builds that helped to smooth things out. It now seems to be gone for all users if the current version of Groove, regardless of OS build. So glad it's gone! :)

Why the hell Microsoft don't update Xbox music app 8.1 to groove music not everyone is on W10 mobile you know

Not a single UWP app runs on 8.1 because if they put the platform in, well, then it is windows 10 you know so why don't you drop it. +640/Win 10

It relies on APIs that debuted on Windows 10, so yeah it's a W10 exclusive for a reason. Unless you own a Groove Music Pass, try n7player or zbox - both free and great. zbox even resembles the Zune software. :-)

i used to use zbox, it was lovely :3

I can also recommend Zbox too! Though it needs performance optimization though. Sent from Turing Machine

I'm sorry to say this my friend.. but if you want to stick with WP, you need to get off the 8.1 train asap

No WP or WM10 official release for my Lumia640

640 should have the update!! Install Upgrade Advisor, if that doesn't work, install Windows Insider app and choose Production (recommended) or Release Preview.

Ok. I can't get the download. I'm on 14322, on Fast Ring, on a 1520.3. What am I doing wrong?

Waiting. You are doing waiting wrong.

Dude India is a country where most people want mostly everything for free. I hardly have any paid apps except for a few (5 or 6). If MS decides to launch its music service in India it goes way much beyond accessing servers, there are taxes international licenses, location of servers etc going through. You are basically king them to invest money in dead business. Heck I don't even know how many people still use cracked Windows 10 Home/Pro. No profit - No business. I myself would like purchase and store rather than streaming service subscription. Third World Countries like ours don't have access to internet as good as the FWC, and it won't run good.

Happy for those who have groove enabled with this update, but the sad story continues in India where it is still not supported.
I don't think it will ever be. Neither was Xbox music. Posted from my Windows 10 PC for Windows Central!

Don't worry, India isn't alone from list of countries Microsoft services that still absent. This is really more of Microsoft poor international management of its services, while its competitors continue to serve those markets and saturate it leaving no room for Microsoft. Sent from Turing Machine

Is anyone else experiencing issues with a 'Digital Rights Error' when trying to play music in their car? Not on insider build, currently.

If it's on a playlist I do, regardless of where I'm playing it. Groove is a bug-ridden clownshow on my 735. I hope further updates fix that problem but I'm skeptical. I installed Groove on a Moto G I had lying around and experienced the same problem.

This app uses too much memory Posted via the Windows Central App for Android

Couple of additions I've been waiting for. Now all I need is cross platform playback support (go from phone to xbox to PC, etc, and be able to continue the same playlist) and I'll be happy, oh and less crashes, that'd be good too.

When playing a song, the functions are no longer centered - all placed on the left. Does not make sense to add an ellipsis if tapping it would only show one feature which is saving to a playlist.

Phone update hit first. Huge changes and especially gapless playback in the desktop version. If this will fix the constant problems I have with lengthy sign in on Mobile, I am a happy camper.

This is all nice, but on a slightly side note...can we get this much attention to the Movies & TV app? I'm tired of that app being useless to organize our personally owned tv shows and movies. Zune did an amazing job of it...the new choice is god awful at it.

Did it add history, cause every time I close the app I have to repeat the process of searching for music to stream. And still no favorites!

i've had recent plays since a lot of time

....still no smart playlist. Blah.

this update was hugely down played

Just now got the update for my Lumia 520 ( .218 )

MS, please buy SoundCloud

I am one of those who still has a bunch of CD's, and still buy some...sometimes. And, in my PC and even in an older Laptop, i have a CD (DVD) Drive. Why on earth do they not integrate that bit of code, to be able to listen to, grab a CD, or even to burn one. WMP can do it, and it would be great if I had not to use several programs for similar tasks like music listening and all related things. Uh, wait, ....WMP can even play videos...what a nice program.

Unfortunately that's the way it is, if I want to listen to/rip CDs I use windows media player, otherwise Groove. In really I should just use WMP for everything, it's still a great program.

Says a lot about Groove Music when their media player from Windows XP still has more functionality than their current efforts to make one, several years into it's development...

I am baffled anyway. Either WMC, WMP, Zune, Groove had such a bad code base, that they needed continuously to start over, or they are different departments, without any upper management worth its name. Both scenarios are somehow baffling.

Microsoft is like the government. Gov tries to create gov jobs. Same with MS.. Ms creats or recreats software to creat jobs. If it stopped whos buddy would be out a job?? Posted via the Windows Central App for Android

They should at least have Groove Music on PC to support CD such as playback, RIP and Burn. It seems that they have an API for UWP to support disk drives, since there is a DVD Player app you can buy from Windows Store. Heck it even preinstalled on some PC with optical drives. Looks like WMP will have to stay longer until Groove Music got the functionality that WMP has. Sent from Turing Machine

Too expensive as compared to spotify

FLAC files still all say "Unknown Artist" while playing, although the artist appears correctly in the library views...

Noooooooooooo, dammit, I was hoping this got fixed! Dammit! Sigh.

I am in .218 build of production/retail release and i got the update. The app is getting better. The OneDrive integration works well now.

After checking this update out for a few minutes, this is really impressive. I'm hoping that it will someday reach what I consider the gold standard and still use to this day-Zune.

Updated it on my L620, opens and reacts a lot faster.

FINALLY! Song view for artists was my only major complaint, and having that back is phenomenal. Now, on to lock screen support and something like the old MPATool app, for when Groove can't find artist art.

Have you found a way to make it default to songs view? It looks really nice with the albums listed and songs as a sub category, I'd rather it defaulted to that.

I've not had a chance to mess with it. I just got the Preview in and updated my apps within the hour. My SSD died today, so I've spent the evening getting another drive up and running and finding an OS disc and a license key and trying to get that all straightened. I doubt there's a default option now, but it could be a future thing. After 6+ months without the feature, I'll take what I can get (even if it's an awkward label to activate it, rather than a simple swipe, as before).

Sorry to hear of your pain man. Posted via the Windows Central App for Android

How about a we update fir Groove on ios Sent from Lumia 950

The only reason I don't use groove and choose to use Loco player is that if I search for a song to play from my playlist it will automatically change the playlist to that 1 song or playlist...

i checked for updates for more than 20 times on pc but stil didnt got it.... then i found i am niether on fast ring nor i have groove music on my PC! :p Posted from PornHub

What about automatic updates ;) ;) Posted via the Windows Central App for Android

Did anyone belonging to the "Production" ring get this update? I did. Well, at least my device updated the app earlier and its version number is the same as the one specified in this article.

still no grid views in albums/artists list??

Any way to fix the aux connection issue? When ever I use one in my car my phone stops playing music after a couple tracks. Only does this when using a cable. Fine with Bluetooth

Mine is the same, thought I was alone! When I plug into my car aux connection the music just cuts out every few seconds. Only a reboot cures it...Bluetooth works fine...

I have this same problem just using headphones if I "shuffle all".

Grt seeing music controls on lock screen...thanx developers for the path breaking update (build 14322.1k) ever.

Hope it comes to us outsiders soon.....all ironed out.

Still doesn't display my album and ts on deskop.

Just Updated and Groove is much intuitive and faster now, great update!

We can't sign up in India :(

That may be my reason to get groove to replace Google Music

Groove doesn't open after last windows insider fast ring update. No radio either. Crazy!!!

Hope they fixed the bug that makes Groove consume lots of mobile data (almost 3 Mb for each song that is played!) even if playing only offline content (with options for recovery of album data from internet disabled and disabling the app execution in the background). That's a big bug that made me stop using Groove.

I got this update. I am a registered insider but my phone is not in any insider ring.

Anybody else's radio app missing after recent update?

Groove is a phenominal app. A shining beacon in the UWP landscape. I just wish they would add good curated playlists, then Groove > Spotify. I live in hope :)

Still returns search results instead of playing music when using Cortana.

I'm not seeing any update? UPDATE: My fault sorry, needed to register for fast ring via Insider app again...

I still can't see the update? Any ideas good people? I'm on the fast ring...

'We added a simple lockscreen setting for Continuum.' But Continuum doesn't have a lock screen... does it? o_O

Still no song rating, not surprised

So, still unable to play music with Cortana? It worked fine on 8.1, but has never worked on W10M for me. It's a nice feature to use while driving.

Has always worked for me.

Where is your music stored? I have all of mine on a microSD card. Whenever I ask Cortana to play a song, it does a search instead with an option to play it on Youtube or launch Groove to play it (which doesn't work).

I don't have an SD card so I assume it's just stored on the phone.

I'll try putting some music on the phone itself to see if it makes a difference. I thought I read something a while ago about issues with using an SD card. I had all my music in OneDrive when I used this feature with my 925.

Works generally for me.. Cortana still seems to be flaky... IMO Sometimes it just sits there with the merry-go-round of balls... ;) Other times.. it queues it up and plays the playlist I ask for... YMMV

"if something gets really out of whack"
I liked it when they said it like that. :)

I got it this morning in without being in the insider program.

Where are you located? I switched to the Release Preview ring and I still dont see it.

I'm in USA on Release Preview... and no update as of yet... :(

Hahaha like a car "cold start" got to let it warm up...thought that was funny

I'd like to know how I can prevent albums from getting re-downloaded after I delete them.

I got the update, and along with the .218 update, all my woes with the volume rocker media controls are fixed.

Removing the reliance of an XBOX live account has been something I've been clamoring for since I switched to Win10 Mobile! It didn't make sense forcing people to log in before they can listen to their "offline" groove music collection.

I still have music that is on my phone but doesn't show up in Groove. I was having to use MixRadio to play these missing tracks, but can't do that now. Plus, whenever I add music to my phone, it sometimes takes days for that music to show up in my collection. Anyone else having the same problems? I miss Zune

Praise your favourite imaginary deity!!!! We can fecking finally have it filter music to only whats on our bloody devices! I have a 128GB SD card in my Lumia for a reason - i.e. I often listen on trains (patch 2G let alone anything else) and am on a 2GB data limit I don't want it download stuff from onedrive.

A feature that I don't like: try skipping songs with volume set to zero. Quite frequently a song will start at the highest possible volume while the volume slider is still at zero.

It gives very little funb if I only read - login not supported in your region. Thank you MS.

Why am I not seeing this update?
My current Groove app version is 3.6.1724.0. I checked the store by searching for Groove but it just shows Open the app option l, not update the app.
Windows Central Newsletter
Thank you for signing up to Windows Central. You will receive a verification email shortly.
There was a problem. Please refresh the page and try again.