Microsoft's #InsiderUp plans to make everyone a programmer for its global cloud ambitions
Looking deeper into Microsoft's ambitious #InsiderUp program's goal to make everyone, everywhere a programmer.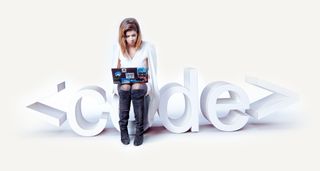 What you need to know
Microsoft's #InsiderUp program aims to make everyone a programmer for an increasingly tech-centric world.
Due to embedded tech all around us Microsoft's "Tech Intensity" perspective views all companies as tech companies.
Microsoft wants to make all companies part of its ambitious global cloud computing platform.
Microsoft's #InsiderUp is about creating a global human resource of programmers to support its cloud computing goals.
Microsoft's recently revealed #InsiderUp program utilizes the company's vast human resource of enthusiastic Insiders combined with a diversity of programs to connect with and train regular people from various walks of life, all over the world, in the art of coding. Microsoft wants to tear down perceived and actual barriers and make everyone (who wants to be) a programmer.
Still, Microsoft is a business, with a goal to make its Azure Cloud platform the computing platform for every person and business around the world. Teaching everyone on the planet to code is to ensure individuals that are part of companies that Microsoft is incorporating (or trying to assimilate) into its global cloud platform, will have the necessary skills to fit into Microsoft's big cloud picture.
Microsoft's fancy buzzword, "tech intensity", which it bandied about during its 2018 Ignite Conference, paints the picture of Microsoft's perception that every company is a tech company. It embodies Microsoft's vision to equip every business and every person on the planet with the technology and tools to be part of Microsoft's global cloud computing platform.
Tech Intensity needs #InsiderUp to train millions as programmers
As the ability to read was once a skill limited to society's elite, programming is a "mysterious" and perhaps intimidating skill relegated to the specially trained among us. Through its #InsiderUp program, Microsoft wants to make programming as common a skill as reading has become around the world. This endeavor fits well within the company's altruistic image.
Microsoft's CEO Satya Nadella, who raised a son with severe Cerebral Palsy, has been carefully crafting and nurturing a culture of empathy that permeates and is the foundation of how the company does business. The company is committed to inclusive design and the one billion people in the world with disabilities. It facilitates an Autism Hiring Program, attacks Parkinson's Disease with Project Emma, tackles Dyslexia with Learning Tools, supports the blind with Seeing AI and teaches blind and other children coding through Project Torino. Microsoft genuinely seems to be trying to "empower every person and company to achieve more."
Through #InsiderUp Microsoft is using its volunteer army of Insiders as leaders in their communities to connect and motivate their friends and community members with Microsoft programs that teach people of all ages and walks of life how to code. This is a key component of Microsoft's "tech Intensity" obsession. Fundamental to the buzzword ideology is the belief that in the modern age where technology is embedded all around us every company, regardless of industry, is a tech company.
Consequently, Nadella believes that every company must embrace the latest and greatest technology and build its own digital capability. Microsoft realizes companies cannot do this without the proper tools, platforms, and human talent. Thus, it provides companies with tools like Dynamics 365 and Azure, and through #InsiderUp, Microsoft is targeting billions of people to make them programmers for a variety of tools, that are and will be used in a variety of companies as part of Microsoft's global cloud computing platform goal.
The cloud, #InsiderUp and you
Image 1 of 6
Microsoft wants Azure to power the world's computing for businesses and individuals and to power the runtime for the world's apps. Microsoft knows that businesses must proactively embrace and implement the latest tech within their IT infrastructures to be "compatible" with Microsoft's Azure platform goals.
Thus, Microsoft has created infrastructure across domains where user data exists such as gaming, modern workplace, business applications, data, and AI. The company has also partnered with SAP and Adobe (and invited others to join) to create the Open Data Initiative which is positioned to eradicate the barriers between the various user engagement points across social, marketplace, web transactions and more. In a nutshell, our digital experiences are increasingly part of virtually everything we do from work to play, are with us everywhere we go and through embedded and consistently present tech they parallel our "real" world experiences.
In a world where tech is so integral to virtually every part of our lives Microsoft, through #InsiderUp, is attempting to transform the world's vast human resource into the coders that will program the various tools that, through the cloud, support our work and play.
Normalizing programming
As reading became a skill the masses acquired, opportunities for professional positions grew, and entire industries were birthed profoundly as the pool of qualified candidates became accessible. Microsoft's goal for its growing Azure cloud platform is that it will support the digital capacity of thousands of businesses across hundreds of industries. Microsoft's long-term, multi-year goal is to train hundreds of millions of people (turn everyone who wants to be) into programmers.
Like reading, Microsoft wants to make programming, particularly with its tools, commonplace to support its global computing goals with a vast pool of qualified candidates. As a business Microsoft is pursuing this goal through #InsiderUp by using free or low-cost strategies like utilizing the passion of current Insiders, as Community leaders, to do the footwork of organizing events, evangelizing Microsoft's products and services, connecting people to and beta-testing Microsoft's tools and reporting back to Microsoft on a monthly basis.
Windows Insider Lead Dona Sarker wrote:
Microsoft, Google, Apple and today's kid coders
What's Up with #InsiderUp?
Image 1 of 2
Here are some of the ways Microsoft's #InsiderUp Program tries to bring programming to the masses:
As all things Microsoft, #InsiderUp's goal of making everyone a programmer is ambitious. But if Microsoft's global cloud goals are to be realized the company will need a vast and diverse pool of programmers across various industries to make it happen and to sustain it. #InsiderUp is one way to tackle that challenge.
Get the Windows Central Newsletter
All the latest news, reviews, and guides for Windows and Xbox diehards.
Jason L Ward is a columnist at Windows Central. He provides unique big picture analysis of the complex world of Microsoft. Jason takes the small clues and gives you an insightful big picture perspective through storytelling that you won't find *anywhere* else. Seriously, this dude thinks outside the box. Follow him on Twitter at @JLTechWord. He's doing the "write" thing!