How Microsoft is helping blind children learn to code and gamifying disease treatment
There are 253 million people living with a visual impairment and 70, 000 people with cystic fibrosis. Many are children, and Microsoft wants to help them.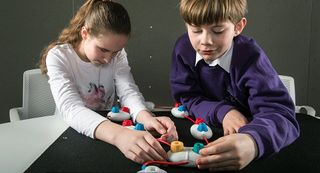 Children are born with a natural curiosity and hunger to explore, learn about and experience the world around them. To them, the world is full of mystery and wonder to which they wish to apply their senses, energy and vitality to understand. Their perception of the future is a vast and infinite realm of possibilities unaffected by the pressures of mortality that will later impose humbling boundaries limiting their now limitless horizons.
Sadly, children living with visual impairments face a reality where their exploration of the world is without the benefit of sight. And children with Cystic Fibrosis, a chronic genetic disease which imposes an average life expectancy of 41, face their mortality daily as they endure day-to-day treatments to prolong their lives.
Microsoft's Project Fizzyo helps children with Cystic Fibrosis engage in their daily treatments, and its Project Torino teaches coding to children who can't see.
Living with Cystic Fibrosis
Cystic Fibrosis is a chronic condition where excess, sticky mucus builds up in the organs of an affected person's body. The lungs are usually the most affected. Left untreated conditions such as infections or pneumonia can develop. Cystic fibrosis is a genetic condition which has no cure. It is also degenerative, and a patient's condition will only worsen with time.
A child with the disease may endure preventive treatments such as wearing a special vest to loosen the mucus in his lungs. He will also undergo physiotherapy (physio), a series of breathing exercises, multiple times a day. Though the effects of this therapy are not immediately visible, it is necessary to help to prolong patients life.
Vicky Coxhead is a mother with two sons, Aiden and Morgan, who have Cystic Fibrosis. She knows all too well the challenges of getting her boys to adhere to their daily regimen of life-saving treatments. Since there are no immediate visible effects, the boys saw little value in enduring the time-consuming treatments. Coxhead reached out to Microsoft's Haiyan Zhang for help.
Zhang appeared on the show The Big Life Fix (where inventors build life-changing solutions for people in desperate need) and also invented the Emma Watch that helped a person living with Parkinson's Disease beat the tremors that prevented her from writing her own name.
Project Fizzyo
Zhangs's assistance was solicited, not to find a cure for Cystic Fibrosis, but to help devise a means to encourage Aiden and Morgan to submit to their physio. To that end, she initially created a small electronic apparatus that attached to the end of the physio treatment tool. The device detected the boys outgoing breath and provided a visual response on a graph. The immediate visual feedback was a hit with the boys.
Coxhead had a vision of marrying the treatment with something the boys loved: video games. Zhang enlisted the help of a team who committed to creating a range video games to accompany the "enhanced" physio treatments. After a weekend hackathon event yielded a refined physio treatment tool Project Fizzyo was born.
Like Project Emma that followed the creation of the Emma Watch, and Microsoft's quest to help people with ALS which followed a hackathon project to help Steve Gleason, Project Fizzyo is a broader mission than the specific cause that initiated it. Project Fizzyo seeks to improve patient adherence to treatments, connect patients and clinicians, establish a system of monitoring treatments and to correlate this data with other health factors. The project will also study how effective physio is over time and how it impacts a patient's health. Before Project Fizzyo, the collection and analyzing of this type of data had never occurred.
Project Torino helps blind kids code
Microsoft's inclusion mission embraces children with visual impairments. Project Torino is a method of teaching children of varying abilities (including those with visual impairments, autism or dyslexia) to code. The goal is to put these children on a path to become computer scientists or software engineers.
Project Torino is geared toward children from seven to 11 years old and is currently limited to the UK. Microsoft has spent over a year testing the system with about 12 children. The system employs coding tools which are large pods of various colors. Students use them to program such things as songs, poetry and sounds. Torino teaches students the fundamental programming concepts that can be applied in careers that involve programming.
Torino is comprehensive in that it includes a teacher component that doesn't require that an educator be proficient in coding. Finally, Microsoft created an app that converts the physical programs the children create into text-based code.
Microsoft, Apple, Google, and today's kid coders
Microsoft's investment's in helping children is admirable. Through Project Fizzyo the company helps children engage in life-saving treatments, and Project Torino teaches coding to an often overlooked population. No company is perfect, but just as criticisms are leveled against corporations when we deem bad decisions have been made, worthwhile investments should be applauded.
Get the Windows Central Newsletter
All the latest news, reviews, and guides for Windows and Xbox diehards.
Jason L Ward is a columnist at Windows Central. He provides unique big picture analysis of the complex world of Microsoft. Jason takes the small clues and gives you an insightful big picture perspective through storytelling that you won't find *anywhere* else. Seriously, this dude thinks outside the box. Follow him on Twitter at @JLTechWord. He's doing the "write" thing!