Technology and health: What you should be thankful for this year
Thanksgiving is here. And it doesn't take much effort to find a few things for which to give thanks.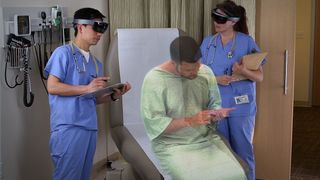 Thanksgiving in the U.S. is a day where we as a nation can give thanks for the many good things that have been provided to us. The deluge of negative messages that inundate our news feeds from political scandal to senseless murder paint a distorted image that there's little good news to celebrate. There are in fact many things in our personal lives and in the world of tech that warrant our gratitude, however.
I know the distraction of Black Friday advertisements and an avarice spirit of consumerism may be at the forefront of our thoughts. Positioning yourself to root for your favorite football team, or dodging a relative whose annual visits seem overbearing may have also supplanted your thoughts of gratitude. Still, on this day of giving thanks, perhaps we can spare a few moments to see what the world of tech has brought us that has made our lives better.
HoloLens and health
Microsoft's augmented reality, wearable computer, HoloLens, debuted to critical acclaim. Microsoft introduced HoloLens technology and holographic computing, where holograms are projected into the wearer's field of view, as the future of computing. That "future" has greatly improved the present quality of life for Nate Lowe.
Lowe suffered from severe back pain for five years due to two herniated discs. Dr. Wendell Gibby, a neuroradiologist, used HoloLens to overlay holograms of Lowe's internal anatomy over his actual body to help guide a percutaneous lumbar discectomy (APLD) on July 9. The HoloLens-assisted surgery which reduced time, risks and cost was a success. HoloLens has also been used to support spinal cord surgery and collarbone repair surgery.
Gibby sees this technology as the future of medicine. Lowe, for the first time in years, can celebrate Thanksgiving without debilitating back pain.
Gene Therapy
Gene therapy uses our knowledge of the human genome to target the genetic causes of particular diseases. The process involves engineering a virus to deliver healthy versions of a gene into a patient with defective genes. Gene therapy is a complex process and it's still the early days, so the applications are presently limited. But even now it's making a difference — Philip and Kayla Looks are thankful that their son Levi is one of those success stories.
Both of Kala's and Philp's twin boys were thought to be healthy when they were brought home from the hospital. It wasn't until Levi was three months old that his parents learned that he had severe combined immune deficiency (SCID). The gene mutation at the root of the condition attacks the immune system which made Levi defenseless against infections.
In May 2015, Levi's blood was infused with the life-changing gene therapy that gave him a healthy life ever since. This Thanksgiving and the two since Levi's therapy, the Looks family can reflect on the blessing technology brought their family and what it may bring to others.
Artificial Intelligence tackles tuberculosis, brain bleeds and PTSD
Companies like Microsoft, IBM, Facebook, Google, Samsung and Apple are betting big on artificial intelligence. Via a combination of machine and deep learning, machine vision and more AI is being aimed at some of the world's most devastating health issues.
Tuberculosis (TB), a bacteria-based infectious disease that can be spread through the air and primarily affects the lungs, is among the top 10 causes of death worldwide according to the World Health Organization. Last year approximately 10.4 million people became ill with TB. Nearly two million of them died. AI is being used in remote areas to help detect TB. And because there are treatments for TB, its accurate identification via AI will ultimately reduce deaths from the disease.
The American Heart Association and American Stroke Association report that stroke is the fourth leading cause of death and is among the top causes of preventable disability in the U.S. IBM Watson Health combined with the efforts of MedyMatch Technology to bring AI to emergency rooms. The combined AI technology with patient data and clinical insights enable AI to proactively highlight areas in a patient's brain that may indicate cerebral bleeds. This automatic identification of problem areas for the physician dramatically improves patient care and outcomes.
Veterans pay for our freedoms often with persistent physical, mental and emotional costs. Post-Traumatic Stress Disorder (PTSD) affects millions of vets. VA studies indicate that one-fifth of the three million Iraq and Afghanistan war vets are living with PTSD. The incorporation of Watson AI with PTSD treatments helped boost psyco-therapy completion rates from 10 to 73 percent. The great news is that 80 percent of those who complete the treatment can recover. Many veterans and their families are likely grateful for the benefits of AI in PTSD treatments. We should be too.
Giving thanks
The big screen TVs, brand new Xbox and a plethora of enticing tech and other deals dominate the media this Thanksgiving week.
Hopefully, you've had an opportunity to pause and reflect before Thanksgiving faded to Black Friday in your home. Kala and Philp Look's son is healthy due to gene therapy that may one day benefit someone we love. Nate Lowe whose HoloLens-supported surgery relieved severe pain is grateful for technology that may one day help you or I. AI supported TB and brain bleed detection may save the life of someone you know.
Finally, veterans who've defended their country and our freedom to celebrate this Thanksgiving holiday, have benefited from AI-supported treatments that have improved their quality of life.
These are just a few things to add to your list of things to be thankful for this Thanksgiving.
Get the Windows Central Newsletter
All the latest news, reviews, and guides for Windows and Xbox diehards.
Jason L Ward is a columnist at Windows Central. He provides unique big picture analysis of the complex world of Microsoft. Jason takes the small clues and gives you an insightful big picture perspective through storytelling that you won't find *anywhere* else. Seriously, this dude thinks outside the box. Follow him on Twitter at @JLTechWord. He's doing the "write" thing!