How Microsoft used tech to help people with ALS regain mobility
Every year approximately 6,000 people are diagnosed with the immobilizing disease Amyotrophic Lateral Sclerosis (ALS). Microsoft wants to give them and other mobility-challenged individuals the technology to regain some of their lost autonomy.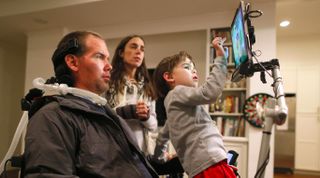 ALS, or Lou Gehrig's Disease, is a progressive neurological disease that affects the nerve cells responsible for controlling voluntary muscle movement. It robs a person of the ability to walk, use their limbs, talk and even breathe independently.
Individuals with the disease not only lose their mobility but their sense of "self" is challenged. Total dependence upon others erodes their sense of autonomy.
Technology that can return a level of freedom to people with ALS and others who use wheelchairs is liberating for those who often feel trapped in their own bodies. Former football star Steve Gleason was diagnosed with ALS shortly before the birth of his son. In an effort to be the father he wanted to be, Gleason reached out to Microsoft for help.
Microsoft embraced the challenge
In a belief that Microsoft had the talent, technology and will to help him, Gleason sent the company an email:
He felt that people like himself should be able to drive their wheelchairs with their eyes. In response to his email, a team of innovators embraced the challenge, and during a one-week 2014 hackathon event, the team committed to making Gleason's dream for himself and others a reality.
Becoming mobile
By the end of the event, the team had a crude but functional solution using eye-tracking technology and additional components that allowed Gleason to move his wheelchair with his eyes. After seeing the impact of the technology, the team was encouraged to go further.
Microsoft Chief Accessibility Officer Jenny Lay-Flurrie said:
The team garnered the necessary resources, iterated on the tech, and in April 2015 Gleason's wheelchair was outfitted with a more refined version of the eye-tracking and wheelchair navigation tech.
Microsoft's innovative technology empowered Gleason to navigate his chair independently and to play with his son.
Microsoft now wants to take this technology to a much broader audience that can also benefit from it. Though Microsoft is "working against the clock" and many of the people with ALS they worked with have died, Gleason's case stands out as a ray of hope and a point of origin for technology that will potentially help millions.
Microsoft's eye-tracking technology
The eye-tracking technology that helped Gleason is now part of Windows 10. Users with varying degrees of mobility can navigate Windows 10 using just their eyes and can even type an entire article using the technology. The inclusion of this technology as a basic function of the OS is core to Microsoft's mission of inclusive design (opens in new tab) or thinking of all users from the beginning of the design process.
Microsoft is serious about bringing diversity to its products and its teams through a mission of inclusion.
Microsoft's holistic approach to inclusion
Jessica Rafuse is a program manager for accessibility, and she enjoyed watching Microsoft's inclusion efforts from afar before joining the company. As a person who uses a wheelchair, she understands the challenges facing those with limited mobility.
Rafuse champions Microsoft's inclusivity and accessibility missions and is also helping to bring other talented people with disabilities into the organization. Through its products, hiring practices and inspiring technological efforts, such as those that yielded the eye-tracking that helped Steve Gleason and now millions of others, Microsoft's inclusivity efforts are holistic.
This mission begins with empathy and focuses on individuals and their abilities rather than defining people based on the challenges they face.
How fathering a son with disabilities helped Microsoft's CEO transform the company
What we can accomplish with technology is amazing when we care about others and work together to empower one another.
Windows Central Newsletter
Get the best of Windows Central in in your inbox, every day!
Jason L Ward is a columnist at Windows Central. He provides unique big picture analysis of the complex world of Microsoft. Jason takes the small clues and gives you an insightful big picture perspective through storytelling that you won't find *anywhere* else. Seriously, this dude thinks outside the box. Follow him on Twitter at @JLTechWord. He's doing the "write" thing!
This is truly inspiring. Thanks for writing about this.

Absolutely! Just imagine where the likes of Prof. Stephen Hawking would be without his use of technology. The more work done by MS (and others) to bring technology to the forefront in helping those otherwise disadvantaged by their ALS or other conditions, the better for humanity as a whole.

Thanks for sharing this thoughtful piece, Jason. I think it's a great example of the work Microsoft is doing, like many other companies, to empower people with disabilities.

You're welcome and thanks!

This is where Kinect technology would have been really handy, I hope they can integrate that tech into something more portable. It was a truly inspiring article Jason.

I have ADHD, OCD, depression, primary biliary cirrhosis (autoimmune disease) and ALS. I didn't have health care I just thought it was a stroke, but it started with my voice. When it started to get worse I went to a neurologist. and was diagonised with amyotrophic lateral sclerosis. i was able to walk with assistance nothing was really working to help my condition.I went off the riluzole (with the doctor's knowledge) and started on amyotrophic lateral sclerosis herbal formula i ordered from Health Herbal Clinic, Just 7 weeks into the Herbal formula treatment I had great improvements with my slurred speech, this is a breakthrough for all amyotrophic lateral sclerosis sufferers, visit Health Herbal Clinic official website www. healthherbalclinic. net or email info@ healthherbalclinic. net.
Windows Central Newsletter
Thank you for signing up to Windows Central. You will receive a verification email shortly.
There was a problem. Please refresh the page and try again.