Microsoft's new Maps experience is now available for non-Redstone Windows 10 Mobile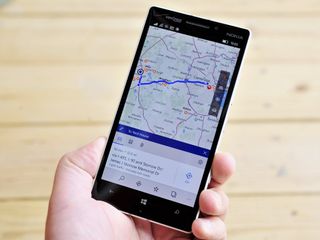 Update: The refreshed Maps may only be available to those on the Insider Preview Release and not Production. If that is the case, we may still be a few weeks out before general release.
After a few months of testing, Microsoft has published their new Maps experience and redesign to all Windows 10 Mobile devices. Previously, only phones on the Fast or Slow Insider Ring were able to experience the complete UI redesign along with a new driving experience. Microsoft had announced the revamp back in March and just two months later it is completed and ready for prime time.
Today's update takes the build from v4.1603.1190 to 5.1603.1300.0 and although it is live for Mobile we do not yet see it for PC, although that will likely change soon.
Some of the features of the re-released Maps app include the addition of labels for search results, along with the ability to minimize searches, directions, and location info. Your favorite locations will now be accessible even if you're offline, and it's now easier to follow public transit routes thanks to detailed instructions. The full changelog is listed below:
You can now minimize search results, directions, and location info to enjoy more of the map, while keeping them in easy reach.
We added search to 3D cities so you no longer have to scroll to find the city you're looking for.
Your favorites are now available offline so you can truly enjoy your offline maps and take advantage of all the places you have saved. You can also add notes to your favorites to keep track of things you want to remember about that place.
When Cortana is enabled, you will receive turn-by-turn directions in Cortana's voice, currently supported for English (United States), English (United Kingdom), Simplified Chinese (China), French (France), Italian (Italy), German (Germany) and Spanish (Spain).
We've made it easier for you to follow your public transit route and know when it's time to get off the bus with updated turn-by-turn instructions.
And finally, based on the greatest amount of user feedback we've made improvements to the UI of turn-by-turn instructions to improve glanceability and the layout in landscape mode.
Head to the Store to grab the latest update or hit up the link below. Let us know what you think of the new Maps in comments!
Download Windows Maps for Mobile (opens in new tab)
Thanks, everyone for the tips!
Read more about the Maps update at the Windows Experience Blog.
Daniel Rubino is the Executive Editor of Windows Central, head reviewer, podcast co-host, and analyst. He has been covering Microsoft here since 2007, back when this site was called WMExperts (and later Windows Phone Central). His interests include Windows, Microsoft Surface, laptops, next-gen computing, and arguing with people on the internet.
I miss the HERE on WP8.1 even no data or wifi still accurate tracking your location using offline maps.

Do a hard reset and stay off RS builds, you`ll still be able to have HERE Maps.

By June or July HERE will cease to function, hoping msft return that feature. Lumia 640 XL Dual SIM
Build 10.0.10586.318

The only reason I don't use Windows Maps is it doesn't have compass. It lacks lots of places(at least places near where I live, compared to Here) as well.

That's odd as they use the Here data. Posted from Windows Central for Windows 10

Yeah I was also wondering so. Couldn't find any definite reason.
Posted from Windows Central for Windows 10

Did u download the maps manually, so u can use offline

Yeah I have offline maps downloaded, and the places I am talking about are within the offline maps area.

For w10m. It'll still be supported on 8(.1)

HERE offline maps was the reason I purchased a Windows Phone 8.1 device, since it worked without a data plan. But now that I look back, I think HERE damaged WIndows Phone ecosystem, since people could get a phone without a data plan and benefit from this feature. I think this wasn't liked by carriers, but we may never know, anyway what I want to say is that offline maps should not exist since some users make a lot of use of this feature and this feature should be available only for customers having data plans. This is to keep the mobile carriers economy healthy since they hire a lot of people and create a lot of jobs. Just my 2 cents.

Still no folders for favorites...

Offline maps have worked and still work for Microsoft maps

I don't give a hoot about the mobile carriers. They don't create more jobs than other companies.

But doesnt work on Windows Maps. Lumia 640 XL Dual SIM
Build 10.0.10586.318

Try to turn off data and wifi, Windows Maps cant pinpoint your location unlike HERE (WP 8.1).

Because the gps is assisted by data conection. You can turn it off after you got a signal

I know, what im saying is that feature doesnt work on Win. Maps unlike HERE keeps you tracking whenever you and Win. Maps stuck on your last location (it doesnt know where you are). Lumia 640 XL Dual SIM
Build 10.0.10586.318

On my lumia 930 it takes around 5 minutes at least to get a gps connection without internet be it on here maps under win 8.1 or win 10

Case close
---------------------------- Lumia 640 XL Dual SIM
Build 10.0.10586.318

I'll test it out on my way home after work.

I just did a test without data connection, it took 3-5 minutes to get gps signal and then I did a successful drive on Windows Maps on just GPS. It works in offline mode without issues.

Yeah no issue for me. Turned flight mode on, left location services on. Maps found location instantly and displayed directions/tracked me to an inputted location. I have maps downloaded for my province. Only thing not working for me is voice dictation. Tried turning data back on to see if that fixed it. No luck. Region is Canada.

I've not experienced that. Seems very fast and effective to me. Maps on Windows 10 (Lumia Icon) is faster than HERE was on my 8.1 Lumia 928 (just upgraded as my only current option on Verizon. I wasn't expecting much of an improvement overall, but I must say that Win 10 on Icon is much better than 8.1 on 928, with a few exceptions that were better on 8.1 (very few). It does seem to run hotter and might have less battery life, but I think I could fix that with some tuning on which apps are allowed to run in the background.

Deleted Posted from Windows Central for Windows 10

It works just perfect for me on 10586.318
I have my Wifi - off
Mobile data -off
Location (GPS) - on. That's it. Sent from my Lumia 650 via the Windows Central app ;)

Doesnt work on me :(
I wonder Lumia 640 XL Dual SIM
Build 10.0.10586.318

UK here, I use offline all the time when I'm in roaming areas, it picks up quickly here about 10-20 seconds after opening the app and I'm all set. May be an issue with where you are situated not having good coverage.

HERE continues to support viable platforms like Android. So your next Nokia can run HERE.

What is their motive by still updating those left over non redstone Windows Phones? I thought all good things will come to redstone, but I am surprised here. - Sent from Nokia Lumia 620 W10M Threshold Build 10586.318

Not sure why... the new Map's setup is much better!

Its sad neither lacks the wifisense markers unlike 8.1 maps

Good to hear this, now that I`m not able to join RS ring ... at least the fast ring, since last build it`s been a pain for my Lumia 930 to keep it stable after I tried a hard reset, everything went to hell after that .. now I`m stuck into the production release till RS will be more stable.

If you want stable, stay away from preview releases altogether.

This last fast ring build has been stable for me.

Sure, some are better than others, but with each new build you run the risk of running into problems. I felt it was worth the risk when W10M wasn't in production yet because it was so very different from 8, but now that I can get a stable production build, in my opinion, installing preview builds just to see a few minor tweaks a few weeks early is not worth the potential instability those builds bring.

I stayed Slow Ring until this last build. I'll probably slide the lever back down to the Slow Ring. That way I stay on this build until I read what is broken and what is fixed. My guess is that oh these last couple of months it shouldn't lose stability.

Release Candidate ring is solid. I've not had a single issue on Lumia Icon (basically just the Verizon version of the 930). Of course, that's not very far forward of a preview, but works great.

Its of no use for lumia 730 ....f**k you MS...lumia 730 owners are not able to use maps...fix gps problem first...

I am also facing the sae issue.

Daniel ...do u have any solution on this...????

Well that's cool... That's really the only reason I updated to Redstone. The maps app is beautiful

I know, right? When I backed down to production away from Redstone, the Maps is what I missed the most of the new features. I'm really happy having the maps app now, and I don't have to have an unstable phone to get it.

Strange, I updated, but it still looks the same.

Same here. Even though it updated it is still version v4.1603.1190 not the new version 5.1603.1300.0. If I go back and try to update again, update is not available now

You're absolutely right... I also updated Maps but it's still has the old look.

An update has popped up twice now in the past twenty min. Each has reinstalled the older ver. 1190.0 strange

Ive seen the update three times now, and the same happens. Says it installs, and after opening its the same old build version

One month ago i succeeded with updating to v5 maps app. Now, after a hard reset, i am no longer able to download v5. An update is available, but it reinstalls v4 .1190. That sucks! I cannot use anymore the great features of the new app and i dont want to upgrade to Redstone since there are still too many bugs.

Does the new update still show the Speed Limit and current speed and ping you when you exceed the cushion on top of the speed limit?

It alerts you when you go over the limit by the set amount, and at that point shows you your current speed in the bottom right. Once you are below that threshold your current speed disappears. It's one of the things I don't like about the re-design from using it on Fast Ring. Couldn't find any settings to change this

Current speed being displayed will change depending on whether or not you are in landscape or portrait orientation, and if you have your display scaling low enough to be in "tablet mode" scaling. You don't have to go over to see it if you do the proper orientation, which is stupid. It needs to show in both orientations.

Unfortunately it doesn't show current speed unless you're over the limit you've set for yourself.

Oh, that sucks. I like to see my current speed on the GPS. It's more accurate than the car's own speedometer.

I suggest speeding at all times. You'll get where you're going faster, your car will be more fun to drive, and you'll be able to see the speed on your Maps app, just like you wanted.

Nice! although public transport information for my country dissapeared. :S Hoprefully it will appear again soon.

Does your country still exist? If not, that would explain it.

Well, this would make the assumption that MS has made that information available for every country in the world, which I highly doubt. IIRC, it's not present for my country, or not for every city. And believe me, it exists, I'm here and it's still on the map.

No update for Lumia 735.... Does any one got it? TH xx.318

i got a 735 and there was an update in store. But i checked that, after the update, my maps version is 4.1603.1190 and not 5.1603.1300.0

No update for Lumia 430...

I updated it today in the morning. But no changes there!
L640/.318

I want to know: for people that don's use Cortana, will they loose voice?

No, it just won't use Cortana's voice is all.

I'm sure it will fall back to the normal text to speech api and voice if Cortana is disabled. That functionality isn't going away as it's used by all kinds of things in windows.

Me too still in same version although I updated

Been using this on Fast Ring for a while, the only thing I don't really like is the removal of your current speed. It only shows that now when you are over the speed limit (Couldn't find an option to change this)

No dark theme anymore? Anyway, I hope this means Groove Music may be updated for non-Insiders on PC soon, too.

Agree. I really like the app but it's very.. white. I hope they'll add collections (and maybe saved routes too) soon, i really miss them from here, and using faves is not really the same.

Hey dan, i got update today morning, but still the version number is old. I am on build.318 non insider , Lumia 730. Plz help

Strange I got an update on my PC yesterday.

German 950 XL, update in the morning, but still version 4.1603.1190.0. Same on the PC.

I'm on verssion 4.xxx checked for update, did not find anything. 950XL; Non- ring member.

I updated it on my 535, and I love the new experience :3 It's so damn cool :3 Good job MS ;)

Wait... so my wife wins because we can avoid tunnels, but I still have to suffer with bridges?! :(

Transit function is still terrible. It shows incorrect timetables, sometimes just one option and you can't look at earlier or later routes easily. You even can't choose a mode of public transport you prefer/need in the concrete situation! BRING HERE TRANSIT BACK! Settings for navigation is poor too.

The loss of Here Transit is probably the straw that broke the came's back, for me. I will not be using Windows Phone/Mobile/Whatever anymore.

On the rare occasion when I use public trans, I use the Moovit app.

I have taken to using Moovit because it's all that's left. But it is terrible compared to Here Transit.

My experience is different. I moved to Moovit it when we still had Here and I felt it was an improvement.

Looking forward to this being released!

The production update was from 4.1601.10150.0 to 4.1603.1190.0

We also need maps that rotate in relation to compass, just like HERE maps, this helps if you are lost and you want to know the direction of a certain point.

I can't believe the compass still doesn't work in Windows Maps. I have to use HERE Maps for the compass function, and that's going to stop working at the end of next month.

Text size on maps needs to be LARGER!

with redstone, transit doesn't work at all. :-(

I'm on production and it's updated to the 5. New maps 640xl uk

And I'm only one who constantly see "One of the places on this trip doesn't have any transit stops nearby" even if points are near to subway stations? before "new experience" everything worked perfectly. And only now I found that on PS3 touchpad it doesn't moves with 2 fingers swap, but zoom in/out and pinch to zoom doesn't work.

I am not seeing the update in the store on my Lumia 950 yet. Does anyone know if this update might also allow for the turn-by-turn voice directions to be spoken through the phone's speaker when the phone is connected to Bluetooth, so the directions don't have to be treated like an incoming call/SMS through the car's speakers? The way Windows 10 Mobile handles Bluetooth is really annoying and I would love the directions to be provided just through the speaker on the phone.

ARE YOU AWARE THAT YOU CAN IMPORT YOUR FAVOURITES FROM HERE MAPS TO WINDOWS MAPS??? just in case you missed this one as HERE maps are said to be scratched in june and you don't know what to do! here is the link http://www.jmevel.com/MapsFavoritesImporter

Amazing. Thanks!! But how do I sync my Here imported Bing Map favourites on my pc with what's on my Windows phone 10 maps app?

No traffic, or reroutes based on traffic.

I'm not sure I want this update.

I'm on a unlocked 640 XL there was a update but only to 1190

I miss detail. And Kerguelen Island. Edit: Plus the colours still look dull.

The biggest hole Windows Maps will probably need to fill is the loss of HERE Transit. I know that it's integrating transit directions to a point, but the level of detail, choice of transit options (train, bus or ferry), time schedule re-routing and such that HERE did (and Google Maps does) will be missed by users, I'm sure. And there are not many options in the Windows Store to make up for that (there's Moovit for the U.S., but nothing for international markets). Oh well.

And Moovit is not even close to as usable. There really is no substitute at this point and, as a heavy user of public transit, this is pretty much killed the platform for me.

WP users may have to do transit routing and directions the old web way, having a bunch of tabs open with different transit web sites and such, panning, zoom, and pan, zoom, and coordinationg that with your address and...blech. Its 2006-7 all over again.

The biggest hole is a general lack of data quantity and quality.

I updated it this morning, and it feels... so AMAZING! The Maps found my location in two seconds! Found a route to destination in two seconds, too! 1m precise!
Before this version, it was looking for location for 2 minutes, and it would show: "Your location (somewhere about 12km). Hey, 12km!!! It was such an unbelievable cr**!
I'm so happy now! ☺

What phone are you using? Which build did you get? Do you use off-line maps?

How to save and add a favourite place or route in this win maps???

Slide up the blue square with the location and then appear, the option to add to favourite, share, print or pin.

I can't notice any improvement, other than removing the hamburger, it's just a UI redesign with no black theme now, and I can't preview routes without blocking 90% of the map now

I hope this fixes my problem where I needed a magnifying glass to be able to read my eta. Good things come to those who wait!

I updated a few minutes ago the new refreshed Maps, and I'm not an insider user. I'm on 10586.318 official release.

Well there is an update in store for the maps app. Downloading now (L930 10586.318). Edit: Appears to be just bug fixes and improvements as per the change log.

And suddenly all my transit data ceased to function (again), even though it worked perfectly before the update.

Still no update for my 950 XL .318

I'm on .318 and I have the update, there is still hope. unlocked 950XL U.S.

Same phone, same build, been checking a few times, still no update in CA.

I really like the changes. The ui seems so much cleaner.

What a disappointment. The biggest blunder of all has not been rectified: the app searches for entered destinations for a very long time, sometimes it doesn't find them at all. The obvious problem is that it doesn't recognize that off-line maps are available otherwise it wouldn't ask you to improve your Internet connection after failing. And another thing that is missing now: The display of the actual current speed.

I just performed a little test. I took out the Sim card from my phone and disabled WiFi. After that the system found any destination that I entered almost immediately because I have off-line maps. When I enabled the data connections again, the map app went back to it's old antics and failed to find the very same destinations ( at least the first time around) supposedly because I had a lousy Internet connection. It is hard to believe that the MS people have not discovered this elementary glitch ( Lumia 830 in case the problemit is confined to this set ).

Oh Ffs!, it still doesn't effing well sync with Bing map favourites on pc. I am only seeing favourites I created in the app. Are we really expected to create favourites on every effing windows device?

Nice to see the hamburger menu disappearing again in favor of the ellipses and controls at the bottom of the screen.

Compass is still not working on 1520. Greyed out. So on foot navigation really sucks.

First they need to fix the gps in lumia 730. Still trouble in finding my location.

Sadly, Maps won't announce directions over A2DP. So, if you're streaming music from your phone through your car, you'll get gaps in the music - the spaces where announcements are bing made. Funny that, as Waze goes right over the music. Too bad Waze (as crippled as it is on WinPhone) doesn't let you store maps on the phone.

Use it yesterday in Dhaka city and it helped me a lot since i was there first time in my life. Lumia 550.

MS Maps locks up in the middle of directions for me all the time. Just drops GPS signal and won't find it again. It has been pretty much useless/unreliable for me for directions. Not sure if MMS uses it, but if you send your location, it does not follow you until you press send like it used to. Junk.

I did received an update yesterday seems a little faster.

How come it still doesn't show me the direction am facing?

Hi, with Here, there was a map mode which would display the map while driving oriented in the direction I was driving, I did not have to enter a destination and did not get disturbed from navigation messages (Turn Left etc.) I used it for commutes to check for possible upcoming backups using the traffic information. With Windows Maps, I can only display the map oriented towards north, only when I enter a destination, the orientation changes to the direction I am driving. Of course, with a destination set, I get the navigation prompts I do not need for the daily commute. Is this not implemeted yet or is there a setting I am missing?

There is no compass support, which for a map and routing app is kind off.....odd.

Why I don't have compass after update to w10m? i had this before on my lumia 640 with wp8.1...

Traffic traffic traffic. Need a live tile with traffic and Cortana traffic suggestions during my commute window. I'd like to see the traffic on the tile and also be prompted to take alternative routes by Cortana. Drop in waze info and it's a home run.

Extremely few people used Waze, which is why it dropped off of Windows Phone.

Hope it works better than the current Maps...drives me crackers, offline maps are useless, it constantly stops moving the map or ends up 300 yards behind the voice nav...

Got an update but still version is 4.xxx and the phone freezes when activating location

I don't know why but some areas roads are vanished, no orange mark.....

I just don't know how to save places to favorites on MS Maps.
Anyone can help?

When you search MS maps for your location or address and it appears at the bottom of the screen with the directions button, swipe up and there will be the favorites star on the left side of the icons. Hope this helps.

Nop. I don't seem to be able to do it. Tapping the favorite star takes me to the list of favorite places, which I added thru HERE maps. There's 'add a car' though. Lumia 640XL LTE DS.
Zanzibar.

Still no "Drive" mode, I really hate having to put in a destination to see my speed, speed limits, and road names in the driving view.

Really, it boggles my mind how bad the map data is compare to Gmaps and OpenStreetData. There are creeks, small lakes, and, hey, even islands. Especially in oceans. And rivers tend to be much wider than streets. MSFT, please, stop paying Here for that enormous pile of rubbish, and start supporting OpenStreetMap.

It STILL can't hold a candle to HERE Maps, HERE Drive and Local Scout. I'm sick of the lame also-ran approach of Microsoft.

Interesting, they're getting rid of the obnoxious hamburger menu. It still has the worst map data of my region, more than a year and the main road of the place is still missing.

The issue I have when navigating is that the position indicator is lagging by 2-3 seconds. Makes driving around unknown places difficult. I was hoping the new version will fix it but it didn't. Anyone with this issue? Wondering if it's related to phone performance (Lumia 640XL)

I like the new stuff they've made with this app. Nice :)

Microsoft : We are realy proud to present you our update: Users respond: We are not ... so go .... yourselfs.

I use Maps when I travel overseas in hire cars and it does seem to go from strength to strength. It's been some time since I used Here Drive and I wonder why they still have it available. I got quite excited about using collections for a recent business trip to Northern Ireland and put all my meetings, airport locations, hotels etc into a collection only to find that collections aren't available on the Phone app. Why is this the case? If they stuck collections in as well then Maps becomes a trully useful app.

Every time I scroll down the app crashes... Anyway I think the new Maps app is very good, nicer looking than Here but still missing some features. Most important, where did current speed go in drive mode?!

I could see stops on map by HERE but not anymore

Yesterday I switched to MapFactor which also provides free off line maps worldwide. It finds destinations immediately and re-routes, if necessary, on the spot. And finally, it also displays the current speed, of course. It does everything a navigation app should be able to do in the year 2016, only MS is still struggling.

There have been a few updates in the meantime, I got the last one yesterday. Now the actual speed is shown again and the rest seems to work too, thanks.

Well, the lack of the compass functionality is bad. Maybe they did not include this feature when they licensed Here Maps data.

I just realise that only my Wife`s phone got this update, my phone didn`t get it even to this day .. i even made a hard reset and still nothing, i`m still stuck on 4.1xxxx version of the maps.

It seems they removed latest Maps build from TH2 branch. On my 10586.420, after a hard reset, i am no more able to download the latest build of Maps.
I also tried fast and slow ring, without success...
Damn... i loved the refresh of Maps app, and i cannot install it anymore! I am stuck at build 4.
Windows Central Newsletter
Get the best of Windows Central in in your inbox, every day!
Thank you for signing up to Windows Central. You will receive a verification email shortly.
There was a problem. Please refresh the page and try again.