Microsoft's new Surface TV ad promotes its NFL tie-in and shows its range of uses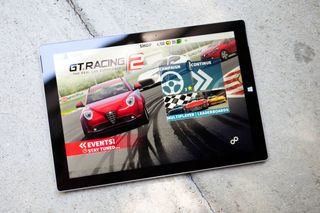 The National Football League is taking a beating for their handling of player actions off the field, but the newest commercial for Microsoft's Surface Pro 3 tablet promotes the NFL in a better light, showing how pro football players, their coaches and other staff members use the company's device on and off the playing field.
By "pro football players" we mean the Seattle Seahawks, Microsoft's home NFL team and the winners of this year's Super Bowl. The new two minute commercial shows how Seahawks players and coaches watch game footage on the Surface, develop new plays on the tablet and even look at medical information if a players gets hurt.
It also shows how NFL players can chat with their families on Skype with the Surface while on the bus ride to the game. Finally, the clip shows the Surface being used on the sidelines by the coaches, even if the stadium is getting hit by heavy rain. Microsoft has already announced that the older Surface Pro 2 is being used by the NFL in a highly modified form which allows it to keep working even under extreme weather conditions.
Do you think it was a good idea for Microsoft to partner with the NFL with this Surface promotion?
Source: Surface on YouTube
Windows Central Newsletter
Get the best of Windows Central in in your inbox, every day!
This is a great damn commercial!

Damn, I agree in a great way! :-)

I love football and I love the Surface. So in my mind, can't have better advertising to me.

I'm starting to see different reaction from MS fans about the ads. That's pretty cool

Well done Microsoft! Making functional products for real world problems. :)

Best Commercial of the Surface I've seen to date, but will we see this on TV frequently or only on the web???

Oh I'm certain they made this to air during NFL games. Of course, it will be edited down, although I imagine they may make it a 45-second featured spot. Lots of 635/Cortana and Surface ads play during primetime here.

They should play the whole thing just like Samsung usually play their movies during commercial breaks with every A-list actors from Hollywood

When they compress it, I hope it's still this good! Again, the best commercial to date.

They will most likely play the entire game locally during Seahawk games.

I love it and hope that Microsoft has this aired a lot during NFL games and other sports games as well. I really hope that the sports commentators and the like get what product is being used by the NFL and not refer to it being a iPad like device like they did during the Saints vs. Falcons game! It's high time that Microsoft gets the proper recognition and respect that they and their products deserve!

I love Surface! :D It can definitely replace my laptop

HOLY CRAP! Who did they hire to make that commercial?!? Can they make ads for the rest of Microsoft's products like that too?

Microsoft has to keep up with these ads in a major way because most people are going to be calling these Surface devices "iPads" when they see them on TV.

I have already heard a few broadcaster call them iPads.

Sadly, even the announcers have been making that mistake...

Exactly, I remember CNET picking up on an incident like that... A commentator on one of those games call the surface an iPad like device. Its funny how most positive news towards Microsoft and its related products we get here you don't get to see them on CNET.

or the verge, like the iphone 6 bending issue is nowhere in site on the verger yet news about some no name blog droppiing wp coverage is all 0ver the verge........what happened to Tom Warren since he shutdown winrumors???? he just isn't the same writer. Seems as if he bashes microsoft while trying to be suttle....Guess I guys gotta do what a guys gotta do to keep a job. Can't blame him for providing for his family

There isn't much coverage on the verge because it really isn't a big deal. I like making fun of apple as much as the next guy but the media goes crazy to make a buck (the verge does too, but apparently not for this issue). Here's a link for you:
http://www.theverge.com/2014/9/25/6844943/apple-says-iphone-bending-extr...
Tom does seem different from when he was at winrumors, but I get a feeling that his articles are edited before they go up. Either way, it's good to be critical of things you love, that's how improvement happens. Now if the article is by Nilay, forget about it.

Oh yeah, and please don't let the cat advert go any further than the web! I hope whoever is behind that commercial gets fired as it's straight garbage, cute, but utterly garbage and serves not purpose.

"The clip, "Catz using Lumia 930" (and yes, that is the way "cats" is spelled in the title), was created by Mia Mullarkey, a filmmaker based in Dublin, Ireland. The video itself is very cute and adoable, and the fact that such a professional video could be made just with the Lumia 930's camera is a testament to both the hardware in the smartphone as well as Mullarkey's talent. She entered the video in the #SMWCreative contest, sponsored in part by Microsoft and by Social Media Week, a worldwide effort into this industry that's being held from today to September 25. Mullarkey will get a trip to the Social Media Week events in Los Angeles where she will see her video get a bigger spotlight." http://www.wpcentral.com/microsofts-newest-lumia-930-promo-video-joins-i...

as i said, it's cute, but its not going to convince any American consumers to purchase a WP based on what she presented.....Sorry if that disappoints you!

If what Brian wrote isn't enough , I'll summerize. That wasn't an ad. It was an entry for a contest that used a 930 to film it.

Who knew it was waterproof? Good deal!

Read the fine print... it's an NFL exclusive waterproof case. Really cool though they should sell that as an accessory! :)

"Microsoft says the Surface Pro 2s are owned by the NFL and not the teams, telling us that the tablets were heavily modified inside and out. Sure, these devices are capable of handling water, snow and extreme heat temperatures, but here's one thing they can't handle: third-party apps." http://www.wpcentral.com/surface-pro-2-catch-nfl-games-sidelines

They are locked down to prevent cheating. The takeaway is that businesses can lock them down for specific uses, too.

Okay, skype and Xbox music aren't 3rd party apps, besides, the consumer version can.....wakeup dude! http://www.useryourhead.com (Not a real site that i know of..... : )

Is that an argument against or for? I don't understand. The devices are locked down on purpose, but they can handle every third party app if allowed by the owner.

Waterproof case not for sale. It says it in small letters. I was going to buy one

That waterproof case tho!

unfortunately, the waterproof ones are custom made for the NFL to use on the sidelines.

That is one helluvan ad. This coming from a devout Broncos fan, who's still mired in frustrating anguish from this last Sunday. MS should make more like this, not just for Surface, but for Win8.1 and ESPECIALLY our beloved WP8.1!!!!

Your team played much better that game than in the Superbowl. I was rooting for them because of the Manning connection (Giants fan)

Commerical sucks mainly for the reason that I hate the Shithawks. :)

Great commercial, weird that they show the guy Skyping on the bus. Surface Pro 3 doesn't have LTE so you'd have to tether and that's left out of the commercial.

Maybe a bus with wifi? I'm grasping at straws here.

There is very small text in that scene that says Wi-Fi only. Just like the NFL water proof case is not sold to the public...

Guess you couldn't tell it was a water proof case huh...I'm sure not normal consumer will be using a surface, ipad, kindle fire, etc outside in the rain, lightning, hail, snow, tornado, hurricane, sinami, avalanche, etc.......you get the point????

Before he started Skyping he put in a LTE USB dongle.

Chartered buses have wi-fi. The google and MSFT buses all have them.

Bingo, that must be it. Would be great to have a Surface Pro 3 with LTE though. :)

Most tour buses today have wifi...... MEGA BUS

Hopefully now the announcers can stop calling it an iPad!!

Love the commercial! However, as a stickler for details, the fans are awfully dry in that Seattle monsoon.

Women across the country will be demanding to know how those women were able to have dry hair during a rainstorm. :)

Well done! Now air it a lot!

Guess no one will call it an ipad in this ad....

They now have to make ads for Soccer, the NBA (enlist Balmer since he owns the Clippers) and the NHL.

Too bad they'll say "What a great iPad commercial"

too bad microsoft supporters can't stay positive about anything long, not even the products they support!

Like that big ol' tough football player is going to listen to Lorde during pre game.

I like how the Seahawks take a bus to their home field. Anyway, hope to see part of this aired on Sundays.

That is a dope ass commercial!!

Probably the best Surface commercial I've seen. This was awesome. Felt pumped up. Now they just need an NBA version. I want to see a commercial that has several teams using it. Mainly the Lakers, Knicks, Thunder, and I guess if it has to be included... the Clippers.

Finally a commercial that's fast, fluid and shows everything the product can do. These type of ads work. Dancing kids might get some name recognition but won't get people in the store to buy the product.

I love my SP3. Damn near replaced my regular laptop. :)

Love the SP3 and the S2, but they need the mini to go head to head with the ipad mini in the teen space, especially if they can come up with a hit tv ad like this one to target that age group. Honestly, there's plenty of decent options out there from OEM's, but none are knockouts like the S2 or SP3

Totally agree! I'd love to see the mini! My wife would love that.

the music portion of the video seem to have a touch of Brandon.....the kid who go hired by microsoft for his I love windows phone youtube advert some years back. Microsoft should have let 50 Cent endorse surface using his SMS headset line, which by the way are better than beats and could engage the urban culture who are avid iphone/ipad fans. Microsoft needs to penatrate more than enterprise

this is how u do a surface commercial....goddamn it microsoft, am so pumped after that...

One of the best Microsoft add ever..........

Wow! Best Microsoft commercial I have ever seen. Really tells a great story and it's exciting to boot. Keep up the good work. Let's get something for the windows phone like that.

The Surface and Xbox deals together are great for Microsoft. Think about the number of times you saw players and coaches with those faxed pictures on the sidelines, now it will be the Surface. That blue casing makes it look very thick and bulky. I assume it's the extra batteries and rugged case for all weather (they do play in rain and snow). They also have product placement for the pregame/halftime/postgame shows, lots of pro 3s there. The NFL gets the highest ratings in the US, that's a lot of exposure for the Surface and Xbox brands. The deal is good, the ad isn't bad (even if I hate the featured team...) it's just that Northwind reference at the end that was strange, for those who know what that is

Not a football fan but what a great commercial. I have a surface pro 2. Is the three waterproof?

No, but I guess that case will be available soon. If you watch a football game they have big blue boxs to house and charge surfy on the sideline. All the surfy are in tough cases so the player can review plays instantly.:)

I give MS's ads a lot of grief but this is really well done.

Excellent, very well done. I'm loving my Surface Pro 3 and how versatile it is. Posted via Windows Phone Central App

Now if only we could purchase those waterproof cases.....
Windows Central Newsletter
Thank you for signing up to Windows Central. You will receive a verification email shortly.
There was a problem. Please refresh the page and try again.