Microsoft's new Type Cover has a fingerprint reader and a bigger trackpad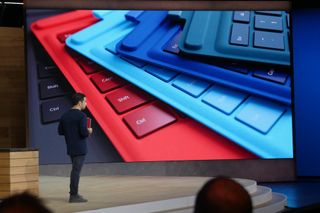 To go with the new Surface Pro 4, Microsoft introduced a new Type Cover. This is the thinnest Type Cover that Microsoft has made, and features new keys, a bigger trackpad, and of course, multiple colors.
The trackpad on the Surface Pro 4 Type Cover is 40% larger than that on the previous cover. It's a 5-point multitouch glass trackpad as well. It also features new keys, with 1.3mm key travel, and 19mm space from key to key. The new Type Cover also features a fingerprint sensor, allowing it to work with the Window Hello biometric login feature on Windows 10. The cover will work with the Surface Pro 4, as well as the Surface Pro 3.
Check out the Windows Central liveblog for more from Microsoft's Windows 10 Device event.
Windows Central Newsletter
Get the best of Windows Central in in your inbox, every day!
Hohoho! Soubding really AMAZING thus far, wonder if this is backwards compatible with the Surface Pro 3...that'll just be outright generous from Microsoft.

It does say its Pro 3 comptaible!

Yup! Love that! Have a couple of sp3 devices, though am picking up a sp4 immediately!!! Love that the accessories can be used across the two iterations. Class.

where does it say? I have not found it anywhere

Panos mentioned it in his presentation.

In fact Panos said this was specially designed for Pro3 users so they wouldnt be left out of Windows Hello

Deeper keys. Might be a must for me, need to try one!!!

Sounds like what the type cover should've been in the first place. I'm glad they've improved on the keyboard this much so far! Now I would imagine the pricing being a little bit more for this guy. $149?

We need pricing...and my sister wants it in green.

Probably the same as the prior ones. 150. Posted via the Windows Central App for Android

They nailed every competitors in every section :)

US only wtf? (shown in the surface pro 4 video ...)

Thought there was a cover without a fingerprint reader for SP4 since it has the face detection cam...

I am happy microsoft also focuessed on supporting some more accessories. I think the fingerprint one is the most interesting. Don't really mind the improved key experience. I am still on the first gen model with first gen keyboard and this one is also still awsome to use. So not really sure if the next gen is a must per se. Would have been nice if microsoft did make a mention if older type covers are still compatible with the new devices. Does most likely save 150 dollars upfront (unless microsoft gets the sane idea to offer bundles with stylus and typecover bundeld with the surface, then offcourse it is a great done deal). I don't realluy care for the trackpad. As Panos so animately explained its all about the screen and stylus. In my experience with the surface pro that says a lot.

Will this new type cover with fingerprint reader be compatible with current Surface 3?

It won't be compatible, as the size is different. But I agree, it would be great if they release a similar cover for the S3. Please do it MS!!

The Surface 3 no but the Pro 3 yes. Posted via the Windows Central App for Android

I think that Panay mentioned that fingerprint scanner will work on SP3

From all the things they showed up this is probably the only one I'll get.
The SP4 isn't an upgrade from the SP3 worth another 1000€.
The docking station I'm still considering of I'll actually use it... Posted via the Windows Central App for Android

Is it on the type cover really, not on the device? Then when one is using it as a tablet, without the keyboard, will need to unlock via the conventional ways

I'll definitely upgrade to this from my pro 3 keyboard.
Windows Central Newsletter
Thank you for signing up to Windows Central. You will receive a verification email shortly.
There was a problem. Please refresh the page and try again.