Microsoft's newest Lumia 930 promo video joins the Internet cat craze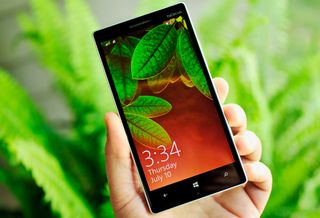 Microsoft's latest video that promotes its Lumia 930 smartphone was not only filmed using the camera on the Windows Phone device, but its themes of cats using the phone itself won its creator a big prize in a social media contest.
The clip, "Catz using Lumia 930" (and yes, that is the way "cats" is spelled in the title), was created by Mia Mullarkey, a filmmaker based in Dublin, Ireland. The video itself is very cute and adoable, and the fact that such a professional video could be made just with the Lumia 930's camera is a testament to both the hardware in the smartphone as well as Mullarkey's talent.
She entered the video in the #SMWCreative contest, sponsored in part by Microsoft and by Social Media Week, a worldwide effort into this industry that's being held from today to September 25. Mullarkey will get a trip to the Social Media Week events in Los Angeles where she will see her video get a bigger spotlight.
Do you agree that the "Catz using Lumia 930" is a fun and entertaining video?
Source: Nokia on YouTube
Get the Windows Central Newsletter
All the latest news, reviews, and guides for Windows and Xbox diehards.
Agreed, however my 930 has lots of issues which is quite annoying. The screens brightness is not uniform and the display sits loose in the frame consequently breaking double tap to wake and any feature that requires the proximity sensor. Compared to the usual Nokia quality we all know and love this 930 disappoints me.

If its that bad, then I would take it back and get another one. I haven't had any problems with mine so far.

I have to agree, you should have just gotten it which means that you can easily take it back, point out the "manufacturing defects" and replace it with one that actually works - because the one you have does not work.

Wasn't even slightly entertaining

Seriously how this type of silly videos will make people buy Lumia 930..Why cant they show the features and tell people how good and awesome the phone is..

People always find something to complain about...

Indeed, a phone that can send text messages isn't impressive.

That was Whatsapp by the way.

Ms should focus on folders/apps/file manager rather that kittens,people think the phone is stupid cuz it lacks these..balance between the entertainment in the ads,and what's the phone phone is capable of!!

Can you please name me a single commercial that touted a phones file manager/folder system as something to get excited about?

Did you see all note 3 and note "in general" ads ? , they are showing the phone features ,not a kitten touching a screen !

Yahia malkwai inta Elle fahemnee :D

Yes and do you believe that the note commercials are targeting the same group of people as this commercial or are they touting productivity versus whimsy? It is possible for both to be selling points depending on your demographic. This ad is not trying to sell the phone to you personally because that is not what you look for in a phone.

If you read my comment well,you will see what I mean,an android user always complain about no file manager and stuff,well what's exiting about text messaging too!?

The ad has nothing to do with the ability to text message and everything to do with the fact that the phone has a camera good enough for a commercial and done with cats to make a regular person go "aww, how cute". People remember an ad that evokes emotion far more than a feature list. BTW, there are plenty of file managers if your Android friends ask about them.

If you read the article, then you know this video was not produced by Microsoft. It was a contest winner. Let us know when your video showing folders/apps/file manager can be found on YouTube.

Show me an average Joe who cares about a file manager ...

It's a nice phone, but it costs more than an Xbone. A phone for $600?!? Wow

People go crazy for expensive phones...

and your ignoring the fact that its not just the lumia 930 that is $600, thats EVERY current flagship phone, $600 phones are the norm.

What about a phone with 900$ ???

Yeah! Probably this @asskickulater thought we were talking about a battery phone. Or he even new that this was the 930 flagship, and he still wanted to b*tch about it! IPhone fan boy? Could be... :D

Not the ones that MSFT should target on add.

Read the article. Microsoft didn't produce it.

Yup. This is the right path Microsoft. Keep these great ads, it will certainly make people want to buy the phones. /s

Soft kitty Warm kitty Little ball of fur...

While I am agree they make it right ads but imo they should also include what Windows Phone capable of and it's specialty in this ads. Baked it perfectly with this cute kitten ads. And show it off to everyone it would be more nicer.

Shot on the Lumia 930 using purrview camera, what more do you want.

Read the article next time.

You lost a great opportunity to keep your mouth shut. You know that, right? It's meaningless that Microsoft didn't had the idea and some cat-lady did. It doesn't change the fact that Microsoft is using this to try and promote a phone, therefore endorsing it as a marketing campaign (I didn't said Microsoft's marketing did it, if you know how to read English). If Microsoft's marketing team where any good, not only wouldn't they picked this, even if they did, they would not promote it.

Again, read the article... MS didn´t make it: "She entered the video in the #SMWCreative contest, sponsored in part by Microsoft and by Social Media Week"

Give it up, they're not going to sell any of these phones. Microsoft has lost. They can run commercials that specifically detail why WP is better but people won't pay any attention to it.

Lol at least they try to advertise usually I don't see squat about WP in the states better than not showing anything at all.

Chill, MS is onto something. They're trying to grab an untapped market, by appealing to cats and it makes sense; low-end phones for the humans and flagships for cats, it's simply genius! -__-

Yours is the umpteenth comment demonstrating the importance of reading an entire article before commenting on it and that readin comprehension is a life skill that cannot be overrated.

Yes, it's fan-made, but Microsoft is still going to use it. Thanks for your concern though

Relax and enjoy life a bit ;)

Soooo cute! Wish some people understood that a memorable ad can be very powerful even if it doesn't showcase all of the phone's capabilities.

Yes, totally agree to that!

Hah, even a cool cat video gets some troll responses. That's WP for you.

WPCentral for you Posted via Windows Phone Central App

It's a video shot by cats, about cats doing cat things on a PURRRRview Lumia 930.

Stupid advert, what is so hard for Microsoft to steal Apple maeketting ppl

Steal Apple's marketing people? Have you ever seen their commercials? They're a joke, because they don't need commercials. Apple is what's "cool", that's all they need

Duh then the stupid masses go buy them the company that supposedly invented the whole world

Depressingly sad video, which confirms the bonkers attitudes my fellow Brits have towards their pets. Nutty as a fruit cake!.

I'm kind of a dog person, ill stick to my 920 thanks.

I've lost intellegence watching this video... THE DUMBEST thing I've ever seen.

These catz are clearly not on AT&T. Grrr... er, PRRRRR.

Well I'm sold on this, I love catz ! :)

guys anyone know how to recover a bricked phone !!!!!!! need immediate help !!!

Use Nokia Recovery Tools. Search it on this site. Someone has made an article about it.

Why is it always you guys from India searching for help in the wrong place?

Yippee, the Lumia 930 is coming to India, finally! Time to rejoice! Listed on Nokia's (India) website again. :D

How much do you think would be the price?

cute video... but certainly aimed for advertising to increase sale of 930.. ;)

This video can't impressed me to buy 930. Make video which impress people

Wonder how many people complaining about this video even realize how powerful this ad could be. The lady shot this with her cell phone. Lets say that again, she SHOT A COMMERCIAL with her CELLPHONE. Not only that, but she picked a subject that people find interesting and did it in a way that is bound to evoke emotion. Can't believe people are missing the fact that this does a great job of showcasing the fact that Windows Phones have excellent cameras which is a big deal nowadays.

+925 Agree completely. It's as if all the naysayers didn't read the article, espeically the part about it being a contest winner who shot the video with her 930. SMH.

IKR, I sometimes feel like people won't be happy unless MS runs a commercial that consists of nothing but a white sheet with bullet points.

This is a really dumb ad, but I could actually see it working.

No matter what MS puts out there for advertising at least there putting something out there, in the United States I see nothing from them relating to Windows Phone advertising, I know there is an HTC One M8 Windows Phone ad, but nothing I've seen from Microsoft on their phones.

Actually that's untrue. The Cortana vs Siri ads are bombarding folks to the point where I'm having my friends/family come up to me and asking about Cortana. If you've cut the cord on cable like I have you won't see as many ads but they are out there and being played.

Instead of making stupid videos they should work on releasing new phones to ALL US carriers. Specifically phones with features that people want instead of just low-end or mid-range crap.

What some of you are forgetting is the fact that videos like these do sell products. Your average person doesn't care about file managers/folders etc. If they see they can make a fun video with their pets etc, they're more likely to think twice and remember that funny cat video.

But the average mouse may not be impressed.

Microsoft should spend less time marketing and more time making the 930 available in more markets.

We can't all be purrrrrfect. ;-)

Happy kitty, sleepy kitty pur pur pur.

I want that 930 in the USA!

Do people actually read the article? It says nothing about this being and ad or commercial by MS, it's just a video that won a contest.

"Microsoft's latest video that promotes its Lumia 930 smartphone"

It's discouraging to see the volume of replies from people who think this is an ad created by Microsoft. Is the article really that hard to comprehend?

Considering the number of people who seem to believe WPCentral is run by MS, are you surprised? Even though this isn't done by MS, I hope they pick it up from the lady as it's a fun way of showing off the phone's camera.

"Microsoft's latest video that promotes its Lumia 930 smartphone" - the wording and the title certainly give that impression.

Hey Microsoft, want to know what would make me buy the 930? If you released it on a carrier other than Verizon in the US. No amount of cat videos will make me switch carriers.

That was pretty bad. The music was probably the part that was worst (then again, Microsoft's music selection is 100% trash for commercials, so this fit right in). The problem with the actual content was that it really served no purpose. It didn't highlight features of the device or OS, the "use" was clearly human-influenced (making the premise blatantly fake), and it jsut generally didn't entertain me. IMO, this thing won because cats are popular on the Internet, not because the premise was great, the commercial was informative/entertaining, or because of anything other than the cats.

Sure it did. It highlighted the fact that the phone has a great camera.

Even cats don't like android/iOS.

Come on it's a cute ad for cat lovers. Might as well go virally shared on facebook just to the sake of the cuteness of the cats using a smartphone. Think outside the box. Had apple done this ad.... Emotions emotions bla bla bla

Sorry in advance, off topic. I have a 930 and the lock photo shown on the phone for this article is on my background photos but when selected another photo appears. Really want this pic, anyone had the same situation and resolved?

I think this ad was targeted to a million cat lovers out there who might want to switch to a Nokia Lumia. Chill.

Only that it's not an ad!

Best comment on YouTube ... "36 rats disliked this video" LMAO

Microsoft didn't make this. It was a contest winner so stop getting mad at Microsoft right meow

I love this video! this is marketing, women and children love cats and kittens. they are also the driving force for men to open their wallets for their families.... also single women will just want it or buy their kids it because it stops the "where's/ who's my daddy?" questions. it WORKS! PRAISE IT!

Yeah. Very creative and nice video.

Well this indeed was terrible and sad.

it's a very creative way to promote a product. Awesome work!

Why? Do I have to hear folk music a la Apple 2008?

LOL at Microsoft for promoting a product, in Los Angeles, that can't even be bought in the local market. A Lumia 'Icon' is available on a CDMA carrier, and there's no GSM LTE version of the device, but you go ahead with the promotions Microsoft. (massive eyeroll)