Microsoft's two Windows 10 flagship phones may support USB Type-C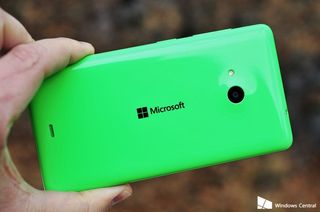 The rumor mill surrounding Microsoft's two upcoming, and still unconfirmed, Windows 10 Mobile smartphones, got jumpstarted again this week. Two German websites claim to have more information about those devices, which were first rumored earlier in May.
WinFuture.de repeats the hardware specs of those two alleged smartphones, with the code names "Talkman" and "Cityman", but adds that the phones will come with an aluminum body frame and a design similar to the Lumia 830. It also claims, via its sources, that the back cover of those phones will be polycarbonate, and that those covers can also be removed, which should please consumers who want to have some options.
In addition, the DrWindows.de site claims that both of the flagship phones from Microsoft will have a USB Type-C connection port, which so far is only available on Apple's new MacBook but should start showing up on more devices soon. USB Type-C is said to be necessary for the new Continuum for Phones featured announced at Build a few weeks ago.
The report says that the new Windows 10 Mobile phones will also have wireless charging, along with an iris scanner so that the phones can be unlocked with a human eye. The latter part is necessary for the new Windows Hello security feature coming to Windows 10. The site also hints that a successor to the Lumia 1020, with its 41MP camera, is in the works but it won't be out until 2016.
Here's a reminder of the previously announced, and unconfirmed, specs for these Windows 10 Mobile phones from Microsoft, starting with the "Talkman" device:
Talkman rumored specifications
5.2 inch QHD display
Qualcomm-based six core processor
3GB of RAM
32GB of internal storage with a microSD card slot
20MP rear camera
5MP front facing camera,
3000 mAh removable battery
USB Type-C
Cityman rumored specifications
5.7 inch QHD display
Qualcomm-based eight core processor
3GB of RAM
32GB of internal storage with a microSD card slot
20MP rear camera
5MP front facing camera,
3300 mAh removable battery
USB Type-C
Again, we haven't been able to to confirm any of this information, so take all of these kinds of reports with a grain of salt until Microsoft offers up some official information.
Source: WinFuture.de; DrWindows.de
Makes sense if Continuum requires this. The Surface 3 should have come with a USB Type-C instead of MicroUSB port. I'm really happy with these specs. This is the high-end phone we have been waiting for! I hope it is released on all carriers. If Verizon doesn't want it, Microsoft should sell an unlocked version with all the bands for any carrier.

Verizon would still have to approve it, no?

Verizon is one of the US carriers that has commitment in supporting Windows Mobile platform, they launched the Icon in 2014 and they launched the LG Lancet in 2015, I'm hoping they support the new Windows 10 Mobile flagships too. Fingers crossed :)

Having been a VZW customer for over 10 years, I recently took my unlocked 8X and switched to AT&T. So far so good. Better signal in more places with noticable speed improvement (even though its not 4G LTE), no "Can't send" issues on texts. Cheaper bill. And ready to order the Cityman first day. VZW may get these phones but it will be 6 months late (although MS' talks about doing their own software updates may help that). AT&T will get them first, then T-Mobile, then Sprint and Verizon. The pickings for a WP at VZW right now are pretty bad. HTC One M8 (best option), Lancet, and ATIV S. Whooo Hoo. ATT is not much better (HTC One, 830, and 635). Chose to just keep my 8X and not pay for a HTC on ATT Next and the 830's supposidly have hardware issues (from the AT&T guy).

Check in the forums here about that 830 and its supposed problems. Never take a carrier rep's word about the phones, especially a WP.

Yep, after several months in thoroughly disappointed with my 830.
GPS sucks - lashes and freezes
Phone over heats - particularly with wireless charging (I'm mean really overheats, not just a little warm)
It gets poor signal - usually less than my 635
Bluetooth connectivity is poor - constantly dropping
Ummm... No REAL Denim
Sounds glitch sometimes
SLOOOOOWWWWW
Did I say no REAL Denim?
Capacitive buttons are unresponsive sometimes - usually moving around the screen jars them back into action
The screen sucks - it's not bright/clear enough in the sun and the background is too lit on Glance screen
Camera button is too sensitive

I was with you until you said "then Sprint and Verizon". Does Sprint have any WP phones?

They do, HTC 8x is one of their limited number of WP8 devices

When McLaren was rumored a year back, it was said that MS would launch it on all carriers. I hope that MS would make Talkman and Cityman available on all US carriers this time around after learning their hard lessons.

Hardly. They launched the Icon but then discontinued it within just a few months and removed it from stores. Then refused to let it be released on other carriers. For a long time they weren't even selling ANY WP devices (the Lancet hasn't been released yet). Verizon is not a bastion of Windows Phone support by any means. Honestly, if you are looking for a company that has really supported WP, then you would be looking at AT&T.

They were still selling the Samsung odyssey and HTC m8

...if you call getting exclusives on every flagship model not to sell them but just to keep other carriers from selling them "support".

I was expecting to see /s on the end of your post. Other than they offered a couple of WP, they don't even come close to supporting them. AT&T is the only US carier that has really offered any support for WP and they've been slacking lately.

Microsoft have said they are trying to move away from carriers having total control, but just having input instead.

Microsoft is carrier dependent. Not about carrier control, rather carriers do not want to allocate resources nor time in the testing process... This would not even be possible without the support from previewers!

Yea, let's have some excitement. I know everyone is skeptical with a year of bad news behind us and nothing yet officially announced, but this sounds like a real flagship finally.

We already knew about the coming of Talkman and Cityman. The bigger news is the coming of the successor of L1020. I thought that it would be abandoned according to the rumors. My mind is already set on Cityman, but now I have to rethink about my decision. Whether to go ahead with Cityman or wait for L1040 in 2016 is a big question. It's going to be a tough one. After using L1020 for so long, you hate to use anything less. But the waiting game is painful. If L1040 will indeed be coming next year, it could very likely to use the new Snapdragon 820 with better camera capability or even Snapdragon 10-Core 818 processor. If we know its specs for sure, the decision might be easier.

I'd prefer to wait for the L1020 sucessor but I just can't wait much longer than summer. If these rumors are true, I'll drop my $$$ on the Cityman right now and then again for the L1020 successor next year.

I wouldn't expect these two devices this summer. Windows 10 Mobile will be RTM a few months after Windows 10, so I don't think we'll see W10 phones until sep-okt.

Well, the last day of summer is typically the first weekend in September so....

And that is exactly what they want...they know we've been waiting forever.

Gonna rock an 820 snapdragon in the 1020 replacement, surely.

I think it looks good for any 1020 replacement coming as it is farther back in the pipe than Talkman or Cityman. A 1040 might just have SD 820ish chip... Or an Intel ;)

Wake up man. You're dreaming. The L1020 wasn't based on drastically better hardware than the 92x series. IF, a huge IF... If the 1040 is released, it'll likely be based on the same 808 Snapdragon chipset found in the rumored flagships.

MS should set up an Insider Preview program for L1040 specifically and take feedbacks for dreaming. :-) But I don't think that using SD820 is a dream however. SD820 will be launched in late 2015. Both Motor X and Xiami Mi5 will be packed with SD820 in November release. If we are lucky, MS could use it on L940XL. But if L1040 is targeted to release in the Spring, SD820 will definitely be available in time for L1040. SD820 has enhanced camera technologies which L1040 needs. The dual core processor for L1020 is one reason for the slow speed. The fast multi-core processor would help greatly by processing multiple tasks simultaneously. Like one core would be dedicated to the oversampling task while other cores do something else. The LG G4 is currently the Android phone camera king. It has same specs basically same as L940. In order for L1040 to surpass them all, SD820 is a must have in addition to the 41-55 MP camera lense. L1040 has to establish itself as an All-MIghty-God camera phone in the industry to turn heads. The old Nokia camera design team at MS can certainly do it. They just have to reward us for the extremely patient waiting. :-) https://www.qualcomm.com/news/releases/2015/03/02/qualcomm-previews-next-generation-snapdragon-experiences-mwc-2015

As nice as that sounds, I don't think that will happen. IF MS releases a 1040... let's just call it a Pureview. If said flaghsip camera phone is released, it will likely be based on the current flagship at that time. I don't think the company will spend the extra money to develop a ground up phone just to house a 40+ MP sensor. The 1020 was ulitmately based on the 920. Maybe we can expect a Lumia 1050? I do agree that the phone needs to be damn good to garner attention.

They had already finshed the design for McLaren, basically a follow up of L1020, based on the SD800 more than a year ago. Some modifications may be required but it certainly does not need to build L1040 from the ground up.

SD808 is only for L940. L940XL will use a 8-core processor which could be either the rumored SD810 or the new SD820 if MS is aggressive.

no i checked, sd 808 only suports up to 21mp camera. the sd 805 and 810 supports up to a 55mp camera. but we'll see what brains they put in it when it comes out

In a way I'm thankful I'll have wait unti 2016 for a L1020 successor (if there's one indeed). Beats having to be enticed to buy a new phone every year or two. But, Cityman is droll worthy. MUS HAVE DISCIPLINE.

Doesn't mean it'll be on both ends more then likely it will have full sized 3.0 on other end

Um... unless you're referring to the included cable only, your comment makes no sense. It doesn't matter HOW the other end terminates, so long as what is on the other end has the proper contacts and knows how to connect to it. USB-C is just a form factor. The difference is, USB-A and B (and it's "micro" brethren (laughable considering the "micro" USB 3.0 plug)) are not being updated to work with USB 3.1, so far as I've heard, though USB-C can work as USB 3.0 and even USB 2.0 just fine. So you can have a cable that goes from USB-A (the old rectangular connector) to USB-C, and that probably will be the one they include at first. But anyone with a new Macbook can just buy a USB-C to USB-C connector and it will work just fine.

Continuum doesn't require Type-C, you can use Continuum for phone wirelessly as demonstrated and stated during Build.

man I want a 840 to come up too :/ wish could stretch my budget for the flagships.!! But then XD.

I woud venture a bet that the phone would be at least in the 940's if they maintain the numbering structure. W10 and Windows Mobile may make a strong case for a name change. Maybe... Surface M with follow on derivatives Surface M1, Surface M2, etc...

Yeah that does sound real nice! Surface m series

Continuum itself does not require USB-C, but the feature they are talking about here where the phone would plug into a dock and become a full fledge PC will.

My bet type c on 4. This would give a person a reason to upgrade from pro 3. Not a reason to down grade from pro 3 to 3.

It had better have it. I bought the original Surface and Surface 2. But I skipped the Surface 3 because of Micro USB Type-B. That was a deal breaker for me. Let's hope they design the SP4 correctly, with USB Type-C.

Sorry, but what do you have that requires USB-C?

Precisely what I was going to post.

If this is not available on Verizon day 1, I will be switching to AT&T.

With VZW track record for releasing a Lumia device 3-6+ months late it looks like AT&T will be in your future :)

Did it on Sunday. What are you waiting for. VZW is aweful for being a WP fan.

Yes, but I don't want to switch until there are new phones available. Plus, I am under contract for another 7 months.

Makes sense being under contract still. AT&T will probably pay your fees though. I used my VZW HTC 8X on AT&T. I get beter reception, better data speeds on the HSPA+ as well. And no "Can't Send" text issue I commonly was getting on VZW.

What if its not on ATT :)

People still overpay to use Verizon's service?

I read people say that they switch from Verizon to ATT. Both are super expensive. I recently moved from T-Mobile's network to Cricket Wireless. I couldn't be happier paying $35. Though, I may up my data package to 5GB soon.

I would consider Cricket, since it is owned by AT&T I would assume that any AT&T phone would work on it?

Back before att bougght it, it was cmda so idk what it is now

With a type-C connector you can connect a display port or hdmi adapter to connect to an monitor/TV like in the macbook... I believe that the surface 3 already have a display port... so the type-C is not needed...

Are you saying you will get full HDMI or DisplayPort on a Windows Phone device? I'm not sure if thats possible. Other phones get TV/Out thanks to MHL which is the hdmi spec for phones. But to my knowledge MHL is not supported by Windows Phone. It would be great if Microsoft can support MHL on these phones.

So, why should I want a port that requires me to buy an adapter just to use it?

Adapters are a stop gap until the entire market slowly adopts type C.

and they need some nee features for the surface 4 (without pro)

Well for many 1020 owners like me, this is not the flagship we've been waiting for >~>

As an ex-1020 user, I am all for a 1020 replacement, but they need to do it right this time. As much as the 1020 was lauded for its camera quality, it had just as many flaws. The amount of ghosting and flare that thing produced was awful. The startup time was painfully slow too. It's one thing to be sluggish, but I missed so many pictures waiting for the darn app to startup. If they are going to do another one, they really need to fix those two things first and foremost. The release of the first one was premature, and MS...please don't let AT&T cripple the phone! It needs wireless charging and microsd support. Hopefully they are taking the extra time to make it right this time. For any 1020 users that are holding out for a replacement, I have no idea how you do it.

indoor color was always an awful yellow miscolored mess, and the lag time made it unusable except for still image shoots. It was never good for shooting people, especially kids and the color was way off. The camera was a novelty; you could shoot incredible nature photographs to impress your friends but if you put a subject in the frame it was a disaster and a frustrating mess of perpetually missed shots.

It would have if the Cherry Trail Atom chip in it support USB 3.1. It only supports USB 3.0.

I think Continuum only becomes a selling point when Windows 10 ships on an Atom-powered phone.

"all (of) the bands" being key. As the unlocking is really a non-issue for people that care: http://www.cbsnews.com/news/obama-signs-bill-unlocking-cellphones/

Reserved Excitement Begins!

Great stuff, but I'm really looking forward to fingerprint scanners. It's so practical on my PC, I want one on my phone too. Microsoft needs groundbreaking hardware to spark interest in Windows 10 Mobile, not just up-to-date internals. Waterproofing could be nice too, I guess.

i really wonder how windows hello would work at night if teh implementation was based on an iris scanner. maybe they got some new technology or somthing. would like to see that, specially if it was as smooth as they demonstrated it. And yeah it is time for a new device. but since the 1030 is something to be in 2016, does that mean we will be getting these devices within 2015.

The iris scanner will have an ir light so it can be used in the dark (The same as the three red dots on kinect for xbox one) + that an iris scanner will be almost the same as fingerprint. Just as easy!

Right, and what if you're wearing glasses? There might be some problems with these.

Remove the glasses, buddy. Simple.

They have said no problems with glasses or night conditions. So don't worry

I never used this technology... but from what I read it's more reliable than fingerprint...

I cross the border every week or two and go through an iris scan, never have to take my glasses off. The new scanner technology is quite good.

Where is 1020's successor?

The design is in progress and it is planed to be released next year.

Noooo I can't wait until 2016.

You might get more hardware for waiting like better processor (SD820?).

The article, you should read it. Then comment. Things work better that way in the world, I swear.

I just wished to see rumor specs on the next one.. I saw the rumor date lol

You should know that WC only reports on somewhat realistic rumors, right? If you want completely unsubstantated rumors, I can make up specs if you'd like: 1040: 5.2 inch QHD display Qualcomm-based six core processor 3GB of RAM 32GB of internal storage with a microSD card slot 41MP rear camera 5MP front facing camera, 3000 mAh removable battery USB Type-C How's that?

Not sexy. As my phone only outputs 34mp images. I want an upgrade. Lol

Released in 2016, L1040 could have used a newer 8 core processor which supports 4K video recording at 64/128 fps. It could also have a 1040XL option that would be my choice.

It won't. It'll likely be based on the same hardware that the rumored flagship will run. The 1020 wasn't a radical hardware upgrade, and nor will the 1040. Get over it.

The flagship L940XL will be based on the Octa-core processoor which could be SD810 or SD820. Either one could be a good base for L1040.

MUSTS: USB type-C (2x?) 15x10 aspect ratio 1920x1280, (or wider, up to 4x3 max) 6.3 inch screen (with this aspect ratio not too high) Rounded bottom corners for holding, square top corners to lower device height, screen near top Glance AMOLED, best NEAR MUSTS: W10 desktop X64 Atom 4000+ MAh battery 128GB storage, 64 acceptable LTE, HSxPA 3-4gb Light sensitive camera Stylus internally, or Anypen Nice-important Leather back, natural feel, no case Quite rugged (old school lumia rugged) OK things Dual sim SD-card

Did you get hit in the head? If those are your musts, prepare to be disappointed. And you will not have W10 desktop on a phone.

Well, one can ponder can't one. Just might bring ideas into peoples heads and try nudging them into a direction. If a small tablet can have this easily, its a matter of time before a phone can. It would help me greatly if I could run a full on web browser with java, so why not have continuum Pro, :-). And handleability has not been Lumia's best in the 8xx-plus range. I had the hardest laugh when the Kins came out, but I du assume that shape was way more comfortable to hold than any recent 8xx-plus Lumia handset.

Daniel...can you stop using logic on the internet...you'll break it. ;)

It's not about logic. It's about us having a 2 year-old phone with no replacement when our contracts are up. I'm not downgrading my camera. It is possible depending on my needs I may disconnect my phone. My new job provides a phone thus my 1020 is a phone for what? Camera? If that's the case I should look into purchasing a nicon or other device. If they released an upgrade late Oct I would be tempted to upgrade and pay a bill just to show people how amazing it is. But come fall I may turn off my cellular account. Then I'm less likely to upgrade if and when a new one arives.

You do know that you don't HAVE to upgrade right? You can just... you know... keep using the same phone and reduce your contract!

There is no reduce in Canada ;) same plan cost off and on contract

So my bill is $100 a month 2 years plus $200 to put down on a new phone that's $2600 not including tax. That could get me a good camera to replace my 1020. I don't need a phone anymore.

Not true. Off-contract, you can get a BYOP discount. Right now it's around $15 off a plan for all of the budget carriers (Fido, Koodo, Virgin). If they won't give it to you switch, or threaten to switch, to a different carrier.

Despite my disappointment with Microsoft because they offering all of their services from onedrive, Office, Bing, Outlook, Garage apps, Xbox games, Microsoft Band (Health), Cortana and even their MSN apps to other platforms. Disappointed because there is no longer feeling exclusive about have Window Phone. But with rumors about the successor Lumia 1020, makes me happy again. I almost decided to buy SG 6 Edge. But this article has canceled my intention. I have a Lumia 1020 since it was launched a few years ago. And if the rumors are true, I will give the last chance for Microsoft until 2016 to produce the successor Lumia 1020.

Exclusivity is overrated. MS's mantra is trying to get as many people on as many devices to use their services. That's how they make money. You should get used to it now and save yourself some agrivation.

If you are real cityman you will be mine lol.

Why 3GB RAM?? Does that mean the older phones are going to lag while running the new os or are they going miss some features?

Of course older phones are going to miss some features. It's a new OS. We don't want a new OS where it does not leverage new hardware. As far as "lag", who knows, who cares, TBH.

Does Lagdroid come to mind at all? We dont want to become another Lagdroid or Winlag whatever lol. We care daniel, we dont want a laggy windows phone experience. I love windows phone because no matter if you get the most low end WP we wont have to worry about much lag at all. Im sure microsoft knows this and wouldnt let that happen.

Lagdroid, as you say, is VERY different. The big complaint there is legit: even on a flagship device like the new Edge, you can experience lag. You cannot really ding Windows Phone for having lower performance on lower end devices. That is literally the reason why there are grades of hardware. You can ding Android though for needing 4GB of RAM (new Asus phone) to avoid lagging.

I'll be honest. I've experienced very little lag or stutter on my LG G3. So far every bad thing I've heard about Android has either been greatly exagerrated, or ultimately not as deal breaking as it was made out to be.

My 1020 lags like crazy, people should stop fueling this joke myth that WP performance is great. It lags as it scrolls, takes 60 seconds to open the camera, freezes, crashes, can't capture photos, lags during capture, stutters and lags through games and apps. It lags when I switch apps. My 8X lagged through scrolling all the time as well. The 8X was much better than the android it replaced, but by no means lag free and since 8.1 the whole system has been a laggy nightmare on my 1020. Downright unusable for standard phone operations and especially for the camera; everyone here goes on and on about lagdroid but it is entirely an imaginary OS benefit to assuage the complete absence of high end handsets and perpetual app gap. My s6 edge doesn't lag at all.

Wow really? I just did a hard reset (restoring from a backup though) coming off the Insider Preview on my 1020 back to Denim and everything seems just as snappy as it was when I bought it two years ago. Sounds like you need to backup and hard reset (it sounds hard but believe me it's actually not too bad).

Are you kidding me? Window Phone is the laggiest OS out there, by a mile, even on the highest-end hardware it runs on (that't be the One M8). Every goddamn time I switch apps I see "resuming..." Whenever I press the start button, I have to wait for the screen to turn black and then all the tiles to swoop in from the left, instead of just instantly being back on the start screen (it's instant on Android, BTW). Launching most apps takes longer on the same hardware in WP than Android or iOS. If that isn't lag, I don't know what is!!!

You probably need to factory reset. My M8 doesn't do any of that nonsense. Zero lag, zero hiccups

> My M8 doesn't do any of that nonsense. Yes, it does, because that behavior is intrinsic to Windows Phone. It works that way right out of the box.

Agreed with the hard reset above. Every device I've ever owned builds up junk after a while (yes, even Apple devices) and literally every device I wipe and start fresh performs far better than before. I remember once my old iPhone's battery life jumped from 12 to 16 hours per charge after wiping and reinstalling everything

definitely recommend a hard reset. Especially after doing updates from 8.0 to 8.1 or from 8.1 to 8.1.1 and idk what phones you are comparing but I ask any android user to open up his photos app and scroll thru his pictures, I guarantee my 925 wont lag, but my brothers Galaxy Edge does lag lol doesn't make any sense. My 925 is running on the snapdragon S4 -_- btw you are 100% right about the start screen but that's a problem with the animation being used because I only experience that stutter when leaving a graphic intensive app. Its like the GPU is never ready to take on that animation task back to Start.

These behaviors are intrinsic to Windows Phone. My phone is working "perfectly." And it isn't just my One M8. It's my L920, my wife's L928, my HTC 8X and my L635, and my father's L830. It is also the way your Windows Phone...whatever one you have...works, too! It's the way Windows Phones work when they're working well.

I saw an article somewhere yesterday listing all kinds of potential issues and features that won't run nicely with Windows 10 on a 512mb RAM device.

That document does not mention Windows 10 and refers to the browser as Internet Explorer. Something is not adding up there.

I think thats why microsoft has been releasing low end and mid range phones with 1gb ram lately.

It's a flagship phone, what do you expect? If Lumia wants to compete with Android, it must have high specs. W10 Mobile should run smoothly with 1GB of RAM.

I wish I did now lol. I wish it did lol.

Exactly then they might be able to bring back campaigns like smoked by windows phone

Full Windows 10 runs on 1 GB RAM. I'm sure W10 mobile will run well on 1GB RAM. 2GB RAM phones will be buttery smooth. 3GB RAM phones will be like lightning.

Probably yes. At least, less smoothness

Future-proof, for a couple of years anyway.

Hell, if you look at internals, a L1520 should be great for another two years. A phone is only truly obsolete when it can't run certain games and apps anymore.

Why not 3 gigs? It's the standard for flagships these days. If that 6 core processor is real, it sound like the 808? This phone sounds exciting, am very curious if this is the 840? I could live with this or a 940. Happy days ahead. That being said. I'm perfectly happy with the 830 currently.

Seeing how their chassis specs are its depends on screen size/resolution of said phone

3GB because that's the technical limit for a 32 bit OS (Windows 10 Mobile). I thought they would have changed the kernel to 64bit by now. Atleast by the time Windows 10 is out.

They have put 3 gb ram for competition purpose mainly. All android flagships have 3-4gb ram

Some features may not present in any current devices but I hope that it will still be smooth to use and decently fast on 512MB RAM.
Another thing is to compete with Android flagships that sport monster specs. Also makes Windows Mobile even faster and smoother (even current old device is still smooth).
I wished they both use eight-core CPU though since I don't prefer 5.7-6+ inch phones also just bumped it to 4GB. Just a thought.
I'm more excited for Lumia 1020 successor though, too bad it be there until next year.

Memory for the display comes out of the system RAM pool and these devices are rumored to have 2560x1440 displays (i.e., more pixels than a Surface Pro 3). Microsoft's hardware guidelines call for 3GB of memory for devices with displays of that resolution. As others have noted, it's probably also useful to note 3GB when comparing the Windows devices to Android devices. How big a market is going to accept "yeah, well Windows runs better in 2GB on a quad-core chip than Android does in 3GB on an octo-core chip?" It doesn't matter if that's true or not, having lower numbers puts the Windows device in a weaker position than the Android flagships. (This is also probably why Apple doesn't advertise memory sizes or processor speeds for the iPhones.)

It's mostly about supporting the screen resolution -- if you look at MS specs for RAM they track with screen resolution. Higher-res screens require more RAM. I assume (but haven't done any of the development myself), that storing the images to move up to the display and frame buffering force the RAM size. The effective additional RAM for applications may not be higher, because all the extra is consumed to support the high-res screen, meaning 1GB on a current Windows 8.1 phone could be the same performance-wise as 3GB on the new system with the nicer display. Of course, that's not counting the likely CPU upgrades, which would provide better performance on the new flagships, but that's different. Lag generally comes from moving big blocks of data in and out of RAM and out to the storage (where the OS and system architecture can make a big difference by minimizing these events or limiting them to situations where a user is not likely to be bothered by them), not on pure CPU performance, which is more of a straight compression on all times by a few percent (and where all OS's should benefit equally).

After the recent disaster in the highend Lumia market, Microsoft has literally no room to make any mistakes with their upcoming highend Lumias.
It will be both wrong and unfair for both Microsoft and their premium Lumia users and very disgraceful after the very recent history. If the rumors are true and they prioritize the Phablet against the regular size Lumia Flagship then this will be their Day One major mistake.
That if the hexa/octa core rumors turns out to be true. They don't have the luxury, neither the excuses to screw this up. Personally I believe and expect both higend Lumias will come with an OctaCore Snapdragon 810 eventhought for a Fall release the even higher Snapdragon 820 chip is also a candidate and will come as a pleasant surprise.