Microsoft's Xbox Play Anywhere program officially launches Sept. 13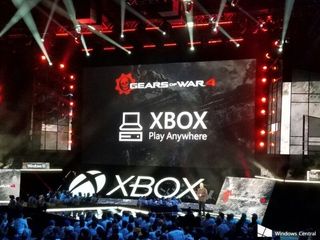 Microsoft has confirmed that the company's Xbox Play Anywhere program is scheduled to launch on Sept. 13. It will allow games to buy a select number of Xbox One games and get the Windows 10 version for free, and vice-versa.
Microsoft first announced Xbox Play Anywhere during E3 2016. In a statement to Polygon, Microsoft said:
ReCore will be the first official Xbox Play Anywhere game, which will be available on September 13. Microsoft already allowed people who pre-ordered Quantum Break on the Xbox One to get the Windows 10 version for free. In addition, the free-to-play fighting game Killer Instinct already allows players to purchase fighters and items on the Xbox One version and they are available on the Windows 10 port, and vice-versa.
While Xbox Live Anywhere does support cross-buy, along with saving progress, game saves and achievements, only some of those games support cross-platform multiplayer between the Xbox One and Windows 10 versions.
Here are all the Xbox Play Anywhere games
Play Anywhere was my favourite thing of E3 tbh

I'm confused, I know they announced this as a new feature, but didn't they already have this for awhile with games like Quantum Break?

No, that was a temporary promotional offer for those that pre-ordered the Xbox version. This is A. Vice Versa and B. Not a promotional offer but a feature.

It's different.. with Quantum Break the "play anywhere" was, buy the Xbox game and get a code for the PC version (2 different stores ), from the anniversary update the stores will be merged, future "play anywhere" games will be bought in the store and can be downloaded in any supported device.

They actually had this feature back in 2014 with Project Spark, so I'm not sure what took them so long to bring it to other titles, but it is amusing seeing them advertising it as a new feature when it's not.

Also on phones, but feels like it ended in regards to the whole Universal apps thing.

And double tap to wake up finally hits the 950XL. What a time to be alive!

Now for WhatsApp to go UWP.

Really? Did that get reported here? Any idea if also true for the 950?

Anywhere except W10 Mobile.

You want to try and play an Xbox game on your phone?

No. But some say that there is just one Windows 10 :)

There is, but phones won't have the graphics hardware or storage space for AAA games. Aren't they working on streaming games to phones, though?

Not to mention that phones are ARM and not compatible.

Do you want to play Gears of War 4 on your mobile phone?

Anyone know if Play Anywhere is limited to only full price digital games? Like if you wait a year and get one of the titles for cheap in a weekly sale, would it still be Play Anywhere, or just for the platform you bought it on? Additionally, anyone ditching physical disks for digital purely because of Play Anywhere? Just curious if this will help tip the scales to more of a digital-only sales future...

No matter where you buy or the price at which you buy . If you buy in a store, you also get in the other store, because it's the same game.

It's the same store on both devices. PC and Xbox both using Windows 10 (ie. the same OS) and the same Windows 10 Store. It's like buying an app on an iPhone and being able to also use it on your iPad etc. Same store, same app, different devices.

The stores are unified, or they will be soon. Meaning if the price is reduced by 10% on Xbox it will also show as 10% off on PC. The same store, same games, just different devices. Think iPad/Android Tablet and iPhone/Android Phone regarding purchased apps. Both Xbox and PC run Windows 10.

Doesn't matter what price you've paid. If the game is x-buy it will still be so when discounted. Same as buying UWP apps for mobile, they will still work on your PC even if you got them at a discount.

So PC games will now be charged at Xbox prices.. If not then buy the PC version, if so then PC sales will tank.. or will there be non-play anywhere PC versions too?

Considering the fact that ReCore costs 79.95 to buy on the Microsoft Australian store, and only 49.95 to buy a physical copy from EB or JB, it's really not giving a great impression of Play Anywhere if you are paying close to double for the digital copy (and that isn't even a discounted physical copy, that's RRP).

Thought it was a $40 or so game, you sure the $80 isn't the special edition or something?

Nope, digital preorder for the base game is 79.95. Although I did just have a look, and if you preorder online you get a copy of Banjo-Kazooie Nuts and Bolts... Woo. Not worth an extra thirty bucks.

Microsoft has hit the nail right on the head with the announcement of Xbox Play Anywhere program, which will make a good concurrence to functions already found in certain titles on the Sony consoles. ______________________________________________ galaxy note 6 samsung galaxy note 7
Windows Central Newsletter
Get the best of Windows Central in in your inbox, every day!
Thank you for signing up to Windows Central. You will receive a verification email shortly.
There was a problem. Please refresh the page and try again.