Might and Magic and Halo 3 are the Xbox 360 Games with Gold for October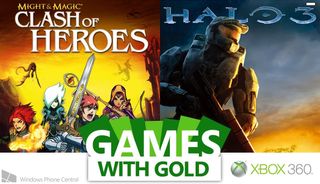 Microsoft's popular Games with Gold program for the Xbox 360 has been a popular if slightly controversial program. Each month, Xbox Live Gold subscribers receive two free downloadable Xbox 360 games to keep forever. On the other hand, the games have largely been several years old, prompting negative comparisons with Sony's Playstation Plus program and its much larger and newer assortment of free Playstation 3 games (which players can't keep if their subscriptions lapse).
This month's Games with Gold include a new…ish Xbox Live Arcade game and a fairly old retail release that still holds some appeal. First up, Might and Magic: Clash of Heroes from Ubisoft is free for the first half of the month, starting today. From October 16-31, Microsoft's own Halo 3 (one of the first Games with Gold announced back in June) will finally be free.
Details and download links after the break!
Might and Magic: Clash of Heroes – Free from October 1-15
Xbox 360 – 1.4 GB – Xbox.com Store Link (opens in new tab)
Before they made the popular Superbrothers: Sword and Sorcery EP for iOS and PC or the upcoming Below for Xbox One, Capybara Games developed Might and Magic: Clash of Heroes for Xbox 360 (and later iOS). Not to be confused with the popular strategy game Clash of Clans, this one is a puzzle RPG set in the Might and Magic world.
As you move across the map and experience the fantasy story, you'll encounter enemies and begin fast-paced puzzle battles. Attacking enemies does involve matching three of the same units, but Might and Magic: CoH's battles are much more strategic than Puzzle Quest's. Both sides build little armies and construct formations to attack or defend during their turns.
Clash of Heroes also features 1-on-1 and 2-on-2 local and online multiplayer battles. Here's a guide to the multiplayer Achievements.
Halo 3 – Free from October 16-31
Xbox 360 – 5.7 GB – Xbox.com Store Link (opens in new tab)
Halo 3 was the first entry in the popular series of science fiction-themed first-person shooters for the Xbox 360, released all the way back in 2007. The game's plot involves the alien Covenant race's attack on earth, the end of the Human-Covenant War, and the final confrontation with the vicious Flood parasites. An exciting setup, though the plot itself jumps around too much to tell an effective story.
The third Halo introduced several series mainstays - most notably 4-player online co-op (2-player split-screen is still supported). Cooperative play goes a long way towards alleviating the problems with level design which still persisted at this point in the series. The Forge mode first appeared here as well, allowing players to customize maps and share them online. And of course, the mainstay 16-player online competitive multiplayer is on hand.
Halo 3 has since been superseded by two proper sequels, Halo: Reach and Halo 4. But players who haven't tried the series yet will finally have the proper excuse thanks to the Games with Gold program. I expect the multiplayer community should be reinvigorated, so make sure you hop online and give it a try!
Paul Acevedo is the Games Editor at Windows Central. A lifelong gamer, he has written about videogames for over 15 years and reviewed over 350 games for our site. Follow him on Twitter @PaulRAcevedo. Don't hate. Appreciate!
Really? Doesn't everyone own Halo3? :P

Yeah. But it's still worth downloading it or "buying" it for free. This way it's tied for your Microsoft account / Gamertag... forever! So if you lose your disc you still "own" the game. Right? Or am I missing something here.

That's what I thought too. Only down side is it's Halo 3 not ODST so unless you have purchased all the additional DLC you'll need to use the ODST disc anyway. I'll still buy it though as it's free (can download it whenever I want then) :D

That's for the multiplayer... Isn't that pretty much dead now? Last time I checked even Reach multiplayer was pretty empty as everyone had moved onto 4.

Now that a bunch of people will be getting Halo 3 for free, the multiplayer will surely be revived for a while. Perhaps not the playlists that require DLC though (if any).

Yeah, of course :) I'm just generally disappointed by the offerings each month. Halo3 is a AAA title (good to see), but I would expect most people would still own it as it was bundled with everything or the "must have" game to buy with a new system.

Nope, the disc got scratched & I threw it out years ago.

Idk but everyone should own GTA5 and Battlefield 4

Nope, not a fan of GTA's style of play, and I still dislike EA enoguh to keep from buying Battlefield (though that my change because the new Call of Duty sounds terrible and there's no new Halo).

I hate EA too, for many reasons, but Battlefield is way better than COD. I was a COD fan first, but after playing BF3 I wont go back to COD.

Nope. I'm a latecomer to Xbox. Halo Reach came with my machine as a download and that's been keeping me busy. I've thought about trying to pick it up used someday but I'll welcome this bit of legacy game play onto my console later this month.

I got all the halo games :) Got tired of Halo 4 multi pretty fast. Enjoyed it in reach thou. Don't really like the new maps, and I seriously miss swordbase. Fav Team SWAT map!

Yeah, I bought it about a month ago, dammit >:( That's the third Games with Gold title that's come out within a few weeks of me paying for it! No more buying bargain price games until next year!

Halo 3 is still epic...feck at&t.

What does att have to do with anything?

Its a on going joke with the community man. Just having a little fun :)

I've been in the community for a year and still don't get this joke? Everytime I see people bash AT&T its at least in a AT&T post.

Are you joking? People moan about AT&T in almost every post. E.g. "Russian mobile carriers roll out Amber update", first comment "What about AT&T?!?!?!?!"

Humor is subjective, but I don't find that funny at all. There's no thought or cleverness in saying the same thing over and over.

Yeah halo 3 is old but a gem for free

You can't expect to receive the GDR2 update on your Xbox 360. It's a completely different OS than Windows Phone 8.

Hahahahahahahahaha u got served

Really?! That was me getting served?
How about we do a little online game play and see who gets served? Hahahahahahahahahaha. "Hold my pocket..."

I know that Paul, I thought this was a running joke... Dan lied to me.

http://m.dictionary.com/d/?q=sarcasm

Old cr..p! Shame!
Check this: http://uk.playstation.com/playstationplus/

We all know what playstation Plus is already, thanks.

Xbox live gold is for online services and is very good, games for gold is a free bonus. PS+ is a game rental service. The two are totally different and cannot be compared

Edit: Got my wires crossed.

PSN+ is required for PS4 online.

Then they will be comparable services, still the thing that is making me most anxious about the PS4 is whether they have improved the online part, and unfortunately we will not know until it has been released meaning that I will have already made my decision to get a Xbox one or a PS4

GTAV download problems already is a bad sign.

Well I might try halo 3 now. But not for the online aspect.

Halo 3 is a great game, I own it. But I would like to have it on my hard disk without the requirement of the phisical disc, so it woud be nice.
Hopefully because Microsoft itself is the owner of the game, they will release it world wide, and not only for US.

Every game is released worldwide except if it is banned in some country

I have non of these games so I'm a happy camper.

Meh! I guess I will wait till next month

I want Heroes of Might And Magic on my phone. Now!!! Or something like it. Is it that hard to do. They ported GTA on mobile. Heroes 3 please. Will buy any device that thing comes up on first.

You want HMM3 or clash of heroes?
Both great games. I do hope that one of them will make it to wp.

HMM3, I never played a Clash of Heroes, But seeing the similarities in names I presume there's some similarities in them. Another game was nice and I spent hours playing it are Desciples II. I really want those 2 on WP or anywhere on portable device. May be I will get a nice light full windows 8 tablet install those two and quit bitching eventually.

Clash of Heroes does take place in the Might & Magic universe, and story-wise it's a prequel to Heroes 5. So although it plays differently, it's still similar in story and setting.

Never really got into Halo 3 multiplayer but did the campain on legendary. Dont know whats happened to my copy of it though so will good to get it for free and give the multiplayer a spin


Hopefully this bolsters the online population of Halo 3. That ways I can actually play a -good- Halo game.

How can I possibly upgrade to Xbox One if they keep racking up games in my 360 backlog?

I agree. I own over 325 Xbox games and I only have 49% of the available achievements. That number is so high because I own every WP Xbox game released in the USA, all saved on 3 different phones :)

I wish that might and magic game would come to windows phone and tablets, such a great game.

That's sooo awesome - I've loved the demo of Clash of Heroes :) Paul, didn't you mean Clash of Clans? That bit about the strategy game was confusing.

I would expect all the dlc to be released for free as well so everyone can have all the maps, just like with rainbow 6 Vegas, both red and black dlc map packs were also free while the game was.

If only we could we have a might & magic like this one on our windows phone...

Yeah, it came to iOS but not WP. Maybe someday...

Halo 3is my favorite one of the series, although odst had some good stuff.

Had some good moments on Halo 3
Windows Central Newsletter
Thank you for signing up to Windows Central. You will receive a verification email shortly.
There was a problem. Please refresh the page and try again.