Microsoft connects Minecraft players across Nintendo Switch, Xbox, mobile, and Windows 10
At E3 2017, Microsoft announced a partnership to bring Minecraft Realms to the Nintendo Switch. But that's not all.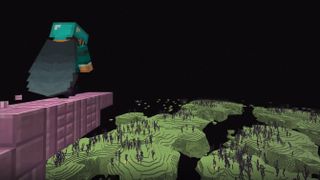 We also learned that Minecraft Realms will connect players across platforms, including across Nintendo Switch, Xbox One, Project Scorpio, iPhone, Android, virtual reality (VR), Windows 10, and Windows 10 Mobile versions of the game. Minecraft Realms is Microsoft's subscription service that allows players to create a dedicated Minecraft world to share with their friends.
Thanks to a new bedrock engine, Microsoft will ensure that all modern versions of Minecraft will reach feature parity moving forward, including the new Minecraft Marketplace for partner-created addons. The bedrock engine simply refers to a new scalable version of Minecraft that is cross-platform compliant. The Windows 10, Xbox One, Nintendo Switch, and mobile versions of the game all share the same code.
You might wonder why PlayStation isn't on this list, and we have some bad news for Sony gamers.
I asked Microsoft why Sony's PlayStation 4 (PS4) and PS4 Pro aren't part of the program. Sadly, it looks as though that ball is in Sony's court. Microsoft said it would "love" to bring Minecraft Realm connectivity to every platform, but PlayStation won't be joining the party at this time. If you're interested in getting Minecraft Realms on PlayStation, your best bet is to poke the lovely people at Sony for answers.
The original PC version, now dubbed the "Java Edition," will continue to receive the same updates, and in fact, it has more developers working on it than ever before. But constraints of the engine mean full compatibility with the bedrock versions of the game will be impossible. Moving forward, every version of Minecraft will simply be known as "Minecraft," when they're part of the bedrock engine. The Java Edition and PlayStation Edition will remain separate for now. Additionally, there are no plans to upgrade the Xbox 360 or PS3 versions of the game.
Minecraft as a platform
With the coming updates, Microsoft is aiming to transform Minecraft into a scalable platform for socializing with friends, gaming across devices, and creativity. With the Minecraft Marketplace coming to all versions, players will be able to purchase all sorts of add-ons, ranging from skins to entire adventures built by the Minecraft community and curated by Microsoft. Creators will be able to earn money from their projects, whether they're hand-crafted expansions or uniquely modded and maintained servers.
Servers will also be much easier to join moving forward. Instead of having to dig up an IP address, Microsoft will let server owners expose their communities directly in Minecraft itself, allowing players to apply to join at the touch of a button. We learned previously that Microsoft intends to link this up to the Xbox Clubs system, too, keeping players engaged with their friends no matter where they are or what they're doing.
The console versions of Minecraft will benefit from limitless terrain generation. Infinite Minecraft worlds will be truly endless, and it will be up to players how far they want to let their imaginations push their creativity.
Moving forward
With the bedrock engine all but complete, extended and scaled across all platforms, Microsoft plans to continue adding new features to Minecraft's base game. They highlighted the recent additions of fossils, parrots, and stained glass as evidence of this, citing plans to continue to build on what makes Minecraft such a popular game.
Minecraft will also benefit from the power of the next Xbox, "Project Scorpio," gaining new graphical features that really bring the game's world alive. 4K resolution and improved lighting and textures will make the Scorpio version of the game really shine.
Minecraft continues to be a dominant force in Microsoft's video game lineup, pioneering cross-platform play like no other. Are you ready to jump back into the blocky world of Minecraft? Let us know in the comments.
Windows Central @ E3 2017
Windows Central Newsletter
Get the best of Windows Central in your inbox, every day!
Jez Corden a Managing Editor at Windows Central, focusing primarily on all things Xbox and gaming. Jez is known for breaking exclusive news and analysis as relates to the Microsoft ecosystem while being powered by caffeine. Follow on Twitter @JezCorden and listen to his Xbox Two podcast, all about, you guessed it, Xbox!
The console and mobile versions of Minecraft sadly just don't have the same feeling as the original Java version. The fact that you had to spend hours looking for an ip of a good server meant that the servers were very open to new members, while also giving users a sense of community. Minecraft was always known as one of the most open games as far as updates and community and it has quickly lost that feeling.

Any idea, if this means, Minecraft will be a xbox anywhere title? I own it for windows 10 mobile, 360 and Xbox one, i would like the windows 10 version, but doesn't want to buy it a 4th time.

I'm pretty sure a few months ago they turned the W10M version into the W10 version that's in the PC store. They are now the same thing so if you own it on Mobile you also now own it on PC.

Sadly this isn't so yet. The one is named windows 10 edition, the other pocket edition and are treated separately. So at the moment i would have to pay again. I hope with this new anouncement the game will get really unified and be a xbox anywhere title. I hope when the editions drop their name, I could get it as an real xbox cross plattform title. This is yet for the add-ons, at the moment i would have to pay, let's say the fallout mash up on all platforms, like xbox one, windows 10 and windows 10 mobile. We will see. ☺

Also want to know this - will my Xbox Edition become 'play anywhere' and become available on my mobile and desktop? Checked the store and Win 10 Edition (desktop) and Pocket Edition (mobile) are still the same.

Good to know Sony is still a b!i!tch. They didn't want EA Access, and not even this crippling hardcore Minecraft gamers on PSwhatever.

as long as the Java Version exist there is no reason to downgrade and have to pay for texture pack,skins and other cosmetics

There's a lot of reasons. All the people that make skins and texture packs and worlds don't have an easy way of making money doing so. Now they do.

I really hope the bedrock editions become a really solid experience. I don't mind paying more to support the people who make content for this game. My biggest hope is that they fix their UI.

I got a realm a while ago so my children could play with their cousins , but Xbox didn't work with the windows 10 realms version, hopefully now they can play together , in harmony, (for the first few hours, then the fighting. Starts....