Minecraft Dungeons lead talks next DLC and the future endgame roadmap
Mojang talks its next steps for Minecraft Dungeons, including its new Jungle Awakens DLC, our first details on Creeping Winter, and the future broader endgame vision.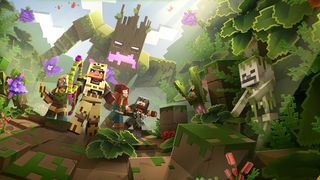 (Image credit: Microsoft)
Microsoft's hit block-building franchise embarked into fresh territory this spring, with its first action-centric spin-off, Minecraft Dungeons. The divergence from Minecraft's creative roots birthed an accessible dungeon-crawler fit for all, driven by its role-playing wonder and that grind for rare loot. The title now enters July accompanied by its first DLC expansion dubbed "Jungle Awakens," providing our first example of planned long-term support from the developer, Mojang.
Jungle Awakens is the first of multiple planned content drops, with the previously-teased "Creeping Winter" DLC to follow over the months ahead. And while Minecraft Dungeons' initial content offering failed to satisfy all, Microsoft hopes future additions will keep players returning far beyond launch. Minecraft Dungeons' game director, Måns Olson, sat down with Windows Central to talk its latest Jungle Awakens DLC, a glimpse into Creeping Winter, and the team's mindset for what comes next.
From Jungle Awakens to Creeping Winter — and beyond
Mojang recently rolled out Minecraft Dungeons' first post-launch expansion, primarily expanding its content offering, beyond the base game. While the launch drew players through a lightweight take on dungeon-crawling paradigms, the original nine levels, and five secret locations, failed to provide long-term staying power for many. The Jungle Awakens centers on presenting new opportunities to play, even if "more of the same" through its levels and expanded loot pool.
The latest jungle biome comes distanced from existing content, featuring three diverse levels populated by flora and fauna of the wilderness. The island conveys the sense of a long-forgotten world, with abandoned structures reclaimed by vegetation, and hostile mobs draped in vines. That also translates to the included gear, through plant-based whips and ocelot armor among the most coveted arrivals. Microsoft has also dropped free content adjacent to its first paid expansion, delivering a balance set to continue moving forward.
"With [Jungle Awakens,] we are adding the three new missions that you get if you purchase the DLC, and new mobs and items that you can find in those missions," said Olson. "But also some free content, we have the new mission, Lower Temple, and there's all sorts of new gear that you can find in that mission. And we've added an extra threat level to the threat level slider, sort of in-between difficulties."
"[T]hat's something that we plan to do in the future as well. As we patch the game around the time of DLCs, we're looking to do both paid and free content. We have a community that we want to look after, and that we're motivated by, and so obviously, we want to serve them as well as we can."
Up next is Creeping Winter, the secondary expansion marked on the roadmap. While the specifics remain hazy, it teases a new frozen island populated with cold-hearted mobs and arctic gear. Mojang will drop details closer to launch, but Olson outlines the team's goals to address core gameplay mechanics, including the systems around items and progression.
"For this DLC, as you know, we focused mostly on widening the content. And so for the next DLC, which is Creeping Winter, we're looking to also expand some of the game systems a little bit further. We're looking at changing up the item economy with some new merchants in the camp and new items to find. And then, after that, we'll also begin to gradually add more dedicated endgame content."
"I don't want to make promises when we're not entirely finished with the DLC. But certainly just making the camp feel a bit more lively and have some interesting merchants is something that we're looking to do."
While Olson promises additional context as plans solidify, any adjustments to how Minecraft Dungeons handles items could have branching implications, with loot deep-rooted into game systems. For late-game content, the continued refinement of character builds has underlined a growing desire to upgrade gear — bringing forward the most prized unique items to new power levels. The issue resurfaces with each expansion, as demonstrated by Jungle Awakens, seemingly raising the level cap from 108 to 115.
We know Mojang has toyed with gear upgrades through a concept dubbed "diamond dust," but its final implementation remains under development. "Diamond dust is, without going into too many specifics, something that we're figuring out the right way for you to upgrade and retain your favourite weapon, while still encouraging players to explore different archetypes and try new things as the game gets updated [and] as we change the balance of items and enchantments. It's just something we want to do. Finding the right balance between those two and a system to do that. That's certainly something that we're considering for the Creeping Winter update."
Microsoft hasn't talked its plans beyond Creeping Winter, but Olson reaffirms additional expansions lay ahead. "Most of us are in planning stages rather than something super concrete because it takes time to develop them, but it's the start of a full roadmap of content." While we don't know their overarching themes, it appears more is set for 2021.
Future Minecraft Dungeons expansions will mark fresh chapters in the adventure, touching on new biomes and experiences lifted from the original game. "We'll be looking to explore new biomes and environments with every DLC basically going forward. And as we do, that brings both new styles of gameplay that might be appropriate, and an opportunity to bring in more things from Minecraft, as well. So, the base game has a bunch of things that we haven't explored yet, that we may want to explore in the future."
Minds immediately gravitate toward the series' iconic realms like The Nether and The End, and Olson acknowledges the team has discussed their position in Minecraft Dungeons. That follows various player-found files just several weeks prior, suggesting both locations are in development. That half-built Nether portal sitting in your camp likely isn't there for nothing.
Paid DLC, free updates, and the bridge between
Early Minecraft Dungeons expansions come packaged as conventional paid DLC, complemented with a stream of free content for existing players. While traditional per-piece DLC has long been the norm, Mojang's straightforward approach is a somewhat refreshing outlier in a world of microtransactions and loot boxes. New DLC worlds require smaller $6 purchases, or the one-time pass, with zero repeated spending options. It's an attractive premise for promised long-term support, diverging from Microsoft's recent trends including vanilla Minecraft.
"It's a combination of factors, but we like it as a model for providing content," Olson states. We think it suits the type of game that we're developing. It just seemed [like] the right business model to us. But to be clear, we absolutely do want to make sure that the game feels interesting and fresh, and that we provide value to players, even if they don't purchase the DLCs."
For the future, Mojang hopes to maintain the balance between paid expansions, while still serving those with the base game. "I think that will not necessarily be exactly the same with each update. But just in general, we want to make sure there's enough free content to feel compelling and interesting and keep players interested. And then to allow us to develop some more meaty things, we also want to look at doing some paid DLC."
One of those free updates will be the previously-teased arrival of cross-platform multiplayer, bridging Xbox One, PlayStation 4, Nintendo Switch, and PC players. While scheduled for the "relatively near future," Mojang still isn't talking firm dates on the cross-play debut. Olson also didn't rule out the potential of cross-platform saves, but warns they're not on the roadmap to drop with its cross-play update.
Dungeons' current progression systems push replayability, with any high-level player accustomed to revisiting existing locations on the regular. While refining your build and facing harder threats injects new variables, there's still a lack of regularly renewed content to distinguish each encounter.
While some titles combat this through limited-time challenges or themed events, Mojang's content focus sits with each flagship update. However, Olson said the team is looking into potential methods, not ruling out future developments.
"I think most of what you'll see will come with these larger updates. And part of the reasoning for that is just making sure that we can ship to all the various platforms that we're supporting. But we're interested to see what we can do to keep players interested between those updates. That's something that we're looking at, but not something that we have any announcements to make today."
Minecraft Dungeons' first major update is now live across all platforms, with the standalone Jungle Awakens DLC for $6, or bundled alongside Creeping Winter and exclusive items through the $10 Minecraft Dungeons Hero Pass. That includes the stages Dingy Jungle, Overgrown Temple, and Panda Plateau — alongside new mobs to battle, and gear to hunt down.
Main
Get the Windows Central Newsletter
All the latest news, reviews, and guides for Windows and Xbox diehards.
Matt Brown was formerly a Windows Central's Senior Editor, Xbox & PC, at Future. Following over seven years of professional consumer technology and gaming coverage, he's focused on the world of Microsoft's gaming efforts. You can follow him on Twitter @mattjbrown.