Minecraft Pocket Edition receives substantial update with skins, boats, mobs and more
Microsoft has released an update for Minecraft Pocket Edition on Windows Phone. Version 0.11.2 adds a bunch of new improvements, everything from two-man boats and new mobs to purchasable skin packs.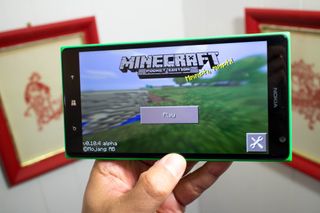 Don't wish to play as Steve? Change up the game by loading in your own skin, choose from the catalogue of free skins or purchase a pack for 99c each. Microsoft has also added boats, fishing, more languages, map configurations, new mobs, items, easy switching between creative and survival, and much more.
Here's a list of highlights from the store listing:
Multiple language support
Boats with space for two! Take your pet for a pleasant ride.
You can also throw stuff from the boats, like snowballs and eggs
Fishing
Squids
Spider jockeys
Cave Spiders
Bats
Adorable baby zombies
Weird chicken jockeys
Clownfishes are now edible
A fancy new World Edit screen so you can rename worlds, change game mode and do other things
Creative players can no longer be set on fire phew
We've stopped cheeky chickens from walking on water
Animals can no longer breed without touching each other ooh err
Drinking milk now removes mob effects
Ridiculous amounts of bug fixes
Loads more cool things that you should discover for yourself
While the team urge you to play through and find everything else out for yourselves, there is a full log of changes over on the Minecraft Pocket Edition Wiki.
Download Minecraft Pocket Edition for Windows Phone ($6.99)
Rich Edmonds is Senior Editor of PC hardware at Windows Central, covering everything related to PC components and NAS. He's been involved in technology for more than a decade and knows a thing or two about the magic inside a PC chassis. You can follow him over on Twitter at @RichEdmonds.
Can't update on my sons Lumia 530. Is anyone else having this problem give code 80c80211 not sure what it is. Any help?

Our kids had no problem updating. Not sure if you'll lose anything but whenever I've had that update error with other apps, uninstalling then reinstalling worked.
Also could the store region have changed from where it was purchased?

Check for free space and try sync your Microsoft account and xbox live. Restart your phone..

Did you make a you tube video once ... About the 1520?

This is a great update... Now make the price reasonable!!

It's the same price as on Android. Seems reasonable to me.

The price is fine. The only downside is that it doesn't have achievements.

The price is very reasonable since PC and console is more expensive (obviously) and android version is the same. Cant see why they should make it cheaper. :)

Microsoft purchase it around $2 billions and I can't see why they should make it cheaper.. Hope they add Xbox live soon..

If you'd like them to add in Xbox Live achievements, then let them know. Use Twitter and the #SaveXboxWP hashtag (so others can find your tweet and retweet you, details here), and tell them to add in Xbox. Here are some relevant Twiter accounts: @mojang (makers of Minecraft)
@jeb_ (Jens Bergensten, lead designer and lead developer of Minecraft), @Minecraft, @XboxP3 (Phil Spencer, Head of Xbox), @joebelfiore (Joe Belfiore, Corporate vice president and manager for Windows Phone Program Management), @toddbrix (Todd Brix, General Manager of Windows Apps and Store Team), and @yusuf_i_mehdi (Yusuf Mehdi, Chief Marketing & Strategy Officer for Xbox/Microsoft). This is the only Microsoft Studios game in the Store to not have Xbox integration.

I'll try to tweet them.. :)

The price is good for what you get. This is a AAA game from Windows store, I found it perfectly right to pay what I paid for the mobile version. IMO they should lower the price of the Xbox One version which is much more expensive, I know the mobile is more limited than the game console version, but in essence is the same game.

Me too, I think it is too expensive for a mobile game. Maybe in US is cheap, but in other countries it's just too much money.

The mini zombies are cute but very fast and deadly, also zombies can and will hitch a ride with you on your boat then kill you to give one of their friends a ride xD

Cant believe they didnt take the time to make it xbox live

I think once major bugs are all sorted out, they will flip the switch.

It's Microsoft's game. They don't need time to make it an Xbox game. There must be other reasons.

It's not version 1 yet. I am assuming that would be part of the process.

Would like to see that happen as well but with the changes coming in 10 and seeing it with HL hopefully that's the reason for the delay.

Haha. The breeding animals note.

Finally. But the name is now broken and shows the code name instead MCPE.something..

Our kids are really enjoying it and think it's time I purchase it myself.

How does the Windows Phone version compare to the Android version? Does this update make it better, same, or less than the Android version?

They should give this away as a Game with gold for all Windows Phone devices, where you have gold membership.

This is the game that generates more revenue on iOS and Android app stores , why would it have to be free for Xbox Gold members? The demand of the game is so high that it doesn't make sense to make it free.

You are right that this game is too well known and too popular to ever be a Red Stripe Deal or Games with Gold game, but it is definitely not selling anywhere near as well on Windows Phone as it is on iOS and Android, where it continutally tops the Paid Apps list. My guess is because Windows Phone gamers are vastly different than iOS and Android gamers in that they prefer Xbox branding. Mojang would be smart to add Xbox to Minecraft: PE on WP before they ever even think of dropping the price. #SaveXboxWP

I totally agree. I prefer Xbox titles above all else, and since its now owned by Microsoft I expect it yo have Xbox integration. I do, however suspect that it is coming, but could take a while since Mojang (if what I've heard is correct) was almost finished with the game before MS purchased them and the Xbox integration (achievements, possible multiplayer(?), cross platform skin packs (buy on X360/X1, use on all), cross platform worlds (start on X1, continue on WP) and other possible neat features) probably requires a lot of work Either way, I'm gonna wait for a price drop or Xbox integration before purchase. It's a bit pricey in Sweden, ~55 SEK last time I checked, which is as much as Final Fantasy with Xbox integration.

I genuinely thought that MS would gave added achievements to the game by now.

Yeah, me too, but there might be other Xbox features that they want to put in (some things I hope for is mentioned in my post) and that could take quite some time, and I think they rather finish all of it and do a massive impressive update that leaves Android/iOS versions dead in the water ;)

I hope that they do make it sweeter on WP.

Only free for those with Windows Phones, and on Games with Gold, they lose access to the fame when they stop paying for Gold membership. I know I have let my membership lapse for a few months at a time, this would be an incentive to keep it going.

Meant to add, it would only be "free" for 1 month.

Survival mode without mobs is too easy but survival mode with mobs is too hard, I hope they make a middle level difficulty in which mobs are much easier to beat and you can resist more attacks from a group of them at night. I would also love to have in the future a quest mode, something like Everquest or World of Warcraft where you could kill mobs, or travel to different places and earn iron or gold ore when you finish your quests.

The difficulty setting on consoles and PC is what you're thinking :)

There's a game called block story on android it has quests and stuff, its like minecraft

I forgot about it. Check your MCPE settings for a DIFFICULTY slider :)

Will they ever put MOGA support for this?

They should do what Survivalcraft does and have a community section within the app where users can upload their own worlds and skins and texture packs. Something that irks me about the PE. Posted via the Windows Central App on my Lumia 640 XL

Doubt if WC would consider Survivalcraft relevant :)
That's one thing I like about SC, hassle free skins, worlds, and texture pack downloading.
I'd love multiplayer though :D
Windows Central Newsletter
Thank you for signing up to Windows Central. You will receive a verification email shortly.
There was a problem. Please refresh the page and try again.