Minecraft will come with Xbox achievements on Windows 10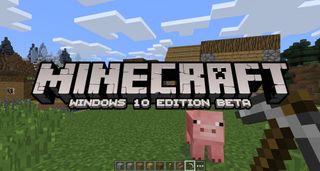 On July 29, Mojang will unleash Minecraft: Windows 10 Edition beta to the world through the Windows Store. Today we get a little snippet of good news on the game from Microsoft's Mike Ybarra, who confirmed to a fan on Twitter that achievements are part of the Windows 10 Edition.
That's a great way to start Xbox on Windows 10 with one of the highest profile titles getting Xbox achievements out of the gate. We first learned about the new version of Minecraft back at Minecon 2015, in London, and that the Pocket Edition will soon be updated to run parallel to this new desktop edition.
Current owners of Minecraft for Windows PC can download the Windows 10 beta for free, while new players can grab it for the reduced price of $10. You'll of course need your Windows 10 upgrade first, but any time from July 29 you can get your Minecraft on.
Source: @XboxQwik
Thanks @opticon9 for the tip!
Richard Devine is an Editor at Windows Central. A former Project Manager and long-term tech addict, he joined Mobile Nations in 2011 and has been found on Android Central and iMore as well as Windows Central. Currently you'll find him covering all manner of PC hardware and gaming, and you can follow him on Twitter and Instagram.
I don't "get" the excitement this game seems to cause...

It's like the 'Pokemon' for this era.

Don't you dare compare this piece of crap Pokemon to Minecraft. They are nothing alike!

He didn't say they were alike. He said its like the Pokemon of this era, meaning kids are obsessed over it like they used to be obsessed about pokemon.

Absolutely, positively nothing like pokemon at all whatsoever. Not even remotely. Unless you add a pokemon skin to your game? You can explore, build, survive, create, destroy, etc. I'm 37 and I think it's awesome. I don't play daily but my kids do. I can play with them and it's a lot of fun. I like the plain vanilla version but you can mod it out and do some insanely creative stuff with it. People have made in-game working calculators and written music IN the game. I don't have time for all that though. :P

Nor I, but there's no doubting it's success.

It's actually a great learning tool for kids and a fun game for older adults. Remember how much fun it was to build a city in Sim City 2000?

For me, it was the freedom to build. Certainly when I got it at first, it was still very very new. Hadn't been fully released yet. Felt exciting to get the frequent updates, wondering what was going to come next. Not played it in a while...mainly because of real life, but my understanding is that it still has the same small company feel, the dev with heart, even though they are now part of the Microsoft family. The game itself almost comes secondary to that grass roots feel, IMO.

What's not to get? There's nothing enigmatic about Minecraft's success: it offers almost everything one could want in a game. It's a user-driven, non-linear, infinite, and mutable sandbox. Want to create a one-million-piece pixel art? Go for it. Want to create a working computer. You can. Want to construct a giant city. Get working on it. Want to just build a modest cabin and spend your days fishing? No problem. Want it to be a survival horror game? Crank up the difficulty to max and try to survive the first night as zombies try to break down your door. Interested in automation? Master Redstone circuitry and construct an automatic farm. Want it to be an adventure game? Create potions and portals and transport yourself to another world to slay a dragon. Interested in exploration? Grab your map and explore the various biomes, flora, and fauna in the world. Want to have horse races against your friends? Yippie ki-yay. Don't like horses? Boat races instead. Want an intense player-vs-player, Hunger Games-esque battle royale? Grab a sword, armor, and TNT and prepare to fight. Interested in cartography and want to map out, to scale, the entire country of Luxembourg? Bust out a calculator and a template and have at it. Just want a virtual space to socialize with friends? Customize your avatar and come on in and chat. Do it alone or do it with friends. The possibilities are endless.

But does Redstone work in pe??

Mojang has said that Pocket Edition will see a huge wave of updates in the near future now to try to get it on par with the Windows 10 Edition. It's clear they're going for convergence of Minecraft among as many devices as possible, and it seems the Windows 10 Edition will be the unifier. So, in short, PE will, eventually, be full Minecraft.

Me neither. Though I was a huge rct player back in the day. also tried railroad tycoon & airplane tycoon. AT convinced me to buy at2 when it came out wasnt entirely impressed

That's like saying you 'don't "get" the excitement of Lego'... although Minecraft does offer a lot more beyond just building cool stuff

WILL IT HAVE MOD SUPPORT?!?!?!?!??!

Mods will be available as an in-app. So no hacking!

There will be hacking FTW

Curious, does anyone know what language the Windows 10 version is written in? I'm guessing c++ and DirectX 12 but you never know. It could be written in c# or some other language since the original was in Java.

I don't think we know what it is written in just that it's no longer Java.

It's based on WP version so my guess is c++

Probably Swedish :P :P :P

Pretty sure, English. I'm using win 10 TP and find English language all over my system. LMAO :D

Now we can say it is fully a Microsoft game: It will launch as Minecraft "BETA"

This is fantastic news: it's the perfect way to leverage Minecraft to build up both the Windows 10 and Xbox brand--especially once cross-play happens with Pocket Edition. Imagine all the kids who will then want the Windows 10 Edition, and then, boom, just like that they're unlocking Xbox achievements and building up a Gamerscore that no doubt entice many to explore other Xbox games in the Windows 10 Store, then on Xbox One, then on Windows phones, etc. Microsoft was being a little coy about it before, surreptitiously mentioning the words "Xbox Live" with the word "optional" in the press release for the game, so it definitely wasn't clear what their Xbox integration plans were. I also wonder if the Xbox integration wil be there at launch next week or if it will be like Project Spark on Windows 8.1, where it was in beta for like 10 months without Xbox achievements and then once it "officially" launched, Xbox achievements showed up (and some of them unlocked retroactively). Now they just need to add in Xbox to the Windows Phone Pocket Edition and then find a way to sync worlds between the Window 10, Windows Phone, and Xbox One versions of the game (and HoloLens too!).

The xbox version has more features then pe. but the original has the most features.

Yeah I have to buy it when it comes out for Windows 10.

Looking forward to this. :)

Ill try it. I am starting to enjoy the original one.

Why on earth would you play the crap version? The current PC version is so much better.

The Windows 10 version isn't even out yet, meaning you haven't even played it, yet you're calling it "the crap version". Nice. I can think of quite a few things the "crap" version will be able to do that the "current PC version" cannot: 1. seamless transition between controller, mouse and keyboard, and touch controls 2. cross-platform play with Pocket Edition 3. Xbox Live integration with achievements 4. bigger upside (Java is a dead-end; clearly the future of Minecraft is the Windows 10 verison, which has the potential to unify Minecraft acrosss computers, tablets, consoles, phones, and HoloLens). Nevermind that it's completely free if you already own the "current PC version" and is only $10 if you don't (a superb deal).

I'm very curious on how they plan to release this...my questions include: 1. If I own Pocket Edition, do I get a Mojang Account that is considered "Premium" 2. Will everyone be able to download the game from Windows Store for free and then be required to enter their Mojang Login upon launch like the PC version? 3. Will they eventually rid of all other version of Minecraft as this one nears completion?

Are they canning the desktop version eventually then? Or is the Win10 version going to run alongside it forever?

I imagine that the desktop version will be replaced by this version some day. It will take a while though.

Eventually they'd like true convergence, where they can just work on updating one game instead of a dozen games. And this would leave the original version as the black sheep (due to its use of Java), but, that will also always be the easiest version to mod, so I don't see it losing support from Mojang for years to come, and I think the die-hard modders will continue working on it for many years after that.

Can I get it free if I have it on Windows Phone?

Still prefer Survivalcraft yes I said it but its good Minecraft its getting with the times hehe. Any who i use both so that's good for everyone! Posted via the Windows Central App on my Lumia 640 or using the Android Version which is free*

Here's the achievements http://www.xboxachievements.com/news-4157-Game-Added--Minecraft--Windows...

Here is the initial list of achievements. Looks like they will update in the rest after it exits beta: http://www.trueachievements.com/Minecraft-Windows-10/achievements.htm

I am EXTREMELY annoyed... I got the trial of this before I figured out existing owners of the Java/PC version of Minecraft could get it for free... I redemmed the code but on my Minecraft it says I have 90 minutes to play... gonna try reinstallng to see if that helps. I do love this version of Minecraft though, but when I first started playing it I noticed the inventory was weird when playing on a desktop, and other minor things like you can't block with your sword. I am EXTREMELY EXCITED for when you will be able to play across Xbox Live & Pocket Edition! UNIFIED MINECRAFT, HERE WE COME!!! :D (If the xbox/pocket/windows10 edition allows java/pc servers, I'll be amazed... probably not though)
Windows Central Newsletter
Thank you for signing up to Windows Central. You will receive a verification email shortly.
There was a problem. Please refresh the page and try again.