Minecraft: Windows 10 Edition Beta adds support for 32-bit processors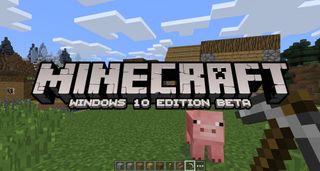 If you're psyched over the recently-launched Minecraft: Windows 10 Edition Beta, there are some goodies coming in an update released today. The big deal in this update is that it adds x86 support, meaning those running Windows on a 32-bit machine can now get in on the action. Here's the full breakdown of what's new in the latest update:
Added X86 support
Added Fullscreen support
Various bug fixes
Bug fixes are always welcome, and could mean some great improvements to this beta version of the game. However, more interesting is that added fullscreen support, which means tablet users have something nice to look forward to as well. If you'd like to grab the latest Minecraft: Windows 10 Edition Beta update, you can hit up the store link below to get things started.
Download Minecraft: Windows 10 Edition Beta (opens in new tab)
Dan Thorp-Lancaster is the former Editor-in-Chief of Windows Central. He began working with Windows Central, Android Central, and iMore as a news writer in 2014 and is obsessed with tech of all sorts. You can follow Dan on Twitter @DthorpL and Instagram @heyitsdtl.
Hell yes. I thought it would take months to get a 32bit version for my tablet.

Yesss!! I actually bought this, and AFTERWARD it told me I had unsupported features, so I got a refund, now i think ill buy it again :D

I think the article is confused. They made the app tun on the 32 bit version of Windows. This doesn't necessarily mean the machine has a 32 bit processor, only that the 32 bit version of Windows is installed. Anyone still running a machine with a 32bit processor should probably upgrade.

That's what is implied by the news and Windows Store app support section. You could not get a 32-bit only processor for years unless its in the mobile space. Now at the same time Microsoft probably could have worded it better. "X86 Support" is pretty technical in itself.

Most processors in tablet computers are 32-bit only... To upgrade is not possible.

The OS is 32-Bit, the processor is capable of X64 instructions.

They need to add cloud saves. I lost my world. In the meantime, is there a way to manually backup saves?

You should find your worlds at C:\Users\yourusername\AppData\Local\Packages\Microsoft.MinecraftUWP_8wekyb3d8bbwe\LocalState\games\com.mojang\minecraftWorlds\

Why can't we just chose to save the file to our one drive. Volla cloud save!

Thanks for the information. I had to turn on 'hidden folders' first. But now that I have the path, I can manually back up the saves so I never lose a world again. Much appreciated.

Nice. I have a 64 bit processor, but I've been waiting for 32 bit support so that my little bro could play multiplayer with me :)

little processor for your little bro :)

Runs smooth on HP Stream 7

Same goes for Dell Venue 8. Quite a nice surprise.
Only thing that sucks is Dell's crappy digitizer firmware which makes me view jump around when I look around. Not very smooth.

Great news for the little tab

Will this run on a Windows 10 phone from the universal store?

Not yet just x64 and now x32 so I'm hoping it'll be out within a month or so.

Mojang said already that Pocket Edition will basically end up as the same thing as the Windows 10 Edition. So it's not likely this will be on phones. It kinda already is.

Yeah its just an older 0.11 version for now. I'm sure once Win10M is out it'll be updated.

So does that mean PE will get Xbox achievements

Windows 10 Edition has Xbox achievements. Pocket Edition doesn't.

I have these game for the PC, Xbox 360, Xbox one, WIndows Phone....and i still have to pay another $9.99 for Windows 10 ? Really ? Screw that, i like the game but, I refuse to pay ANOTHER $10 for this one... I'll stick with my personal Minecraft server, Go to Classic Cube, download the ap and do a Search for DavidinCT....You'll find my free build and Lava survival server.

When you've got the Pc version, you'll get the Windows 10 Edition Beta for free!
Just head over to the mojang website!

Dude.. it's free for people who already bought it for PC. Just go to the Mojang website.

It literally says in the launcher for PC that you get it for free. Settle down and read.

if you have it for PC already, then you get it for free :)

@DavidinCT I'm pretty sure they said if you have the PC version this one is free for you. Look it up.

The Win 10 edition is free for those with the PC edition.

Can I get it on PC if I have MC PE?

I wish.. it's only for people who bought the PC version.

Maybe in the future though as it will be a universal app

Won't buy this. I hoped to get it free or at least HEAVILY discounted since I own the 360 and One edition. Never bought the Java version on PC, cause I dont game on my PC, and Java is crap in 90% of the cases IMHO. My PC is a development rig, but this could've been fun on my tablet. Btw, since Xbox One will get Windows 10, wouldn't that mean that I can get this on Xbox One as well? That means TWO editions of Minecraft on Xbox One. No way I'm paying for this. Bad move by Microsoft to make owners of 360 and/or One editions to shell out full price for yet another edition.

Java is were it is at so many options there.

Lmao he bought the console version

You said you don't game on your PC, yet you're pissed that you have to pay for a PC game...

" I hoped to get it free or at least HEAVILY discounted". It is heavily discounted. It's only $10 during it's beta phase. After that, it'll shoot up.

You're being too literal with what universal apps are. Just because its possible doesn't make it reality. Unless Microsoft decides this version goes on Xbox One it doesn't go on Xbox One. All the apps won't just magically appear on all the things. Imagine what a crapshoot mess that would be!

I'll download it on my stream 7. Playing on my Xbox one now. Gt:swizzlerz

Weird your profile seems to crash my Xbox app lol

When will it be available for 8-bit processors?

I thought Manufacturer's use 64 Bit instead of 32 bit for computers. Suprised people still use 32 Bit computers

32 is slowly being phased out but for now a lot of mobile devices use 32.

Yup including all of Windows Phone while iPhones use 64 bit processors since 2013 and the new Android phones are using 64 bit processors. Posted via the Windows Central App for Android

Yep, running SQL /s Better use them when they make sense not because of marketing. Looks like you've been fooled by marketing. Hence your android. Haha. PS Nobody cares whether you used an app. From which platform. Or browser. The site allready knows. It actually makes someone look stupid. And it's quit easy to remove the unneeded text you know.

Too bad my Store isn't downloading anything. I can't seem to find a fix for it

Really, who has a 32bit cpu nowadays, don't you mean 32bit Windows??

Well if you have an x86 cpu OR Windows 10 32-bit this update would still apply to you. You can't run a 64-bit binary on a 32-bit version of Windows as you probably already know, so this update will allow Both groups of people to play. Technically they have built the code with x86.

But you can on lower end 64-bit machines. Like Venue pro 8 example. Which have a lower memory print and can do better with less RAM.

If I have bought minecraft Can I get it from Store free? Don't want to buy it again :/

Only if you purchased the Java pc version.

Yay! They fixed the error where you can't build a world! In exchange they made the entire game crash on startup! What a day to be alive

If that's a reason to be alive...I'd say get a live?
Windows Central Newsletter
Thank you for signing up to Windows Central. You will receive a verification email shortly.
There was a problem. Please refresh the page and try again.