Minecraft Windows 10 Edition Beta offers a new Halloween costume skin pack for $1.99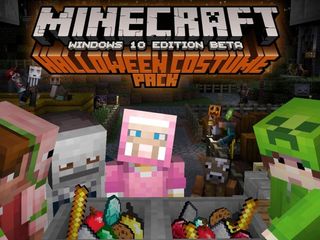 Along with a new update to the game itself, Mojang has released a new in-app skin pack for the Minecraft Windows 10 Edition Beta, along with the Minecraft: Pocket Edition. Appropriately, the skin pack has a Halloween costume theme to it, but with a Minecraft twist.
Here's how Mojang describes it:
The Halloween pack costs $1.99 and include 15 skins:
Cow costume
Creeper costume
Enderman costume
Ghast costume
Iron Golem costume
Mooshroom Costume
Ocelot costume
Pig costume,
Pink sheep costume
Rainbow sheep costume
Skeleton costume
Snow golem costume
Spider costume
Zombie costume
For Minecraft players who don't want to spend any money, they can still get the Iron Golem and Zombie costumes for free.
Download Minecraft Windows 10 Edition Beta (opens in new tab) ($9.99)
Source: Xbox Wire (opens in new tab)
Windows Central Newsletter
Get the best of Windows Central in your inbox, every day!
Where's the Ender Dragon/Guardian costume?

they except as to change from Java version like this

Why iPad has the storymode but Windows 10 NOT?

you can buy it from Steam

I wanna wit Xbox live integration.

because iPad has it with xbox live integration

Many people hate Steam. We want it in the Windows 10 Store as an Xbox game.

if you play games on pc and you hate Steam good luck on finding games to play

I'm holding back any minecraft buy until they make really UWP for all devices and the buys work across devices (windows devices).

Says my internet connection is down when I try to buy the pack. With the last Store update, "buying" stuff doesnt' work anymore. Microsoft needs to fix this stuff. I know people who have bought W10 Minecraft and they get the demo mode each time.

The windows 10 edition.... Where you get half the stuff that's already available normally, but you have to pay more for it. I know this is a universal app that works with Windows 10 and mobile. But what the hell. Can add any skin you want in normal Minecraft. For free. And mods. And multiplayer. Sigh. Posted via the Windows Central App for Android

It's a start. I am pretty sure it will get a lot more features over time. Personally I can't wait to get rid of that Java based peace of crap. Sadly Minecraft without Industrialcraft or project red is a bit boring.