Minecraft's console versions to get new game options, blocks and more on July 1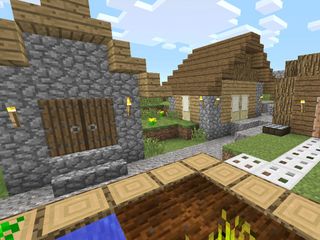 Wednesday, July 1 starts a new month and Microsoft wants to start it off right for fans of the console versions of Minecraft. Those versions will get a new update that will add a number of new features and content to the popular sandbox game.
Here's what players can expect:
Offended by mountains and caverns? Worry not, strange crafter, because now you have the option to customize your super-flat worlds so they're only as vertical as you desire.
New blocks! Oak, Spruce, Birch and Jungle wood types. Fences, Gates and Doors! Create the log cabin of your dreams.
A heap of new game options! Change the game mode, difficulty, time, player spawn position, ambient cave sounds, and weather without leaving your game session. Very handy.
Classic crafting! Now console players get to craft items just like their PC buddies on Java Minecraft. Some players find this style of creation more satisfying. Check it out.
New stuff! Iron Trapdoors, Inverted Daylight Sensors, Book & Quills, and Stained Glass have arrived. Use them wisely, and for good, please.
Also, the annual Minecon event is begin held this weekend in London and to celebrate, Microsoft is releasing a new and free skin pack for Minecraft console users. The company says, "This pack is extra-special because it features Alex and Steve wearing a selection of smart Minecon capes." The Minecon 2015 Skin Pack will be available until July 15.
Source: Xbox Wire (opens in new tab)
My brother is dancing!!
When should he get this??

Is gonna be out on X1 first or is it gonna come out for both consoles on the same day???

Maybe this will quiet some of the "Microsoft is going to kill Minecraft" sentiment that once lingered.

Yeah did you see the hololens demonstration at E3?

That Minecraft HoloLens demo at E3 stole the show. It was one of the most impressive things I've ever seen and it proved that Microsoft buying Mojang was the best thing that could've ever happened to Minecraft. They're taking it places Mojang never could've taken it alone.

Both consoles? My kids are gonna go crazy if not...

Your kids should learn that there is only one true console. Xbox One

What are you gonna do when your kids cant play hololens Minecraft on ps4? Ps4 has to be the best selling weakest game lineup console in history. Promised all these amazing games. To get nothing at e3 and no gamescom showing.

Minecraft is the greatest game ever made.

It's a great game but hey its all subjective... Posted via the Windows Central App on my Lumia 640 XL

Name a better game, then.

TES:Skyrim
TF2/L4D2/P2/HL2:U
Dust:AET
Halo:3-ODST
Crysis2
Are all better. :) Of course, its all subjective, isn't it?

Waaaaaaaaaheeeeeeee. I don't care. My little sisters might, though.

I always play this game with my 6 year old sister, I think she'll scream when I tell her. Sounds great!

I really need to start playing again, but destiny and batman say NO.

For me its Batman and SMITE

Great coz Minecraft is one of the games I own in my XB1 collection

Classic crafting sounds terrible lol. Very happy its optional

Idk, I haven't gotten the update yet.

When will Minecraft PE have online multiplayer! It's been years and it still doesn't have it! Local mulitplayer is nice but I want worldwide!

Guessing PC already has all this?

Will split screen be able for SD TVs on 360
Windows Central Newsletter
Thank you for signing up to Windows Central. You will receive a verification email shortly.
There was a problem. Please refresh the page and try again.