Minecraft's console versions to get new game options, blocks and more on July 1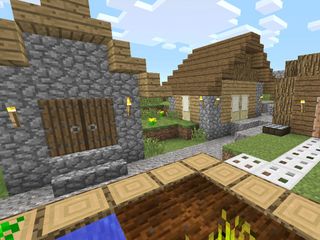 Wednesday, July 1 starts a new month and Microsoft wants to start it off right for fans of the console versions of Minecraft. Those versions will get a new update that will add a number of new features and content to the popular sandbox game.
Here's what players can expect:
Offended by mountains and caverns? Worry not, strange crafter, because now you have the option to customize your super-flat worlds so they're only as vertical as you desire.
New blocks! Oak, Spruce, Birch and Jungle wood types. Fences, Gates and Doors! Create the log cabin of your dreams.
A heap of new game options! Change the game mode, difficulty, time, player spawn position, ambient cave sounds, and weather without leaving your game session. Very handy.
Classic crafting! Now console players get to craft items just like their PC buddies on Java Minecraft. Some players find this style of creation more satisfying. Check it out.
New stuff! Iron Trapdoors, Inverted Daylight Sensors, Book & Quills, and Stained Glass have arrived. Use them wisely, and for good, please.
Also, the annual Minecon event is begin held this weekend in London and to celebrate, Microsoft is releasing a new and free skin pack for Minecraft console users. The company says, "This pack is extra-special because it features Alex and Steve wearing a selection of smart Minecon capes." The Minecon 2015 Skin Pack will be available until July 15.
Source: Xbox Wire
Get the Windows Central Newsletter
All the latest news, reviews, and guides for Windows and Xbox diehards.