A mini view is in the works for Groove Music on Windows 10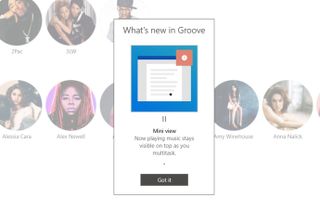 Microsoft is apparently gearing up to launch a new "mini view" for Groove Music as part of an upcoming update. Spotted by MSPU, the mini view utilizes the relatively new Compact Overlay feature in Windows 10 to transform Groove into a smaller window.
When enabled, the mini view will shrink Groove down to a window that floats on top of other windows at all times. The window itself features player controls, along with a bit of information about what track is currently playing. You can also continue watching music videos in the smaller window while getting on with other work elsewhere.
The new feature apparently made its way to some Windows Insiders, but it doesn't appear to be widely available for testing just yet. That's mostly due to the fact that Microsoft temporarily paused updates for the stock Windows 10 apps as of the release of the latest Fast ring update.
Download Groove Music from the Windows Store (opens in new tab)
Dan Thorp-Lancaster is the Editor in Chief for Windows Central. He began working with Windows Central as a news writer in 2014 and is obsessed with tech of all sorts. You can follow Dan on Twitter @DthorpL and Instagram @heyitsdtl. Got a hot tip? Send it to daniel.thorp-lancaster@futurenet.com.
Nice! Though, not as useful as an active live tile.
When not in focus, my Groove (or other music application) will simply be minimised. ...unless, of course, they are going to bring music visualisations back to life again. Still nothing can beat the age-old WinAMP visualisations of ~15-20 years ago.

It'll be very useful if I can shrink it to a simple row of buttons (play, pause, skip, volume) that I can pin on top of a game I'm playing.

They are totally getting the Zune back through Groove app. I loved the mini zune on the desktop. it was always on TOP of every other programs.

Same here I love Zune and mini Zune!

I think they must consider creating toolbar for Groove too.

I've been asking for minimized apps for larger Windows Phones for years. Apps that can detach, and snap, like desktop does.... Hopefully Cshell provides Windows On Phone with this.
...........
One of the best case usage scenarios for this would be the calculator. With pin input on a purported "Surface Phone" a tiny floating calculator would be extremely helpful, especially when working in OneNote........ Actually, OneNote needs It's own built in calculator. That's a no brainer.

I think OneNote really do need an always-on-top mini mode, which I agree completely. The calculator would be perfect too! There are other practical implementations of this new feature other than media apps.

Music control on the live tile itself is awesome if they implement that.

Well if only they will implement Interactive Live Tile, which we never got any news about it since they showed it on Microsoft Research and from Build conference (not this year).

In the works? I got it last night

I got it on the Release Preview ring: Version 10.17054.1451.0.
Updated yesterday

Mini view for mobile? It kind of already has one on the volume controls. Regardless, how would mini view work on mobile?

Perhaps it will look different with c Shell for any devices that may come next year for Windows 10 😅

Actually this would be cool if it was part of the live tile

Well, I've long thought they needed the abilty to snap at least two apps at once in Windows 10 Mobile. This would be one good usage case.

Oh sure, we could use some neat improvements in the OS for things like this. But to OPs question of love for mobile.... this update would do nothing.

That too! W10M needs the ability to snap 2 apps vertically and horizontally for phablets. I can see why we don't need it for 5 inch phones since it would be way too cramped, but for phones like 950XL and Elite X3? This is great to have for people who want to multi-task and have flexibility for productivity. Even on Windows 10 PC, we need a snap on vertical orientation too! At the moment we can only do that when on the landscape, which is not always a thing for tablets.

It could work great with mobile.

For music apps, not needed but for videos, yes it would be great! If anybody used myTube will know what is possible for W10M, especially for phablets. Especially Skype, seriously are we just gonna be stuck on video call screen and can't multi-task while still see the person you talking with? There is a productivity aspect in there too!

I think Microsoft is keeping all the new Mobile features on lock. Surface Phone in the works

I think they are waiting on Windows to get ready for the next device.

Perhaps in the notification center?

Why put it in notification centre when it's already on the lock screen? Seems like doing it for the sake of it. If Live Tiles became interactive I could see a case for that perhaps but I think people are just desperate for ANY new feature right now even if it doesn't completely make sense - Putting it in the Action Centre I mean, I don't get why we'd need it on the lock screen, in the app itself, in the volume control AND in action centre other than for the sake of it?

Sweet. About that family plan though...?

I know it's not the same but you can share your Groove music pass with up to 10 devices.

That's why they don't have a family plan.. Lol

But you can only have 1 active at the same time.

That's not what I've experienced. Maybe you can have only one *streaming* at a time, but you can run the app and listen to your music on OneDrive or downloaded/offline music without any problems.

Just give me play to functionality back.

ha wow my screen shots got around fast nice

it alone got 50 or so up votes on Appraisn so I'm glad the word out now

I'm pressing 👍 and 💜 button now! ☺

I have a feeling that stock updates were paused so they could focus on fluent redesigns of the apps.

Updates to the "stock" (pre-installed) apps that you get with a clean installation on Windows 10. There was an article earlier regarding a Microsoft announcement that they were pausing updates to these apps so that Insiders were testing the experience a new installer would have.

I don't see the purpose of a mini player for Groove ...

Option man.. Options.. It's just a feature taken from Media Player, and that was very useful.

Yeah it's useful for Videos too for those who want those to play whilst they work. Mobile with C-Shell should hopefully get snapping of apps, and compact overlay mode - Not sure how useful it'd be on Groove (but if it gets the option for free who cares). Calculator or Netflix etc. would be great to snap or put in an overlay mode. Also wish we should snap a very small notification sized banner at the top when navigating using maps saying how far to the next direction and an Icon to indicate what it will be - So the app can be closed and still see where you need to go

Yes, nobody is going to miss W10M... Lol

Not sure about everybody else but I just want to be able to use a phone that runs windows - I don't care if W10M goes away and I need a new phone in 2018, if there is a decent phone that I like 2018 will be acceptable time for me to buy, my 950 will be approaching 3 years old (I think) and it will be fine to replace. It's true I won't miss W10M specifically but would miss a phone running some sort of windows with a W10M-esque design (which is just Windows 10 design now)

There's really no valid reason for you to get downvoted if your question/intrigue was a sincere one. If people thought that there was a good purpose of the mini player to answer your question, they should've answered it. I am somewhat skeptical of the mini player too but that's because I'm not sure on how it's being implemented and the details revealed so far are somewhat scarce.

People are free to DV if they disagree, they don't have to use their time providing an explantion for why, all they may have time for is expressing they disagree by DV'ing. That freed-up time allows them to commit to another post they're more interested in addressing or making, or doing something entirely seperate to participating @WC. I'm glad we have the UV/DV option, I often use it, rather than burn my time responding to every post.

Yes, people a free to DV/UV but I don't really see Cryio's original comment leaning to one side or another, seems more indifferent imo. That's why I think if there are people who disagree, it's probably better if they sound out why. On the topic itself, doesnt' having a Groove mini player really seems kinda pointless though (at least on the PC side)? We already have decent Groove playback controls through the app in the taskbar and when adjusting volume through keyboard keys.

"That's why I think if there are people who disagree, I thought it's probably better if they sound out why." People often do, but they don't always have time to do so with every comment they disagree with (or whatever their perception/motivation is). "On the topic itself..." I don't have an opinion one way or another on this, I prefer to "watch this space", then see if I have an "aha" moment. ;)

screenshot on appraisn/ mspu

tbh you can just manually shink it down to its smallest size and it works okay. Plus you already have playback controls if you hover over the app icon on the taskbar. But who knows maybe Minimode will make it better

Compact Overlay also stays on top at all times, and as a developer you can also tailor the experience specific to Compact Overlay. If the user resizes then you don't know if they just made it smaller or want it specifically to be overlayed -

Yeah just like WMP and Zunes mini overlay did too

Does anyone know how i can get a groove music pass when I only have a Dutch bank account (PayPal) but a German MS account? For me the purchase always fails. :(

I believe I have seen them in card form at various stores. maybe you could find one in your country where they sell xbox/ms store cards.

or possibly even buy ms store credit and use it on a groove pass?? good luck!!

I wouldn't know of any MS Store in the Netherlands or Germany; especially in Amsterdam or Berlin. Nor have I ever seen a charging card in any supermarket or similar.

Not specifically an MS store. Here in the states we have them at various dept stores like target or walmart. Also in grocery stores

Had send my comment too early and edited while you answered. ;)

It's crazy that in such an affluent country like Germany that MS hasn't opened a store. Sydney has one 🤓 Germany is an awesome place, so lively.

UK doesn't even have one but crapple stores are everywhere

Buy a Groove Music Pass card from Amazon.

On either Amazon i can only find their own music offering, Prime Music

They did a thing at some point where they don't sell things if they don't work with Amazon's own products/services. It was the reason they banned the selling of Apple TV at one point - Because their customers "expected to be able to use it with other Amazon services" if it was bought from Amazon...apparently lol

you can buy a giftcard in the store and use that to put credit on your microsoft account. Otherwise, create a (free) paypal account.

I already have a paypal account, though it is Dutch as i only have a dutch bank account/credit card - my German account is not filled regularly with sufficient backing. Lastly I wouldn't even know how to use such a gift card.
This is all way to complicated. Services like Deezer or Spotify have no problem, but MS makes it unnecessarily complicated. -_-

In a few more years it will almost have most of the features of the Zune software...

I want all the features of the Zune software on Groove. Zune mini player is great.

"Seriously". May I ask, what you are trying to say?

That its about damn time.

Mini view has me using Movies & TV more often -- I'll never get any work done if Netflix adds it.

With a UWP app, background audio (that continues in connected standby), an xbox app, and this mini view coming I really want to use Groove but now I have an Android phone and the Groove app on android is properly broken. My phone is where I play the most music so I've had to give up my Groove subscription for Google Play Music - which has the added bonus of a family plan. Every time I use my Surface or Xbox I still feel sad though :( (The broken Android app means Groove stops playing music every couple of songs and sometimes the only way to get it playing again is to restart the phone, AND the app only stores downloaded music on the internal drive, not my microSD card which sucks when I've only got 16GB internal storage)

What are you talking about....ALL Microsoft apps are better on Android and iOS aren't they? ;-) P.S Not saying you've stated that in the past, just that it gets thrown around a lot and clearly isn't true

They should just copy mini view from the Zune client, and then make bar version kind of like what you see at the bottom of the full screen groove app.

A great idea for a first step.

Probably can't just copy those old Silverlight elements from the Zune client into a UWP application...

I'd feed that back, once in compact overlay mode they could tailor it so that when you condense it down even smaller it just shows the bar

1px window border? Please remove it! I hate it...😕

While this is great, Nutella convinced most of us to dump our Windows Phones for Android. How about you fix the needs known as Groove on Android finally?

Groove is great. Went from Spotify and never regretted it. Although Spotify's new desk top app is awesome.

They need to fix the 'removed at the request of the copyright holder' problem before anything else. I cant play half of my music

May I ask, did you pay for them?

Nice I have to try groove music out more often but every time it seems like its slower than musicbee that I'm using

Well, that was quick! I just read this, logged into Groove, and I have it! Nice!

Like to see added the ability to bring up your current cued up playlist within the mini view window so you can select a specific song. I sent MS feedback...

How about a family plan? Hi-res? I miss Zune.

Thats a great feature to have.

The Days of Windows Media Player if anyone remembers: Mini View, Visualization, Skins. It was a complete package.

I wonder when they are going to make a Groove for Android because the one that out is garbage.

I already have it it's awesome! Love it

It does not matter how many cool and useful features Groove gets, the main purpose is listening to music, and so many of us have families. Without a family plan, groove will loose alot of customers. Other services have six person family plans, MS need to do the same for all their services actually.

Waste of time, nobody uses Groove. And Windows Mobile is dead. It's over. Android rocks, btw

First update the groove music on mobile, scrolling is laggy and playback takes few seconds to load. CU version was much better

Similar feature is already available for Movies & TV app for PC

Black rectangle with small white line at the bottom looks awful.

Now all it needs is a proper equalizer and I might be tempted to leave Winamp
Windows Central Newsletter
Get the best of Windows Central in in your inbox, every day!
Thank you for signing up to Windows Central. You will receive a verification email shortly.
There was a problem. Please refresh the page and try again.