Windows 10 build 16232 for PC and 15228 for Mobile now rolling out for Fast Ring Insiders
A new week, a new Insider Preview build for PC and Mobile. Build 16262 rolling out for PCs, and 15228 for Mobile. Let's see what's new!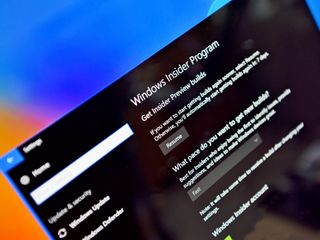 (Image credit: Windows Central)
Another week, another Insider Preview build for us to get our hands into. Today's build is 15228 for Mobile and 16232 for PC, and as usual is packing new features and changes for PC and nothing worthy of note for Mobile. These builds are available in the Fast ring.
The last two insider Preview builds for PC have been jam packed with new features, so today's build won't be as huge as the builds we've had previously, but there are still several noteworthy changes.
It's worth noting that with this new build for PC, Microsoft will no longer be flighting new inbox app updates. Microsoft explains:
What's new for PC?
Windows Defender Application Guard (WDAG)
Giving you access to all the rich features in Microsoft Edge while using Application Guard: Building on our work in Build 16188, we have added support for Microsoft Edge data persistence while using Application Guard. Once enabled, data such as your favorites, cookies, and saved passwords will be persisted across Application Guard sessions. The persisted data will be not be shared or surfaced on the host, but it will be available for future Microsoft Edge in Application Guard sessions.
How to take advantage of Data Persistence when using Microsoft Edge with Application Guard: You enable Data Persistence for Microsoft Edge in Application Guard using Group Policy. Note that Data Persistence for Application Guard with Microsoft Edge sessions is not enabled by default. To enable data persistence, close all Microsoft Edge windows and update the Windows Components > Windows Defender Application Guard policy to turn on data persistence
How to find your Favorites after you close Edge with Application Guard: Since you have enabled Data Persistence using Group Policy for Application Guard, the site you saved to your Favorites will be available for later use, with Microsoft Edge in Application Guard, even after reboots as well as build to build upgrades of Windows.
Introducing Exploit Protection
We're excited to announce that starting with this build you can now audit, configure, and manage Windows system and application exploit mitigation settings right from the Windows Defender Security Center! You don't need to be using Windows Defender Antivirus to take advantage of these settings.
Introducing Controlled folder access in Windows Defender Antivirus
In this build, we're making it easier for you to protect valuable data from malicious apps and threats, such as ransomware. To enable the feature, search for and open the Windows Defender Security Center from Start, go to the Virus & threat protection settings section, and set the switch to On
Controlled folder access monitors the changes that apps make to files in certain protected folders. If an app attempts to make a change to these files, and the app is blacklisted by the feature, you'll get a notification about the attempt. You can complement the protected folders with additional locations, and add the apps that you want to allow access to those folders.
What's new for Mobile?
We have fixed notifications (SMS, Calendar) with all Fitbit trackers.
We have fixed crashes reported while using Photos app.
We have fixed a deployment issue in where if an admin uses ActiveSyncCSP to provisioning email account on device running the Windows 10 Creators - Update without providing a valid password, and the email server enforces a limited number of denied access retries, then the server will lock out the email account.
We have improved battery performance by fixing a bug in a scenario where 30% more power was used during Camera app preview and capture mode.
Some Insiders provided feedback that playing video on phone resulted in a black flash and/or stuttering when in landscape mode. We have fixed this issue.
We have improved Bluetooth connectivity with Garmin Wearable devices.
General improvement in reliability of phones by fixing top crash issues.
As always, you can check out the official Windows Blog for the full changelog, including a list of known issues!
Get the Windows Central Newsletter
All the latest news, reviews, and guides for Windows and Xbox diehards.