Windows 10 build 16232 for PC and 15228 for Mobile now rolling out for Fast Ring Insiders
A new week, a new Insider Preview build for PC and Mobile. Build 16262 rolling out for PCs, and 15228 for Mobile. Let's see what's new!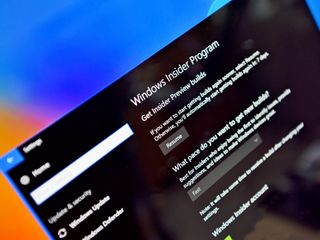 (Image credit: Windows Central)
Another week, another Insider Preview build for us to get our hands into. Today's build is 15228 for Mobile and 16232 for PC, and as usual is packing new features and changes for PC and nothing worthy of note for Mobile. These builds are available in the Fast ring.
The last two insider Preview builds for PC have been jam packed with new features, so today's build won't be as huge as the builds we've had previously, but there are still several noteworthy changes.
It's worth noting that with this new build for PC, Microsoft will no longer be flighting new inbox app updates. Microsoft explains:
What's new for PC?
Windows Defender Application Guard (WDAG)
Giving you access to all the rich features in Microsoft Edge while using Application Guard: Building on our work in Build 16188, we have added support for Microsoft Edge data persistence while using Application Guard. Once enabled, data such as your favorites, cookies, and saved passwords will be persisted across Application Guard sessions. The persisted data will be not be shared or surfaced on the host, but it will be available for future Microsoft Edge in Application Guard sessions.
How to take advantage of Data Persistence when using Microsoft Edge with Application Guard: You enable Data Persistence for Microsoft Edge in Application Guard using Group Policy. Note that Data Persistence for Application Guard with Microsoft Edge sessions is not enabled by default. To enable data persistence, close all Microsoft Edge windows and update the Windows Components > Windows Defender Application Guard policy to turn on data persistence
How to find your Favorites after you close Edge with Application Guard: Since you have enabled Data Persistence using Group Policy for Application Guard, the site you saved to your Favorites will be available for later use, with Microsoft Edge in Application Guard, even after reboots as well as build to build upgrades of Windows.
Introducing Exploit Protection
We're excited to announce that starting with this build you can now audit, configure, and manage Windows system and application exploit mitigation settings right from the Windows Defender Security Center! You don't need to be using Windows Defender Antivirus to take advantage of these settings.
Introducing Controlled folder access in Windows Defender Antivirus
In this build, we're making it easier for you to protect valuable data from malicious apps and threats, such as ransomware. To enable the feature, search for and open the Windows Defender Security Center from Start, go to the Virus & threat protection settings section, and set the switch to On
Controlled folder access monitors the changes that apps make to files in certain protected folders. If an app attempts to make a change to these files, and the app is blacklisted by the feature, you'll get a notification about the attempt. You can complement the protected folders with additional locations, and add the apps that you want to allow access to those folders.
What's new for Mobile?
We have fixed notifications (SMS, Calendar) with all Fitbit trackers.
We have fixed crashes reported while using Photos app.
We have fixed a deployment issue in where if an admin uses ActiveSyncCSP to provisioning email account on device running the Windows 10 Creators - Update without providing a valid password, and the email server enforces a limited number of denied access retries, then the server will lock out the email account.
We have improved battery performance by fixing a bug in a scenario where 30% more power was used during Camera app preview and capture mode.
Some Insiders provided feedback that playing video on phone resulted in a black flash and/or stuttering when in landscape mode. We have fixed this issue.
We have improved Bluetooth connectivity with Garmin Wearable devices.
General improvement in reliability of phones by fixing top crash issues.
As always, you can check out the official Windows Blog for the full changelog, including a list of known issues!
Windows Central Newsletter
Get the best of Windows Central in in your inbox, every day!
Zac Bowden is a Senior Editor at Windows Central. Bringing you exclusive coverage into the world of Windows on PCs, tablets, phones, and more. Also an avid collector of rare Microsoft prototype devices! Keep in touch on Twitter: @zacbowden.
Pretty nice updates for both!

does anyone have the insider update installed on the Alcatel ido 4s? How does it run?

I haven't tried it on that phone but from what I can tell Feature2 is literally Creators Update plus bug fixes - Apart from them messing up deployments again I'd say you are taking VERY little risk on FR for Mobile

It runs pretty good. But counter question. Are you able to play Subway Surfers on ur Alcatel 4S? It doesn't play on mine and it's incredibly frustrating.

I'm running the release preview on my 4s which was just updated yesterday (.447). I'm having some pretty big issues with the camera app now. I was considering jumping up to slow but I'm also curious to see how this works out.

I'm still planning on getting an Alcatel Idol 4s. Is it really fast and smooth? Does it load or resume a lot like the 6xx series? Are there any major issues?

I am pretty happy with the performance. The only issues I run into are more the cause ofnthe underlying OS. I wish the camera was a little better and didn't lad while taking pictures and opening the app.

That's good to hear. I'm tired of entry level phones. My last flagship was a 930 years ago. Not to mention the Alcatel Idol 4S is the best looking phone on the market today.

Yeah but with very little support. This 4S is not as fast as it should be, my 950 make this phone look super slow due to the lack of firmware updates that never happens like they should. I've been asking them since last year to release one but nothing.

That is my concern. I've read this somewhere else. Maybe I'm better off with a 950?? What do you think?

I say for support you are better off with the 950. But if you don't really care then go with the Idol 4S because the battery is better and the screen is a good size.

fm radio is disabled on the idol 4s aswell

Is it actually disabled, or is there just no app? On the 950s the inbox FM app isn't there, but the radio is accessible by store apps. I do hear even some of those actually have the radio disabled though. That's a shame.

MS did away with the built in FM radio.

No, they did away with the app not the radio. The radio is still there, it's part of the hardware (kind of hard to do away with), just download a different app.

With just one click from the store, "Radio FM app" works great on my 950. I find it's better than the original radio app was.

It doesn't load as much as them, but it is slower than the Lumia 950 + XL.
The chipset is not I promised for W10M yet. HP released many firmware updates for their phone, yet it still is slower than the XL.
There are other issues you can read into in the forums. One big issue is you can't flash the unlocked model.

why do you need to flash the IDOL 4S with anything other than Windows 10 Mobile? That phone is supported in the WDRT.

He's not talking about flashing a different OS. He's talking about the fact that WDRT does not work with the factory unlocked model, as we've all learned the hard way after the bad update. Only the T-Mobile version is supported. If you try to use the WDRT on the factory unlocked model, it will fail to flash. And if you install the T-Mo software on your factory unlocked phone just to get it working again, it will cripple the phone so that you can no longer use many features like MMS or visual voicemail.

Zac, don't forgot to mention the ring:) fast I guess

" General improvement in reliability of phones by fixing top crash issues. " that's pretty big for mobile, there are still a lot of Major Crash issues with 10 mobile, and the screen flicker while watching vids... If they are truly bug crushing mobile, I like this different wing.

I don't like the wording general though...from what they say they know specifically what the top crash issues are. Why not list them

Agree. Hope they continue with this bug crushing mode. I've got a few bugs that I wish they would finally fix like the store not auto-updating my apps. Some things with the UI could be fixed as well - mail notifications and the notification + action settings don't make a bit of sense (mail app says show a banner, notifications + actions I have that disabled). And the custom text tones haven't worked since Windows Phone 8. Either remove that setting or fix it so that setting does something.

This Mobile/Garmin fix........................ 👌🏾

The best part it Fitbit/Garmin Fix.

Are Garmin and Fitbit getting all notifications or still just calls, texts and emails?

All notifications are working, you have to pick which apps you want notifications from

The messaging app is horrible, it lags everytime you send a message it's not a smooth experience at all.

It seemed like they had it behaving a little better for a while, but fully agreed. It's gotten back to the point where it can take 10+ seconds for the messaging app to respond after trying to send a text. Not on every text, but on enough of them to be annoying. I'm hoping that after bug fixing happens a major optimization push happens. I miss the quickness and reliability of older versions of the mobile OS.

You know what, my 950XL was having issues recently. It crashed a few times a day, or rebooted during a phone call. It took a long time to open Outlook.
So I got a Samsumg Galaxy S8+ through my work (because I needed it for remote bank deposits anyway). Its annoying as hell. Everything seems to lag.. several seconds. Messaging takes a few seconds to send every single message. Half the time I hit the home button, it is either unresponsive or takes a while to react.
The worst thing i've found in Android so far, though, is the voicemail notification. If you open the phone app, you can't see if you have voicemail. You have to click the dialpad in the bottom right, then click another button to get to voicemail. Totally hidden. Bullshit. It sucks. I haven't found it to be all that responsive, intuitive, or fun. Honestly, working with Android is a chore.

I agree! I wish I had the apps which used to be supported on Win10M but had to switch to a different phone OS so went with the S8+. Some nice things but not as consistent and still issues. It has been a long time since I had as many little issues with a phone running Windows Mobile.

Well that's how android is

Well that's how android is

Yeah I know what you mean. I've been using a OnePlus 3T for a while now and the voicemail notification is a pain plus even once you have accessed and listened to the voicemail, the phone keeps bugging you to say that you have a new voicemail. The Contacts app is also unusable - I try to save a new contact - it seems to be in the list of contacts at first but then it disappears a day or two later. Notifications are generally an incoherent mess as well.

Honestly, that's why I bought an iPhone. Sure, it's on the dull side, but know what, everything does 'just work'. It's pretty reliable and I haven't had any major crashes or spontaneous restarts. Apps aside, the core smartphone functionality is rock solid reliable.

U can set skype as default messaging app

Skype just has two major problems compared to the Messaging App:
1. It's one of those APPs you'll want to have in plain view but unlike Messaging it still doesn't have a transparent Live Tile ( despite this probably being the most requested feature ) which ruins the entire startscreen if you use it. 2. When receiving Two Factor login credentials via SMS it'll cut them off just before code thus REQUIRING you to open the APP to access it instead of just passing a quick glance at the notification when it arrives.

I haven't had issues with the mfa code cut off in the notifications using Skype but the message notification is kinda short. What services mfa has the code where you can't see it? Also why not use the ms authenticator it works for most mfa.

15226 was horrible, on both my eX3 and 950XL, so far, 15228 is smooth after install. Wasn't quite the case with 15226, it was freezing, stuttering and crashing after install .

I'm on 15063 Release Preview. Is the fast ring a lot safer now?

Honestly, it doesn't really matter. You're fine sticking where you are. There's nothing added, and we're pretty much seeing the end of development for mobile.

Oh ok cool thanks! I see what you mean.

Nothing has been added, very true, but in hindsight some of us do prefer bug fixes. I am still using it and will use it, until it disappears into the ether. Yes, I do agree though, seems all love is lost for mobile.

The 950 is such a piece of garbage, and W10M is so horrible by design compared to WP8 that there's really nothing they can do to "fix" it. Even after this update, it's still slow, glitchy, features only work when they want to, and my wife and I both have to reboot frequently. Yeah, lovely user experience. Which is why my 1020 remains my daily driver until the battery won't charge anymore.

I'm still quite happy with my 950. In fact I sold an Idol 4S, tried out Android and went back to another 950.

some of us it matters quite alot that they are still putting bug fixes in. Some of us are committed to Windows Phone from multiple reasons and changing to Android or iOS is just not feasible. Personally, I love Windows Phone on will be sticking with this handset until it falls apart. Send a more bug fixes the better. I would glad we have a stable phone ovet featured phone.

I could not have said it better!

I loved Windows PHONE. I hate Windows 10 MOBILE. It can't hold a candle to WP8.1. And, NO, W10M is STILL not stable, even after this update. I've resigned myself to the fact that the last great Windows phone I'll have is the 1020. And it saddens me.

Aside from the first weeks after release with that beta OS, my 950 has been rock solid. Have only installed production updates. But that about the 1020 and WP 8.1... great combination!

I went from Release Preview to Slow ring. I think I have to go back to Release Preview to get Creators Update. That is where I will stay. No issues on my Lumi 1520 other than not being able to take a screen shot.

I just went fast and it's more stable than the release preview i was in

...and on the next update for Mobile: We'll add a splash screen suggesting you use our services on iPhone or Android! Yay!

It depends, I usually hard reset and clean install. With 15226, even after hard reset had so many problems. You can install 15228 and roll back if you don't like it. You cannot base it on other peoples usage, because everyone is different. Best way to know, is to try it for yourself.

I see, I may just do that because I like the latest and greatest. Thanks!

How do you rollback on mobile?

Windows Device Recovery Tool.

Well then, I stand corrected.

Yes, that is how to "roll back" to the current version of the OS that is supported for your phone

Fingers crossed for the Fitbit fixes (still heartbroken though over Band loss...) May put daughter's 950 on Fast Ring if Garmin notifications are working now too. Somebody please let us know!

I just updated my 950xl and my Garmin vivoactive HR now gets the notifications. Cool. We'll see how stable this is over the next few days.

Looks like they're finally approaching a 2013 level of functionality, nice!

Any news after six days? Is it recommendable in general?

Both my FitBit and daughter's Garmin are receiving notifications pretty reliably after going on Fast Ring on our 950's.

Me too, I swapped for a charge 2 when the band broke and I've worn it twice, the band was brilliant and looked good:)

Why didnt you just get anohter band?

Microsoft does not make or sell them anymore. And if I get another one how long would it last?

What Band loss? Mine still works perfectly on W10M

The last PC insider build was an unmitigated disaster on my Surface Pro 3. Green screens, app crashes, keyboard freezing, restarting during sleep. Even a complete wipe and reinstall didn't improve things, so I reverted to release a few hours ago. But damn I'm missing onedrive files-on-demand ... so tempted to hope back on ... yet the blog post makes no mention at all about fixing these major instability issues? Was I the only one having such a poor experience?

Nope, same machine same unmitigated disaster. Of course rollback didn't work, so I spent an hour making a recovery drive then actually formatting and starting over with Creators update. It was a terrible build.

Head of the article says "build 16262..." Instead of 16232

Who all are still using windows phone 8.1 on their 930s or any Lumia for this regard?

One day I hope to install an update and find that Skype has been completely removed or at least the Skype message relay feature gone. Our factory depends on messaging. I,m the one with the Windows phone. If anyone remembers awhile back before Skype came along Microsoft Messaging Everywhere for a very short time worked flawlessly, message syncing between all my devices licitly split and on time.

I miss that. No idea why they dumped it.

Because I use a Fitbit because my Band went by way of the dodo bird 🐦 the fixes for the chipset issue is very noteworthy

Why didnt you just get another band?

I can't speak for AntnyGoomba, but the reason I switched to Garmin was because the Band 2 was discontinued and they were no longer offering replacements for defective devices. I was just grateful that Microsoft gave me a refund when my 3rd replacement unit stopped working after the Band 2 was discontinued. Why would I then go by another Band with no warranty coverage? That doesn't make sense to me.

So...then why did I get an update yesterday to version 1703? I'm in the release preview ring.

Edge and Chrome using high memory after this update.

Edge has also been a battery hog since they released it.

Chrome? On a Windows phone?

How about black screen when trying to end a call really annoying. Or voicemail not showing in phone app until app is restarted.

So, Zac.. . When will you be leaving for Alaska? Send Sarah Palin my regards ;P

At last windows update font is fixed in this build 15228 in my Lumia 640

For those interested, they fixed the ctfmon.exe crash loop that was going on in 16226.

The new security features are useful, especially in these times of ransomware attacks

Even after reset and complete reinstall of windows 10 with build 16226 almost all live tiles from Microsoft apps stopped working. Lets see if this will be solved or not.

So this is the Security Update.

When Microsoft release the full version of windows 10 mobile os god knows, I think even god doesn't know that. How many years need to Microsoft for fixing there bugs😄. Keep going. 🤣

The mobile Dev team consists of a part time graduate...

They finally fixed that bug where the screen black when you open the camera

Anyone would have a kindness to answer? Is this update applicable to Lumia 930? Thanks!

I don't believe so.
You can try if you like.
They cut support after Creators' update. I'm not sure if they've cut support from insider build also.

Unfortunately I wasn't able to install the update on my Lumia 950 XL. I get the error code 0x80070273.
Any suggestions? Thanks.

I'm still getting the error code. How's it going for you?

Saw battery improvements for mobile so downloaded and installed optimistically but battery life on my 950xl is definitely worse than the last build which was actually quite good except when the camera was left open

Not much if a difference for me. Lumia 640xl

You won't see battery improvements just straight after downloading a new build, it should settle down in a couple of days.

thanks for sharing, very informative. it's good to know these things! Gạch bông Việt

Ummm, they fixed the windows update font on mobile. This is huge!!!

Guys why is microsoft calculator not giving the correct data conversion? 100Gb is given as 100,000Mb instead of 102400Mb

I'm not experiencing any issues so I wouldn't know. Hope it gets fixed for you though.

Same for me. Built in calculator shows 100GB as 100000MB ( or 19.82 DVDs). Strangely, 1 byte is shown correctly as 8 bits.

My current build is 15226 and I am in Fast Ring. But I can't see any update when checking it. How long does it take to get build 15228 update?

I am having the same problem! Shows that I am up to date, but I'm not.

I found a way to get this update. I changed my device model to Lumia 950 XL with Interop Tools. Then checked for update, it is downloading right now.

Fi ally Fitbit notifications work, I can conform, man I really missed my band 2

I was put off, initially by Controlled folder access, but after one day, I like it.

Another confirmation for Fitbit Blaze + 950xl and fully working notifications!

I'm want to check out the improvements for Garmin device connection, but I'm not using Insider builds currently.When I tap "Get Insider" in the settings, I keep getting error code 0x0. I guess I'll have to factory reset my Lumia 950 before I can upgrade.

Wish they would fix DNS leak from Windows 10 mobile when using VPN.

"We have fixed crashes reported while using Photos app." Hopefully, this means they have fixed the problem where the camera app on your phone crashes after taking one photo and the problem where all images are created as jpg.thumb.

Because Microsoft gave me a refund instead of replacing it for the fourth time

Dear Microsoft, Stop making fool your diehard window fans, announce officially that your phone is dead or stop making below the mark new builds for window 10 mobile. Die hard fans, stop dreaming and accept the fact.

For those of us who are still using windows 10 mobile, I appreciate the fact that they're still fixing bugs.

Using a hp elite x3 or microsoft 950 XL for daily driver? This is the question. If yes, those builds matters a lot. If not, just an empty talk. Nothing more.

Well, I can't seem to get my L950 to send notifications to my Garmin Vivoactive HR.

Today I got one sms notification on my Garmin Vivoactive HR. One out of several. Strangely inconsistent. Notifications on my Blackberry running Android Marshmallow always works.

Just remind me ... I have two 735 ´s and one 925 - am I eligible for insider updates ? I thought not but maybe I am wrong. Just how many mobile phone owners can use these updates ? Are we talking a million or a few thousands. Something seems wrong ignoring the older phones. Brian

Finally!!! They mention the Garmin tracker connectivity, this has been driving me nuts!!! Looks like a pretty good build for mobile :)

What's your experience after five days? Is it fairly stable? Has it introduced new irritating bugs? How about battery life? (considering jumping back into Fast Ring)

Another build another failed installation. This time I received error code 0x80240034. WU said "some updates were cancelled. We'll keep trying in case new updates become available". I have seen this error multiple times plus sent FB about this issue many times. MS can't or won't fix this problem. It all started with build 15043. That's when UUP began. Eleven builds have failed to install starting with that build. Upgrades always worked for me before this build. As an insider I expect builds to have glitches and bugs. But I am frustrated with repeated failed upgrades. Anyone else experiencing upgrade failures?

The battery drain is unreal though, i get my phone through the whole day on one charge usually 10-18hours apart, i have had to charge my phone twice today, and i have actually used my phone less than i usually do today. 😱😱😱😱

I keep my 950xl in my pocket it is on fast ring but in other pocket from two months i have a Galaxy S8 Plus....

Can anyone access the Glance Screen settings to turn it on or off? When I click on Glance Screen in Extras, it opens and closes suddenly. This issue occurred in build 15226 and still continues. Does anyone know how to solve it?

What is your device? Now, Glance screen setting is in Setting>Personalisation.

My device is Lumia 925. Glance screen is not located in Setting>Personalisation. It is located in Setting>Extras..

On my L640, Glance Screen is in Setting>Personalitasation and no more in extras after latest update of Glance Screen. Have you updated glance screen in the store?

I have checked, but there is no update for glance sceen :(

Finally, I returned to WP 8.1. It is faster, smoother and more stable than W10M.

Lucky me, this W10M build (15228) is very smooth and stable for my L640.

Is This build was only for the 15 devices of windows mobile?

Is This build was only for the 15 devices of windows mobile?

Yeah. Mainly for Microsoft 950 XL, HP Elite x3 and Alcatel Idol 4S

Despite the positives some are reporting with their 950XL and Garmin Vivoactive RH syncing & displaying notifications, I'm having the complete opposite. I cannot even get the two to 'see' each other. The 950XL says connected. The Vivoactive HR says Bluetooth status is 'waiting' and when trying to pair continually displays 'Searching for Garmin Connect Mobile. Any clues?

This build for mobile broke the shape writing thing for my Lumia 640.

My map is not working from last one month. It's doesn't show street outlines. Seems like it no more supports on lumia 1020
Windows Central Newsletter
Thank you for signing up to Windows Central. You will receive a verification email shortly.
There was a problem. Please refresh the page and try again.