Mixer Create app for mobile streaming drops its beta tag
Microsoft's Mixer Create mobile app is now out of beta, but Windows users are still left out of the fun.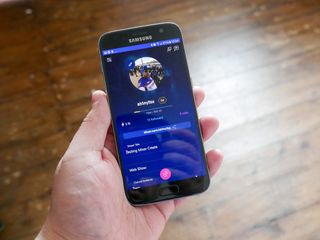 Microsoft has officially moved its Mixer Create mobile app out of beta status, meaning it's ready for prime time. In a new post on the Mixer blog, the team explains that the Android and iOS app has ditched its beta tag and is now ready for anyone to jump in and start streaming.
We went hands-on with Mixer Create shortly after it entered beta earlier this year, and we found it to be a pretty capable, if basic, little app. Unlike the standard Mixer app, this one isn't for viewing. Instead, Mixer Create can be used by streamers to broadcast on the go. That, of course, includes the ability to vlog while you're out and about, but, more interestingly, you can also stream mobile games from your phone or tablet as well.
Mixer Create also supports one of the service's latest features, co-streaming. To recap, co-streaming allows streamers to stream together as part of a single broadcast experience. Currently, you can receive and accept invitations to join a co-stream in the app. A future update will allow you to initiate co-streams with others.
The app can also work as a chat companion while streaming on other platforms, and your settings can be managed from the app as well.
As we noted in our hands-on, Windows 10 users are left out here, which is really a shame. But if you're looking to give Mixer streaming a shot on the go, you can get Mixer Create on Google Play (opens in new tab) and the App Store (opens in new tab) now.
Windows Central Newsletter
Get the best of Windows Central in your inbox, every day!
Dan Thorp-Lancaster is the former Editor-in-Chief of Windows Central. He began working with Windows Central, Android Central, and iMore as a news writer in 2014 and is obsessed with tech of all sorts. You can follow Dan on Twitter @DthorpL and Instagram @heyitsdtl.
Still no W10M app? If Microsoft cant support W10M, why would they expect anyone else to support it?

Come on, are we really still asking this question?

Come on, are we really still asking this question?

Yes. Unfortunately we've now at the stage were people like yourself are asking why we're still asking the question. That means yourself, and many others are now past the tipping point of not only caring about Microsoft's mobile platform, but also any interest or even expectation of any mobile platform. Now, even with Microsoft insistant and continued push for UWP, we're still seeing wheres' the W10M rather then UWP, but it shows that UWP isn't working. There just isn't enough of Windows 10 as a platform rather than Windows PC Windows Mobile.

There should be zero reasons why Microsoft doesn't have a UWP app for Mixer across Xbox, PC, and Mobile as a UWP app, leading by example. Yet more proof that Microsoft just doesn't belive in itself, or the UWP platform and it's now showing that tech savy users are giving up the will to care about it. It's a shame, Microsoft had everything to game with, and they've blown it.

Yes. Unfortunately we've now at the stage were people like yourself are asking why we're still asking the question.

Thats the reality, Microsoft gave up on their mobile platform when they announched their beloved "retrenchment" and since then have been rigorously dismantling anything remotely related to said mobile platform. None of their actions since has been anything but deliberate and at this point with no new phones, new features and the platform obviously in maintenance mode no one should realistically expect anything other than news like this. Hence the question.

EXACTLY they built Islandwood bridge, so WHY THE **** don't they use it!!!!!

Havent u read, this is a good thing. ultra mobile pcs will rule the world /S

And MSFT wonders WHY windows phone keeps failing? Here's one reason: Because MSFT screws over and neglects their biggest supporters and instead, builds apps and features for the competition. Pretty damn stupid, MSFT. Also, pretty damn ungrateful.

I really don't undesrtand why they're not creating an UWP app, at least for viewers. OK, W10M is almost dead, but W10 is not, and an UWP app would run on both, it's not wasted.

Here's another example of Microsoft giving more then mixed messages to developers. They could have easily developed a UWA app along side the ios and android apps.

Or better yet, use their newly acquired Xamarin cross platform framework and tools to make them work on the three biggest platforms.