Our thoughts on Mixer+, the first third-party Mixer app for Windows 10
By Richard Devine published
There won't be an official Mixer app for Windows 10 anytime soon. But here's a third-party one that isn't too bad.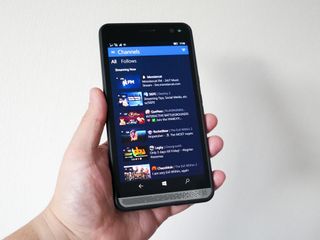 How many times in the past has the Windows developer community come in clutch when the first-party doesn't want to know? In the case of Mixer, you know, that Microsoft-owned streaming platform, there's an app for the Xbox One and that's it.
There are also apps for Android and iOS that are very good, as well as ones over there that let you stream from mobile. On Windows, there's nothing.
But now, there is something. Mixer+ is a third-party creation that lets you watch Mixer streams without the need to go to the website. It works on PCs and phones and while it's barebones at the moment, the core functionality works pretty well.
If you're worried about logging in with a Microsoft Account, Mixer+ doesn't ask you for any credentials. Instead, it uses Mixer's web-based authentication. You go to mixer.com/go in a web browser and enter the unique code you're presented in the app while logged in to your Mixer account. This then magically links the two together and you're logged into Mixer +.
Once you are logged in there isn't a lot to see. You'll be able to see live channels you follow, all live channels, or by hitting the down arrow in the top right corner you can browse by game. Opening a stream will automatically segregate into video and chat, but what's nice is that you can resize the windows to make the chat disappear, or make it bigger if you want at the expense of the stream.
What isn't so good is that you can only read the chat. There's a bug right now where even when logged in the app tells you to log in to interact with chat. So for now, you can watch but you can't chat.
Otherwise, you have options to go full screen, change the aspect ratio of the video and cast it to a nearby device. And that's all she wrote.
I did say it was barebones at the moment.
So, while there's a ton more we'd love to see in this app – not to mention being able to interact with chat – like being able to follow folks, view their profiles and change the quality of the stream on the fly, it's a good start.
Actual stream playback seem reliable and on a good connection, decent quality. It's far from perfect, but it's the first time anyone has put out a Windows 10 app for Mixer, so we're happy to give it a try. It's a nice start in any case.
Grab it for free from the Store now and let us know what you think in the comments below.
Follow Windows Central on Mixer
Richard Devine is an Editor at Windows Central. A former Project Manager and long-term tech addict, he joined Mobile Nations in 2011 and has been found on Android Central and iMore as well as Windows Central. Currently you'll find him covering all manner of PC hardware and gaming, and you can follow him on Twitter and Instagram.
You'd think that with MS owning the service that they'd make a UWP Windows app

Lol no. But seriously, it's not on the roadmap.

Really, i know on PCs you can simply use a web browser but still disappointed that a native app isn't on the road map.

@ Richard Devine .. There are just no words... It's beyond silly (the politest words I can think of right now) that it is not and they say they have difficulty attracting developers. I had an inkling a UWP app wasn't on the roadmap hence my rather salty language in posts about why Microsoft foregoing the consumer space is an absolute catastrophe for Microsoft. I hope that now that Phil Spencer is now on the SLT he can work towards getting the relevant department heads for getting a UWA developed for Mixer. I am sure if he could get a Universal app developed he would have done so already, maybe you guys could find out what the hold up is? :) Or maybe you guys already know and the news isn't pretty.... if so... the only thing I would say is - bad news doesn't get better with age.

Yeah, you're right.. Joes B's comment about how hard they tried to entice developers is BS.

It is absolute b.s. The way I see it - "oh we tried and they (developers) didn't embrace the platform". It's like saying if something bad happens to someone, they're being punished but something bad happens to themselves then are being tested. Microsoft themselves did not completely embrace the platform. A company geared towards productivity would have at least got the basics right. You couldn't attach more than a document in a email in Wp8.0. They may feel they did, but seriously disagree. I mean come on, if you are using your own product surely, you would have seen trying to attach a document results in being confined to the photos hub? That is just one of many basic flaws on Wp8.0. They had All that time from Wp7.x to get email right. Or maybe they just let petty office politics get in the way, seriously what was so wrong with the Zune client that we've had to endure using the most lacklustre sync client ever created as it's replacement? Microsoft needs to take a good long hard look at themselves and realise this, they are not beyond their customers. If they start blaming others for their miss steps, they will be held to task just like anyone else. .

I agree... But, now it's time to either wait, and see if things get better, or move on.. No use in negativity, even when there's good news.

I'm just hyper critical lol because zi want Satya Nadella to succeed as well as Microsoft. Firstly because of the current climate in the US and I do not want to live in a world dominated by Google and Apple. Plus personally when I see people trying to shift blame for their mistakes, it makes me even more critical, because by letting it slide just normalises that sort of behaviour.

Yeah,.. Well, what can you do🤷🏽🤷🏽🤷🏽

Be sure to ask them why not next time you have the chance. It's really appalling for a Microsoft ecosystem to not support their own services.

I thought it was a first party app for sec. oh well It's something! and it appears to work fairly well except for chat

Been using it for the past weeks now and it's quite good. Hope for more features and chat.

yep, classic Microsoft, not supporting its own platform.

I use it on my phone. It's better than using the browser.

I guess I will stop using Beam .... er mixer ... if this is there after sales support the mixer users can expect the same treatment in the future

What? This is a third-party app.

In other words, it's useless. If you can't broadcast with it, it's of little value. Just like there's no Live capability in the mobile Facebook app for Windows.

There are many phones out there for you if you're interested in broadcasting to Mixer on the go.

Just began using it and it is quite good, better than having nothing at all. I'm quite sure if enough people download the app and actually use it, more features will follow with updates. I see a lot of people on here complaining about it already, but they forget, this a third party app.. It didn't have to be made at all. I enjoy it so far, but will love it even more once more core features are added.

Props to third party developers once again for filling in the app gap.

Yir its not stuffed with features but it's something! Big ups to the developer! Hopefully he/she gets enough downloads so we as a community can support!

It will be useful when I'm far from home.
Good start, but need to fix stability issue while using chat feature.
Windows Central Newsletter
Get the best of Windows Central in in your inbox, every day!
Thank you for signing up to Windows Central. You will receive a verification email shortly.
There was a problem. Please refresh the page and try again.