Mobile Nations site apps for Windows Phone and more!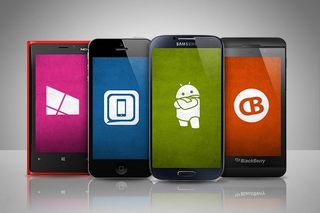 We all know Android Central, CrackBerry, iMore and Windows Phone Central are the best places to go to for your Android, BlackBerry, iOS and Windows Phone news… But did you know we have a whole family of apps purpose-built to free you from the shackles of your desktop computer?
Below is a quick roundup to connect you with these awesome apps. Download and install. You'll be glad you did!
Official site apps
Developed for Windows Phone 8 and 7.5, the official app of WPCentral.com is your guide to absolutely everything Windows Phone. There's live tile support, and our developer (Jay) is found lurking around our forums on a regular basis to take your feedback and suggestions. It's good, real good.
$0.99 - Download now (opens in new tab)
Available for all Z10 and Q10 owners, the official CB10 app was designed and developed by our own Marcus Adolfsson… and to say it's awesome is an understatement. The app recently won the 'Best Built for BlackBerry App' award at BlackBerry Live 2013. I use it all the time on my Q10 and Z10, and highly recommend you do the same.
Free - Download now
AndroidCentral.com is the #1 Android community on the planet. Connect with Phil, Alex, Jerry and the rest of the AC crew via the official AndroidCentral.com app, available for free in Google Play. You'll get the latest from the blog (of course), but inside you'll also find widgets, forums access, podcasts, and much more.
Free - Download now
The iMore for iPhone app is hands down the best way to enjoy iMore content, no matter where you are. It's a free download, available right now on the iTunes App Store.
Free - Download now (opens in new tab)
Important Note: We're planning to bring the official app experience to every site on every platform. The CB10 app for Windows Phone? The iMore app on BlackBerry? Yeah, that's coming!
Forums Apps
If you're a forums junkie, you should install our forums apps. Now. They're powered by Tapatalk and are readily available for free via Google Play and the iTunes App Store.
Note: While we'd love to have the app available for iOS, for some reason Apple has a habit of rejecting anything to do with Android Central.
So there you have it. No matter which Mobile Nations site you prefer (and hopefully you love ALL of them), we've got an app for you.
Windows Central Newsletter
Get the best of Windows Central in in your inbox, every day!
Pretty sure I know about the WPCentral app...

Why only WP Central app is paid and others are free?????

Window Fanboy Answer- It's worth it.

My Reaction - hahaha...so others not worth it?.....oh! come on just admit it WP sucks when it comes to apps. (I am not talking about only WP Central apps but other apps too which are free on other platform but paid in WP store)

WP is always disappointing when its comes to apps. Even the normal apps are paid.



There's a free WP Central app on the WP Store too, with ads. Can't understand why you are still complaining

You didn't read my comment properly. This app is just an example. I am talking about other apps like all angry bird,cut the rope etc game which are free on other OS but paid in WP. And for your information ads support apps have some restricted features which can only unlocked by paying but other OS are getting it free. Can't understand why are you still defending WP , when you can clearly see WP is a failure when it comes to apps.

Apple denying the Android central app? I wonder why...

Must be something related to copyright. Get the lawyers!

And I'm exciting to have other apps on my phone, like Android Central.

Except that if you are reading WPCentral you probably have a Windows Phone and thus can't get any of their other apps. Sad day guys.

They said they're trying to make all the apps available to all the Mobile Nations platforms. I'd like to have an app for iMore on my phone to make it easier to access the site.

Yep. That would be awesome.

Ok no thanks I already have WPcentral

Unless the WP8 version for AC has been vastly improved, its trash on WP8. I DLd and was turned away from the lack of luster on it. Just access via net. Don't expect it to be as great as WPC but when you can't even swipe screen its show shit for quality

That's not our app. That's some third party one.

I thaght IOS and Android also paid app.. why only WPcentral is a Paid and other are damn free?? FYI: I bought WPCentral app in Windows Store

Shame, turns out WPC app wasn't made in house though so kinda makes sense. Well worth it though.

The ad supported version functions great tho, so you technically don't have to buy it if you don't want..

WPCentral app is done by Jay Bennett who is in house...

Nope, I'm an associate :)

Two things:
It's $.99.
You pay for quality

So u imply that CB10 App, Official Android Central app, Official iMore for iPhone app and
their Forums Apps are not of quality hence FREE? hummm I think NOT.
Even if there is a price for the quality whatever happened to ad supported version as an option.
I think WPCentral WHOULD INTERVENE if at all the app is not home brewed (not in house).
After all it's their reputation on the line and above all the convenience of WPCentral FANS.
There is a WPCentral Forums app for Android & iOS also Free but no WP7 or WP8 app at all kinda funny actually :P
Thanks iboypx for taking this up. #respect

I don't have those devices so I can't check but are they free and ad free? Technically the WPCentral app is free with ads if you download the trial. 99 cents is if you want to ditch the ads and enable a little more functionality.

I get your point @phirefly but to tell u the truth I did not install it in the first place for the sole reason it was trial which means limited functions. Ads I can live with but the reason I wanted the app was for the live tiles, toast notifications, offline reading and these aren't available. This "little more functionality" is like the major reason anyone would want to use an app over m.wpcentral.com or a RSS reader. Right?

Have you used the app? It's worth more than $0.99. You can find that amount under your couch right now.

+10000000000000
Totally worth every cent! Shit, I would had paid the dollar! Take my money WPC!!!

I would buy it for $2.99. :D (but don't price it at that Jay, lol)

it's not about that, carrier billing isn't available everywhere

Because we want to have the best app, and we do. Mr Bennett for president :)

It's great to know that developers are working to go cross platform for every site. Hopefully one day, we will have all these apps merged to one Mobile Nations app?

So you're saying you have apps on their respective platform? Imagine that.

Funny that WPCentral app is the only paid one!

Yeah its totally worth it but I wonder as well why its the only one that's not free.

Did you try reading above comment's? Scroll up and find out.

Less funny, more confusing..

and its also a ONE DOLLAR app... who doesnt have $1 today?... if someone thinks its "too much", (even though they are in wpcentral because they have an expensive smartphone, so i guess they would have $1)... well they can use the trial and dont have access to some "premium" features, that paid app bring, you know, this is what trial doesnt give you:
"The available trial is ad-supported with only the video section, live tiles, toast notifications, offline reading, wallpapers and the podcast player disabled, all other features are accessible."

so if someone doesnt like the wpcentral app business model and what features trial doesnt give, they could also use m.wpcentral.com, and problem solved

I wish, I WISH, you guys would collaborate and build a "Mobile Nations" app that combines all four sites into one unified experience where I could jump between WPCentral, Android Central, iMore, and Crackberry. Ideally, you could make four separate Mobile Nations apps, each one with an interface tailored to their respective platform! But this ability to traverse the different websites in one app, having access to each site's news articles and forums, would be absolutely INVALUABLE! I may own a Windows Phone, but I like staying up to date on each mobile player no matter what device I own, going to each forums and reading the discussions taking place there. Right now, with just my WPCentral app on my Windows Phone, I do not have this ability, but I'd sure like it!
Is this a viable option for Mobile Nations to implement? I'm not sure, but I personally don't feel this is a true "nation" without some form of unification of the different platforms.

While I do agree with you, Windows Phone's slight lack of apps doesn't deprive it of a browser.. You have the ability, always have done... Despite that, I do think a unified app would be something awesome.

...or even better still, a Mobile Nations Hub in collaboration with Nokia or Microsoft?

So there isn't any apps to read about iPhone, Android or bb on my WP??
Thank heavens for that... :P

Any chance these apps will ever come to WP?

You are all proving that you don't read this site properly. WPC is a paid app because Jay is not employed by MN, he just works in conjunction with them. The other apps are made "in house" so the cost just gets soaked up in MN.

Ah that makes plenty of sense. Please disregard my last comment.

Me too, thanks for clearing that up.

And Jay does a great job.. Wpcentral is a best app among other mobile nation apps IMO..

That raises even MORE questions. How come all other platforms from MN get "in house" love and WPCentral doesn't? It is like Microsoft's support for its own platform.

Basically we were first, and I went to Daniel with a proposition

That's no excuse. The $0.99 is sticking out like a sore thumb. All these apps are fantastic contrary to what trolls here are saying so it doesn't make sense for WPC to be paid. If Jay isn't employed by MN then get someone who is and ask him to make a FREE app.

You might be my favourite person on the internet, glad it's so easy to dismiss my work

i hope there will be a promo like having the full version for free for...like... 2 days or less. sort of like that.

There's a pretty good trial version guys...

Precisely, the trial is our free version, it does everything the mobile site does and more

Dude it's hard work to make an app you know. you pay money use alot of resources it's better than what shit you make compared to Jay's

So, should we convince MN to employ Jay? I must agree that WPC app is a really great one!! But the lack of payment method just angers me! And I can only request WPC team to make it free, may be for a limited time?

Do you buy coffee everyday or any other sort of drink? Take that cost an annualize it, compare to approximately $1.08 and then we have a basis for comparison :)

WPCentral is my favorite app period.

WPCentral app is the best design... all other apps look very basic..

I live the WP Central app. Puts mobile blogging to another level!

Please make WPCentral app also free. I love it but can't buy (no payment methods for me).

There's a free version isn't there?

Those extra features are the ones that go one step further than a mobile site or even other platform apps can go, so they are the premium parts

I access WPC thru the tile on my Start Screen. But would love to get notifications and all through the app. WPC has given me some really awesome news about great promotional offers and thanks to the team, I have some premium apps on my WP for free (promotional offers). WPC is the best site!!

Um why not show the phones in ther original size ???

Because they don't want the iPhone to look like the smallest phone in the market =P

Why WPCentral is the only one need to pay? I have no problem to pay, but wanna know the rational behind it

CB and WP looks the best on that shot. :)

Why is wpcentral the only one that costs money? Is it because it's better than the others?

Cool! Now I can find out what crap Android and Apple are shoving out so I can make sure to hurry up and not buy it!

I had to laugh at this. But seriously though, Apple does not make crap, their OS is not just as fun as WP8 in my opinion. They have more apps but that's about it.

I got wpc app when it was free :D

it was free?? when? I missed that :-(

Why wpcentral is the only paid app? *no offense please just asking here, im not applefanboy or anything....*

Actually there's only WPC for WP. I use multiple platforms so need full apps for each MN site.

Just got to say guys, it gets pretty tiring trying to defend 2 years of hard work, listening to feedback and fixing up bugs for £0.79. So to those who are defending me, thank you

Gotta really suck to hear so much trash from folks. Imagine if there were public comments on their work every day... Personally, love the app. I think it's great work, and I appreciate all of the updates and tweaks!

Thanks, there won't be many updates over the next couple months though, got another exciting project to work on :)

Don't take it personally. If it was free they'd be complaining that it wasn't free enough.

Def great work on the app man...i'd of paid 2 bucks for the app, anything to continue to support the community!

Like many of us, we live in WPCentral through your app and its still among the best in the Marketplace, so keep it up, your doing great.
My thoughts is more in the line that with a great app like yours and a big corp like MSFT behind the OS, and MN having "news" for WP, why aren't you employed by MN already? Why is the third biggest platform the one that seems to have a distance in the MN network?
I find "lets talk mobile" nice and all but I never thought of WPC as a part of MN, so it feels really strange (and I don't mean it in any hostile sense) to see MN news now. If talk mobile is to be uniting us geeks, then why not first create equal situations, really unite the network for the supported OS's.
Now my bad English hopefully makes sense.
P.s. I know the answer is not for a thread here so I expect non. But I just had to speak up because everybody ( and very visibly u Mr B) at WPC is supplying my needs and I am thinking the WPC crew is not getting the backing it should, that's at least the picture the rest of the world sees I guess judging by all comments. If there is a problem, its not at WPC, its at MN so bring your questions to them. I have no knowledge about anything about "behind the scene" but I feel that WPC is leading\helping to drive the Microsoft platform forward so believe me, WPC is more important than a lot of other sites (your our Nokia) ....aha, I'm talking in circles, I love you guys at WPC and I get a feeling that you are the odd ones at the party and Daniel always looking like he wants to leave when in a MN podcast. End of rant and hopefully I didn't piss anybody off and I got my point home. English is not native.

I purchased your app without a second thought. It is just 99 cents, if people can't afford it, why do they have a smart phone? It is one of the only apps I use daily, it is *that* good.

So amazing how many folks complain about a freaking dollar. It's a great app. Pay it and enjoy. A DOLLAR, guys?????

We would love to, unfortunately lack of payment methods binds us. :-/ Stupid MS/Nokia.

You can login to your Microsoft account, payments link and at the bottom center of the screen you can add another form of payment

Funny how wp8 is the only one charging money. (even though the trail is fully functional minus a couple features)

DIDYOUNOTREADANYOFTHECOMMENTSABOVEYOU!?!?!?!??

Sure didn't Sam. The comments here lately have either been insulting or off topic. So I avoid them.

Fun fact: we're also the only app with forum functionality built in

And that's a wrap haha oh it just never ends today o.o

Jay, don't sweat these EAASL nimrods. I started with the free trial, in 2011, and followed quickly, with 99¢, in gratitude, for your hard work, and obvious quality. I'm sure the other devs who build the MN apps on the other platform are compensated directly, or by ad revenue, which could scale up well, based on the massive volume and scale of those platforms. WP, as the smallest community, would obviously provide less revenue, based on scale, and dev cost, would have to be supplemented, by a token fee, I should think. For those of you, who want to crap on this man's work, then just use the mobile site. Don't complain, if you're using the free trial, because moochers don't get that right. Those of us paying for your free lunch, applaud you, for your over-frugality (you cheapskate m0f0s).

And Jay's app is more than good, real good. A disservice in that review in my opinion.

So I think there needs to be an article on why the WPCentral app isn't free to clear up the confusion.

Dang! So much whining over the cost of a 99¢ app that most of you use daily! Entitled much?

Absolutely love the app, I use it everyday and it's exceptionally beautiful. So thanks Jay for all the hard work, I very much appreciate it.

I really want a CB10 app for WP8

Lol so many people crying to make the WP Central app free. Btw hope to see a mobile nations app in the near future. :) And Jay ignore those newbies.. We love you for the effort and dedication you put into developing the app and keeping it upto date.

My Lumia 920's screen broke so for now until I can afford to replace the screen I am using a HTC One VX, not a bad phone.... definitely found it's limits thou lol, Anyways to my point! I was just wondering this morning if there was even a third party app for WPC on android and low and behold in my feed on FB I see that all MN sites are multi-platform now and that's AWESOME. Thanks guys!

edit: even if it does look like tapatalk/XDA lol

The WPC app is worth all 99 pennies. I'd paid two or even three hundred pennies for it. Great quality, always updated with new features and fantastic support. All that is missing is a W8 app which I know is in the works. Keep up the good work Jay.

Jay, just because people were not appreciating what you do for the app, and community I finally bought the WPCentral app. Keep up the stellar work!

wait what?! android central for android it's free, while wpcentral is for wp users is not?!

Why all of them are free except WP Central one ?

I'm so hoping your comment is a troll because the answer has already been given multiple times in this thread.

They had to put the 920 in the back so the other phones won't be upstaged.

jay, i know the cost is pretty much worth it... but can you make it free for 24 hrs so these people will shut up, including me? lol. pleaaaaase! :( i have payment method issues too like sarim_xyz, so it's quite a hassle for me to buy apps.

Install it as a Trial, that's the free version. WPCentral app on WP8 has access to the Forum while others do not.

If it has Jay's awesome UI (even better, he makes it) on the Mobile Nations WP apps, I'll be very happy.

And also, why can't we have those awesome wallpapers? Those look awesome!

Here I am leaving a test comment
Windows Central Newsletter
Thank you for signing up to Windows Central. You will receive a verification email shortly.
There was a problem. Please refresh the page and try again.