Mobile network Three give us a first look at the Asus Vivo Tab RT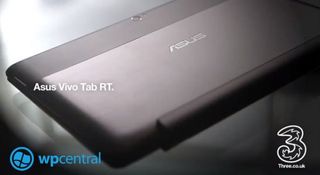 Brendan Arndt from Three gives us a nice first look at their upcoming Asus Windows RT (Vivo Tab) tablet and it's looking good.
While many are wondering how WinRT tablets are going to sell in traditional markets, one thing is certain, the mobile industry is set to embrace these quickly. Unlike the Surface RT device, the slender Asus unit will come with built in support for connection to a mobile operator. The 10" device gets the once over in the following video. Make sure to read on past the break!
During the video much is made of the devices super thin form factor and its ability to create as well as consume content. With so much emphasis on pricing for this new generation of Windows 8 devices its clear we could see that price offset with the inclusion of a mobile contract. Many have expressed great interest in Surface but that doesn't come with any built in mobile networking. The advantage other OEMs will have here is that of built in modems, the carriers are likely going to jump at the chance to sell these devices on a contract. After all, that's what contract were made for!
It's a good hands on and we get a good look at how snappy the new touch friendly UI is on the tablet as well as seeing it in portrait mode. Brendan seems genuinely excited at the prospects of a device with the dual interface, helping bridge the gap between consumption and creation.
The Vivo Tab has the following specs: 10.1" Super IPS display (1366 x 768), quad-core Tegra 3 TE processor and 2GB of RAM.
Unfortunately no mention is made on pricing and availability but we suspect this will follow shortly. Recent pricing leaks suggested a $599 price tag for the 32GB device, though no word if that will hold accurate for launch. They will even let you sign up for updates (opens in new tab) should you want to keep on top of this one.
Could this be a sign of how we're most likely to see Windows RT tablets sold? Are the mobile operators going to help shift these with subsidies? We'd like to know your thoughts. Fancy one? Let us know… just sign on the dotted line bellow..
In the meantime, check out our hands on video with the AT&T version of the Asus Vivo Tab below:
Windows Central Newsletter
Get the best of Windows Central in in your inbox, every day!
I would like to think I am going to be an early adopter of an RT device. But the more I see, the more I am really going to have to research to determine which device fits my needs...good to have choices, but I am stating too feel buried in options.

Only thing to stop me getting the Surface is price. if it comes in at $599 they have an instant market failure on their hands. The preorder page at Tiger Direct prices the Asus at $599, and I'm sorry, you are no Apple to be commanding those prices, premium experience or not.

So you're saying you'd rather pay Apple $599 for the less capable iPad than for the Surface RT? Interesting, but to each his own.

Still holding out for surface

I hope and expect all the networks will be selling them. This hopefully bodes well for wp8 as the more devices sporting metro UI people see when walking in shops, the more they will be aware of WP and that will be a very good thing imo. I do hope that price point is wrong tho...too expensive for RT tabs

Tablets with win rt cant do anything new that android or apple tablets can do...i mean run standard win programs :( i wanted a surface rt but now i dont...surface pro can, but it will be too expensive...so ill buy a laptop :)

I'd argue the experience of an RT tab is loads better than any Android tablet out there. At this point, it's more about the ecosystem and what MS will do in the future with these products/services. I'm going for a Surface RT myself and I'm very excited.

+1 waiting on RT myself, reasonable price should be a nice experience, we need the apps though to catch up with android/ipad quickly thats my only real gripe with WP/W8 right now.

Waiting on RT surface. My transformer prime needs to go, it ppl at xda build win8 rt custom rom for the prime

Can android or apple tablets run Office 2013?

I have a Samsung tablet (demo unit) home with Windows 8RT on it. Believe me, the Metro interface is way more powerful than Android or iPad. We have an iPad home but it's only collecting dust tight now :-)
You can't go wrong with a pure RT tablet I will get Surface RT for sure as quick as it gets available in stores here in Sweden.

So what do you do that requires a laptop? Just curious. I plan to by a W8 RT and Pro device. The RT device will be my play/consumption device. The Pro will my pro-sumer device - work/play; the latter when I need to take a break.

My only problem with the rt tablets is that you cant install regular windows exe programs...i love surface rt, i have a page on facebook for surface family, a great product for anyone who hadnt had a tablet before or want a more clear and modern ui. I want one for myself, but it will no do me any good, just for having it :)

Why do you have a problem with RT's b/c it doesn't run x86 applications. Simply consider a W8 Pro device for both the new UX and application backwards compatibility.

hmmm...didn't know that the RT devices had the taskbar screen...I wonder if they'll be able to load a limited number of desktop applications after all. I don't know why else we'd need it on an RT tablet.

It's just for the MS loaded programs: office, notes, IE. RT doesn't/won't run other .exe programs. Except for those select MS offerings, it's a W8 app (metro) only machine

Considering that's where all the future app growth will be, that's not a problem. old school developers need to get in line or find themselves marginalized to a small Windows 8 segment.

I wasn't knocking RT for its .exe incompatibilities, just clarifying the issue for drunken scholar.
I don't think it's an old school vs new school thing though. I don't foresee an "app" that replaces the functionality of Illustrator or VideoStudio.

No. Only Microsoft has access to the desktop on RT. Currently they're including limited editions of office 2013 on RT devices.

I have a Microsoft store in my town so I want to check out surface for sure before I get anything. Planning on getting a surface rt for the wife(which I'll be using a bunch) and surface pro or a laptop with touch screen for me when pro comes out. Sooo close!

The hybrids are game changer...

I'm sure (hope?) it's just the lighting and angle, but the glare on that screen was quite distracting...

This guy is confused about what Charms are. The Charms are the controls you get when you swipe in from the right. The demoer implies that the Charms are all the gestures that bring up UI from any side of the tablet. So a message hasn't gotten through completely there.
Also, he says "the Desktop mode is still there". Well, if it's an RT tablet, it's just Office and IE in Desktop mode, not all your Windows apps. This is a challenge Microsoft faces in communication exactly what they are selling.

Yeah, that misunderstanding corrupted the presentation IMO.

I was initially enthusiastic about RT but can't really say the same anymore.
Windows Central Newsletter
Thank you for signing up to Windows Central. You will receive a verification email shortly.
There was a problem. Please refresh the page and try again.