Mobile network Three give us a first look at the Asus Vivo Tab RT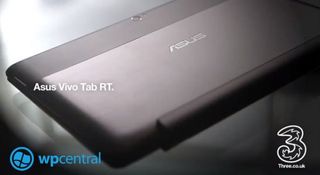 Brendan Arndt from Three gives us a nice first look at their upcoming Asus Windows RT (Vivo Tab) tablet and it's looking good.
While many are wondering how WinRT tablets are going to sell in traditional markets, one thing is certain, the mobile industry is set to embrace these quickly. Unlike the Surface RT device, the slender Asus unit will come with built in support for connection to a mobile operator. The 10" device gets the once over in the following video. Make sure to read on past the break!
During the video much is made of the devices super thin form factor and its ability to create as well as consume content. With so much emphasis on pricing for this new generation of Windows 8 devices its clear we could see that price offset with the inclusion of a mobile contract. Many have expressed great interest in Surface but that doesn't come with any built in mobile networking. The advantage other OEMs will have here is that of built in modems, the carriers are likely going to jump at the chance to sell these devices on a contract. After all, that's what contract were made for!
It's a good hands on and we get a good look at how snappy the new touch friendly UI is on the tablet as well as seeing it in portrait mode. Brendan seems genuinely excited at the prospects of a device with the dual interface, helping bridge the gap between consumption and creation.
The Vivo Tab has the following specs: 10.1" Super IPS display (1366 x 768), quad-core Tegra 3 TE processor and 2GB of RAM.
Unfortunately no mention is made on pricing and availability but we suspect this will follow shortly. Recent pricing leaks suggested a $599 price tag for the 32GB device, though no word if that will hold accurate for launch. They will even let you sign up for updates should you want to keep on top of this one.
Could this be a sign of how we're most likely to see Windows RT tablets sold? Are the mobile operators going to help shift these with subsidies? We'd like to know your thoughts. Fancy one? Let us know… just sign on the dotted line bellow..
In the meantime, check out our hands on video with the AT&T version of the Asus Vivo Tab below:
Get the Windows Central Newsletter
All the latest news, reviews, and guides for Windows and Xbox diehards.