Modern Combat 5 for Windows 8.1 is now free-to-play alongside its Windows Phone version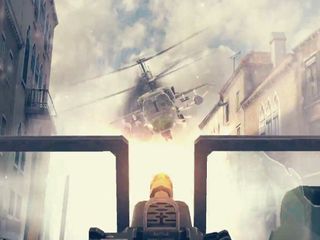 Last week, the Windows Phone version of Gameloft's modern-day military shooter Modern Combat 5: Blackout turned into a free-to-play game with Xbox Live support. Now the Windows 8.1 version of the same game has received that update, making the game that was once priced at $3.99 as free.
The Windows 8.1 version is also Xbox Live supported and got the same content additions as its Windows Phone counterpart. Hopefully, the two versions will be updated at the same time from now on.
Thanks to Xtian A for the tip!
Windows Central Newsletter
Get the best of Windows Central in in your inbox, every day!
Man these announcements are making me want to leave work early!!!

Yeah! Downloading! For instance I was to buy this game 2 days ago, but since I've made some already this month, I was holding. Nice!

Dammmn homies. I paid 7 euros for this piece of a master class F* you Micro, I want my money back

No one cares about Gameloft.

I care about it, Asphalt 8 : Airborne is my favorite game

@Mohamed Mate they just keep making good graphics, poor gameplay, business and profit oriented stuff. Check out some indie titles. You will see how beautiful games can be. And btw, I know that Asphalt 8 is a good game. But everything else is useless.

If you're not caring about Gameloft, we care about it

Seriously when will they come up with names that don't sound like bootleg versions of console "AAA" games?????

When they stop making bootleg versions of console/pc AAA games.

I have 1,63 GB of free storage in my phone memory and it keeps telling me ive no enough storage ! Thats not normal, right ?

It's normal, the phone needs some extra space to install the game and move stuff around, and to manage temp files when installing the new app. Move some files on your PC, install the game and then copy them back on your phone :)

Item not available??? Am I the only one with this error?

I did see some 930 guys complaining that it was not available for their phones

You are not alone. It seems to be unavailable for the Lumia 930

When I bought 930, I thought, that Iam getting hi-end phone. Shame that I've never felt I have a hi-end phone. Every brand cares about their hi-end phones the most, unless Nokia/Microsoft. In this case, it seems they don't even know that some phone like that even exists. And yes, I know, that in this case its not their fault (I think).

I'm using a 930 too. I can't get it :'(

Im using 920 and I cant get this either. Dont know why.

Not available on my 930 either

I'm on wp8.1 I installed it yesterday 30th June +3GMT and it was free

If you read the headlines, it implies that everyone knew about the Windows Phone version already. And that it is free now on Windows as well.

This update on Windows Phone ruined Modern Combat 5 for me so now I'm back to Modern Combat 4. The game should not lag at all on my Lumia Icon but it does horribly, to where my joystick lags behind at least 1-2 secs behind.

Gameloft = Free 2 Play / Pay 2 Win mess company...

Wow, tried to download it on my Lumia 1520, and SURPRISE! I don't have enough RAM to get the game.
It needs 1Gb or more

1520 has two gigabytes...

I think he probably meant Lumia 520...

lol, No I have the lumia 1520, and it says that I don't have enought ram.
I get the message from the old store. The beta store doesn"t give any button to install the game

I'm getting the same error. :(
Lumia 730. Win 10 10149.

Install it manually using the .xap file

I can't find it on the site. It doesn't give any option to download it on pc....

It says "Modern combat 5:Blackout is no longer available. This message is shown in my laptop, my lumia 925 and my hp stream 7. Is there something that I have to do? Somebody help me please.

I'm getting the same message on my laptop running the latest win 10 build. The annoying thing is that I already had it installed before the latest build update but for some reason a lot of my apps and games wouldn't launch afterwards so I had to re-download them and this is the only one I can't get!

I hope this is on 930 soon, makes no sense

Says "unavailable" in the store to me too... Lumia 930 with Denim

Me to. Why lumia 930 not included?

This app is no longer available on the windows store. Same as csr racing. I'm begining to think there's something wrong with the windows 10 store.

It support keyboard and mouse?

Can these games be played with the xbox controller?

Yes, playing on my Surface with Xbox one controller right now

Sweet. Will try that in the morning.

I seem to see it on Mobile, it's on PC that I can't seem to get it. Both running Technical Previews of Windows 10

Why is not available for the 730?

I have this game installed, but I don't play on multiplayer mode because all is black, the floor, the landscape is all black, I have a Lumia 735 in Mexico.

And Asphalt 8 I have the 1.9.1.2 update but the traffic, obstacles and resolution are disappeared on the L735 and I've more than 2GB free on the phone and the SD card.

Not available on my 930 either.

Guess i can only play this on the PC, my L630 can't handle this game with just 512mb RAM.

Instaled this on my pc. Worked fine. The sound was there initially in the video. But when I play the game. There is no sound, Anybody else facing this issue? How do I fix this?

Try adjusting the sound when a level or match starts
Windows Central Newsletter
Thank you for signing up to Windows Central. You will receive a verification email shortly.
There was a problem. Please refresh the page and try again.