The Moly X1 with Windows 10 Mobile is just $179 via Indiegogo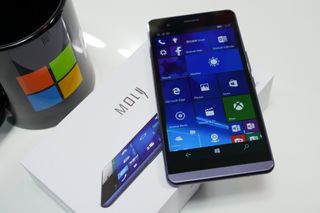 The Moly X1 is an attractive phone running Windows 10 Mobile. The phone came out earlier this year but cost around $300 at the time. Now, the company is evidently running an Indiegogo campaign to raise funds and get the phone in more hands for a lower price.
The campaign has the phone with either US/Canada or Europe/Australia 4G LTE variants starting at just $179. From there the price goes up to $190 with a case and all the way up to $229 when the lower tiers run out.
The Moly X1 is a decent, low-cost phone especially for $179. While the camera is lacking the rest of the phone has a very elegant design as noted in our unboxing.
Here are the rest of the phone's details:
Coship Moly X1 specifications
5.5-inch HD or Full HD display with Gorilla Glass
4G LTE support
1.2 GHz Qualcomm Snapdragon 410 CPU
2GB of RAM
16GB internal storage with microSD expansion (14.5GB available)
micro-USB charging
13MP rear camera with dual-LED flash
5MP front camera
2600mAh battery
Bluetooth 4.0 A2DP/HFP/OPP
Wi-Fi 802.11 b/g/n 2.4/5.0GHz
Sensors: G-sensor, Proximity sensor, Ambient Light sensor
Dimensions: 154.8 x 78.6 x 6.9mm
Weight 4.9 oz (139 grams)
Head to the Indiegogo page for the Moly X1 for more information.
Thanks, Angel M., for the heads up
Windows Central Newsletter
Get the best of Windows Central in your inbox, every day!
Daniel Rubino is the Editor-in-chief of Windows Central, head reviewer, podcast co-host, and analyst. He has been covering Microsoft since 2007 when this site was called WMExperts (and later Windows Phone Central). His interests include Windows, laptops, next-gen computing, and for some reason, watches. Before all this tech stuff, he worked on a Ph.D. in linguistics, watched people sleep (for medical purposes!), and ran the projectors at movie theaters because it was fun.
Isn't this one of the phones that don't get the anniversary update?

Yes, I believe that is the case. It would not even be worth it for half that price.

I asked moly if it will be upgradeable and moly have officially confirmed it will come with anniversary update and is upgradeable. They took our feedback from last year and modified the X1 so it does it.

Not entirely accurate. Mine has the AU and runs just fine.

It's complicated, but seems some users in Europe/Euro edition have had issues. I put mine on Insider and got the update month's ago.

Sadly, I wouldn't advice anyone to buy a phone and get rid if it's outdated software by joining insider. Insider is insider, it's not production channel...

Yes, that is mostly true. At the same time however, you can use this to force the phone to get the update, and then when you get on the same build number as a production release (by staying in the release preview ring) easily opt out and be on the production releases. This is indeed asinine that you have to do this for these phones, the manufactures (or microsoft) should really get on the ball and update these devices for those that don't know better.

Yes, that it's a useful trick, but we should add that for now if somebody simply leaves insider like that, they would continue to get application updates as they still were on that insider channel. But hopefully Microsoft will solve that too. 😊

Actually I don't think this is the case. I forced my wife's 640 to W10M on release preview and then simply left when my production build became the same number as her preview build (this doesn't always happen, so it make take some time). Then the next update that came on production she received on the same day as I recieved it on my 950XL. Of course it could be possible that there wasn't another preview release before the new production, but later on she didn't receive another build that wasn't production.

No, you are correct, it works well when it comes to OS updates, but maybe I wasn't clear enough. Sorry for that. I meant on application updates. For example, when there were some noticable chages in Camera app and in Skype Preview in Release Preview ring, I got those updates even though I was on Procuction. This stopped only after I reinstalled the OS with Windows Device Recovery Tool, and I think that a hard reset wouldn't help there.

Ah, ok. I see what you mean. Thanks for the clarification, I guess the app insider ring isnt included in the opt out.

Just one thing they should fix. On the other hand, it's not a big deal if you get updates for your apps from Release preview ring. Those apps work fine and it can be interesting to be able to get application updates early and not having OS updates too frequently. Only people should be are of it before joining insider program.

It has been ask on the fb page ans this revisd version is updated to AU as they say.

@garisa, can't argue that typical users may not want to join a beta program, but the Release Channel of the Insider's Program is almost the same as production. Release Channel is just releasing what is expected as the production release a little early to be sure there are no missed problems. Admittedly, there is a greater chance that a bug will squeeze out to a Release Preview user that might have been caught first. But since the program started, I don't think that has ever happened. Risk is modest. Certainly worth it if it's the only way to keep your phone up to date.

I agree, you are correct. I said that mostly because I wouldn't advice someone to buy a phone with which their only option would be joining insider program, considering that there are plenty of Windows phones that officially got AU. I would rather advice somebody to buy a Lumia 650 or Lumia 640 instead of this one. Even that Acer Liquid M330 got the AU.

Man you said that you would do a review about the camera on this phone. But ain't seeing it on YouTube. Would you recommend this phone? And does this have the call recording feature?

Moly have modified this X1. It comes WITH Anniversary Update and IS Upgradeable. I backed this indiegogo project and moly has confirmed it.

I saw on their indiegogo page that the phone supports Verizon. Is that actually true? I find that highly unlikely considering nobody else supports Verizon.

Specs on same page says GSM only, so no CDMA, so not for Verizon.

Yeah that's what I thought. I knew there was something off when they displayed the Verizon logo on their supported carriers section. Doesn't look like it even supports Verizon's LTE bands either. What a shame...

After more than a year, it's still a mystery (at least to me) why no W10M phones have been released with support for CDMA. Perhaps high overhead cost combined with low market share makes it too risky--which in turn helps perpetuate low market share...

That is what gets me. Verizon has a campaign to bring a phone you like to their network, but nobody else uses their CDMA. Even their LTE frequencies are different. GOD I wish ATT was stronger in my area!

You guys still use CDMA in the states?

I'm in the same boat -- no real choice here except Verizon (or carriers that roam on Verizon, like Sprint and US Cellular). No AT&T signal for miles from my house, but good Verizon coverage. So for now, I remain with my Lumia Icon. Actually still a very nice phone, but I'm eager to upgrade to the next flagship Windows Phone that comes out on Verizon.

An updated version with snap dragon 430 and FullHD would be great. For 250$..

I personally never understood the need for the phone to recharge and not being on. So, if you recharge your phone throughout the night and that's your only phone you wouldn't be able to get any calls or text or any other type of notification if the phone feature is completely off. That just seems counter intuitive and productive if that's your life line to others. Maybe I'm just missing something. But I would never want a phone that's off when recharging.

It decreases life if batteries if you load it while using it. Other than that it is your decission but i dont get why u need to get info while you are sleeping. There is not much that should be important enough to disrupt you while sleeping.

Decreases the battery life may be true but in reality it really doesn't matter. I'm still running my 4 year old 822 with its original battery and I wirelessly charge the thing all the time with it turned on. Battery gets hotter than a pepper seed stuck between your teeth but still holds a charge for a fair amount of time.

I'm not sure about losing battery life. I recharge my phone every evening and it last all day for the past 3 years. And unlike some people I have both a dedicated phone line (home phone) and cell phone. But my kids only have a cell phone (like a lot of people these days). Some people may not want to be disrupted from sleep. But I want to be available 24/7 in case any of my children or parents want to contact me. You never know when there maybe an emergency.

For some people its the fact the phone being off means they won't be disturbed.
Yeah, you have quiet hours etc. but some might just want the ease of bring able to turn it off completely, and maybe just mentally it's a complete barrier to the world, knowing its completely, physically disconnected. Plus, for the less tech-savvy, quiet hours and various settings might not be things they consider.
Personally, its not a problem for me either.

It used to bother me, but I got over it. In fact I prefer it now that is a way to ensure the phone is indeed on sometimes. I still remember phones turning themselves off in the past. I personally sleep on the other side of my house from my phone so I will not be disturbed. =P

It's weird but i found through experimentation that if my phone is on and near me while I sleep I have trouble sleeping. Never caught on at first but after a while of getting great sleep with it off i thought it was too much coincidence. It's possible the cellular signals could interfere with sleep in some way. After all our brains are simply electrical signals. There is one study where participants are exposed to cell radiation for 3 hours as if they were talking on the phone right before bed and it did disrupt sleep. Though this is different since you are not actually on the phone. There really isn't much research on it. It could be so many factors on why it may affect me. Even because I used to have to have my phone by me for work and constantly being disturbed by it. So it could be conditioned in some way. But yah i know plenty of people who sleep well with phones near them. hehe

It's kinda what I was getting at, maybe psychologically you just feel more detached and 'switched off' yourself and are able to sleep better as a result?

@Krystianpants, pretty sure it's not the phone signal -- the frequency of those RF waves will not interact with your nerve cells or anything else in your body. Much more likely is that there is a psychological component.

Not sure if you're a parent or not, but as a parent I always want to be available in the event my kids need to contact me. Emergency or not. Now granted to some people this may or may not be important. But when it come to my children there will never be a "barrier to the world" from them, neither from my siblings or parents. But we all decide for ourselves what's important and what isn't.

What's the battery life like on it?? If it's significantly better than my 950 they've got a sale.

I like it apart from having to remove the hood off the charging port each time, which I can imagine will break eventually.

It will break after 1year of use

As much as we appreciate support from any manufacturer, I'm less than impressed at the idea of this rewarmed low end effort. Judging by the number of pledges I'd say others feel the same way.

So you only want top end hardware for w10m at an entry level price, right? The reality is: Today there are more middle to expensive w10m phones out there than mid or low level once with lower pricepoints. So I would say: If you like wm/wp and you dont want or can spend $400+ this is a good deal. Especially for EU it is great to have an entry level phone. We did not receive the 4s (till now) over here... And the hp x3 is really quite expensive. I backed them up just because it is an affordable phone available for our market.

No, my gripe here is with the elderly hardware. MS desperately needs competitive coverage at low, mid and flagship level in order to support the platform, rehashed 2015 phones don't cut it and that criticism applies to all segments.

I'm from the UK, we use GSM here and I've backed this phone because it's a good mid range Phone. I want to continue to see Windows 10 phones in the consumer space after the Lumia's are phased out. This new one has been optimised for US and Europe. It's SIM Free and doesn't cost much compared to an Acer Jade Primo. Can't wait to get my hands on it.

It's not a bad looking phone at all. The camera quality is the least important aspect of a phone for me. At least it's reasonably priced.

This is the rumored Wharton Brooks phone, right?

No, totally different phone and manufacturer...

I misworded that. I think this is rumored to be the Wharton Brooks phone. The rumor is they are rebadging it. https://mspoweruser.com/hyped-ground-breaking-whartonbrooks-windows-phon...

Close... The Wharton Brooks looks to be a rebadged Moly PCphone. 6" IPS, SD617, Type C, Continuum, OTG, 3GB RAM, 32GB internal storage, 13MP rear camera, 3900 mAh. The X1's big brother.

It's confirmed that the new Indiegogo Moly X1 has Anniversary Update pre-installed and is upgradeable to upcoming Windows 10 builds

Must admit that it's an excellent-looking phone, but... Not a fan of the up-in-the-air status of it's software/builds and the Micro USB connection... #Nah
But again... Looks really great. "Seems" to have nice build quality.

MAUXIIS, I haven't had an X1, but I have the Moly W5 and they use a CNC metal frame that runs through their phones that makes them solid. I remain super impressed with the build of my W5. It has substance, heft and rigidity that reassure me every time I handle it. They also have licensed ClearBlack and their displays are top shelf. As for Camera, I find that using alt apps like Camera360 Sight and ProShot really make the camera much more tolerable.

IT'S good to see more OEM's making Windows 10 mobile smart phones. Windows smart phones are more popular overseas than in America.This is unfortunate but I think Windows smart phones will get an increase in sales if Microsoft says it will definatly make a "Surface" brand smart phone if it really does retire the Lumia brand in December 2016 this week !. If the back of this smart phone is really made out of Gorilla glass, I would buy a case to protect it the same day I bought it.

Xiaomi redmi 3S cost 125$ with snapdragon 430 and fingerprint scener, how this phone with 410 cosst 179$?