Moneycontrol app gets a nice refresh for Windows Phone; Windows 8 app also launched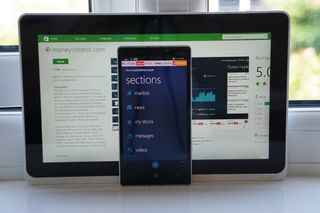 Moneycontrol.com is the leading finance and business portal in India. Launched in 1999, and now owned by the Network18 media conglomerate it's the go to portal for investors, traders, and finance professionals. While the official moneycontrol app for Windows Phone devices has been there since long, it recently got a nice update (v1.5.0.0) with new features and some performance as well as user experience enhancements.
Also, the moneycontrol.com app has made its debut on Windows Store for Windows Phone 8 devices. Yes, the Windows 8 app has a .com in the name, unlike the one for Windows Phone.
The app offers in-depth coverage of Indian and global market indices, allows you to keep track of your investment portfolio, and watch CNBC-TV18 network channels live. The app is available in English, Hindi, and Gujarati languages, allows you to track stocks, and with the latest update, currencies and commodities too. You can watch CNBC- TV18, CNBC Awaaz, CNBC-TV18 Prime HD, and CNBC Bajar live from within the app, the last two being the latest additions.
The app – both on Windows Phone and Windows 8 – features a modern user interface and employs Live Tiles and push notifications for nifty functionalities. The user experience is fluid, and seamless.
Download the free moneycontrol app for Windows Phone 7.x and Windows Phone 8 devices from the Windows Phone Store and for Windows 8 devices from the Windows Store (opens in new tab). It's a great app with in-depth coverage and analysis of financial markets, economy, and business as well as a personal portfolio manager. Give it a whirl, and let us know how you like it.
This app is updated back around 2-3 weeks ago, I tipped this news.
Now posting article & still no name, Abhishek Baxi always do like this.

That updated crashed alot...logged out portfolios without any reason...so an article at that time dint make sense....imo....

Haha what you want .... U r just saying it like a wife saying this to a husband...Grow up Dude ....Yuck

I wonder what's the benefit of having your name in the article. FAME ?

If there's something I know, and a tip comes, that doesn't help. A lot of times I thank tipsters or folks on Twitter who point me to something I didn't know. Also, Moneycontrol and Microsoft did a joint press-release for the app. So, this was public knowledge anyway.

Thanks for the clarification over here Abhishek.

I am saying, this news is now too old.
I don't want name but fast news,
Sorry for misunderstanding regarding fame or name whatever.

Abhishek is that a 930?? @Gautam wants to know if he can get the 930 in a week or so..As he has won the Hidden Gems Competition..So he needs to know about it's availability in India!!

He should contact Michelle Haag. I received my goodies via usps dot com right on time.Regarding availability its not yet available but I have seen some girls using the device imported from amazon.

@Aman @Himanshu
Thank you guys! In fact I've got an Email from Michelle Haag. I told her about the issue and regarding the delivery confirmation. She told she'll talk to Daniel on this, I'm waiting for a response :)

No problem , just drop her an email if you have any query :)

Thanks again bro!
You've helped me the third time after "Asphalt 7 issue" (if you remember!)....
I've not received any further mail from her but I'd like to give it a day or two more before troubling her again :)

No XBox no download. Just kidding. This app looks great. I like that it has Windows 8 support. I'll check it out.

It is not available for Kuwait !

I am having the worlds biggest fucking problem !!!! My apps which are stored on the sd card are not working !!!! When i click them on my phone it comes loading and then returns to the home page !!! I have tried to reboot my phone and try to remove the sd card to but no hope!!!! I really want help ....

http://forums.wpcentral.com

@Abhishek Baxi this is certainly not a good update as they have not fixed the bugs just changed the UI, i have been using the old app from the WP7.8 days and found it much better, i expected one of the most annoying bugs with regards ot logging off even though i have the save checked to be resolved but it has got worse with this update.

Great app especially for ppl who are confused of money control and planning..the interface is really good.this app worth a word "great".
Windows Central Newsletter
Thank you for signing up to Windows Central. You will receive a verification email shortly.
There was a problem. Please refresh the page and try again.