Monster Hunter Rise coming to PC on January 12, 2022
Rise up and join the hunt on Jan. 12, 2022 for the PC version of Monster Hunter Rise.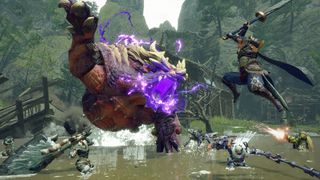 (Image credit: Capcom)
What you need to know
Monster Hunter Rise is a multiplayer-centric action game created by Capcom where you go into the world to hunt giant monsters.
The PC version of Monster Hunter Rise has finally been given a release for Jan. 12, 2022.
During Capcom's Online Program segment at the Tokyo Game Show, it announced a ton of news updates regarding its Monster Hunter franchise, particularly Monster Hunter Rise. The most significant announcements from the program were a sneak peek at the upcoming expansion for Monster Hunter Rise, Monster Hunter Rise: Sunbreak and the release date for the PC version of Monster Hunter Rise. It will launch on January 12, 2022 via Steam, and it will include all the free post-launch DLC updates the Switch version up until the end of November, 2021.
Capcom has released a trailer that showcases all the performance and graphical enhancements the PC port of Monster Hunter Rise will receive. These enhancements include 4K resolution, 60FPS, high-res textures, optimized keyboard and mouse controls, voice chat and ultra-wide display. In addition, there will be a demo released on October 13, 2021 via Steam to let players get a taste of all the new improvements the PC version has to offer.
Monster Hunter is a series of action hunting games where you go out into the wild to hunt monsters and use their body parts to create powerful weapons to hunt bigger monsters. Monster Hunter Rise has you defending the secluded Kamura Village from the "Rampage," a group of monsters that joined forces to wreak havoc on anything in their path.
Monster Hunter Rise broke sales record for being Capcom's best-selling game on a single platform. It is considered one of the best games on the Nintendo Switch by critics and fans for its in-depth combat system, consistent post-game support and a huge rogue's gallery of monsters to slay. If the Nintendo Switch version of Monster Hunter Rise managed to achieve so much acclaim and sales on the Nintendo Switch, it has a very good chance of becoming one of the best games on PC.
Preorders for the PC version of Monster Hunter Rise are now available on Steam. You can preorder the standard edition or the deluxe edition which includes the base game and a plethora of cosmetic DLC. Preordering the game will also net you cosmetic DLC costumes for your Palico and Palamute companions and a Novice Talismen to give you a stat boost for the beginning stages of the game. As an added bonus, if you have save data from the PC version of Monster Hunter Stories 2, you can acquire a cosmetic armor set from that game for your hunter.
We currently do not know when Monster Hunter Rise: Sunbreak will release for the PC version of Monster Hunter Rise. We will keep you folks up to date when new details arise.
Quell the Rampage
Put your monster hunting skills to the ultimate test.

Over 50 years ago, the peaceful village of Kamura was trampled underfoot by a gang of monsters during an unnatural event dubbed "The Rampage." In recent times, that same calamity has returned and threatens to destroy Kamura Village once again. As Kamura's ace monster hunter, it is up to you and your friends to stop "The Rampage" and save Kamura Village.
Windows Central Newsletter
Get the best of Windows Central in in your inbox, every day!
Alexander Cope is a writer for Windows Central and iMore that has been gaming since the 16-bit era.
A lot of interesting things to talk about here. First, the fact that this is a Switch port to PC. Basically a "remaster" with just new textures and slightly better visuals overall. This is clearly not enough, especially considering how technologically impressive Monster Hunter World was. Second, the fact that they chose to develop FIRST for Switch is a worrying trend for AAA games. It's well known that PC is the last thing on publisher's minds nowadays. The money is on Switch and consoles. Switch specifically makes all the money, so it doesn't matter to publishers that the device is basically a potato: they get the 60 bucks for the game anyway.
But to see this actually become a trend is worrying. The same happens with VR and the Quest 2. Games are developed first for that best selling potato system and then half-assedly ported to PCVR, if they even are!

It might not wind up as bad as all that. In the case of World, it was developed specifically with more powerful platforms in mind since Capcom was trying to expand overseas whereas Rise took about four years to develop (think they started in 2017) and was going to be the usual handheld entry focused on Japan. They had already started developing Rise with the Switch version foremost in mind and I don't think they thought World would be a smashing success since it was so new and and changed so many traditional gameplay aspects of the series. It is interesting that the PC version is coming less than a year after the Switch one. Sounds like Capcom was in a hurry to bring it over after Nintendo had first dibs and now that it has been proven that there is a market for the game on computers. I'm not sure where you see AAA developers aiming for the Switch first as, last I checked, it usually gets games last and long after the first push for a new title with the Switch tax added at that. There is still a monetary cost to downgrading a game to run on the Switch's hardware that goes beyond lowering texture quality and, to be blunt, most companies don't want to market their shiny new game with the janky graphics of a handheld. VR games are a different story so I can't comment on those and indie games aim for the Switch first because most of them don't need as much power anyways and their games are more suited for portability.
Windows Central Newsletter
Thank you for signing up to Windows Central. You will receive a verification email shortly.
There was a problem. Please refresh the page and try again.