MonsterUp Adventures gets an update that betters boss battles, plus a gem sale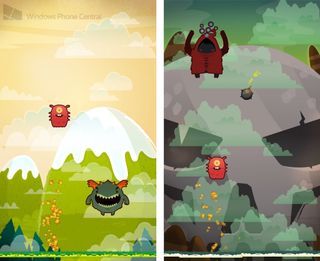 Indie developer Karios Games is known for updating its games numerous times based on customer and reviewer feedback. Case in point: after our MonsterUp Adventures review ran recently, the developer immediately set about fixing some of the review's criticisms. That update went live over the weekend. It fixes quite a few of our complaints, making a fine jumping game even better.
MonsterUp Adventures version 1.3 release notes:
Cheaper monsters in Store
Diamonds are not lost when dropped - most of them just appear later in the level
Tweaked screen transitions
Tweaked rain and snow effects
Not possible to fall anymore in Boss Battles
Allowed using the screen sides in Boss Battles to teleport
Store and diamond changes
One of the game's weakest points prior to the update was the gem system. To win a level, the player needs to collect a certain number of gems (diamonds and rubies). These jewels serve two more purposes. One: if the player has enough diamonds when falling off the screen, he or she just loses some diamonds without dying. Post-update, those diamonds get redistributed throughout the level, reducing the possibility of reaching the end without enough jewels to pass the level. Not bad!
The second use for jewels is unlocking new playable monsters and a free ringtone in the game's shop. Before the update, everything cost astronomical prices. For example, the most expensive monsters sold for 2400 diamonds and 160 rubies. Now it costs 1600 diamonds and 120 rubies!
The price changes don't solve the problem of the player not retaining any jewels collected when failing the level. That lingering issue makes gem acquisition slower and less addictive than it could be. But at least it won't take as long to get monsters as before.
Boss buster
In our review, I opined that MonsterUp Adventures' four boss battles were so bad, the game would be better off without them. Well, now they're not quite that awful! Karios has added a continuous row of platforms near the bottom of the screen, making it impossible for monsters to fall through the bottom and die. You can glimpse these platforms in the pictures at top.
Also, jumping through either side of the screen makes the monster come out the other side, just like in normal stages. Dodging and attacking bosses is still less intuitive than standard platformers since the player's monster never stops jumping here. But the increased range of movement really reduces the frustration of fighting bosses now.
Coupon time
Not everybody wants to grind for gems to unlock new monsters. As such, the developer has always sold gems as optional PDLC. The real money prices are already pretty low, but there's currently an even better deal. Using the coupon MONSTERUP30 at the MonsterStore website, you can get 30% off the standard gem bundle prices.
As an example of the potential savings, a user can grab 2000 diamonds and 200 rubies for only a dollar after coupon. That's enough to unlock the best monster and the cheapest monster (both pictured above) with a few rubies left over. The coupon is valid for a limited time only, so if you're itching to unlock some monsters, hop to it!
MonsterUp Adventures costs $1.99 and works great with WP7 and WP8. Grab it here at the Windows Phone Store.
Paul Acevedo is the Games Editor at Windows Central. A lifelong gamer, he has written about videogames for over 15 years and reviewed over 350 games for our site. Follow him on Twitter @PaulRAcevedo. Don't hate. Appreciate!
Karios Games´s devs, please make your games available here in the Brazilian Windows Phone Store!!
i can help with the process.

Forgot I had this game. 3d beta is awful, but the standard play is good.

@Guilherme I would be very interested, although I was told that they will change the process very soon and it's going to be dead simple. So I was waiting for that to happen TBH.
@Munkeyphyst The 3d was just a test:) I thought about removing it competely but some people actually liked it so I decided to leave it.
@Favipx Sorry. The delays are Microsoft's doing. You should get it one of these days, marketplace propagation can take a few days depending on your location.

Glad to see they made some of the changes. Bought this game right when it came out based on how much I liked the regular MonsterUp but quickly found it very frustrating and stopped playing. Some of the later levels took 15-20 minutes to complete (if not more). It was so incredibly frustrating to get close to the end and lose too many diamonds / rubies to actually complete the level. Not sure how it shakes out now, but I figured it out once. In order to buy everything in the store, you had to play for something insane like over 100 hours to collect enough rubies and gems.

I feel like the developer did a really good job with MU, but with MUA, it seemed like the prices were set purely to get people to fork over more money (despite having already paid for the game) rather than be able to alternatively pick things up through just a normal amount of effort.

Hopefully this update does a better job of balancing things. At the very least though, these updates shows the dev does care about what people think about the games. I've talked to him in the past and he was very responsive, so I'm sure I'll buy any other game he puts out in the future.

Wasn't the game free originally? I'm certain I didn't pay for it and can't see any indication it's a trial

He gave it away free for a few days a while back, but it did not launch at that price.

I do have to give my 2 cents here, because this has been mentioned before. The idea behind the original prices had nothing to do with DLC - it was not even possible to buy anything anywhere in the first versions of the game. The idea was that you could finish the game with 1-2 monsters and then be able to unlock another in order to try to beat it again with this one this time. Apparently, people like variety a bit more than I originall though :)
@gtbuzz Thanx for your kind words :)

Just a heads up, but the info screen still says v.1.2.0.0 even though it is v 1.3
Windows Central Newsletter
Thank you for signing up to Windows Central. You will receive a verification email shortly.
There was a problem. Please refresh the page and try again.