Acer Liquid Jade Primo pre-orders pop up in Italy and Germany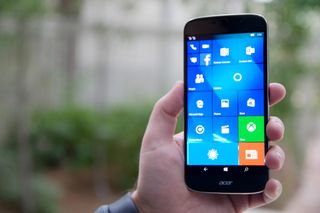 Pre-orders for Acer's upcoming high-end Windows 10 Mobile smartphone, the Liquid Jade Primo, are beginning to show up at more retailers. After appearing on Orange's site in Portugal, the phone has also been listed for pre-order at Expansys in Italy and two German retailers, Notebooksbilliger and Cyberport,
The Expansys pre-order in Italy shows a €599,99 price for the phone, which includes a Continuum-based display dock. The two Germany retailers are selling the phone for a lower price of €569, but the display dock does not appear to be included in their listings. The Cyberport listing shows the phone will ship by March 17, but there's no release date found on the other two pre-order posts.
Just a reminder: Here are the hardware specs for the Acer Liquid Jade Primo:
5.5-inch 1920x1080 display
Qualcomm Snapdragon 808 processor
3 GB of RAM
32 GB of internal storage
21 MP rear camera
8 MP front facing camera
2800 mAh battery
There's also no word yet when Acer plans to sell the smartphone in the U.S.
Hands-on with the Acer Liquid Jade Primo
Via: WMPU
Windows Central Newsletter
Get the best of Windows Central in your inbox, every day!
Orange South Africa... Everywhere

I don't see it. Only the Jade S and some another one. Am I missing something?

http://store.orange.com/za/mobile-phones/sim-free-phones/acer-liquid-jad...

Using the code "Handy50" gives 50€ discount on notebooksbilliger when you pay by installments (0% interest)...

Weren't these phones supposed to be a bit cheaper than the 950s? They totally don't appear to be so...

The price is inclusive of the display dock they give with it. Still a touch pricey but that will come down quick enough.

Will the display dock retail separately?

We should all consider buying this phone so this new OEM has the incentive to keep making more.

Great idea! Poor individuals helping giant company make more profits :D

Lol u sound so merciful XD

Too expensive at 569. A better investment would be a 950 looks like. Posted from my Note 5

I would never pay that much for an Acer. No matter what the OS is.

Wonder if/when T-Mobile US will pick this up. As soon as they do. I'll be getting this subsidized.

Tmo doesn't do that anymore at least in the US

I think this is the first non Lumia flagship windows phone made exclusively for Windows. I love the Windows tablets from Acer. I think that Jade Primo will sell more than Lumia 950 xl because of the price. The only down side is it's camera.

Who with a right mind would buy this and not MS' Lumias? and who set the price?

Companies have contacts to have delivered Acer computers for the office. I wonder if this phone adds to this business service and if companies will buy into the phones. Taiwanese companies probably might. Pity there is not too many of those. Chinese companies like Huawei will have more success with that strategy.

No matter how many Windows 10 phones are released, it's never gonna catch up with Android or iOS. Here's why http://crunchng.com/windows-10-mobile-not-enough-to-save-microsoft/

I don't care what the marketshare is, i just want a windows phone. MS don't care about marketshare, they just wanna have a presence in mobile. And the circle is round.

LOL a 3 year old kid could have better in depth arguments than the person who wrote that article.

Dunno bout that but the article raised some valid points such as the issue of trying to gain market share in a market overpopulated with iOS and Android. Although the article is pretty amateurish, I feel the writer gave some valid points.
My two cents.

Microsoft shares continue to rise whilst Apple: http://a.msn.com/r/2/BBogo3s?ocid=News Long term Android needs to sort out their fragmented mess of an OS. Do not worry about WP as the ecosystem is strong.

Yes. I read it. But its partly true. I would say three important thing 1) msft is not trying hard in terms of marketing 2) app gap is still there 3) people are more used to other OS. But look at the potential 1) msft will try to push once it's fully ready , I believe. And a surface could be al breaker 2) more apps are coming 3 ) most Android fans are not loyal like apple. WP is more secured, doesn't get laggier over time , better battery life, runs great in low spec OS, direct update, flawless back up and restore system all these what Android still lacks. If not apple is good for that. WP is easy to use, non dumb can learn fairly quick. Apple like fluid experience at budget will only available on WP. Besides most people still use PC , so may eventually consider. But I agree currently msft is not fully at that stage

what's the deal with Windows phomes and the huge bezels. Sheesh.

Any news on an Australia release?

Is this phone metal or plastic on the back and corners?

I wonder if Microsoft was able to get AT&T to carry the 550, 950, 950XL, Acer Liquid Jade, and the new Moly X1 even unlocked and had a nice display for everyone to see if more people would gravitate towards it?

What is the price of this phone ?

What's up with those high prices?

"...when Acer plans to sell the smartphone in the U.S." John, does that mean they do plan to sell in the US? Last I'd heard there was no word on that at all, but I've been optimistic it would come to the U.S. Perhaps on Verizon, which currently has no competition for a Windows flagship?

This is a good news for person like me http://addednew.com