More device updates being pushed out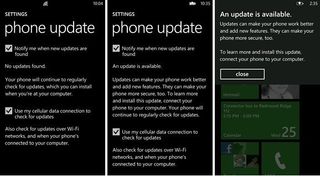 On the heels of Tuesday's Samsung Focus 1.4 update comes some more device-specific updates for the HTC Mozart, LG Optimus 7 and Samsung Omnia 7. The updates are meant to address some significant features, such as battery life, touchscreen response and call clarity. Because they have been tailor-made for certain models, we do not expect that every phone will receive one. However, this is not an exhaustive list, so there may be some more lined up.
Have any of you updated, and if so, noticed any improvements? Are there any devices not listed that you have been prompted to update?
Source: @TonHor (Thanks for the tip!), WinRumors
BELL (canada) also sent out a Upadte for the LG but its only a SIM unlock fix and a securaty fix..(Firmware 1.0.6.10) The table below outlines the procedure clients must follow to obtain the latest software version for their device:Step Action1 Visit www.bell.ca/devicesupport.2 Select the device to be upgraded.3 Select "How to update the software on my Windows Phone 7 smartphone".PACH FIX: • Device required to power cycle upon SIM un-lock has now been resolved. • Security fixes implemented.

Got an update for my LG Optimus 7 through Telus.Firmware revision is now: 1.0.5.10Same for radio software, and bootloader.According to Telus:- Corrects issues where the touch screen accelerometer does not work properly when rotating the screen from portrait to landscape mode and vice versa.- Corrects issues where the compass does not work properly.- Corrects issues where the screen goes black during an outbound or incoming phone call.

Oh boy, I hope I get one =D

I'm running Samsung Focus on Rogers in Canada. Haven't seen an update yet, and I manually checked for one today. Huh. :/

im with roger as well no update for us . you probly got the Focus before 1.4

You're probably right -- I got my Focus right after they launched. How can I check? More importantly, is there anything else I've been missing out on so far, if I do have 1.3?

Yep it would be nice to see the 1.3 focus 7392 update show up. I really dont understand why they couldnt work on the 1.3 focus 7392 while they were working on the 7392 for 1.4 Do they only have 1 person working on the update process?

hmmm , OS version on my focus 1.3 is : 7.0.7392.0 ... how am i busting that out on a 1.3?? wtf??? and i have had the 7392 for WEEEKS!!! how does this work?? did i miss something here?

If you are 7392 you have the security update and and are current Is your focus 1.3 unlocked and or what acrrier are you with?

Didn't show one for my Optimus. I kinda doubt I'll get an update. It works good.Though, maybe there is one and it just doesn't show because of Mango. Any info on how the Beta could affect it?

I have an unbranded, dev-unlocked LG Optimus 7 running NoDo, and I'm not seeing an update either.

yeah if you have mango beta . forget about updates, you need to revert back to NODO then it should show up. IF there is evan an update available.

My Omnia 7 was updated. Only improvement I've noticed so far is portrait to landscape screen rotation reacts quicker.UPDATE: ok played around with it a bit a more and have noticed marketplace Facebook and what's new in people and picture hub is loading a heap faster. Yay!MORE: just played with maps and it's loading super quick now and most games loading heaps faster too. looks like this firmware update has fixed a heap.

Do you know if the bootloader got updated ? What's the version now ?Are the buttons for back and search still so darn sensitive ?

not sure if the bootloader was updated because not sure of prev version but mines now at 5.2.1.4.firmaware is 2424.11.2.3radio is 2424.11.2.2back and search sensitivity seems the same. i read on some forums that on other phones that just got a firmware update when playing games the search button is de-activated but unfortunately i don't think that's the case with the omnia 7 as far as i can tell because i've tested sonic, doodle jump, pes and angry birds and it's still works if you press it.

I've got a factory unlocked Optimus 7 in the UK running 7392 and I'm seeing no updates either.Has anyone else in the UK managed to update their LG?

Another UK Optimus 7 user.. Firmware is at 1.07.10 for me.

I'm only at OS 7.0.7392.0 and Firmware 1.0.3.10, but there's no updates to be found - @ctafield, when/how did you get 1.0.7.10?

It's the one my phone came with. I'm in the UK, but I bought the phone from Germany off Amazon. It's on Vodophone, but unlocked - I use it on O2. But yeah, that's the one it came with... (and is still on).

Still nothing for my Mozart. Is this also for unlocked devices?
Windows Central Newsletter
Thank you for signing up to Windows Central. You will receive a verification email shortly.
There was a problem. Please refresh the page and try again.