Forget the Pixel 6, iPhone 13, and MacBook Pro: Our readers want the Surface Duo 2 this Techtober
The Surface Duo 2 continues to be the ̶a̶p̶p̶l̶e̶ Surface of our readers' eyes.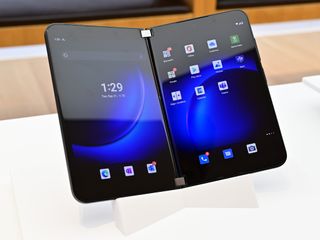 (Image credit: Daniel Rubino / Windows Central)
What you need to know
Google, Microsoft, Apple, and other major companies have new gadgets coming out in October 2021, which has been called "Techtober."
The iPhone 13, Pixel 6, and new Surface hardware are among the newly announced devices.
Windows Central readers are overwhelmingly most excited about the Surface Duo 2.
October is always a big month for gadget geeks, and that's especially the case with October 2021. Apple, Google, Microsoft, and other tech giants have new gadgets to show off this month. Many in the industry now refer to October as "Techtober" due to the number of announcements each year. Over the weekend, we ran a poll asking which gadget drew the most excitement from our readers. In a poll full of options from the biggest names in tech, the Surface Duo 2 won in a landslide.
Over 58% of polled Windows Central readers said that they were most excited about the Surface Duo 2. That was more than five times the interest the Pixel 6 drew. Only 2.6% of voters said that they were most interested in the iPhone 13. The MacBook Pro, which should be announced on October 18, 2021, only earned 2% of the votes.
As Windows Central has a readership with many Microsoft and Surface enthusiasts, it's not surprising that the Surface Duo 2 garnered the most attention. What is a bit surprising is the margin by which the Surface Duo 2 beat out every other device. Microsoft's Surface Laptop Studio (6.9%), Surface Pro 8 (6.4%), and Surface Go 3 (2%) didn't come close to their foldable Surface sibling.
The Microsoft-made device that drew the second most interest was the Xbox Mini Fridge (9.6%).
Windows Central Newsletter
Get the best of Windows Central in in your inbox, every day!
News Writer and apps editor
Sean Endicott brings nearly a decade of experience covering Microsoft and Windows news to Windows Central. He joined our team in 2017 as an app reviewer and now heads up our day-to-day news coverage. If you have a news tip or an app to review, hit him up at sean.endicott@futurenet.com (opens in new tab).
Not at all surprising, IMO. Many of us came to this place when it was Windows Phone Central. We came for mobile devices under the Microsoft umbrella. I'm sure running this poll over at iMore or Android Central would greatly change the results because the user base is kinda of tailored to Surface Duo users.

it's not on ATT yet. won't buy if can't get it as part of monthly payment on ATT.

I was looking for it, too. However, I wouldn't expect it to show up on AT&T site until November or December

ATT has been a launch partner on microsoft cellular products for years. I think they finally told Microsoft you cause us more problems with crap devices you don't support, so we won't sell your new duo 2.

Same, monthly payment AND trade in offer for my Duo 1.

Yeah, sucks when providers don't offer plans for certain models, it's so much easier paying 50 bucks or 100 bucks a month than it is to pay 1 or 2 grand.

'Our readers want a Surface Duo 2'. Wow!! No one expected that!

If there was only a way to get this with windows 11... One can dream. I feel that would be the best. I really hope everything runs super smooth on duo 2. I will still hold on to my duo 1 as I feel it does get a little better with each update.

it says it should be here in a couple days, just waiting for it to say shipped on the site

Eh, I loved my Windows phones, but I have zero interest in this overpriced vanity piece.

Pretty much my sentiment as well... As a true pocket PC running W10X/11/whatever Windows-version would be optimized for small foldables, I'd probably buy into it, but not as an Android smartphone.

I would appreciate if MS would have just updated the Windows Mobile platform instead of just using Android. WinMobile was better. Now I have to contend with Google garbage if I want a MS Phone again? No. ******* (intentional misspelling) can take giant leap. He needs to own up for what he did to Nokia and the Windows Mobile Platform.

With rumors of Andromeda years ago, we were told not to expect much until version 3. Unfortunately, I think we'll be waiting another year or more before Microsoft ships something we really want. Someday Surface Duo 1 and 2 will be nothing more than embarrassing footnotes.

If I wanted android with two screens, I'd have gotten a Samsung fold!, its the same thing just more experienced in their "own" field than Microsoft is and I'm a Microsoft fan, is this what Microsoft wants to do to their fans?, Microsoft an OS COMPANY! that's not using their OWN PLATFORMS WITH THEIR OWN PRODUCTS! instead be using 3rd party cr@p!.. look at how long it takes to release android updates for these devices, that alone explains how bad it is to use an OS that's not theirs PLUS WHEN THEY ALREADY HAVE WINDOWS CORE a platform that can run on just about anything and give the user a whole PC & Mobile experience... like why.. ? just make PC more mobile and use PWA, ask the most vital app dev's to support Windows going forward as a multi device platform.. a truly UNIVERSAL EXPERIENCE... surely dev's like getting their apps everywhere in one build, then all Microsoft has to do is USE WINDOWS CORE with PWA support and a bit more of confidence & dedication towards their own PLATFORM... "No one in their sane minds walk into a Microsoft store to get ANDROID products, people go there TO BUY A WINDOWS PRODUCT..." p.s give LTE Windows devices a calling app so folks can take calls with their Windows PC...

If only it ran Windows and not Ant Droid. She's so nosey.
Windows Central Newsletter
Thank you for signing up to Windows Central. You will receive a verification email shortly.
There was a problem. Please refresh the page and try again.