Terrifying Halloween movies, TV, music, and books we're into right now
By WC Staff published
There's no better time to indulge in a horror movie, listen to some creepy tunes, or read a scary novel than October. We rounded up some good Halloween-themed recommendations.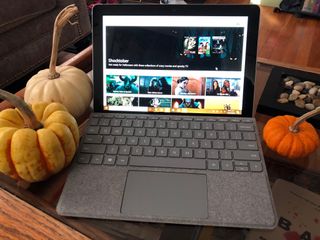 Halloween is juuuuuussst around the corner. At Windows Central, we're getting in the fall-holiday mood with some (mostly) creepy films, shows, music and reads. Below you'll find our latest set of recommendations, including a classic slasher flick, a modern take on the theme song from that classic movie, and a very gory book that ended up being turned into an even gorier film in the '80s, way before overly bloody movies were commonplace.
If you're not into the scary stuff, or just don't see anything you like, we have more picks where these came from. Just hit the link below.
More media recommendations from Windows Central
Movies
TV
Music
Books
Windows Central Newsletter
Get the best of Windows Central in in your inbox, every day!
Thank you for signing up to Windows Central. You will receive a verification email shortly.
There was a problem. Please refresh the page and try again.