Movies, TV, music and books we're into this week
Time for another set of movie, TV show, book and music recommendations from the writers and editors of Windows Central.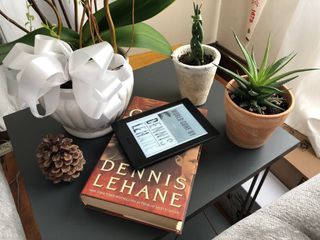 Ready. Set. Read.
This week's media recommendations from Team Windows Central are ready for ya. And they include a film about a dude who falls hopelessly in love with a robot, an awesome anime series, and a book from the King of Horror that doesn't feature any creepy clowns but is still well worth a read.
And if none these are up your alley, we have plenty more where those came from. Just hit the link below.
More media recommendations from Windows Central
Movies
Virtual Love
(opens in new tab)
Recommended by Rich Edmonds, staff reviewer

Joaquin Phoenix, Amy Adams, and Scarlett Johansson star in Her, a movie that explores the connection between humanity and artificial intelligence. Theodore is a lonely individual seeking companionship, who happens to fall hopelessly for a friendly AI who happens to be part of an operating system everyone is using.Her can be viewed in two ways. You can follow the life of Theodore as he attempts to explore his rather unique connection with an operating system. Then there's the whole route of an AI using human desire to further enhance self-awareness. Without spoiling the story and ending, his all becomes rather clear at the end, depending on how you take the movie, of course.
TV
Mech Nostalgia
(opens in new tab)
Recommended by Dan Thorp-Lancaster, news editor

I caught an excellent documentary on YouTube this week that went all the way back to the 70s and explored the beginnings of the Mobile Suit Gundam franchise with the animators, artists, and writers who worked on it. It was kind of amazing to see how fraught with difficulties the process was for an anime that ended up spawning countless branching series and movies.The documentary hit me hard with a wave of nostalgia for Gundam Wing, the series I grew up watching on Cartoon Network's Toonami block after school as a kid. It may be that nostalgia talking, but Gundam Wing is the high point in the franchise for me. It really left the impression on me that anime could be much more than extended fight sequences and endless power races, as I had seen with Dragon Ball Z before it.Sure, there's no shortage of cool battles here. We're talking about a show with giant mechs, after all. But the Gundam series dives into relationships and political intrigue in a way that was new to me when growing up with the series.
Music
Birth of the Cruel
(opens in new tab)
Recommended by Jez Corden, senior editor

I first got into Slipknot as an angsty teen like many Brits in the summer of 1999, having seen the video to Spit it Out on MTV. Having been used to the polished music on the radio and the big budget British Britpop videos of the 90s, finally getting cable TV and being exposed to something a little more (a lot more) raw was a defining moment of my youth. I had no idea that 20 years later Slipknot would still be going strong, pumping out albums that go beyond mere nostalgia.We Are Not Your Kind is another visceral production from the mask-clad metal outfit, with some incredibly infectious, visceral songs like Birth of the Cruel and Solway Firth, that are as satisfying as they are intense. The album in its entirety feels like a love letter to the evolution of the band, from the thrash-inspired early days, even with some more MFKR-like experimental daubs here and there. If you're a lapsed fan who, like me, maybe overlooked some of Slipknot's other albums in recent years, this one will drag you back by the hair, and throw you in at the deep end.
Books
Telekinesis + telepathy = good times
(opens in new tab)
The Institute— Stephen King
Recommended by Al Sacco, managing editor

I'm a huge Stephen King fan. When he releases a book, I buy it and read it immediately. Most of his recent novels have been OK. But nowhere near as good as the early stuff that made him famous. "The Institute" is different. And it's his best book in years. Maybe a decade. I think. I haven't finished it yet, so a really bad ending could ruin the whole thing. But I'm more than halfway through, and I am L-O-V-E, loving it.It's the story of a clandestine organization that captures kids from around the U.S. who demonstrate some signs of possible telekinesis (the ability to move objects with your mind) or telepathy (the ability to read peoples' minds). The group appears to want to harvest the children's collective powers for nefarious purposes. And the whole thing is super creepy.King's books with kids centerstage are always his best, and this one so far hasn't disappointed at all. Read it.
Windows Central Newsletter
Get the best of Windows Central in your inbox, every day!