Mpow MLens V2 and V3, giving your Windows Phone camera pro-like performance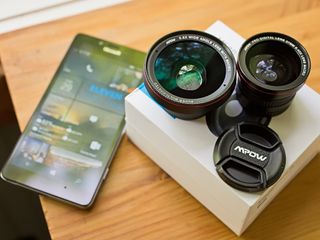 Mpow offers a host of accessories for your Windows Phone and Windows PC devices that range from Bluetooth headphones, speakers and backup batteries. The MLens line of accessories is a collection of clip-on lenses that fit over your Windows Phone camera to expand its range.
We have already looked at the V1 set of MLens accessories that include a set of three accessory lenses (wide-angle, fish-eye and super macro) and we recently had the opportunity to try out Mpow's V2 and V3 lenses. These lenses are much larger than the V1 lens set and include a fish-eye option (the V2) and a wide-angle option (the V3).
Sold separately for just under $30 at Amazon, these lenses are solidly built, produce quality photos and have a 2-in-1 design that provides a 10x macro lens for your close-up needs. As an added bonus, these lenses can also fit a Digital or Video cameras that have a 37mm threaded lens.
While the V2 and V3 MLenses are sold separately, both are packaged and operate in similar fashion. Both lenses are packaged with front and rear lens caps, a storage bag and spring clip. The lens screws on to the spring clip that attaches to your Windows Phone over the camera. Both Mpow lenses are open enough to look down the lens, see your Windows Phone camera and center the accessory lens up with your camera lens.
The lens construction is solid with a metal body and lens mount. Each of the two lenses are of 2-in-1 design. That is, you can unscrew the back portion of each MLens to reveal a macro lens that can be used independently. We took both the V2 and V3 out for a test drive (along with the macro lens component) and the results break down as follows.
Mpow MLens V2 Fish-Eye Lens
The Mpow MLens V2 is an 180-degree fish-eye lens that gives your images that fish bowl appearance. The optical view of the lens fills the center portion of your camera's viewfinder with the barrel of the lens blacking out the sides of the viewfinder. This isn't a performance issue, just a characteristic of such a wide-angle view. This smaller optical window requires you to crop the finished image, but can produce some neat visual effects.
The lens itself is about one inch tall and weighs in at 7.84 ounces. Image quality is respectable with the V2 lens. Test images were nicely saturated with color and sharp.
Mpow MLens V3 Wide-Angle Lens
The Mpow MLens V3 is a .6x wide-angle lens attachment that provides a significant increase in your Windows Phone camera angle of view. This lens attachment is well suited for situations where you can't step back any further to fit your subject into the frame. These situations could include group shots, landscapes or interior design pictures. The lens is about two inches tall and weighs in at 9.6 ounces. It shares the same metal construction as the V2 lens but has noticeably more heft.
Image quality is good, save one issue. While centering the Windows Phone camera beneath the V3 Wide-Angle lens is important to avoid vignetting, even when centered a touch of shading at the edges of the image's frame is present. I do not think this is a fatal flaw with the V3 lens, but in many cases, your images will need slight cropping to remove this vignetting effect. The above image to the left is from the Lumia 950's native lens and the image to the right is with the Mpow MLens V3 Wide-Angle lens attached.
Macro lens
I discovered macro photography years ago and found it often opens a door to a new world full of interesting and vibrant images. It is one of my favorite photographic disciplines and I was pleased to see both MLenses come fitted with a macro feature. The V2 and V3 lenses are designed with a macro lens attachment that unscrews from the base of the main lens and provides a separate lens with 10x magnification.
The attachment is only about a quarter of an inch in length and has a restricted focal range, only pulling your subject into focus when they are one to two inches away. The magnification lens is sharp enough to pull some of the finer details out of your subject and has a nice contrast level.
I also like the shallow depth of field that can create some fantastic Bokeh in your images. In the spirit of full disclosure, the below picture was cropped, but the detail was surprisingly good for a magnification lens.
The challenge with the macro lens is holding the camera steady. The more magnification a lens provides, the more amplified any camera movements become. It isn't impossible to use this lens, just realize you need a fairly steady hand or a tripod for the extreme close-up shots.
There is also a slight lighting issue present when taking pictures at such a close distance. Focusing an inch away from your subject doesn't give much room for light to get in front of the lens. Often is the case an elbow, foot or another object can get in the way to hinder the available light. It's not an impossible task, you just need to be aware of your surroundings and camera position when shooting at close distances.
I tested all of the lenses on a Microsoft Lumia 950 and each fit nicely onto the camera. The camera's auto-focus system did not miss a beat and I liked having the "tap to focus" ability when shooting macro. I could frame up my shot, tap the screen on my focus point, hit the shutter and easily capture my subject.
Along with working nicely with a Windows Phone camera, each MLens can fit stand-alone digital cameras or video cameras with lenses threaded for 37mm attachments. I did not have a suitable camera to test this feature out but suspect the performance isn't much different than what I experienced from a Windows Phone.
While the V1 MLenses from Mpow is a collection of wide-angle, fish-eye and super-macro attachments, the V2 and V3 are sold separately. This can make it tough trying to decide which lens to pick up. It all boils down to your personal needs, but for me, I liked the V3 Wide-Angle lens just a hair better than the V2 Fish-Eye. The fish-eye lens can capture some interesting photos and offer a unique perspective on things, it may lack the versatility of the wide-angle lens.
Regardless of your choice, if you are in the market for a camera accessory to give your native Windows Phone camera a little more range the V2 and V3 MLenses are good options. Both are currently priced at $29.99 each and you can pick them up through the Amazon link below.
Get the Windows Central Newsletter
All the latest news, reviews, and guides for Windows and Xbox diehards.
George is the Reviews Editor at Windows Central, concentrating on Windows 10 PC and Mobile apps. He's been a supporter of the platform since the days of Windows CE and uses his current Windows 10 Mobile phone daily to keep up with life and enjoy a game during down time.