Mpow MLens V2 and V3, giving your Windows Phone camera pro-like performance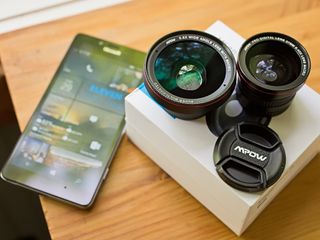 Mpow offers a host of accessories for your Windows Phone and Windows PC devices that range from Bluetooth headphones, speakers and backup batteries. The MLens line of accessories is a collection of clip-on lenses that fit over your Windows Phone camera to expand its range.
We have already looked at the V1 set of MLens accessories that include a set of three accessory lenses (wide-angle, fish-eye and super macro) and we recently had the opportunity to try out Mpow's V2 and V3 lenses. These lenses are much larger than the V1 lens set and include a fish-eye option (the V2) and a wide-angle option (the V3).
Sold separately for just under $30 at Amazon (opens in new tab), these lenses are solidly built, produce quality photos and have a 2-in-1 design that provides a 10x macro lens for your close-up needs. As an added bonus, these lenses can also fit a Digital or Video cameras that have a 37mm threaded lens.
While the V2 and V3 MLenses are sold separately, both are packaged and operate in similar fashion. Both lenses are packaged with front and rear lens caps, a storage bag and spring clip. The lens screws on to the spring clip that attaches to your Windows Phone over the camera. Both Mpow lenses are open enough to look down the lens, see your Windows Phone camera and center the accessory lens up with your camera lens.
The lens construction is solid with a metal body and lens mount. Each of the two lenses are of 2-in-1 design. That is, you can unscrew the back portion of each MLens to reveal a macro lens that can be used independently. We took both the V2 and V3 out for a test drive (along with the macro lens component) and the results break down as follows.
Mpow MLens V2 Fish-Eye Lens
The Mpow MLens V2 is an 180-degree fish-eye lens that gives your images that fish bowl appearance. The optical view of the lens fills the center portion of your camera's viewfinder with the barrel of the lens blacking out the sides of the viewfinder. This isn't a performance issue, just a characteristic of such a wide-angle view. This smaller optical window requires you to crop the finished image, but can produce some neat visual effects.
The lens itself is about one inch tall and weighs in at 7.84 ounces. Image quality is respectable with the V2 lens. Test images were nicely saturated with color and sharp.
Mpow MLens V3 Wide-Angle Lens
The Mpow MLens V3 is a .6x wide-angle lens attachment that provides a significant increase in your Windows Phone camera angle of view. This lens attachment is well suited for situations where you can't step back any further to fit your subject into the frame. These situations could include group shots, landscapes or interior design pictures. The lens is about two inches tall and weighs in at 9.6 ounces. It shares the same metal construction as the V2 lens but has noticeably more heft.
Image quality is good, save one issue. While centering the Windows Phone camera beneath the V3 Wide-Angle lens is important to avoid vignetting, even when centered a touch of shading at the edges of the image's frame is present. I do not think this is a fatal flaw with the V3 lens, but in many cases, your images will need slight cropping to remove this vignetting effect. The above image to the left is from the Lumia 950's native lens and the image to the right is with the Mpow MLens V3 Wide-Angle lens attached.
Macro lens
I discovered macro photography years ago and found it often opens a door to a new world full of interesting and vibrant images. It is one of my favorite photographic disciplines and I was pleased to see both MLenses come fitted with a macro feature. The V2 and V3 lenses are designed with a macro lens attachment that unscrews from the base of the main lens and provides a separate lens with 10x magnification.
The attachment is only about a quarter of an inch in length and has a restricted focal range, only pulling your subject into focus when they are one to two inches away. The magnification lens is sharp enough to pull some of the finer details out of your subject and has a nice contrast level.
I also like the shallow depth of field that can create some fantastic Bokeh in your images. In the spirit of full disclosure, the below picture was cropped, but the detail was surprisingly good for a magnification lens.
The challenge with the macro lens is holding the camera steady. The more magnification a lens provides, the more amplified any camera movements become. It isn't impossible to use this lens, just realize you need a fairly steady hand or a tripod for the extreme close-up shots.
There is also a slight lighting issue present when taking pictures at such a close distance. Focusing an inch away from your subject doesn't give much room for light to get in front of the lens. Often is the case an elbow, foot or another object can get in the way to hinder the available light. It's not an impossible task, you just need to be aware of your surroundings and camera position when shooting at close distances.
I tested all of the lenses on a Microsoft Lumia 950 and each fit nicely onto the camera. The camera's auto-focus system did not miss a beat and I liked having the "tap to focus" ability when shooting macro. I could frame up my shot, tap the screen on my focus point, hit the shutter and easily capture my subject.
Along with working nicely with a Windows Phone camera, each MLens can fit stand-alone digital cameras or video cameras with lenses threaded for 37mm attachments. I did not have a suitable camera to test this feature out but suspect the performance isn't much different than what I experienced from a Windows Phone.
While the V1 MLenses from Mpow is a collection of wide-angle, fish-eye and super-macro attachments, the V2 and V3 are sold separately. This can make it tough trying to decide which lens to pick up. It all boils down to your personal needs, but for me, I liked the V3 Wide-Angle lens just a hair better than the V2 Fish-Eye. The fish-eye lens can capture some interesting photos and offer a unique perspective on things, it may lack the versatility of the wide-angle lens.
Regardless of your choice, if you are in the market for a camera accessory to give your native Windows Phone camera a little more range the V2 and V3 MLenses are good options. Both are currently priced at $29.99 each and you can pick them up through the Amazon link below.
See at Amazon (opens in new tab)
Windows Central Newsletter
Get the best of Windows Central in in your inbox, every day!
George is the Reviews Editor at Windows Central, concentrating on Windows 10 PC and Mobile apps. He's been a supporter of the platform since the days of Windows CE and uses his current Windows 10 Mobile phone daily to keep up with life and enjoy a game during down time.
That's something I was looking for. Did you run into any trouble positionning it with the 950XL ? Another accessory needed (to clip it, may be) ?

I really wanna know if it fits my 950 xl.

Are lenses suitable for Lumia 1520?

Sadly in the pictures accompanying the article you can see the clip bottoms out on the author's 950. It would need to be deeper still for use on a 1520. I've not yet found a clip system of the right length for 1520.

Any thoughts on a telephoto lens? I was perusing amazon last night and could not come up with a conclusion.

I've been looking for a good quality telephoto lens as well. 8x and 12x at least, maybe a 16x. Something you can get a good close-up shot of the stage during graduation when you're a few rows back, or a few times a few.

Yeah, I'd like to get a telephoto. That is the only thing I miss.

I've been eyeing these up on Amazon, glad to know they are worth the investment.

Eyeing these up...kind of a pun Posted from PornHub

In what way are they an "investment"?

In that is is an expenditure that has a potential return for the buyer. If one recognizes value in preserving memories and this purchase improves the quality and or opportunity to recognize that goal, then the resulting value is ROI. That's one example of how it might be an investment to this person.

That's not what investment means. Paying for something which does what it is supposed to do isn't an investment.

"To invest is to allocate money (or sometimes another resource, such as time) in the expectation of some benefit in the future." It's not good to lecture people unless you know something for sure. Financial investment for a return of financial interest or asset increase isn't the only definition of investment. So this is an investment. A car is an investment because it does what it is supposed to do. I get utility (enjoyment or use) in return for my financial "investment".


Wow, wikipedia. If what you said were true, then everything anyone ever bought would be an investment. "I invested in some food so that I wouldn't die", etc.. Things doing what they're supposed to do aren't investments, you've misinterpreted that Wiki article.

A wiki article that is a definition is pulled from an external resource. An investment isn't as narrowly defined as you think that it is. A return can be other than financial. I've not misinterpreted anything and I'm so familiar with these concepts that it's not really worth it to me to go back and forth with someone who thinks they know everything...when they are patently wrong. I wouldn't consider consumables investments, but I also wouldn't arrogantly correct someone in a tech thread for using common language. So, no, food wouldn't qualify as a financial or economic investment. A lens could EASILY be an economic investment even in your narrow scope as many people use their phones as equipment for either blogging or maybe real-estate photography. It can then be assumed that the quality of the photos will improve, thus improving the photographers "product" and one can measure the resulting income. But...nevermind, you know everything and find comfort is attempting to criticize people. Have fun with that. I have better ways to **invest** my time.

"I wouldn't consider consumables investments, but I also wouldn't arrogantly correct someone in a tech thread for using common language" Did I do that? Or did I ask a question?

They look good, as you say you'd probably get far more use out of the wide angle lens. Don't worry a about vignetting, it's easily removed by most digital developers on your pc, Photoshop, NX Nikon and Canon etc..

Unfortunately, my 1520 with Windows10Mobile still says "something went wrong" when trying to take a picture 50% of the time. So I don't even take photos anymore. Ugh.

Which release bro? Fast? Slow? Production release? Sent by Lumia 532 W10M

Hard Reset? Post in the forum to try and get an answer?

Thanks bro, I can't live without taking any photos by my NOKIA Lumia 1520. So I'm not going for W10M on it Sent by Lumia 532 W10M

Will I need Windows 10 to use these? because if I do, then I'm screwed seeing that I have a 925 and Microsoft screwed me over with the bs of none compatible crap and for all of you that say "it's hardware, not software" or anything similar, I know, I'm being sarcastic.

It's not some kind of bluetooth accessory or w/e, it's just like you're taking a picture while placing your phone behind binoculars. Nothing software/related EDIT : Ok, should have read your comment to the end :-)

Or monitors that claim to be "Windows 10 ready".

In was just checking out these lens reviews on YouTube. I have a cheaper one myself and wondered if buying something more expensive would be worth it. I was really surprised by how tough macro photography is. You really have to take your time and the depth of field is ever so shallow that a small movement means an out of focus shot. One picture at a time -- LG V10

If you're trying to ask if it'll work with the 1020, do some reading, it's pretty clear it works with just about anything, not just WindowsPhones/Mobiles. I can't find any rock-solid guarantee that it will without issue, but I wouldn't be surprised if it did... Though given the position of the the 1020's lens & the large hump, the clip mechanism this uses may be no good, wouldn't be surprised if there's better attachable lens for the 1020.

Not sure the clip wil fit to the 1020, in fact. In a previous article they said it doesn't fit the 830 (the camera is way too far from the top of the phone), same problem with the 1520. I think that's his real question : "will it fit with the 1020 ?"

Yeah already updated my post...

it will be fit with L640XL? Posted From my PC.W10 Master Race

Cannot find my 1020 but... the clip has about 3/4" reach and barely fits the 635 and does not have enough reach for the 925 or 830.

Does it support in law end devices like lumia 540?

No reason why not, they're simply clip-on that changes what your camera sensor 'sees'. It's whether a 540 user will need these, though because low end phones have okay but not great sensors and no lens can fix that.

don't spend money on this trash after one week you will throw out those they are cool for a minute

Actually I would use it daily for work, but hey everyone is different.

To me, these are purpose built and not for spontaneous use. I have not been happy enough with the 1520 or 950 cameras to use for this type of photography. If I want to do macro shooting or for zooming I would just use a SLR with the correct lens. If this 20mp can't give a clear picture set to defaults when zooming in after a pic is snapped, for rapid use, the i don't hold much hope that attachments will improve it.

I totally agree with you. Save and purchase a decent camera.

Oddly enough, when I've used these lens sets in the past, the macro was my favorite lens out of the three types. I got some downright awesome snowflake photos with my Icon this last winter using a magnetic macro lens. The graininess of zooming/cropping really starts to show when you're looking at blowing up a picture of a tiny snowflake. With a macro at the right distance, four or five snowflakes lying next to each other almost fills up the entire field of view, and you get great detail.

Does it work for Lumia 1520.? A pity mozo don't make cases with screw mount ring so that we can screw on the lenses. More elegant and better solution than a universal clip solution. Might also improve the barrel and vignette issues. With screw mount it would be possible to make the barrel smaller.

I've been seeing comments on other sites saying it doesn't fit the 1520, the camera being too far from the edges of the phone, the clip can't fit

I got like five sets of the Acesori LensKit on https://www.windowscentral.com/e?link=https2F2Fcli... for like $15 total and have been using them on my Icon. I like the glue on magnetic ring, as it doesn't obscure the screen like the clip does, but hesitant to glue a metal ring onto my 950XL's sexy camera plate. The only issue I had is that the chromatic aberration is significantly worse around the edges with the smaller, and possibly lower quality, lenses.

Tl/dr Posted from PornHub

I love how they say "pro" on the lenses, like a professional photographer would use a $30 lens clipped to a smartphone..

It doesn't matter if the lenses are pro or not... but the difference is noticed by only "pro"!!!
Windows Central Newsletter
Thank you for signing up to Windows Central. You will receive a verification email shortly.
There was a problem. Please refresh the page and try again.